We all experience stress. Whether it is from our families, finances, or even work – stress is a part of our everyday lives. But how does it affect our skin?
Skyn Iceland Youth Serum – Icelandic Skyn-Care Review
This post may contain affiliate links, which means I'll receive a commission if you purchase through my link, at no extra cost to you.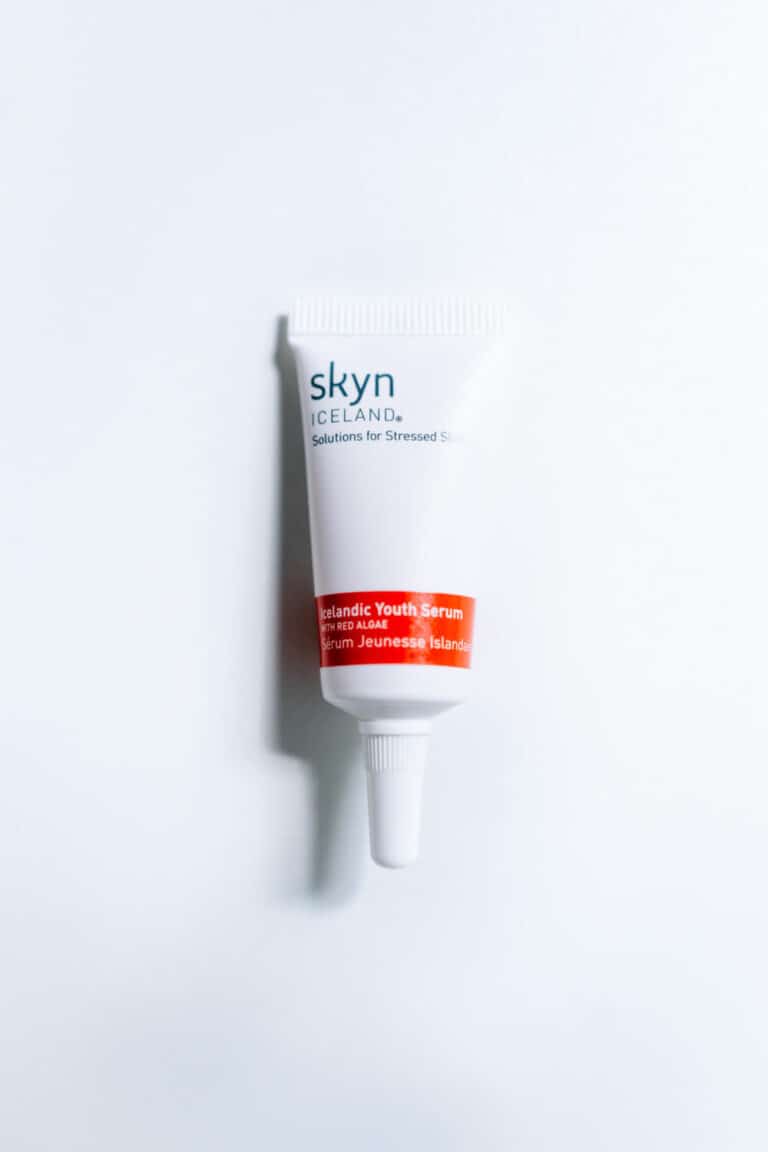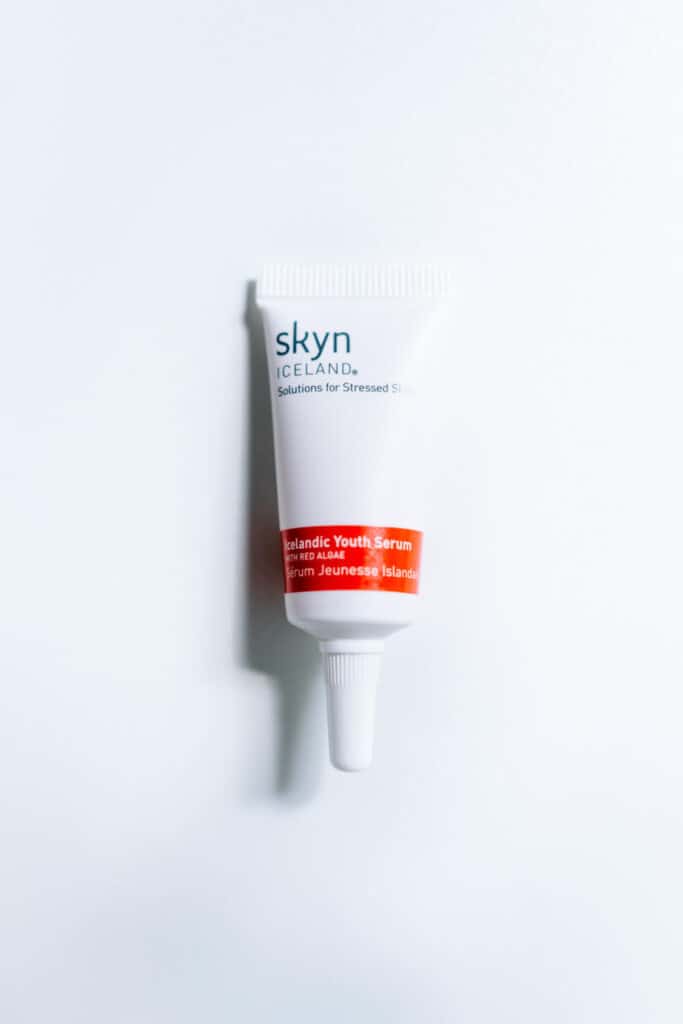 Many studies have shown the adverse reactions our emotions have on skin. For example research has shown this added trauma can cause everything from dry rashes, pimples, and wrinkles.
Read on to see if Icelandic Skyn Youth Serum helped reduce signs of premature aging!
The 4-1-1 on Skyn Iceland products…
Sarah Kugelman founded Skyn Iceland in 2003. Before creating Icelandic skincare Kugelman became so sick from stress that she ended up in the hospital. As a result, she decided to change her life and found herself in Iceland.
While in the land of untouched waters and fresh air she was surprised at how peaceful the environment made her feel. And then she noticed how this calm atmosphere helped the complexions of the locals. As a result, it inspired her to develop Skyn Iceland skincare.
Zinc PCA: Calms stressed skin while reducing redness and controlling oily skin.
Fullerene: Antioxidant-rich spheres that allow ingredients to penetrate deep into skin and fight signs of stress.
Ergothioneine: An amino acid that protects skin from UV rays, pollution and stress.
Camelina Oil: A rich oil with essential fatty acids and antioxidants that fights inflammation.
Astaxanthin: An antioxidant that is 6,000 times more powerful in Vitamin C and fights signs of aging and inflammation while it fights hyper-pigmentation and free-radical damage.
Skyn prides themselves on their "Icelandic Complex", a blend of mineral packed glacial water, cranberry and cloudberry oils, antioxidants, vitamins, and molecular oxgen. Together they provide hydration, detoxify skin, and give energy to the skin – providing a more youthful glow.
All Skyn Iceland skincare is free from parabens, silicones, harsh chemicals, PEGs, dyes, and fragrance.
Skyn skin care is also 100% vegan and Dermatologist tested.
EWG Rating:
Although there is not an EWG rating for the Icelandic Youth Serum. The other Skyn product grades are mostly very good. That is to say, the ratings are a 4 or below. The products above a 4 are labeled as "old formulas". So that is a good sign overall.
Why do I love Skyn's Icelandic serum?
I was shocked when I first used this Iceland cream because it comes out of the container a vibrant red color. It looks like a red gel. And is due to the use of red algae or Astaxanthin in the serum. However, there is no need to the worry. The red hue does not tint your skin.
Icelandic youth serum is suited for all skin types. Skyn claims it is a solution to dryness, dullness, and uneven skin. This is completely true. When I first tried it, I had dry and irritated skin and I could not believe how good it made my skin feel. It was extremely soothing.
It is not a heavy cream, or a moisturizer – it is a serum (or light lotion). In fact, on the bottle it says to follow with moisturizer. But it is very unique and I have never tried a product like this.
I really like it. It is becoming more and more addicting every day. Haha! It feels so amazing on my skin.
How to use:
Cleanse skin with your favorite face wash. Gently pat your skin dry. Then pump the bottle 1-2 times. Use a dime-sized amount of serum to cover your entire face and neck.
You may use this anti-aging solution in the morning or evening. However, if you use it in the morning and plan to be in the sunlight, make sure to follow it with a sunscreen.
If you are looking for a great option to protect your skin during the day – check out our review on The 3 Best Sunscreens for Rosacea.
How does this skin soothing Iceland brand compare to others like it?
A lot of Skyn reviews I found complained about the packaging. For a high-end brand it does not match the aesthetic most people desire. That being said, I do not worry as much about the marketing of a product as I do the results.
It does go on a bit tackier than other serums I have tried. But that does not bother me. I also like the faint but crisp fragrance.
Skyn Icceland reviews also talk about the price point. Most found it to be costly but not terrible considering the quality you receive. And, it did not seem bother any type of skin – from dry to oil and combination.
While many serums barely moisturize this one actually diminishes fine lines and will give you a fuller, dewy look. So yes, I would recommend this product. It really does work for all types of skin.
If you are looking for an anti-aging eye cream take a look at our SkinMedica TNS Eye Repair Cream Review.
Where to purchase?
I prefer to purchase Skyn Iceland products from Dermstore. Craig A. Kraffert, a Dermatologist, founded Dermstore in 1999. The inspiration to create the brand came from his patients. They needed a place to purchase doctor recommended products. They have a great shipping and return policy. And their
Are you ready to de-stress your skin with this serum? Let me know how you like it!