We all know probiotics are excellent for digestion but what about for your skin? Tula Illuminating Face Serum is filled with these probiotics so it seemed worth a try.
There are so many reviews on Tula Illuminating Face Serum – claiming it's the best face serum available. Keep reading to see why…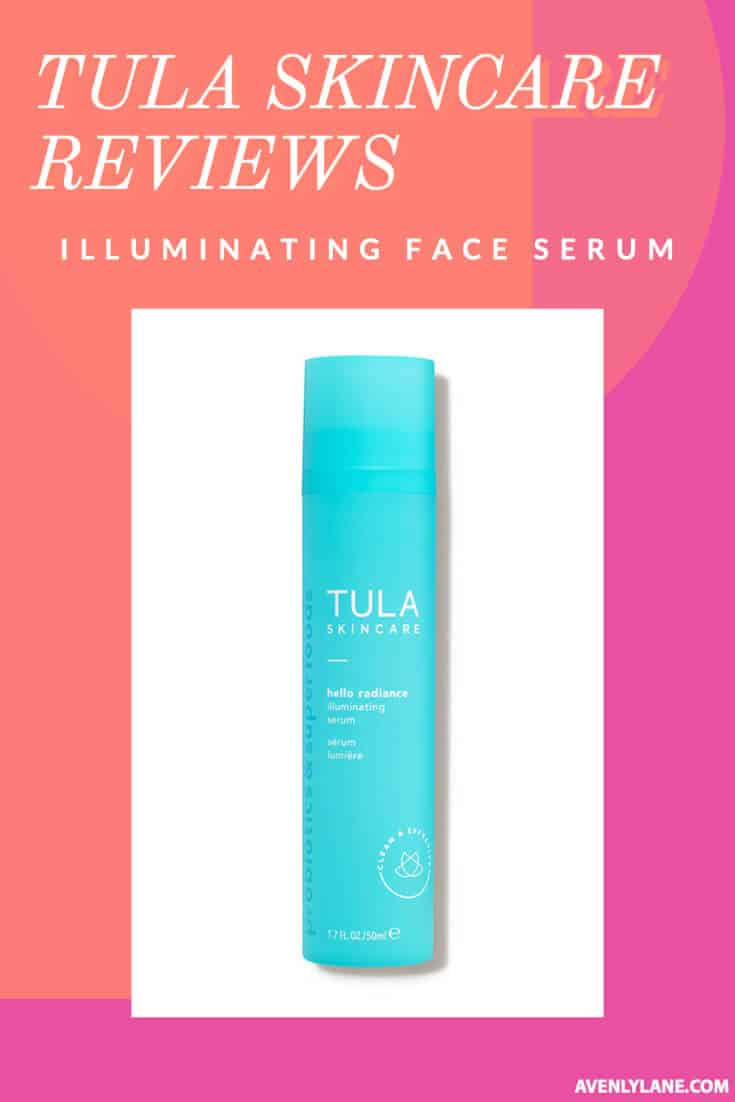 Tula Illuminating Face Serum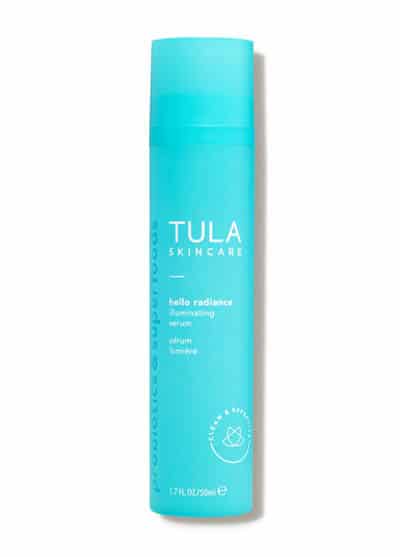 Doctor Approved Tula Illuminating Face Serum
The 4-1-1 on Tula probiotic skincare…
Tula came to the skincare scene in 2014 and was created by Dr. Roshini Raj, a board certified and practicing Gastroenterologist. She frequently visits the Today show as a guest medical expert.
It's so exciting to see "Dr. Raj" with a skincare line, she really knows her stuff!
The entire Tula line uses Probiotic Technology to protect the skin's barrier against harmful bacteria while simultaneously restoring its natural balance. Along with the skin-loving probiotics, the following ingredients are listed on Tula's website for the Illuminating Face Serum…
Tocopherol (Vitamin E): an antioxidant that helps protect the skin and maintain a youthful appearance
Citrus Extracts & Pearlescent Pigments: visibly brighten the skin and boost its radiance
Safflower Oil: hydrates and leaves the skin looking supple and soft
Chicory Root: a natural anti-inflammatory prebiotic that helps boost the appearance of firmer skin
Probiotics: lock in moisture and support a balanced appearance
Tula is very transparent and open about their ingredients. The entire line is paraben-free, gluten-free, phthalate-free, sulfate-free, and does not contain mineral oil, propylene glycol or petroleum. They are also cruelty free.
What is face serum?
Serums in general are lightweight moisturizers. They have a large variation of uses. And are intended to penetrate deeper than normal moisturizers to distribute active ingredients into your skin.
In this case the Tula Illuminating Face Serum is intended to deliver antioxidants, vitamin-c extracts, oils, and probiotics to brighten and hydrate the face.
Why you should like Tula probiotic skincare…
Because it works!
This skincare serum promises to even out skin tone, smooth facial texture, and create a brighter complexion.
Which is exactly why I purchased it in the first place!
After a couple weeks of twice daily application, there were no allergic reactions. That is a huge win for someone whose face turns into a walking allergic reaction just from being near someone who has used a lotion that my body quite literally rejects.
After using this face serum everything just appeared more alive – actually healthy. It was a nice change.
My skin now looks nourished, better hydrated, and feels smoother than it has in years. There's a new glow, even under makeup.
So maybe those moisture locking probiotics really do work, haha.
Here's how to use a serum for your face:
Smooth 1-2 pumps of the serum on a freshly washed face then apply a moisturizer on top. If you really want to help your complexion – make sure your daytime moisturizer has sunscreen.
After you've let it sit for a few minutes, you can apply your makeup as usual!
You can use it twice daily – in the morning and evening.
How does it compare to other brands?
Unlike most serums, Tula Skincare claims to be suitable for all skin types – from oily to sensitive and everything in between.
When it comes to sensitive skin it's questionable being there is an added fragrance – a pleasant light powdery one, but whenever you see the word "fragrance" on a product label it means that we don't know what it means.
Essentially, it could be one on a list of hundreds of ingredients and who knows if it will contain something you have a reaction to.
Typically, that's a big "no-no" in terms of ingredients that don't mix well with easily agitated types.
On the plus side there's no propylene glycol – which can anger delicate skin.
What are others saying in the customer review section:
Something that seems to keep popping up in customer serum reviews is how this serum for the face doesn't leave your skin feeling tight like other brands do that contain vitamin-c.
I can also vouch for that! It definitely does not leave your skin feeling tight.
A little goes a long way, which is great. It also glides on very easily with an amazingly silky and luxurious feel.
While it is a little pricey, overall Tula Illuminating Face Serum is a really nice product and worth purchasing again.
What do you think about probiotics in your skincare? Are you interested in this serum now?