Stinging, pain, redness, broken capillaries, flaking, dryness, acne-like bumps – sound familiar?
That's right – it's Rosacea.
Best Sunscreen for Rosacea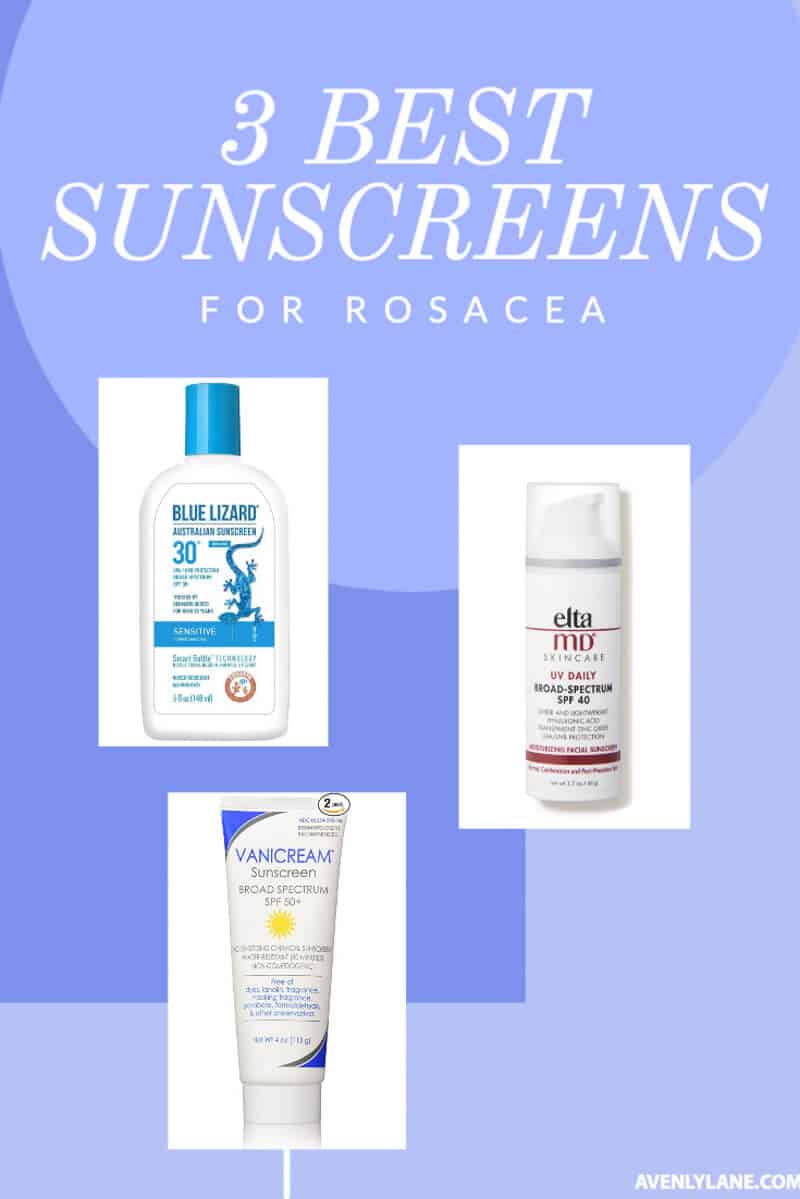 What is Rosacea?
Rosacea symptoms are defined as a common skin condition which causes visible redness and blood vessels with bumps that flare up for weeks to months at a time and may go away from time to time. The condition can affect anyone but is more common in women and may get worse as you age.
In my case a more mild Rosacea. I have all the same symptoms, they're just slightly less noticeable to everyone – but me. The most noticeable issues are my Rosacea cheeks and nose.
You can see exactly what I am talking about in my Rosacea pictures I posted below.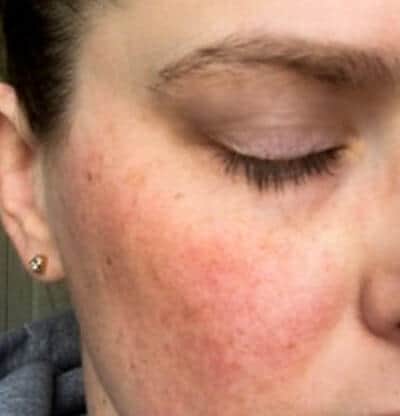 Although this photo only shows my cheek, I also get redness and Rosacea bumps on my nose and above my upper lip – this can appear after just one day of being exposed to cold winds.
Triggers for Rosacea
There are many Rosacea triggers and ingredients in sunscreen and skincare to avoid like…
Alcohol
Witch Hazel
Menthol
Camphor
Peppermint
Eucalyptus Oil
Fragrances
Propylene Glycol
But for today we're talking specifically about the best sunscreen for Rosacea prone, ultra-sensitive skin.
When it comes to sunscreen for Rosacea I've used nothing better than those below. Every list I see has it wrong, I don't even know of too many more than this that truly don't sting my skin and make my symtpoms work. So ignore those long lists and keep reading about the ones that are tried and true – below…
(Note: Many Dermatologists suggest a tinted sunscreen to reduce the look of facial redness, I personally don't care to do that – so those listed are clear once absorbed.)
3 Best Sunscreen for Rosacea
Vanicream Sunscreen Broad Spectrum SPF 50+
Vanicream sunscreen is one of the best sunscreens for sensitive skin. It is formulated for the most sensitive, allergy prone red face and skin.
I love that it has absolutely no: dyes fragrance, masking fragrance, lanolin, parabens, formaldehyde, formaldehyde releasers, PABA, oxybenzone, or other preservatives. It's also oil free, non-comedogenic, odorless, and gluten free.
This sunscreen for sensitive skin (like Rosacea) also meets the maximum amount of water resistance allowed at 80 minutes of exposure.
It's lighter in texture, not quite as thick as some regular sunscreens.
Note – It leaves a slight white cast which melts into your skin after a few minutes. I like to put it over my daily moisturizer.
EWG Rating for Vanicream sunscreen
With an EWG rating of one, this brand shouldn't be missed by anyone suffering from a Rosacea face.
Blue Lizard Australian Sensitive Skin Sunscreen SPF30
This zinc oxide sunscreen is an oil free, non-comedogenic product that won't clog your pores. It's free from parabens, Oxybenzone, Octinoxate, and fragrance. Plus it contains no chemical active ingredients. It's made so you can use it daily. And blocks out 97% of UV rays.
This brand is known for its bottle cap(s) that turn blue when exposed to too much sunlight, as a helpful indicator for you to move inside.
It's not quite as smooth to apply but the cast goes away in about five minutes. I love that it has Hyaluronic Acid and antioxidants (in this case – green tea for your skin). I don't have to use an extra moisturizer with this one plus it fights signs of aging.
Green tea in skincare has shown to reduce redness in those with Rosacea. So having it in my sunscreen makes me even happier!
EWG Rating for Blue Lizard Sunscreen
Blue Lizard Blue Lizard sunscreen is another brand with an amazing EWG rating one, give it a try.
BUY HERE (Target) or from Amazon here.
Elta MD sunscreen is THE holy grail of sensitive skin sunscreens according every Dermatologist I've seen. I bet you've read an article or two saying the same thing and they're actually right on this one.
It's free from fragrance, parabens, and sensitivity causing ingredients. It's also non-comedogenic and has UVA/UVB sun protection. Plus it contains Hyaluronic Acid and antioxidant protection – giving you seemingly ageless skin.
For me so far, it's the best sunscreen I've ever tried with my Rosacea riddled skin. It's silky, very lightweight, but provides the protection I need. I don't have to use a moisturizer underneath this one either and it leaves zero white cast on my skin.
I've heard this saying before by multiple healthcare professionals: "the best sunscreen is the one you wear"! Haha, simple but so true and I stand by it. That's one more reason this is my go-to, I actually enjoy putting it on. It seems to plump up my skin with its moisturizers and make me look a little more youthful.
So what do you think? Did these Rosacea sunblocks work for you?
Do you have any others you think I should try? Let me know below!