Skincare rooted in science? Yes please!
I was looking for an eye cream to help reserve signs of aging. But experimenting with different creams was driving me crazy until I found SkinMedica's TNS Eye Repair Cream.
Keep reading to see how I felt about their patent issued growth factor technology.
SkinMedica TNS Eye Repair Cream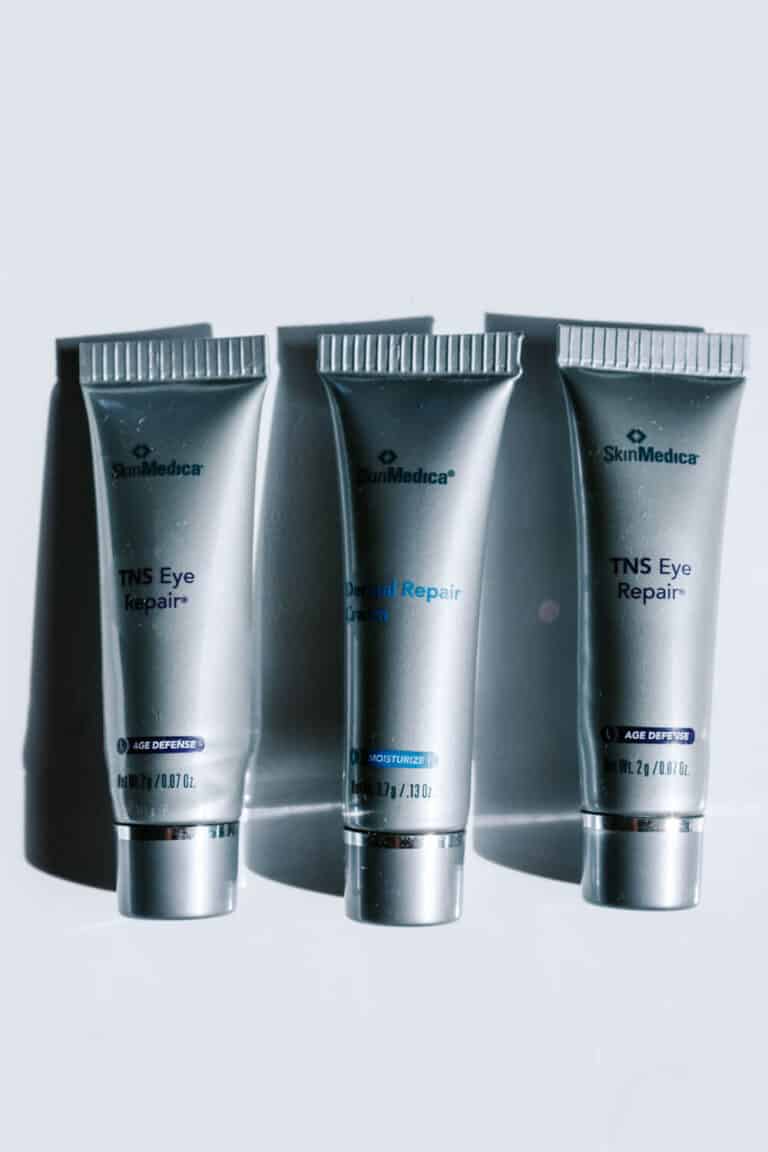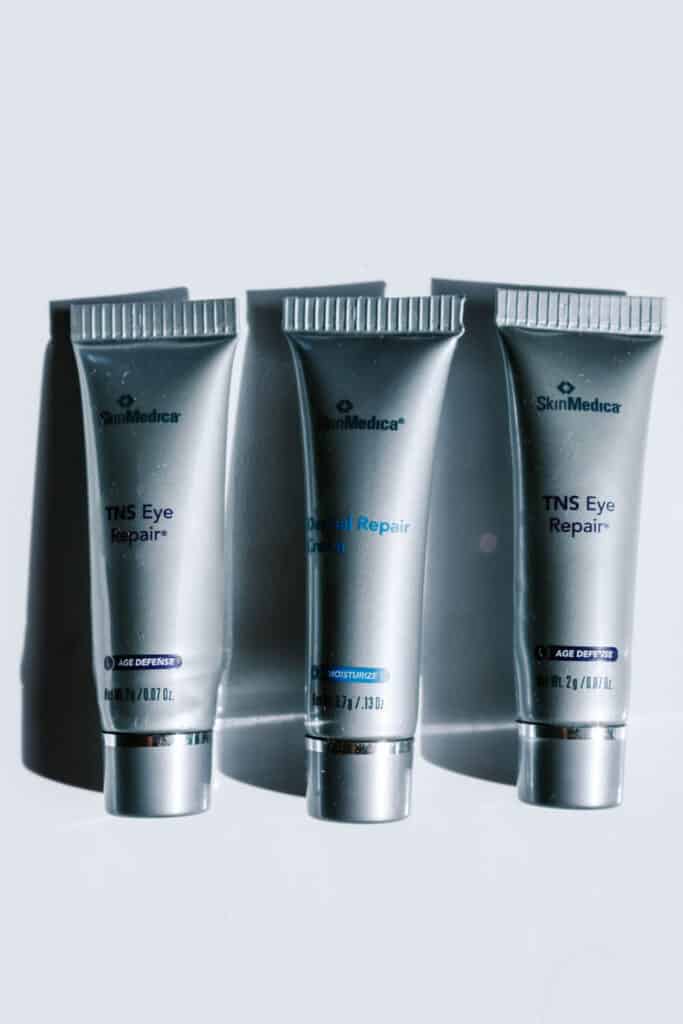 What you need to know about SkinMedica skincare…
In 1999, celebrated Dermatologist, Dr. Richard Fitzpatrick, founded SkinMedica. He was inspired by patients interested in healthy looking skin. Fitzpatrick wanted to create a new way to slow down the aging process. He also wanted to find a way to heal skin from within itself.
Fitzpatrick also hoped to find a way to heal skin from within itself. Which is where TNS came into play.
TNS or "Tissue Nutrient Solution" is the growth factor technology I mentioned earlier. It is a mixture of antioxidants, proteins, and human growth factors. Which when combined defend your skin against aging.
I know what you are going to ask next…. What in the world are growth factors?
According to SkinMedica: "Growth factors are natural substances made by skin cells to maintain healthy skin. They are responsible for supporting the repair of damaged skin, making components that provide firmness and elasticity to the skin while helping to maintain skin's protective functions."
Key ingredients SkinMedica lists for the TNS Eye Repair Cream…
Human Fibroblast Conditioned Media (TNS): A physiologically balanced, naturally secreted and stabilized combination of multiple natural messenger proteins.
Palmitoyl Tetrapeptide-7: A synthetic peptide that helps improve appearance of fine lines and wrinkles.
Palmitoyl Oligopeptide: A synthetic tripeptide that helps improve appearance of fine lines and wrinkles.
Tetrahexyldecyl Ascorbate: A stable, lipid-soluble ester form of ascorbic acid (Vitamin C).
Tocopheryl Acetate: A stabilized ester of vitamin E that is an antioxidant and free-radical scavenger.
Retinyl Palmitate: A natural lipid soluble form of retinol.
N-Hydroxysuccinimide and Chrysin: This combination of ingredients reduces the appearance of dark circles.
Boron Nitride: Optimizes the optical diffusion effect of light, which lessens the visibility of dark circles and discolorations to enhance skin appearance.
EWG Rating:
While I did not find an EWG rating for this eye cream. All other SkinMedica products listed on the website had ratings of 4 or below!
And the two "TNS" products mentioned each had a rating of 3. I think the reason they did not have a better rating is because they have a preservative (Isobutylparaben) with "use restrictions". A use restriction is an ingredient restricted for use in cosmetics.
These ratings are great considering the SkinMedica line is not an organic skincare line. If you prefer all natural products for your eyes – take a look at The Best All Natural Mascara (Ilia Mascara Review).
Why I like TNS Eye Repair Cream…
Actually… I do not like it, I L.O.V.E. it! This eye cream is literally perfect.
All the Skinmedica TNS Eye Repair reviews I have read had good but not excellent ratings. I am here to tell you, those reviews are not accurate. Not only did this eye cream hold true to all the benefits promised, it exceeded them.
After about a month of use I found the skin around my eyes to look "lifted". It was like I had been getting more rest.

I also noticed my skin appeared smoother, definitely more hydrated. Also, some of the wrinkles I had did not look so noticeable any longer.
This eye cream is best suited for normal to dry skin types.
It contains peptides in addition to vitamins A, C, and E that support the delicate skin around your eyes.
You can actually double up on TNS products. Try using the TNS Illuminating Eye Cream in the morning. Then the TNS Eye Repair Cream in the evening for twice the results.
The Illuminating formula will give your skin a brighter appearance. While the Eye Repair formula will also give you a fresh appearance, however it is more hydrating.
If you are interested in experimenting with other SkinMedica TNS products try the: TNS Essential Serum, TNS Recovery Complex, TNS Ceramide Treatment Cream, and TNS Illuminating Eye Cream
How to use TNS Eye Repair Cream:
Scoop out a pea sized portion of cream with a cosmetic spatula. Apply the cream to your fingers then smooth underneath your eyes and on the outer corners.
This formula was originally made as a night cream. However now SkinMedics claims you may put it on twice a day – in the morning and evening. Make sure to use it after putting on any treatment products, but before your moisturizer.
Warning: It is not recommended to use this product on your eyelids. The cream may settle into your eyes and cause irritation.
You should always protect the skin around your eyes. The first line of defense against aging is sunscreen.
If you have ultra-sensitive skin take a look at the Best Sunscreen for Rosacea.
How does Skinmedica eye cream compare to similar products?
First of all – Skinmedica Eye Repair actually works!
Haha! Maybe it sounds a little harsh but many eye creams I have tried simply do not work.
For example, other brands I have tried claim to even skin tone, make wrinkles disappear, and deeply penetrate dehydrated skin with intense hydration. Instead, I feel like they were just very light moisturizers – at best.
No other results ever happened. And I had once again wasted money. But with Skinmedica's TNS cream I saw my skin repairing itself over time. It looked more youthful and it was the best eye cream for dark circles that I have used.
So, would I buy it again? Yes, absolutely. In fact I plan to soon!
Now that you are in the "know", do you think Skinmedica's TNS eye cream is for you? Let me know what you like about it below!