It's official. DAE Shampoo and conditioner (here) is now my holy grail for my hair! Dae Hair is the newest haircare line, created by Amber Fillerup Clark of Barefoot Blonde Hair (BFB Hair).
An Honest Dae Shampoo Review
Often times clean, non-toxic hair products lack in quality. They can also be really rough on my hair but the DAE Shampoo is so good. It leaves my hair silky soft, shiny and frizz free and it smells amazing.
The battle to find a natural shampoo that actually works
This post may contain affiliate links, which means I'll receive a commission if you purchase through my link, at no extra cost to you.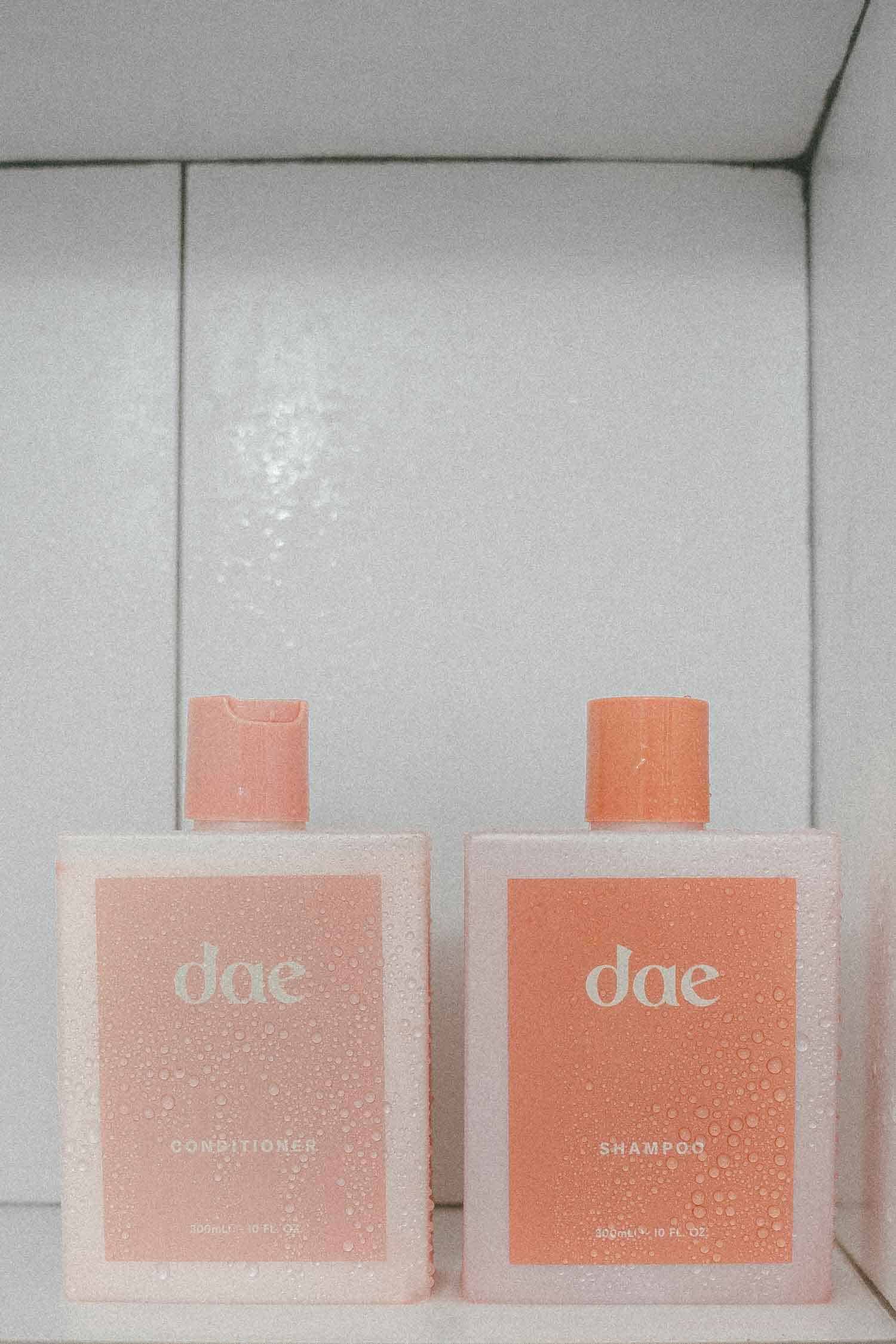 Finding a more natural shampoo and conditioner that actually works for my hair type has turned out to be a monumental task. I thought it would be as easy as reading the amazon reviews (which turns out are probably bought and paid for) or following the recommendations of the most popular websites and buying the top recommendations.
It didn't work out and only led to more frustration realizing that so many people just lie in the reviews or review products they have never actually tried.
I have tried so many different natural shampoo's and have wasted so much money in the process.
Take this shampoo by Avalon Organics for example. The reviews are mostly amazing. It was recommenced by so many people and it was TERRIBLE for my hair. It somehow created more knots and dried out my hair even more than it already was. The conditioner did nothing to help.
Fast forward 2 years and one of my favorite instagrammers and bloggers Amber Fillerup is creating her very own hair care line called Dae Hair. They he claims that they will not be using harmful ingredients.
My Hair Problems that Dae Shampoo Solves
Before switching to Dae Hair my hair was feeling dry, dull, damaged and like it needed some more love in my day to day hair care. I decided to splurge and try this set. I was not disappointed!
To be honest, my hair is complicated. It is thick but falling out. It is curly/wavy naturally but the curls are reckless and very hard to tame. My hair is damaged and dry and breaking. Oh, and did I mention it feels like straw!
My hair gets knotty and matted easily because I lay down a lot and don't wash my hair often. (I have an illness called Postural Orthostatic Tachycardia Syndrome that makes it hard to stand up without passing out.)
I also have chemical sensitivities and allergies to many ingredients in personal care products.
I have also experienced a red, itchy dry scalp which is no fun at all.
The Results after Using Dae Shampoo & Conditioner
Softer hair – After using the Dae shampoo and conditioner a few times the first thing I noticed was how soft my hair was. I had no idea that shampoo and conditioner could help soften my hair as I just assumed the damage was too great to repair with a shampoo or conditioner.
I also have tried tons of conditioners over the years and none really made a huge difference. I could not believe how soft my hair felt. I even had my husband touch my hair and I asked him if it felt different. He responded with "it doesn't feel like straw".
For the first time in years I love the feel of my hair. No one wants to run their fingers through straw like hair. Doing so is a terrible reminder of how damaged my hair is.
Hydrated, healthier hair – The texture is creamy and thick and instantly hydrated my dry hair.
No longer experiencing itchy scalp – My scalp no longer itched and I did not have any sensitivities to any of the ingredients. My hair felt more hydrated and I started seeing less breakage.
Less frizz – with my hair texture being thick and curly it is hard to keep the frizz under control. This shampoo really did a good job at helping control my frizz. I also pair up the shampoo and conditioner with the Prickly Pear Oil and it works incredible.
Where to buy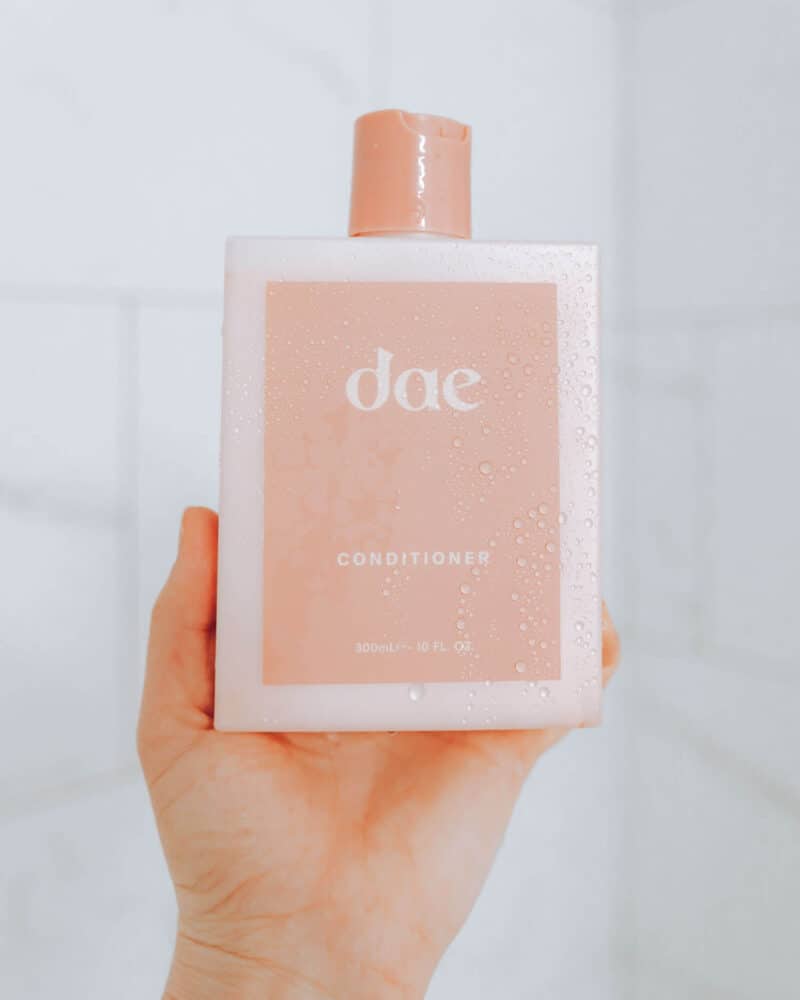 Dae Shampoo Ingredients
Dae Hair Products are:
Sulfate Free
Paraben Free
Cruelty Free
Formaldehyde Free
Mineral oil Free
Vegan
Each product is scented with essential oils, making them free of artificial additives. All of the company's packaging is recyclable as well.
Your Hair Health Matters
I didn't realize how much I cared about my hair health until it started falling out and turning to straw. It affected my confidence so much! I felt like I couldn't wear my hair how I wanted to anymore. If I wore it down people (and I) could tell how dead it was and my ends were so thin from breakage. So I have basically just worn my hair in a bun for the last 3 years.
Common problem with natural shampoos is they don't lather
I love that I don't need much to lather up, especially with having long thick hair.
Dae Hair Products
They have come out with 4 main products: a shampoo, conditioner, deep conditioning treatment and prickly pear hair oil. I have all but the deep conditioning treatment! You have the option to buy them as a set or separately.