It's official, DAE Shampoo and conditioner (here) is the holy grail for my hair! Dae Hair is the new haircare line created by Amber Fillerup Clark of Barefoot Blonde Hair (BFB Hair). Aside from hair care, BFB Hair is also famous for their hair extension line.
In this competition for a quality natural shampoo I unfortunately wasted way much time, way too much money, and unfortunately experimented with other products that damaged my hair. The good news for you is that you don't have to repeat my mistakes; read on to see if Dae shampoo and conditioner could work for you.
An Honest Dae Shampoo Review
This post may contain affiliate links, which means I'll receive a commission if you purchase through my link, at no extra cost to you.
Have you ever looked for a natural hair shampoo and found ones that turned your hair to straw, didn't actually clean anything, or left your head looking like a grease pit? I've known this struggle for far too long. It made me wonder if it was even possible to have a quality shampoo.
I thought I could succeed through reading Amazon reviews and buying the highly recommended products. Unfortunately, I learned that Amazon reviews in the hair care space are often fake, with many reviewers not even owning or using the product.
I get the irony of my online review critiquing other online reviews, but even if you don't trust this review my word of advice would be that when it comes to beauty products you should trust reviews from sources other than Amazon.
An Unfortunate Example Where Natural Shampoo Reviews Led Me Astray
For example this shampoo by Avalon Organics has almost all positive reviews. It came recommended by so many people yet was TERRIBLE for my hair. My first red flag should have been when the smell and texture didn't match what I'd read in some of the reviews. Somehow the shampoo created more knots and dried out my hair even more than it already was. Unfortunately their conditioner did nothing to help.
How I Solved My Natural Shampoo Problem
Thankfully, one of my favorite Instagrammers/Bloggers Amber Fillerup created her own hair care line named Dae Hair, and I was willing to experiment based on a history of following her and appreciating previously recommended products.
Upon receiving I thought the square bottles and smell were pretty cool, but the real success came when it left my hair feeling silky, soft, shiny and frizz free.
My Specific Hair Type/Problems that Dae Shampoo Solves
My hair type is naturally wavy and thick. As you can see above, I have color treated hair that tends to get extremely dry.
My Hair Type with photos
The top two photos are my hair with no products or straightening after a blow dry. You can see that it is naturally quite frizzy. It has been like this my entire life.
The bottom two photos are my natural hair with no products in it. Air dried. Although I have never considered myself to have 'curly hair' you can see it has quite a bit of natural wave to it.
My hair is already very high maintenance so I need a hair care routine that is quick and easy. One that is good for blonde hair and that will boost shine. I also want a hair oil that will help repair damage done to the ends of my hair. I want a breakage remedy, a miracle worker.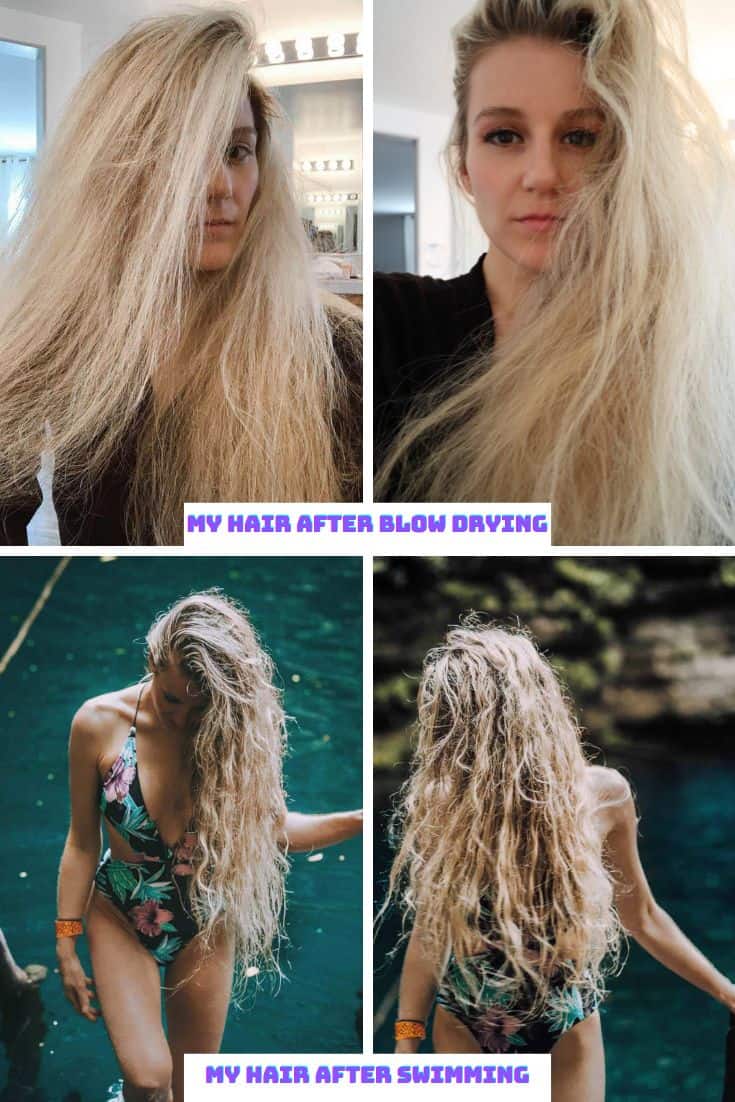 Before switching to Dae Hair my hair was feeling dry, dull, damaged and like it needed some more love in my day to day hair care. It was a little bit more than I hoped to spend, but I decided to splurge and give it a try. I was not disappointed!
To be honest, I think my hair is more complicated than most. It is thick with naturally curls/waves, which often have a mind of their own making them very hard to tame. Due to a lot of outdoor activities in the sun or water my hair is often damaged and dry and breaking. Oh, and did I mention it can often feel like straw! My hair also gets knotty and matted easily because I lay down a lot and don't wash my hair that often.
I also have chemical sensitivities and allergies to many ingredients in personal care products that often lead my skin red, itchy, and dry.
The Results after Using Dae Shampoo & Conditioner
For me the results were dramatic. It's not very often that you experience the benefits of a new product immediately. After one wash I could feel the benefits below.
Softer hair – After using the Dae shampoo and conditioner the first thing I noticed was how soft my hair was. I had no idea that shampoo and conditioner could help soften my hair. I assumed the damage was too great to repair with a shampoo or conditioner.
I also have tried tons of conditioners and none really made a huge difference. I could not believe how soft my hair felt. I even had my husband touch my hair and I asked him if it felt different. He responded with, "it doesn't feel like straw."
Hydrated, healthier hair – The texture is creamy and thick and instantly hydrated my dry hair, which helped it not break off.
No longer experiencing itchy scalp – My scalp didn't get red or itch. I do not have any sensitivities to any of the ingredients.
Less frizz – with my hair texture being thick and curly it is hard to keep the frizz under control. This shampoo really did a good job at helping control my frizz. I also pair up the shampoo and conditioner with the Prickly Pear Oil; it works incredibly well.
Lathers up – okay you may not think this is a big deal, but I hate shampoos that won't lather up (especially common in natural shampoos). Thankfully, that is definitely not an issue here.
Where to buy DAE Hair Shampoo
You can purchase Sephora or Daehair.com
Dae Shampoo Ingredients
Dae Hair Products are:
Sulfate Free
Paraben Free
Cruelty Free
Formaldehyde Free
Mineral oil Free
Vegan
Each product is scented with essential oils, making them free of artificial additives. The packaging is recyclable as well.
The Full Line of Dae Hair Products
They have come out with 4 main products: a shampoo, conditioner, deep conditioning treatment and prickly pear hair oil. I have all but the deep conditioning treatment! You have the option to buy them as a set or separately.