Until a year ago, I had never heard of prickly pear oil. Turns out, there are loads of benefits to using it on your hair and skin.
Prickly Pear Oil Benefits
Research suggests that prickly pear oil can help reduce skin inflammation, as well as prevent skin damage, wrinkles and acne. It can also help to stimulate collagen production to promote faster cell turnover. It also contains vitamin K, which can help brighten your dark circles and also promote your skin's elasticity.
This oil is high in vitamin E and essential fatty acids, omega 6, and omega 9, all of which are great for fighting free radicals.
Prickly Pear Hair Oil
This prickly pear hair oil is amazing! After just a few uses I noticed my dull, frizzy hair regain some much needed life. I love that this hair oil is free of harmful ingredients. It feels "healthy" and my hair just soaks it up. The smell is also incredible.
This post may contain affiliate links, which means I'll receive a commission if you purchase through my link, at no extra cost to you.
What is Prickly Pear?
Prickly pear is the fruit that grows on the nopales cactus, also known as Opuntia. They are actually edible. You can now find juice bars that are selling drinks with prickly pear in them. This fruit is starting to become more mainstream as a new superfood.
How to use it
You can use it on your skin or on your hair. For your skin it is great for preventing wrinkles. It can soften and moisturize your hair as well.
One of my favorite prickly pear oils is by Dae Hair. I have been using this oil on my hair for a year now and I will never go back.
The Best Prickly Pear Hair Oil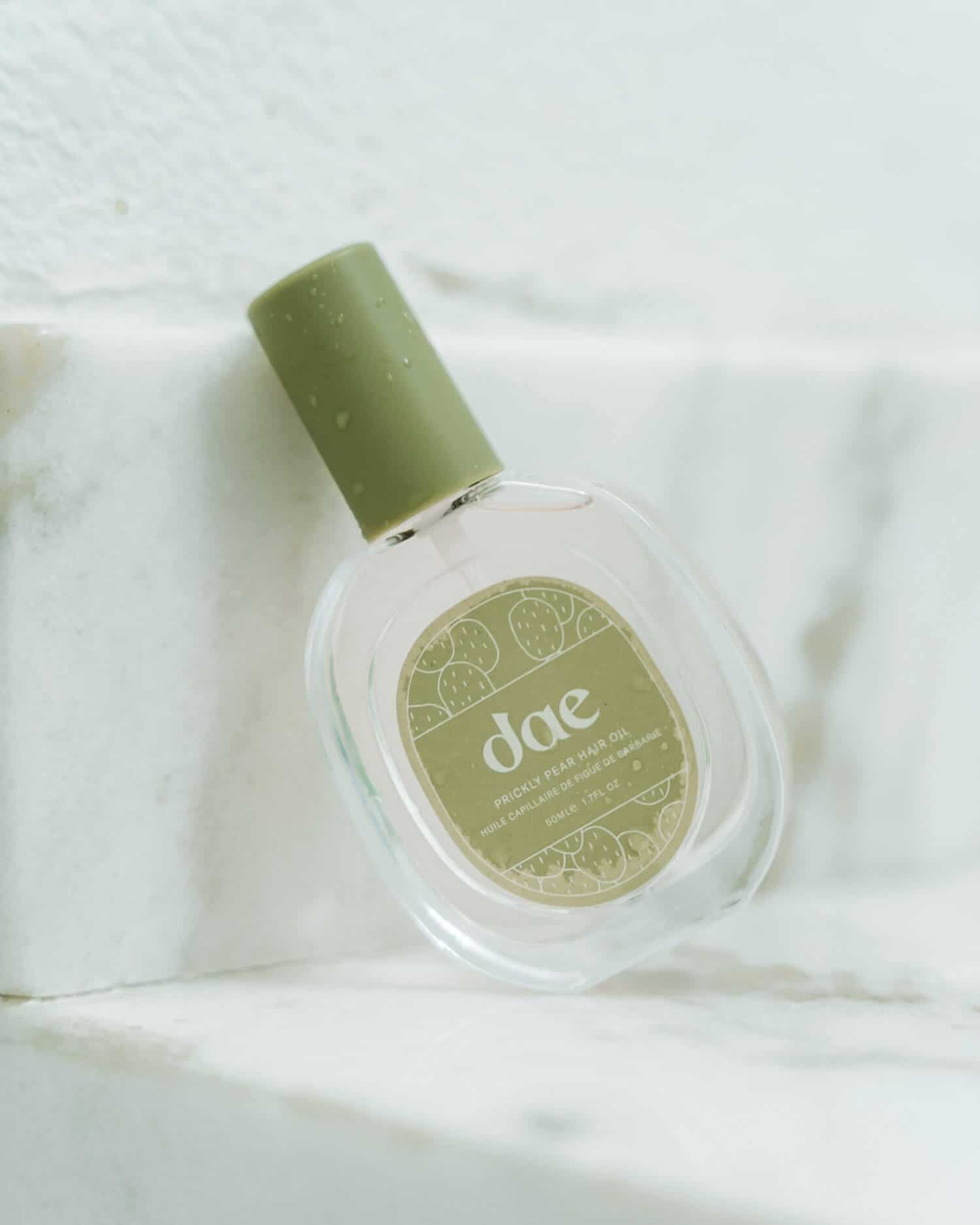 Its prickly pear oil is a beautiful, clean product that nourishes hair and smooths frayed cuticles. Plus, it smells amazing.
What is it?
Prickly Pair Hair Oil is a multi-use hair oil treatment that will strengthen your damaged hair, fight frizz and flyaways, soften and detangle.
I love that it is multi-purpose. You can use it to add shine to your hair, you can use it as an overnight treatment, or you can use it right out of the shower as a detangler and moisturizer for your hair to help prevent breakage. I even love to use the leftovers on my hands or face.
It works for all hair types. If you have thick hair (like me) I still can get away with only 1 pump. A little goes a long way.
Good for:
– Curl Enhancing
– Dryness
– Damage, Split Ends, and Breakage
Free of toxic ingredients:
Free of sulfates SLS and SLES
parabens
formaldehydes
phthalates
mineral oil
oxybenzone
retinyl palmitate
coal tar
hydroquinone
This product is also vegan, cruelty-free, and gluten-free, and comes in recyclable packaging.
How to use prickly pear hair oil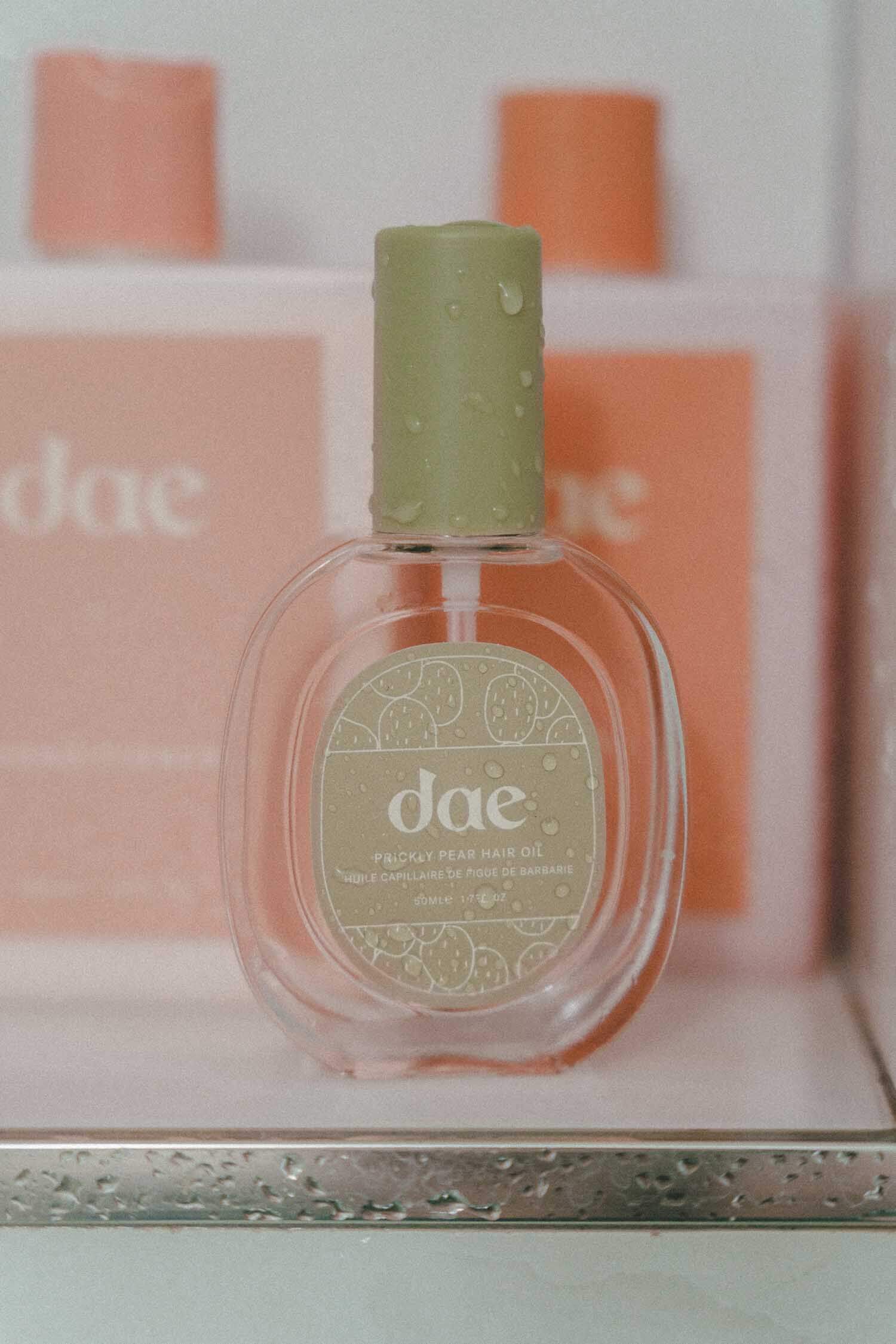 -Use on dry hair to smooth, soften, and style.
-Use on damp hair as a detangler and to prevent breakage.
-Use overnight on dry hair as a hydrating treatment.
-Start with one to two pumps. (One pump was plenty for me)
-Repeat as needed.
Key Ingredients:
-Prickly Pear: Rich in antioxidants and vitamins.
-Moringa Leaf: Supports keratin production.
Note – Dae Prickly Pear Hair Oil only contains natural colors and should be stored out of direct sunlight to avoid fading.