Everyone thinks they want curly hair.
We crimp, twist, and coil our locks to achieve that perfectly wavy look. But those with naturally curly hair constantly struggle with split-ends and dryness.
Keep reading to see why Virtue Restorative Treatment Mask is the best hair mask for frizzy, bleached, damaged, dry, and all around unruly hair.
Everything you need to know about Virtue hair products…
Founded in 2013 by Dr. Luke Burnett, a retired US Army Colonel. Burnett has lead a regenerative medicine lab in Winston-Salem. They work to heal battlefield injuries (like burn wounds) using keratin.
He and his lab cohorts found a way to extract human keratin in its purest form. It is known as "Alpha Keratin 60ku". They discovered that this keratin chemical formula can also repair hair, by mimicking the keratin made by your own body.
Virtue Restorative Treatment Mask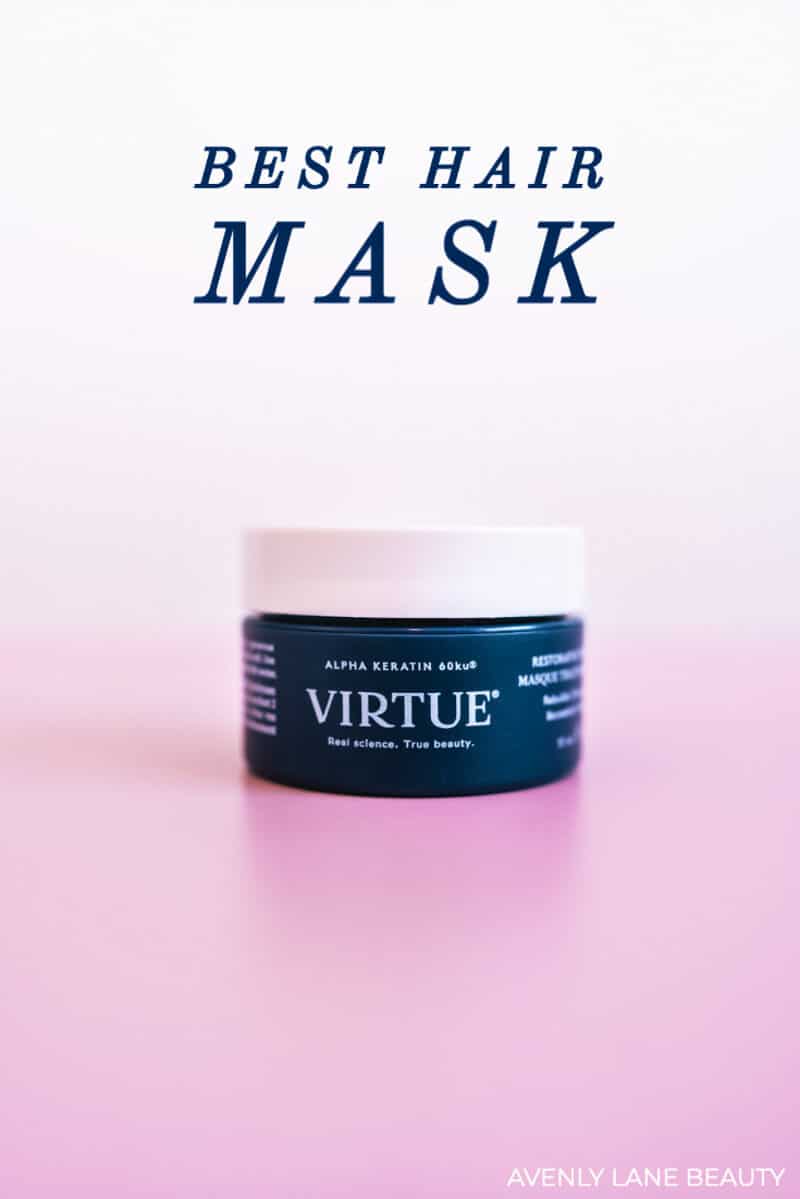 Key ingredients: Virtue Labs list for their Restorative Treatment Mask
Cystoseira Compressa Extract (Brown Algae): This marine active is known to provide intensive repair and helps provide heat protection.
Amaranthus Caudatus Seed Extract (Protein): This plant-based protein can be remarkable for hair, enhancing color, moisture retention and shine. Rich in flavonoids and polyphenols, this protein is known to provide antioxidant properties.
Baobab Seed Oil: From the African Tree of Life (known for its ability to store water), this rich, silky oil can act as an intense emollient for dry, damaged hair.
Cynara Scolymus (Artichoke) Leaf Extract: This natural extract is known to preserve cuticle cohesion and helps protect hair from environmental aggressors.
Free of parabens, sulfates, phthalates, synthetic colors and dyes. Cruelty Free.
If you are curious about putting straight oil on your hair read the Josie Maran 100% Pure Argan Oil Review.
EWG Rating:
Unfortunately the Virtue brand is not rated on the EWG website. However, it was given a Glamour Beauty Award in 2019. And the entire line has been recognized by many different acclaimed publications like Allure, Vogue, InStyle, The Oprah Magazine, and many more.
Why I love this alpha keratin treatment…
Because it is so innovative.
Personally I have never used a product with this type of alpha keratin hair treatment. My curls soak it up. It really does give my hair a boost of shine and moisture. In addition my hair looks more alive since I have been using it.
My long curly hair went from frizzy and dry to nourished and shiny. My curls have more definition and bounce to them now. Plus it works – so quickly! After one use I saw a difference.
Also, I absolutely love the fragrance. It is a blend of woods, citrus, coconut, and yuzu extracts.
You might also be interested in: Sachajuan Moisturizing Shampoo & Conditioner Review.
How to use it:
After cleansing your hair, remove any excess water by gently squeezing your hair. After that apply a generous amount of the mask. Make sure to distribute the product evenly throughout your hair.
I like to leave the mask on for 2-3 minutes, then rinse it completely out. If you want an even deeper treatment, feel free to leave on longer – even overnight.
It is recommended for weekly use to see the best results.
How does this protein hair mask compare to similar brands?
First of all in comparison to other brands, I would definitely purchase this protein conditioner mask again.
Other masks I have tried weigh my hair down after a few minutes of use. However with Virtue's mask I can leave it on all night and my hair is still lightweight. It also is not too harsh. The mix of ingredients seem to be particularly kind to scalp and strands. So, I have no irritation after use.
Maybe it seems a little silly to mention. But I really like how this mask does not get all over my pillowcase when I use it overnight. Normally I am left with a sticky mess of product all over my face and bedding.
If you are not ready to commit to a large container of this amazing protein treatment for hair. Then there is a travel size you can try to see if you like it.
Are you ready to nourish your curls? Leave a comment and let me know how Virtue works for you!