Looking for a hair oil that will soften, hydrate, and help to nourish your damaged split ends? SPOILER ALERT – look no further; this Dae Hair Oil could be exactly what you need.
You might be thinking, "pear oil for hair"? Does it really make a difference? Yes, it does! There are actually so many benefits to using pear oil for your hair.
Where I live and how I treat my hair make it especially important for me to have a quality hair oil. After numerous experiments, I finally found an option that helps my hair regain life.
After just a few uses I noticed my dull and frizzy hair regain some of that much-needed life!
This oil makes my hair look soft and shiny without weighing it down and reducing volume. Its lightweight consistency won't make your hair look greasy and its ingredient list will make you feel safe using it (vegan, cruelty-free, and free of toxic ingredients).
Read my Dae Shampoo Review – Unsponsored review of the Dae Shampoo and conditioner
SUMMARY: For those who don't want to read the full post here's a quick summary. After a full year of using Dae Prickly Pear Hair Oil I am in love with the results. Its lightweight texture has helped to calm my frizzy hair and improved the overall health of my hair. I will buy this oil again as it is one of the best hair oils I have tried in a while. Click here to purchase Prickly Pear Hair Oil.
This post may contain affiliate links, which means I'll receive a commission if you purchase through my link, at no extra cost to you.
Dae Hair Founder
Dae Hair was founded by Amber Fillerup Clark (used to go by the name Barefoot Blonde). She is from the Arizona desert where the prickly pear cactus llower grows naturally. They are native to the Americas and are all over the state of Arizona.
My Hair Concerns – Why I need a Quality Hair Oil
I have long, thick, and coarse hair that isn't super easy to tame. My hair texture is wavy. My hair is frequently dry, damaged, and frizzy. Further, it is color treated and has heat damage from using a straightener.
My natural hair color is dark blonde/light brown. I add blonde highlights every 3-5 months (depending on how lazy I am).
Climate also impacts my hair. Until recently I lived in Las Vegas. If you've ever been there then you know that it feels like the hottest and driest place on earth. I've recently moved to Utah, which might not be quite as bad, but is still an incredibly dry place.
Ultimately my biggest hair concerns are dryness, frizz, and breakage. Dae hair oil helps alleviate each of these issues.
My Hair Type with photos
The top two photos are my hair with no products or straightening after a blow dry. You can see that it is naturally quite frizzy. It has been like this my entire life.
The bottom two photos are my natural hair with no products in it. Air dried. Although I have never considered myself to have 'curly hair' you can see it has quite a bit of natural wave to it.
My hair is already very high maintenance so I need a hair care routine that is quick and easy, one that is good for blonde hair and that will boost shine. I also want a hair oil that will help repair damage done to the ends of my hair. I want a breakage remedy, i.e. a miracle worker.
Does it exist?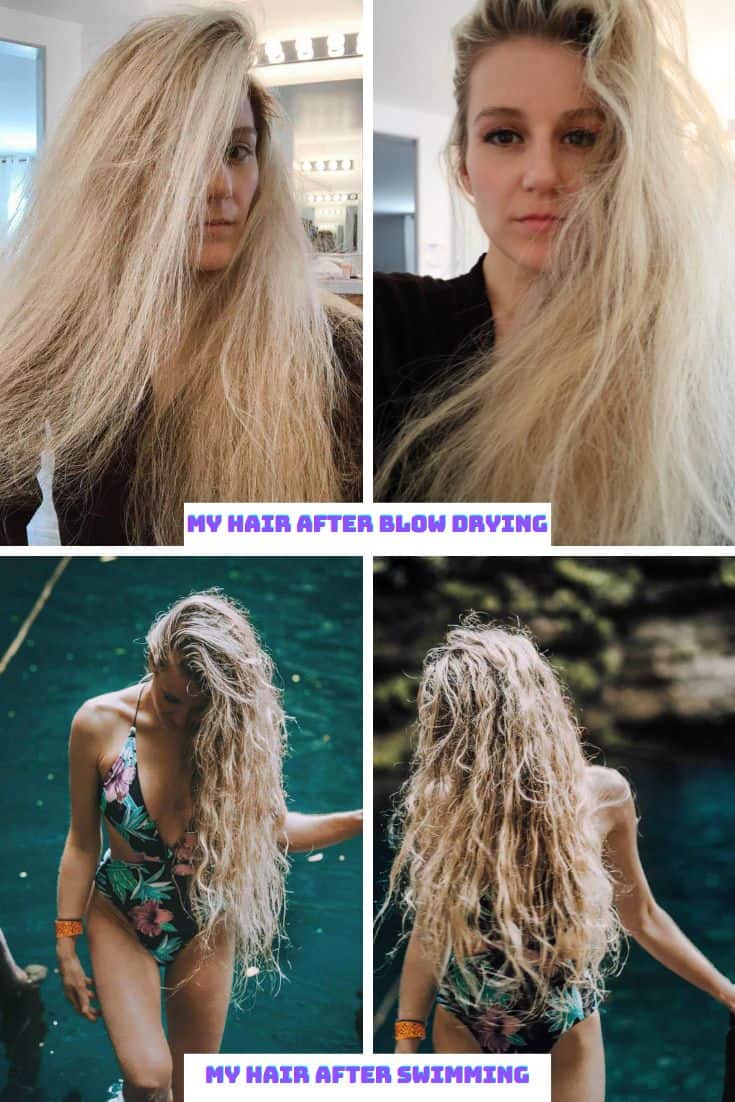 What can Dae Hair Oil be used for?
Dae Prickly Pair Hair Oil is a multi-purpose hair oil treatment that claims to strengthen your damaged hair, fight frizz and flyaways, soften, and detangle.
I love that it is multi-purpose. You can use it to add shine to your hair, you can use it as an overnight treatment, or you can use it right out of the shower as a detangler and moisturizer for your hair to help prevent breakage. I even love to use the leftovers on my hands or face.
It will help with dryness, split-ends, and breakage.
What type of hair is Dae Prickly Pear Oil good for?
It works for all hair types. If you have thick dry hair (like me) I still can get away with only 1 pump. A little goes a long way. It doesn't make my hair greasy which is actually pretty hard to do considering how dry it is.
I recommend washing your hands after using it, otherwise when you touch your roots with your hands the oil will transfer and make your roots oily.
What ingredients are in it?
You are probably wondering, what are the main ingredients?
One of the key ingredients is prickly pear. If you are like me you probably have no idea what a prickly pear is. I've learned that prickly pear is a cactus fruit (exactly what it sounds like – a fruit that grows on cactuses). It is rich in antioxidants and vitamins. They are native to the Americas and are all over the state of Arizona (where founder of Dae, Amber Fillerup Clark grew up).
Another key ingredient is moringa leaf. Moringa leaf, also known as the drumstick tree, has been proven to improve keratin production in your hair.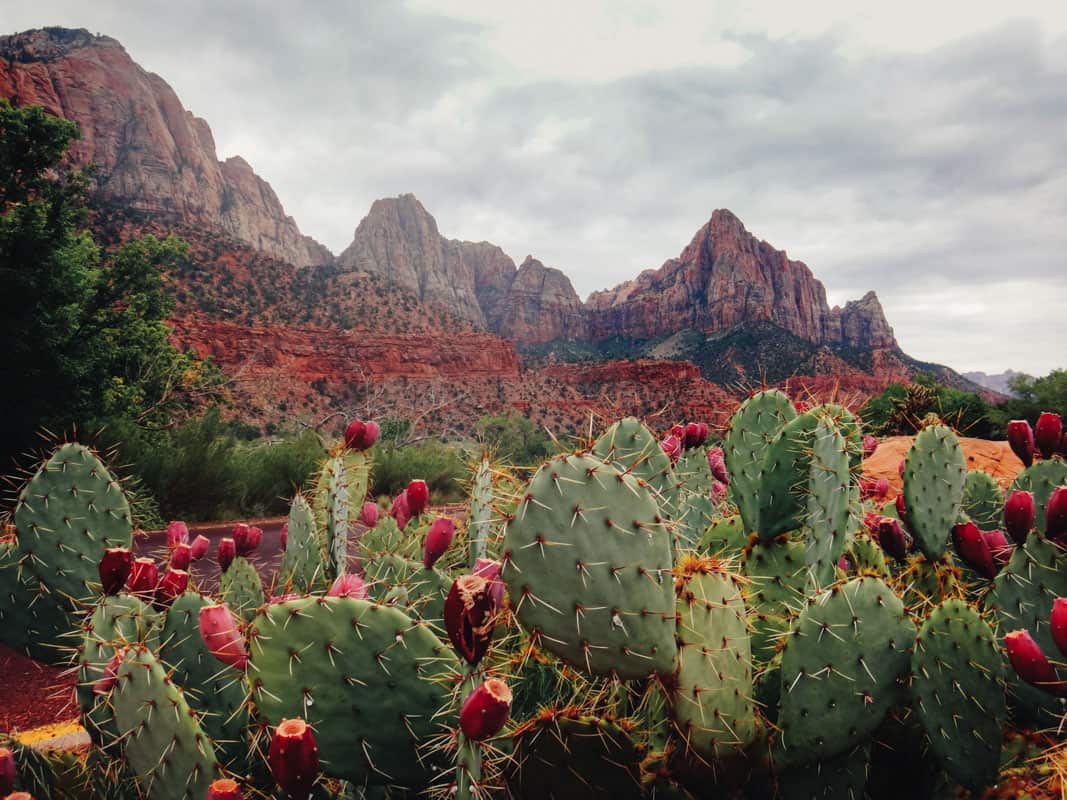 It is free of toxic ingredients
To me, having a hair oil that is free of toxic ingredients is one of the most important things when choosing a product. I have a lot of health issues that give me extreme chemical sensitivities, so I have to be extremely careful when choosing products. As an example, when I walk into Bath and Body Works I immediately light up in rashes.
This Dae Hair oil is labeled "clean" at Sephora.com.
Free of sulfates SLS and SLES
parabens
formaldehydes
phthalates
mineral oil
oxybenzone
retinyl palmitate
coal tar
hydroquinone
Full list of ingredients
Cyclopentasiloxane, Dimethicone, Caprylyl Methicone, C13-15 Alkane, Ethyl Macadamiate, Opuntia Ficus-Indica Seed Oil (Sweet Prickly Pear), Argania Spinosa Kernel Oil Ψ Fragrance, Limnanthes Alba (Meadowfoam) Seed Oil, Plukenetia Volubilis Seed Oil, Eclipta Prostrata Extract, Melia Azadirachta Leaf Extract, Moringa Oleifera Seed Oil, Tocopherol.
Prickly Pear Oil Benefits for Hair
Prickly Pear Oil has so many key benefits for your hair.
Hair Conditioner – It's high in vitamin E and acts as a natural hair conditioner to fight frizz. Remember, I need all the help I can get in this department.
Helps add shine to your hair – Its fatty and amino acids content gives your hair shine and volume.
Promotes hair growth – Organic prickly pear seed oil promotes hair growth.
Treat the scalp – Prickly Pear oil can help replenish the scalp and improve scalp health.
Hydrates your hair – Prickly Pear Seed Oil has the amazing ability to retain water in the driest of conditions, it does come from a cactus after all. It is sure to nourish your hair and smooths frayed cuticles
The Scent – Fruity Aroma of the Prickly Pear Fruit
The scent of this Dae Hair oil is unlike any of my other hair products. It doesn't smell "perfumey" like a lot of other products. It is not overbearing or obnoxious. It smells sweet and fruity in the best way. I'm not normally a huge fan of citrus scents, but this one is pleasant.
Disclaimer – I dislike heaviliy scented products. If you like really strong smelling products you will likely find this one to be too "light." Dae Hair uses an essential-oil-based scent which is really important to me.
Another plus is the fragrance in this hair oil is an essential oil based scent with no synthetic fragrances added. Yay! This is SO hard to find in even "all natural" beauty products. So many companies claim their products are all natural but then you see added "fragrance" on the label which means it could be one of a million different ingredients that aren't regulated.
I have such sensitive skin I always have to be super careful with the products I use.
How to use Dae Hair Oil
There are a few different ways I use this hair oil.
You can use it as a curl enhancer. After the shower put 1-2 pumps on the ends of your hair and scrunch your hair with a soft towel or old t-shirt.
Apply it to dry hair to smooth, soften, and style (works like a dream).
You can also use it on damp hair as a detangler and to prevent breakage. (I apply this oil on my wet hair after each wash)
Use overnight on dry hair as a hydrating treatment.
Start with one to two pumps. One pump is plenty for me.
Note – Dae hair oil only contains natural colors and should be stored out of direct sunlight to avoid fading.
The Packaging
It comes in a glass bottle with a plastic pump. Mine came with a cute keychain that says "Have a nice Dae." It's cute, although I don't think I'll ever use it.
Pros and Cons
Pros
Clean non-toxic ingredients (and a limited list)
A little goes a long way – lasts a long time
Doesn't make your hair greasy
Comes in a glass bottle
Adds shine
So many multi-purpose uses
Smooths fly-aways
Safe for color treated hair
Cons
Needs to be stored away from the sun
Expensive price point (Although it is cheaper than some of the other influencer hair oils out there like Gisou Hair Oil)
Faint citrus smells aren't for everyone
Scent wears off fairly quickly
Where to Purchase Dae Products
Where can I buy Dae Hair products?
You can purchase Dae products at Sephora. In the US Sephora offers free returns to the store in you decide you don't like it. This means that you can try it out and return it if it doesn't work for you. It is one of the top selling Sephora hair products get it while it's still in stock.
Also, obviously, Daehair.com
Conclusion:
Would I buy it again? Yes. Did it improve my overall hair health? Yes, I did notice a difference. It is a great hair oil for dry hair.
Should you buy it? I think it depends on what your needs are. If you are looking for a really heavy moisturizing hair oil this is probably not for you. Not into fruity smells? You probably won't like this. If you want a lighter hair oil that will help fight frizz and will give your hair a super-smooth finish while adding shine, then I think this is a great hair oil that is worth purchasing.
I've heard that you might be able to find a cheaper alternative with similar results, but so far I haven't been able to find a complete package at a cheaper price point.
I personally didn't mind paying more for Dae hair oil because it is high quality and lasts a long time. My bottle is about 6 months old and I haven't even put a dent in it yet. I don't use it daily; I only use it when I wash my hair once or twice a week.
Read Next: The 5 Best Argan Oils For Your Face & Hair