I think we can all agree, even if you don't like wearing a ton of makeup, putting on lipstick can make a huge difference. It is always such a struggle to find the best natural lipstick. It gets even harder when you are also looking for a cruelty free lipstick, and almost impossible when you also need a vegan lipstick.
I've found some claiming to be the best all natural lipsticks in the past, but never a brand that actually works. Some of the brands will apply patchy and crumble off your face, while others are so oily that the lipstick seems to slide all the way up to your chin and nose.
Axiology Lipstick – All Natural & Organic Lipstick
When Beauty Heroes picked up the Axiology makeup brand I knew they had to be an eco-friendly cosmetics brand, but once I tried their lipsticks I couldn't believe that such an amazing product could be vegan, cruelty free and all natural. Shop them here.
Check out my favorite beauty subscription box here.
The Axiology Makeup Brand, where eco friendly packaging is just the beginning
Axiology is vegan, cruelty free, and all natural. I think this quote from their founder tells you everything you need to know about the brand.
"Makeup shouldn't just be safe for the people who wear it. It should also be safe for animals, the planet and the people who make it." – Ericka Rodriguez, founder
Axiology lipstick comes in a triangle box made of 100% hand-recycled paper made in Bali. I don't know why but I just loved the eco- friendly packaging. They also brag that every product comes with 10 ingredients or less, ummm yes please!
The Ultimate List of Reputable Cruelty Free Makeup Brands
Axiology Lipstick Review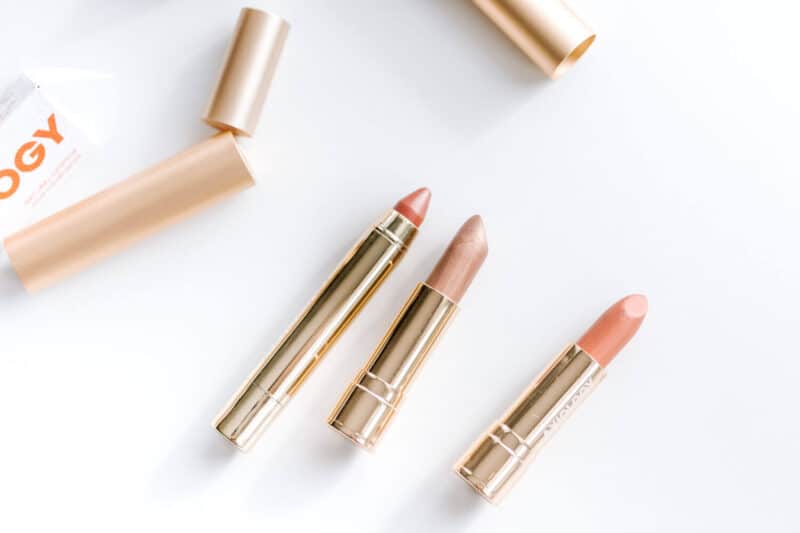 The first thing that stands out to me about the lipstick is the casing. Not only is it chic, but the bullet casing is designed to not come apart in your purse (a HUGE win for me). It's hard to explain, but the casing has some give that prevents it from being opened without specifically pulling from the end.
When I put the lipstick on it goes on smooth, but doesn't seem to sit on top of my lips. It seems to moisturize into them which is nice, but immediately makes me concerned that the color will fade within a couple of hours. Somehow the lipstick coloring doesn't face, while the moisturizing feeling remains. I HATE it when lipstick dries my lips out, and thankfully that doesn't happen with Axiology lipstick.
The coloring isn't matte, which helps you get a more natural look. It does transfer and needs to be reapplied if you eat and drink a lot, but not at a rate that is any different from a standard quality lipstick.
30 Best Eco-Friendly Makeup Products
Axiology Lipstick Colors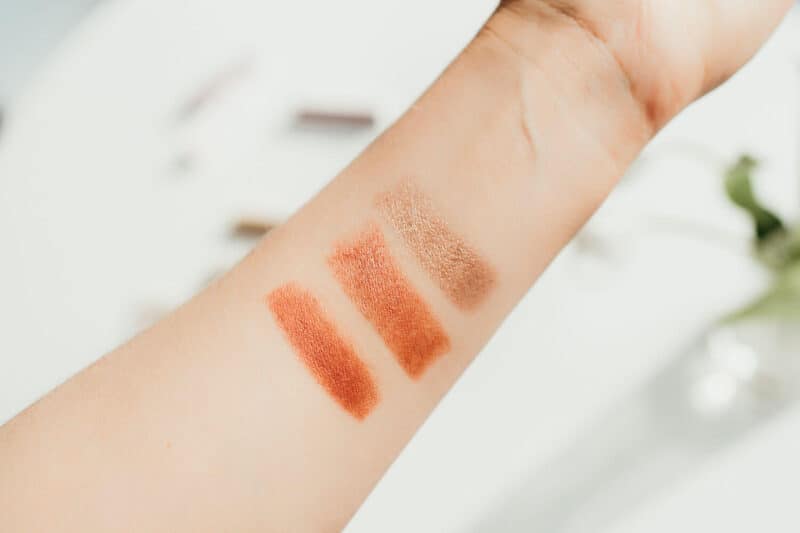 There are a wide variety of colors available. I have three different shades. I have the Enduring Axiology Lip Crayon (buy here), the Devotion Soft Cream lipstick (here), and the Spirit Sheer Balm lipstick (here).
Conclusion – The Best Vegan, Natural, and Cruelty Free Lipstick
If you need a vegan, natural, and cruelty free lipstick you need to go with Axiology beauty. Axiology combines all the functional needs of a lipstick with a brand that can really make you feel good about your purchase.
Best place to purchase Axiology Lipstick
The best place to purchase Axiology Lipstick is on Beauty Heroes. They currently are offering a special that you can't miss. You can get three Axiology lipsticks for $29. This is a steal considering one lipstick will cost you $30. You can access this deal through this link here. Good luck! I hope you like them as much as I have.
Read Next: