Beauty Heroes is an online store that focuses on selling clean natural products. Like many companies that sell beauty products, they also sell a subscription box.
Not sure what a subscription box actually is? The general idea is that you pay a set monthly fee and a random assortment of products is sent to you each month. They are a great way to find new beauty products at a fraction of the cost.
Of all the boxes I've tried (way too many), the Beauty Heroes box is my favorite. Not only are all of the products clean and cruelty free, but they are incredibly high quality and come in generous sizes for the price.
Beauty Heroes Box Review:
This post may contain affiliate links, which means I'll receive a commission if you purchase through my link, at no extra cost to you.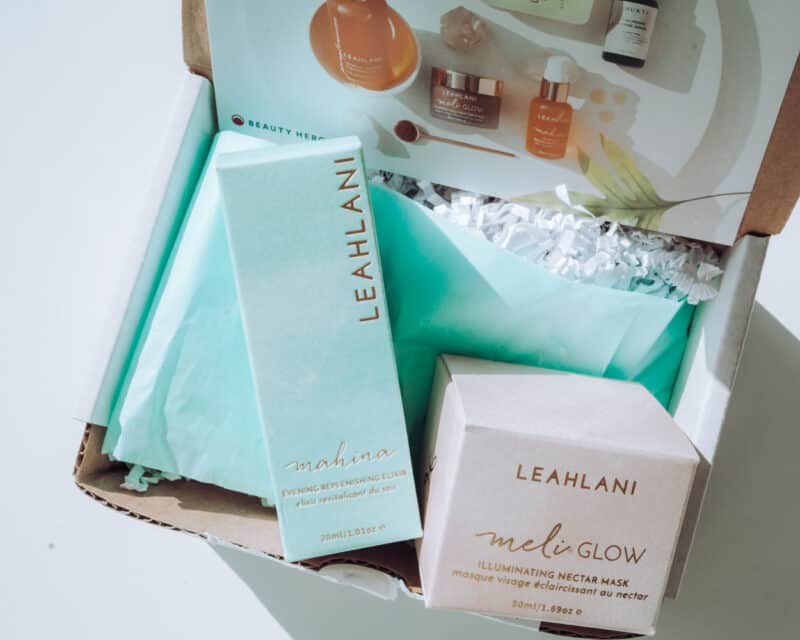 What brands to expect in your natural beauty box
Each month they feature one clean beauty brand and send you some of their products. These "beauty discoveries" are always non-toxic and cruelty free. In the past 3 months they have featured full size products from Mukti Organics, Bathing Culture, and LiliFox.
This month they are featuring three amazing products from Bathing Culture, including an all natural body wash that has quickly become my new favorite. Check those out here.
What products to expect in the Beauty Heroes Beauty Box?
Monthly beauty discoveries items feature a rotation of skin, body, sun, and hair care products.
The value of each month's products are always at least $90. They only send full size products, and all products selected follow their strict ingredient standard you can view here.
Another perk is that if you have a subscription, you always get a 15% discount in The Beauty Store
How are they different from other beauty box subscriptions?
Beauty Heroes is not a sample beauty box – In other words, they do not send you a box full of samples or even "deluxe" samples. To me, deluxe samples is just a fancy way of saying "slightly bigger samples." You will receive full sized products.
Clean Ingredients ONLY
Pricing Tier Options – More below.
100% Cruelty Free
Is Beauty Heroes a vegan beauty box?
It is a mostly vegan beauty box, but not entirely. You may occasionally find products that contain honey or beeswax.
Are they a cruelty free beauty box?
Yes, they are 100% cruelty free beauty box. You will not be sent any products that have been tested on animals.
How much does Beauty Heroes Subscription Box cost?
How much the Beauty Heroes box costs will depend on how much you are willing to pay upfront.
They give discounts based on how many boxes you pay for up front. If you only want to pay month to month, you will pay $58.95/month.
Month to month – $58.95/month
3 month commitment upfront – $128.85 ($42.95/month)
6 month prepay – $239.70 ($39.95/month)
12 month prepay – $455.50 ($37.96/month)
In other words, the longer you commit, the better the deal.
I opted for the 6 month subscription and have no regrets. In fact, this subscription has surpassed my expectations by featuring brands that I never would have found and fell in love with if not for my beauty box subscription.
Conclusion
Every month I am blown away by the quality of the products selected. I even caught my husband stealing some of my Mukti Hyaluronic Marine Serum (One of the beauty hero brands included in the April 2020 box). I find it refreshing to know that every product sent by Beauty Heroes box is going to be clean, non-toxic, and cruelty free.