It turns out that some celebrities really know a thing or two about skincare. The beloved Japanese actress, Ai Saotome sure did when she created Koh Gen Do.
Koh Gen Do Cleansing Water Cloth Review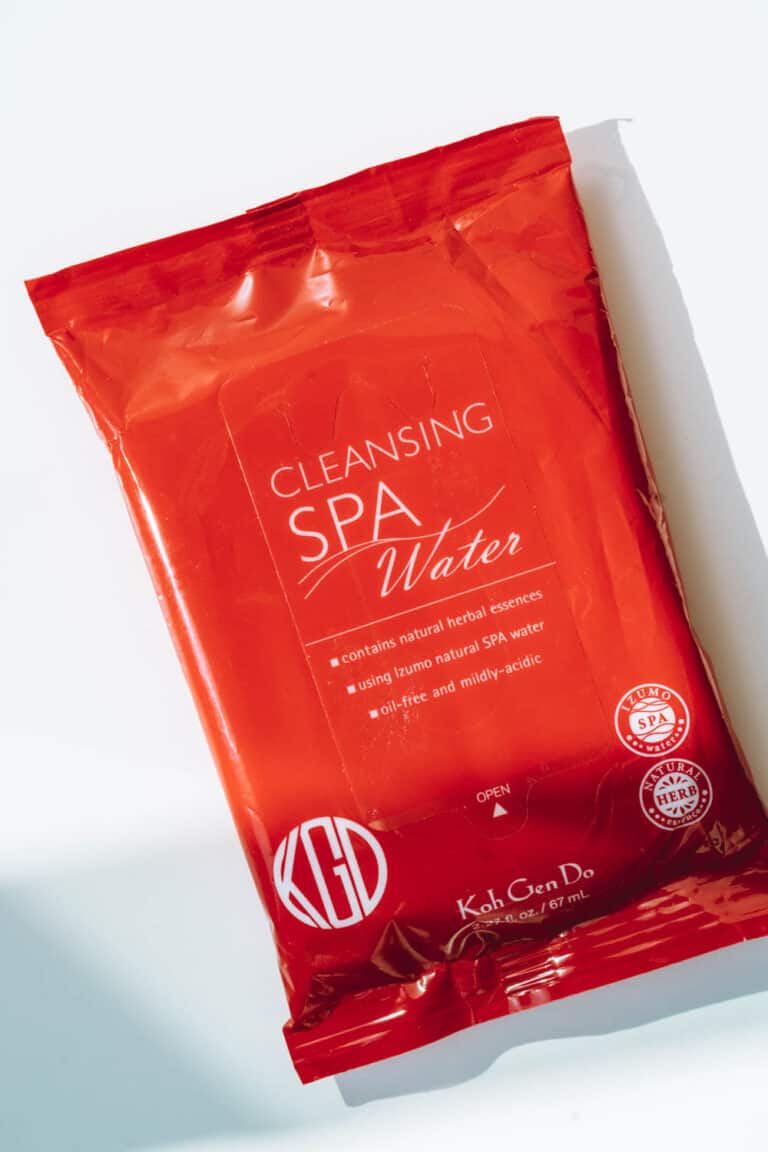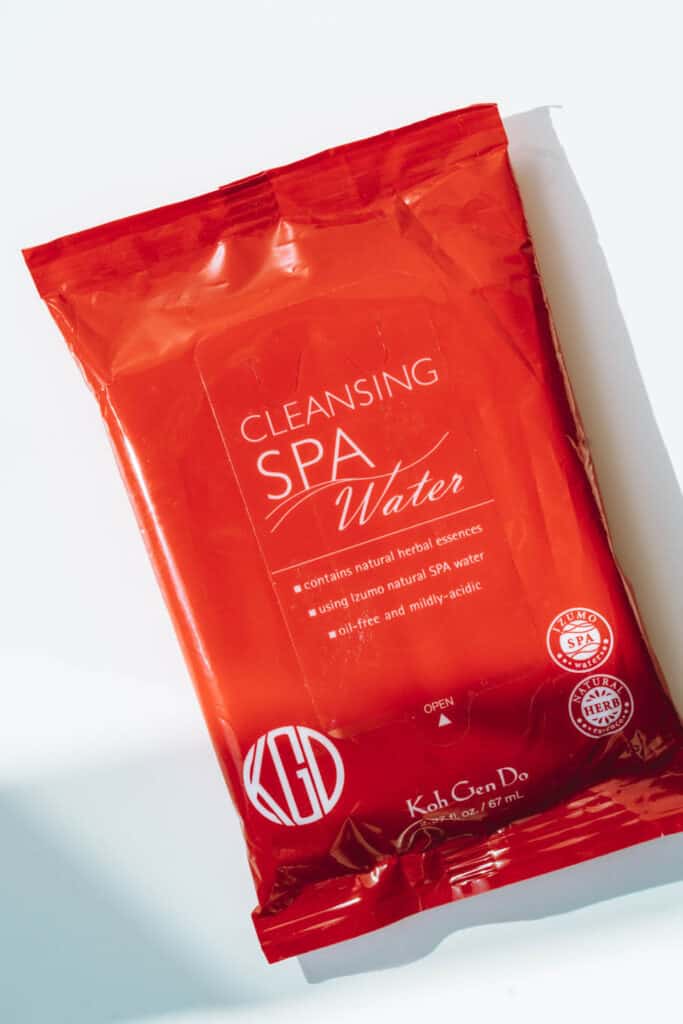 I was looking for an easier way to take off my makeup. Then I read about her popular wipes. And wanted to see what all the hype was about.
Read on to see what I found out about Koh Gen Do Cleansing Water Cloth…
Shop related Koh Gen So Products:

Secrets of Koh Gen So skincare, revealed…
In 1986 Ai Saotome created Koh Gen Do. It all started when she became worried about the condition of her skin. As an actress she was constantly wearing heavy makeup. And so Saotome set out to develop skincare and makeup that gave skin a healthy radiance. Then the famous Moisture Foundation was created.
The Koh Gen Do has been going strong for over 30 years. It is still beloved in the movie industry.
All Koh Gen Do products are formulated without artificial colors, synthetic fragrance, and mineral oil derived from petroleum. They never test on animals and are vegan. Plus they are oil-free and alcohol-free.
Below is the full list of ingredients found on the their site for the Koh Gen Do spa water cleansing wipes…
Water, Dipropylene Glycol, Peg-7 Glyceryl Cocoate, Onsen-sui (JTN Hot Springs Water), Methylparaben, Phenoxyethanol, Stearamidopropyl Dimethylamine, Lactic Acid, Arginine, Butylene Glycol, Artemisia Princeps Leaf Extract, Rosmarinus Officinalis (Rosemary) Leaf Extract, Lavandula Angustifolia (Lavender) Extract, Salvia Officinalis (Sage) Leaf Extract, Perilla Ocymoides Leaf Extract, Betula Alba Juice, Zingiber Officinale (Ginger) Root Extract, Glycerin
EWG Rating:
Unfortunately, I only found one Koh Gen Do product on the EWG website. The good news is it was the Cleansing Spa Water. This water is the same used in the cleansing wipes. More good news is it was rated at a 3! That is an excellent score.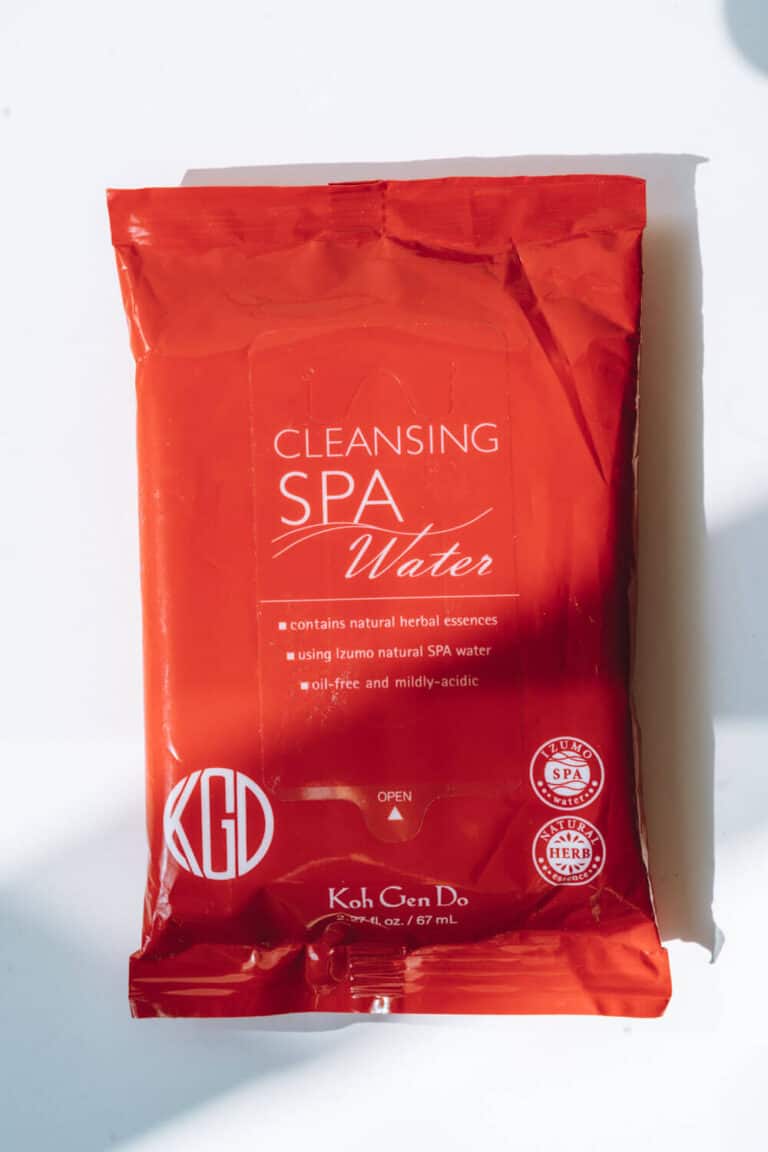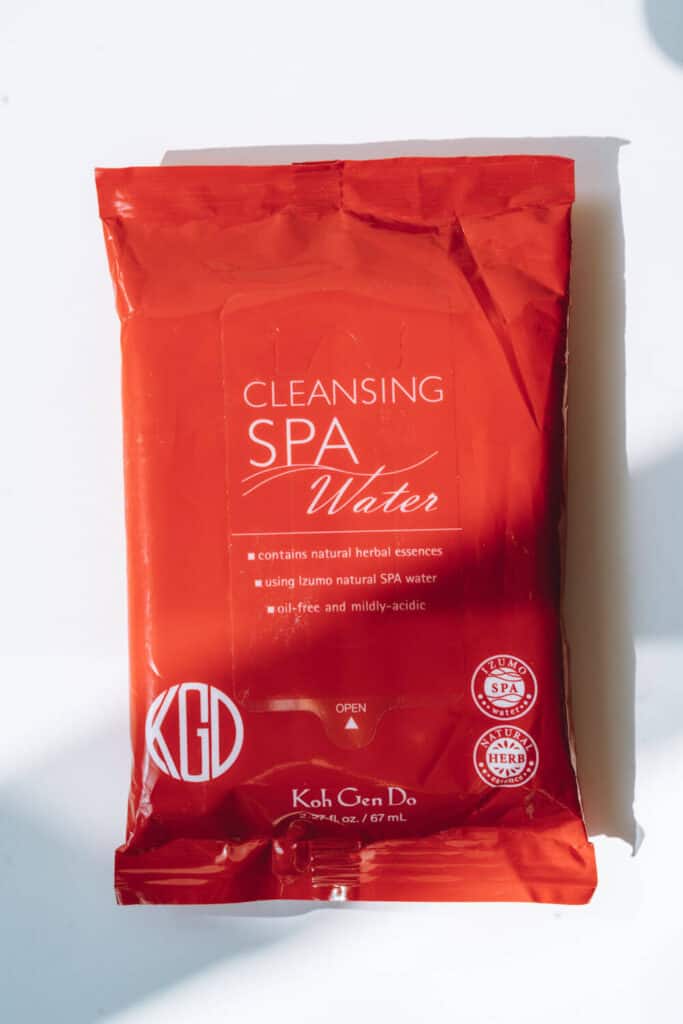 What I love about Koh Gen Do wipes…
I LOVE these face cleansing cloths!
They made my face feel so clean. I like to put them in my gym bag. That way I can quickly clean my face after a hard workout.
If you are wondering what else you need for the gym, see our 11 Gym Essentials You Should Never Go Without.
And they also work perfect for travel. These wipes are compact plus do not go against any TSA rules for carry-on liquids. I have used them to feel more refreshed on long flights.
The claim is these cloths are made for every skin type, including sensitive. So far I have not had any issues. They are soaked in their signature blend of soothing mineral-rich thermal water and conditioning botanical extracts. And, I have noticed my skin feels nourished.
How to use:
Remove a cleansing wipe from the pouch. Next, sweep over your face, neck, and eye area until all makeup and oils are removed. Then reseal the pouch after each use.
No cleansing with water or soap is needed after use.
How do Koh Gen Do cleansing spa water cloths compare to similar brands?
Well, unlike other cleansing face cloths, the cleansing water cloths actually removed my mascara. Which makes them perfect for the evenings when I am too tired to wash my face. I actually leave a pouch by my nightstand sometimes.
See how we felt about Green Clean Cleansing Balm. And its ability to remove makeup.
Yes, they are a bit pricier than I would like. However, they do not seem to dry out like other brands, which saves me money. That moisture helps them glide across my skin more effectively.
Something else I found is that many cleansing cloths are either ineffectual or aggravate my skin with heavy fragrance. But not Koh Gen Do. I recommend these to anyone and have already repurchased them.
Where to buy:
For Koh Gen Do products I prefer purchasing them at Sephora. Partly because I also really like their free loyalty membership. This size is perfect to bring on a trip!
Are Koh Gen Do water cloths for you? Let me know what you like about them below!