The most infuriating part of putting on makeup, is taking it off.
Green Clean cleansing balm is the answer to stubborn, stuck on, oily makeup. Come read why this Allure Best of Beauty winner is so popular!
Farmacy Beauty Green Clean Makeup Removing Cleansing Balm
This post may contain affiliate links, which means I'll receive a commission if you purchase through my link, at no extra cost to you.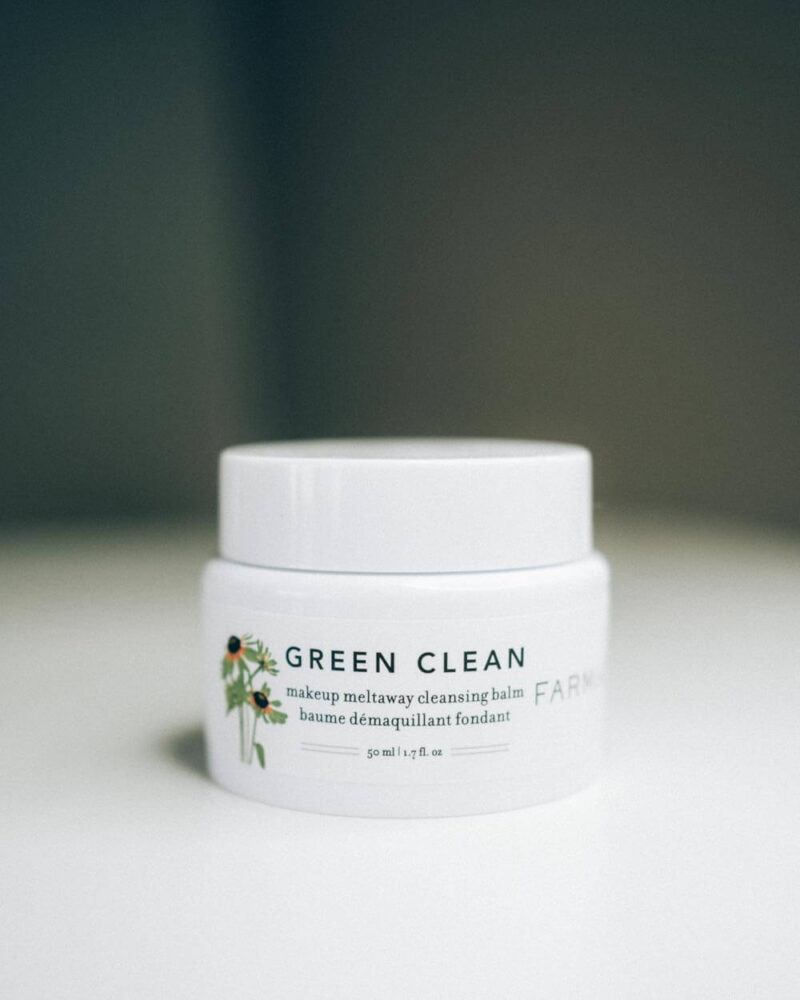 The details on Farmacy Beauty Skincare…
Farmacy Beauty was introduced in 2015. The company was created by Mark Veeder, a gardener who wanted to create naturally sourced skincare. While Farmacy Beauty is not considered an organic company. They do use some natural ingredients in their entire product line.
Check out the key ingredients listed on the Green Clean product information page…
Sunflower + Ginger Root Oils: Melt even stubborn makeup (including long-wear) without stripping or drying skin.
Turmeric + Moringa Extract: Help remove impurities, sunscreen residue and effects of pollution.
Papaya Enzymes: Naturally exfoliate every pore.
Veeder prides himself on the discovery of Echinacea GreenEnvy. Because, he claims this form of Echinacea contains more natural antioxidants than other forms of the herb. So all products in the Farmacy Beauty line contain this ingredient.
Farmacy Beauty EWG Rating
Green Clean is not considered an all natural product. It still has an EWG rating of 2! As for any Farmacy Beauty also notes that this cleanser does not contain polyethylene micro-beads. Polyethylene in the product is not in solid form. It melts with water as it is washed down the drain.
This green cleanser is also paraben free formaldehyde donor free, synthetic fragrance free, phthalate free, mineral oil free, and cruelty free.
If you prefer completely natural products, we also really love 100% Pure Cleansing Balm, for it's similar consistency to Green Clean.
What I really thought about the Green Clean Cleansing Balm…

Well, I'll admit – I originally purchased this balm because of all the extremely positive Farmacy reviews I found online. But I ended up purchasing more because it is literally magic, haha.
I call it "magic" because it solved my stubborn makeup issues. Sometimes the makeup I wear is especially oily and difficult to remove. This cleanser takes everything off my face seamlessly. Every single time I use it.
This cleansing balm turns from a thick petrolatum consistency into a silky oil as you rub it along your face. I think that change in consistency is why Farmacy Beauty says it will virtually melt off your makeup.
Because of this oily consistency, you can use it as your first step when double cleansing. But for sensitive skin try Albolene Moisturizing Cleanser for Sensitive Skin while double cleansing.
Speaking of delicate skin types… Green Clean makeup remover is recommended for normal, dry, combination, and oily skin types. But I do not recommend it for severely sensitive or reactive skin.
It smells like an island vacation because of the lime, bergamot and orange essential oils. However those essential oils are not necessarily friendly on fragile skin.
How to use this Cleansing Balm:
Take about a quarter sized amount of Farmacy makeup remover out with the provided spatula, and smooth over dry skin.
Massage into skin using gentle upward circular motions. Make sure to focus on areas that have the most makeup.
Use lukewarm water or damp washcloth to remove all of the product.
Does Farmacy Beauty's Green Clean work as well as similar products?
In a word – absolutely!
Most makeup removers barely take off my lipstick. And they do little else for my complexion. But Green Clean actually does as it says and lightly exfoliates off impurities leaving my face smoother and hydrated.
Can it remove waterproof makeup?
Yes! It is particularly gentle on my eyes when removing waterproof mascara. With other makeup removers I have to cleanse my eye area repeatedly. Which leaves me with a burning, stinging feeling.
A little amount of balm goes a very long way. This makes it so I do not use too much product. Unlike other liquid removers where I use up a quarter of the bottle in two uses.
Shop Farmacy Skincare Products

Would I recommend this product?
I would recommend it to most people. In fact, this is the only cleanser I've tried that rivals my favorite DHC Deep Cleansing Oil. And if you know me, you understand what high praise that is in a review!
Is Green Clean going to be your new makeup remover? Let us know what you think of it below!