A cup of coffee does wonders to jolt us into life in the morning. But what can it do for our eyes?
This post may contain affiliate links, which means I'll receive a commission if you purchase through my link, at no extra cost to you.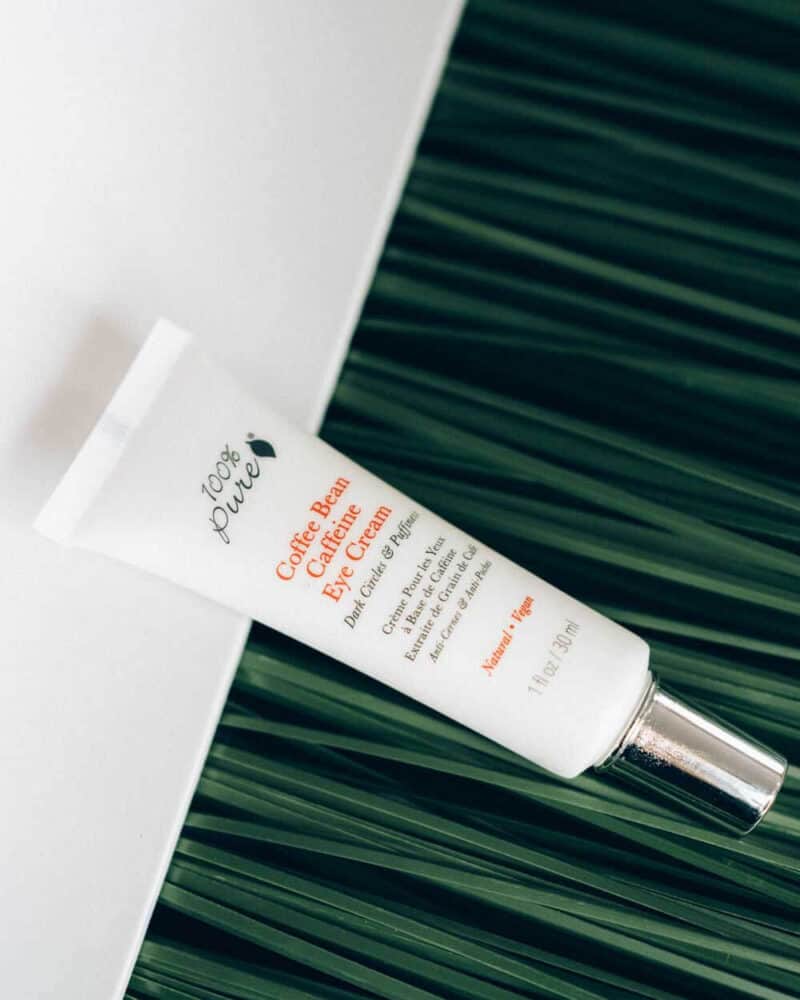 100% Pure Coffee Bean Caffeine Eye Cream
As recently as 2003 there were only 21 caffeine creams for eyes. By 2006 that number jumped to 140. The public saw what the added coffee could do for their eyes and popularity skyrocketed.
Working as an antioxidant, caffeine can protect skin from damaging free radicals. Fine lines and puffiness are decreased. Then a refreshed, bright eyed appearance is left.
I wondered if the caffeine eye cream craze was worth the hype. Keep reading to learn about the results I found with 100% Pure's beloved coffee bean caffeine eye cream.
About 100% Pure skincare and cosmetics:
Susie Wang founded 100% Pure in 2005. After she saw the color of a cosmetic product, turn to an unsightly color as soon as she opened the container. She knew something had to be about skincare.
Wang prides herself in discovering the using fruit pigments in her cosmetics. She discovered these pigments after picking berries from her garden.
100% Pure is committed to producing the purest, healthiest cosmetics possible. They strive to be environmentally sustainable and live with compassion.
If you like natural skincare you have to check out our Jason Vitamin E Oil & Age Renewal Creme Review.
The entire 100% Pure line of products are: certified organic, naturally pigmented, and are completely cruelty-free. They are very transparent in their ingredient sourcing.
Take a look at the all-natural list of ingredients I found on their website…
Aloe Barbadensis (Organic Aloe) Leaf Juice*, Rosa Centifolia Flower Water (Rose Hydrosol), Rosa Canina Seed Oil (Rosehip Oil), Coffea Arabica (Green Coffee) Seed Extract, Camellia Sinensis (Green Tea) Leaf Extract, Tocopherol (Vitamin E), Sodium Ascorbate (Vitamin C), Extracts of Coffea Arabica (Coffee Cherry) Seed, Rosmarinus Officinalis (Rosemary) Leaf, Origanum Vulgare (Oregano) Leaf, Thymus Vulgaris (Thyme) Flower/Leaf, Vanilla Planifolia (Vanilla Absolute) Fruit, Euphorbia Cerifera Cera (Candelilla Wax)
EWG Rating:
There is no EWG rating on this eye cream. However, the 100% Pure brand is considered certified organic. Most other products reviewed by this cosmetic and skincare line have ratings of 1 or 2! And I found nothing rated above a 4 other than a single nail polish. Those are amazing scores.
How to use 100% Pure's coffee bean eye cream:
Apply a dime sized amount of the eye cream to your ring finger. Then gently smooth and dab product onto the under-eye area. You can use this product on upper and lower eyelids.
Be sure not to tug your delicate eye area. You can use this eye cream both day and night.
How do I feel about 100% Pure eye cream: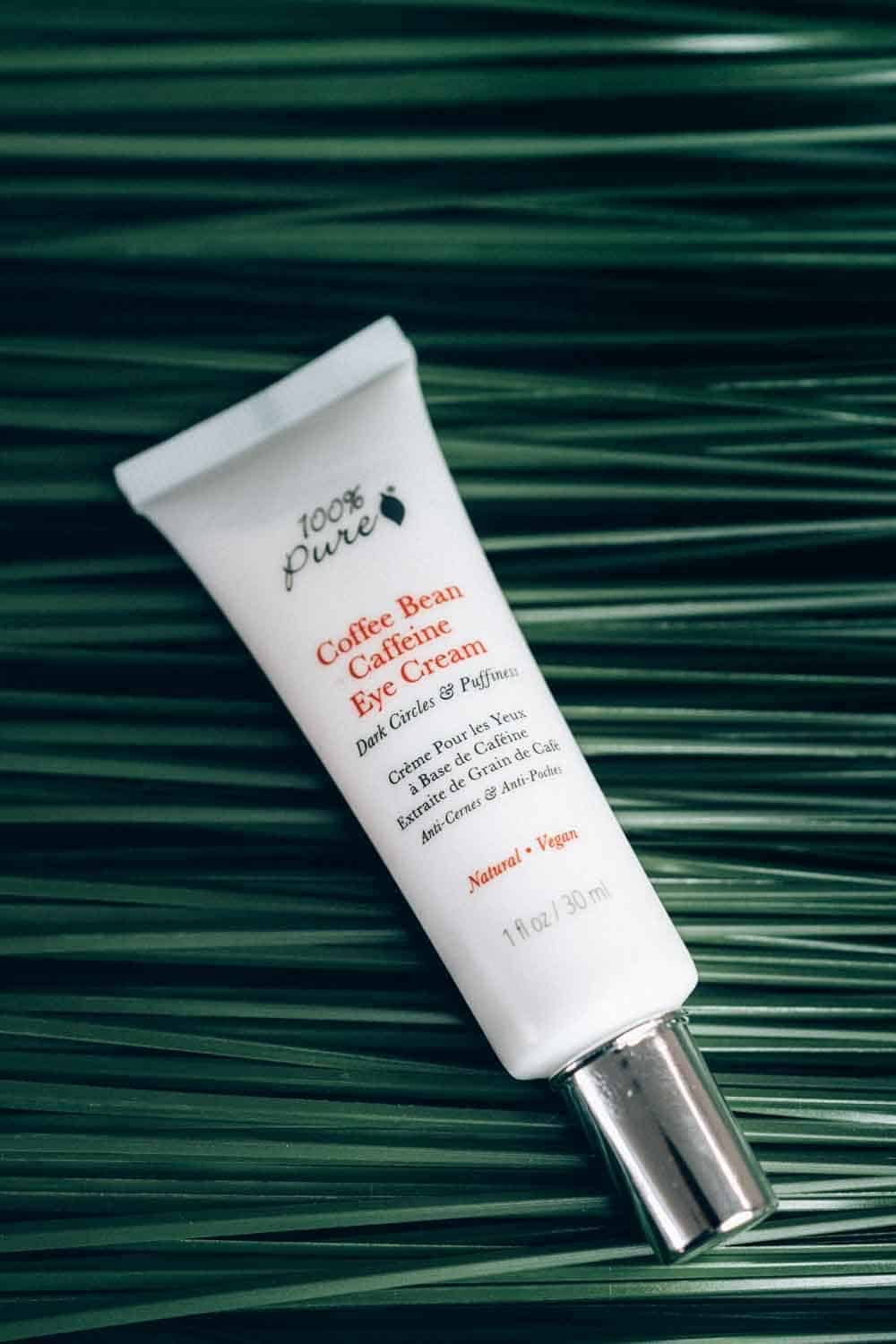 Like I mentioned earlier, I purchased this eye cream to see if the "caffeine in eye cream" craze held up to the hype. I also purchased it to see if 100% Pure's popular eye cream was the best caffeine option. But unfortunately, it didn't perform the way I thought it would.
This product claims to de-puff eyes, brighten dark circles, and boost circulation. All of those claims are supposed to give you a youthful, more awake appearance. However I am not a huge fan of this product. It is not terrible, but I have not found it to be as effective as I was hoping. It was simply just "okay".
Looking for a brightening cleanser? Try Indie Lee's Brightening Cleanser.
Everywhere I look there are hundreds of five-star reviews for this eye cream. So, perhaps it simply did not work with my skin type. I will let you decide if you are still interested in trying this one out.
I want to note that the eye cream did not hurt my skin in any way. Nor did it make any skin issues I have any worse. I never had an allergic reaction to it either.
How does it compare to similar caffeine eye creams:
If you are looking for the best eye cream for dark circles, unfortunately 100% Pure does not compete with other brands (in my opinion).
Although it is rich in caffeine. And caffeine is supposed to act as a vasoconstrictor – or an agent that decreases the size of blood vessels around your eyes. I'll have to keep looking.
I find it sitting on my shelf while I reach for other products. Any eye cream I love is the SkinMedica TNS Eye Repair. It works flawlessly – but is very expensive. This eye cream doesn't contain caffeine. But it does have other antioxidants like Vitamins A, C and E. These antioxidants provide protection from free radicals.
And it contains hyaluronic acid which nourishes your skin and noticeably decreases fine line. Maybe it is the hyaluronic acid that makes the difference in the two creams.
Either way – I don't think I would purchase this cream again.
Are you going to try a shot of caffeine for your puffy eyes? If you do try it, tell me how you like it below!