Ren skincare has taken over the clean beauty industry, with good reason!
Not only are all their products good for your body but they are good for the planet too. Plus they make products for every skin type, no really – even easily irritated, sensitive complexions. Even put against non-natural products, Ren won a Best of Beauty award from Allure.
See some of my top picks from their perfectly curated line below…
This post may contain affiliate links, which means I'll receive a commission if you purchase through my link, at no extra cost to you.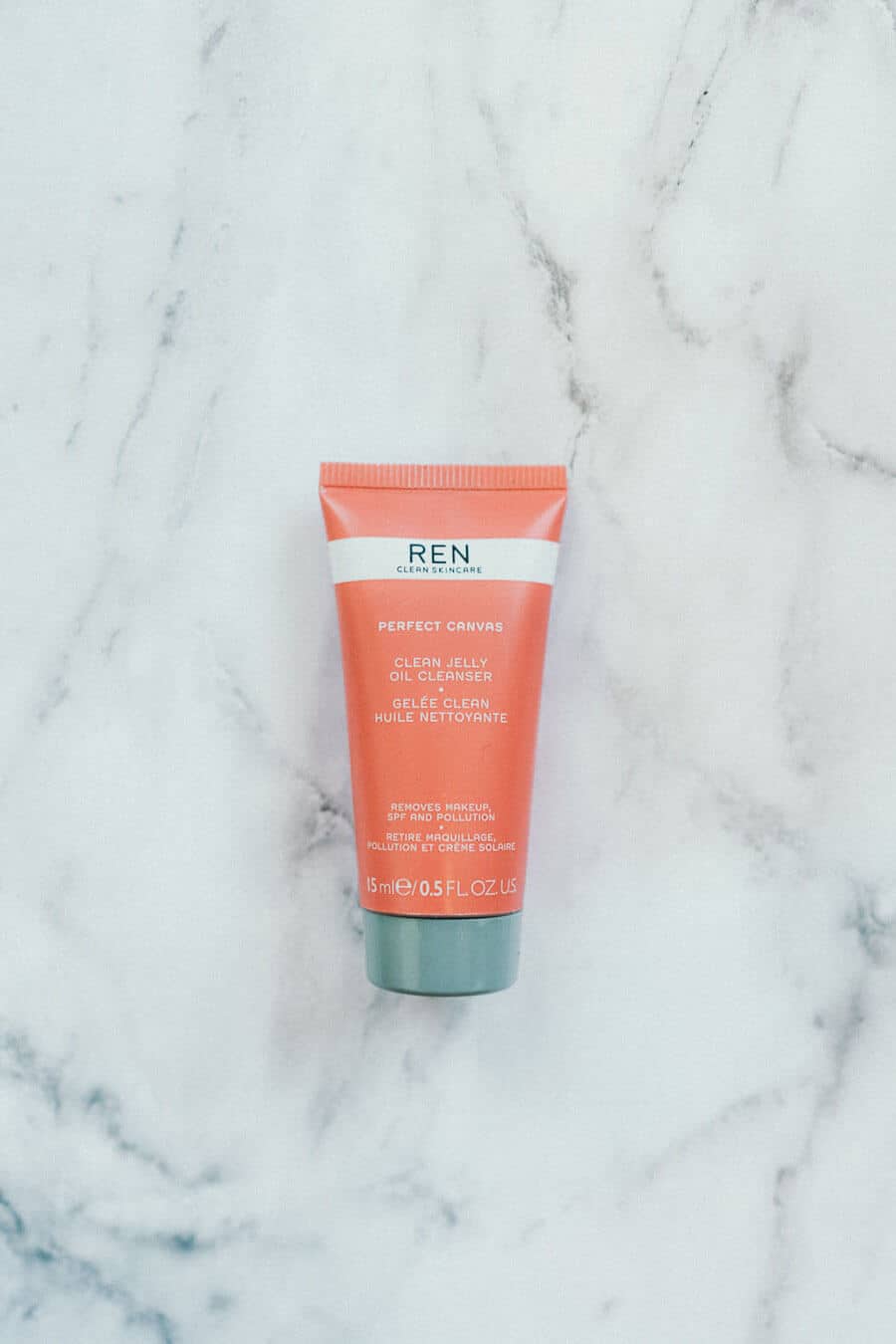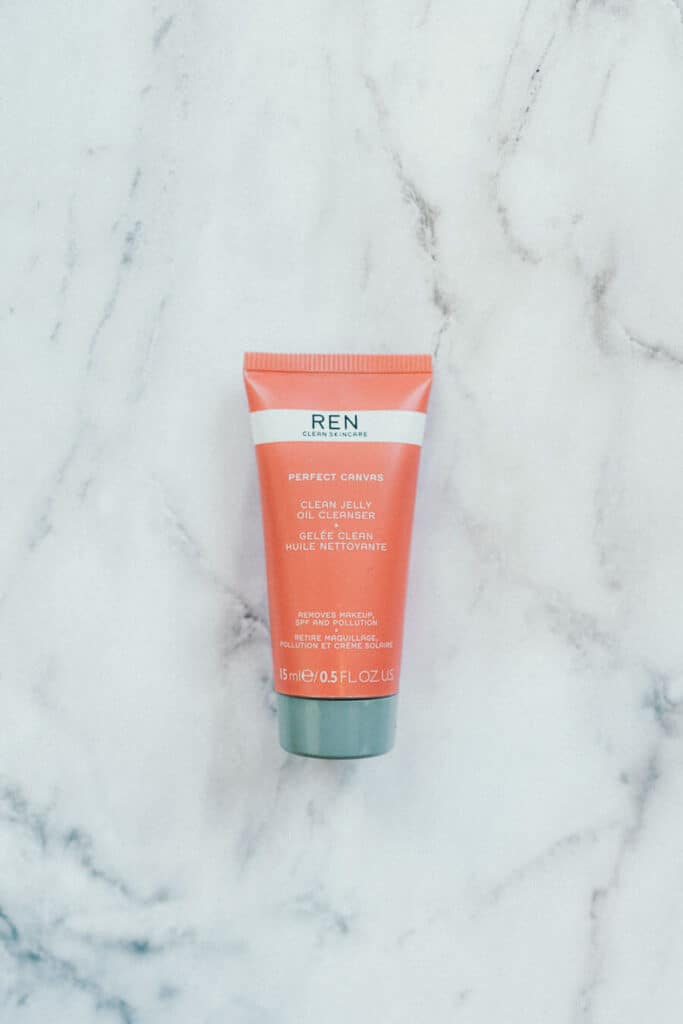 What you will love about Ren Clean Skincare
Ren in Swedish means clean, a perfect name for this all natural company. Founded in 2000 by Robert Calcraft and Anthony Buck, Ren was one of the first brands on the market to offer chemical free skincare.
Anthony's wife was their source of inspiration, when she was pregnant she became allergic to the products she had been using. At that time there were little to no items available without synthetics – so they teamed up with a French Dermatologist and created them.
Not only is this UK based brand is cruelty free and vegan. All products are sustainably sourced and packaged. In addition, all of the containers and packaging are made from post-consumer-recycled plastic and specifically designed for circular recycling. When they mean planet-friendly, they are not kidding!
Where to buy?
There are many places to find and purchase Ren skincare, but my favorite is Dermstore, Sephora, Blue Mercury, and even Revolve are also excellent places to find Ren items.
If you are not already familiar the last three stores on that list, they are some of the best beauty and skincare "superstores" available today. Each with their own version of a free rewards club. Dermstore is my favorite place to shop because of their
My favorite Ren Clean Skincare Products
Evercalm Global Protection Day Cream
Healthy skin requires all-day protection and nourishment, Ren Evercalm Global Protection Day Cream delivers that in spades. Its lightweight, nutrient-rich formula restores moisture while protecting your skin from everyday, city-life stressors like smoke and pollution. Powered by bio-extract ingredients, this fortifying formula combats sensitivity to make your skin more resilient to city living.

Combat chronic discomfort, redness and sensitivity with Ren's #1 selling moisturizer. Shea butter, sesame and sunflower oils restore moisture while a botanical base of chamomile and green tea extracts comfort and protect skin. Ideal for even the most sensitive of skin types.
Omega 3 and 7: reduce skin inflammation and irritation
Roman Chamomile: sooth and calm redness
Global Protection Complex: a blend of antioxidants and free-radical scavengers that protect your skin against UV induced damage and premature aging
Take a look at our Ren skincare review on their Perfect Canvas Clean Jelly Oil, if you want to try one of their cleansers.
Glycol Lactic Radiance Renewal Mask
All skin should be exfoliated. Dead skin cells sit atop healthy, smooth ones making your appearance appear dull and lackluster. Exfoliate your skin weekly with the REN Glycol Lactic Radiance Renewal Mask to visibly improve the look and feel of your skin.

The potent, bio-active mask reduces the appearance of fine lines and wrinkles while combating congestion to banish blackheads and blemishes. Powered by natural fruit acids, glycolic, lactic, citric and tartaric, this radiance-enhancing mask improves skin tone and texture while visibly reducing signs of sun damage, hyper-pigmentation and acne scarring.
Alpha Hydroxy Acids: remove dead skin cells, revealing a smoother complexion
Papain: exfoliate the outer layer of the skin to encourage cell turnover
And if you have dry skin, take a look at Dr. Jart's Water Fuse Sleep Mask.
Clean Screen Mineral SPF 30
Clean Screen Mineral SPF 30 protects skin against harsh UV rays while absorbing excess oil. Not only does this REN Clean Skincare formula harness the broad-spectrum protection of zinc oxide, but it also boasts shine-controlling rice starch and antioxidant-rich yellow passion fruit seed.
Non-Nano Zinc Oxide: provides a physical shield that effectively blocks and reflects UVA, UVB and Blue Light Rays, preventing aging and sun pigmentation.
Yellow Passion Fruit Seed Extract: known for its antioxidant properties, boosts the skin's internal defense system to help protect from pollution and free radical damage.
Rice Starch: absorbs oil, controls shine and minimizes pore appearance while soothing irritation.
If you are the sensitive type – check out our review on The 3 Best Sunscreens for Rosacea.
Evercalm Overnight Recovery Balm
Wake up to beautiful, rejuvenated skin every morning with REN Clean Skincare Evercalm Overnight Recovery Balm. Formulated with nourishing ingredients like antioxidants and jojoba oil, this rich night cream works to gently reduce signs of aging, hypersensitivity, free radical damage, dryness and redness. This hydrating night cream assists your skin's natural repair system by doubling skin cell turnover, which helps your complexion reach its ultimate glow by sunrise.
Enzymatically Activated Oils: derived from olive, almond, borage and linseed, these oils penetrate deeply into the wall of skin cells to nourish from within and stimulate fatty lipid production to stimulate the skin's natural repair system
Jojoba, Sunflower Oil and Beta-Glucan: supports the skin's natural lipid balance to strengthen the protective barrier and alleviate irritation from dryness
Ready Steady Glow Daily AHA Tonic
Keep your skin looking healthy and clean with REN's Ready Steady Glow Daily AHA Tonic. Designed to easily alleviate fine lines, acne, visible pores and dehydrated skin, this skin toner is powered by lactic and azelaic acid that balance skin tone and brighten the appearance of dark spots.
Lactic Acid: a natural L (+) lactic acid produced by fermentation from sugar. This AHA is very gentle, as it has a very large molecule that stays on the surface of the skin.
Azelaic Acid: a precursor that prevents the melanin production, promoting a balanced skin tone; it addresses uneven skin tone and dark spots while improving skin quality for a brighter and more luminous appearance.
Have you decided which Ren product are you going to try out first? Make sure to let me know how you like it in the comments below!
Read Next: WOW – The Elemis Cleansing Balm is actually SPECIAL