Pai Skincare is your answer to natural treatments for your ultra sensitive skin, finally!
There are an overwhelming amount of positive Pai skincare reviews. Not just because their products are effective but also because they use completely vegan, cruelty free, and organic ingredients. Mixtures of antioxidants, anti-inflammatories, and skin healing oils are guaranteed to put your triggered complexion at ease. Until now, I thought that was impossible.
Keep reading to learn more about the 7 Pai products you wish you knew about sooner and absolutely won't be able to live without…
This post may contain affiliate links, which means I'll receive a commission if you purchase through my link, at no extra cost to you.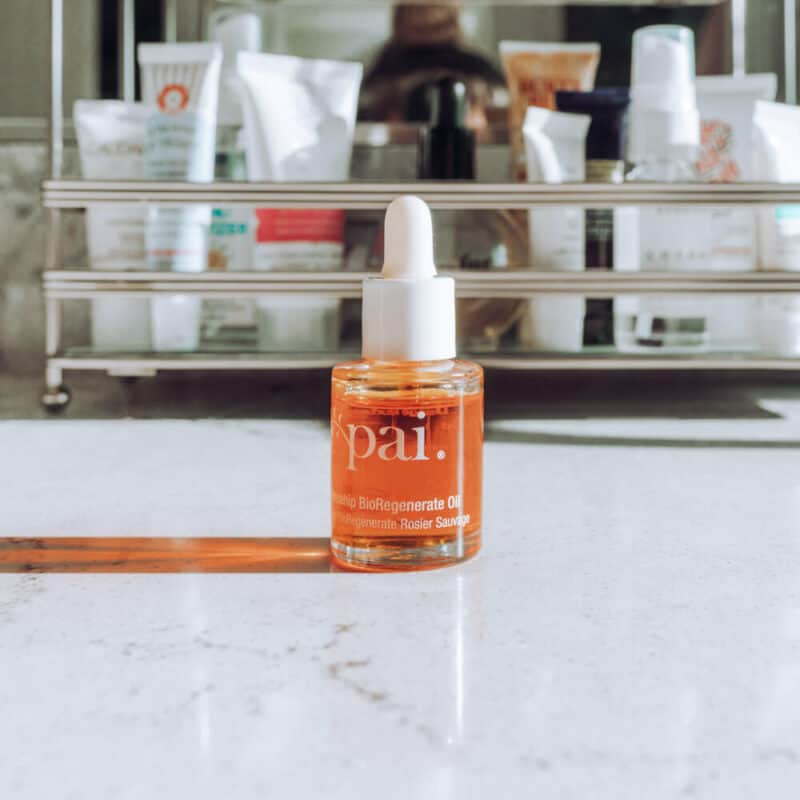 About Pai Skincare
Pai means "goodness" in Maori people of New Zealand – which is exactly what they believe in. In 2007, Sarah Brown founded her skincare company in London, England. She found herself in adulthood and all of a sudden burdened with hyper-sensitive, acne prone skin. Unable to find a natural and effective solution she took on the world of skin treatments and became a leader in organic skincare brands of the UK.
All Pai products are free of alcohol, artificial fragrance, parabens, phenoxyethanol, detergents like SLS and SLES, and petrochemicals. Like I mentioned earlier, they are also vegan and cruelty-free!
Can't Live Without Pai Skincare Products
Fragonia & Seabuckthorn Hand Cream
If you have intensely dry and sensitive hands like I do you will adore the Fragonia & Seabuckthorn Hand Cream (here).
It contains sea buckthorn to nourish skin with Omega 7, fragonia oil with anti-inflammatory properties, and rosehip with vitamin c to help regenerate damaged skin. The fragrance is soft. Keep one by your sink after washing your hands and nightstand for your bedtime routine. It seems to absorb very quickly without leaving any dreaded residue, which makes me want to actually use it.
Another hand cream we adore is Mary Ruth's Organics Hydrating Hand Cream, it is the perfect solution for men's dry hands too!
Echium & Argan Gentle Pai Eye Cream
While some find that the pump on the Echium & Argan Gentle Pai Eye Cream releases too much of the eye cream at once. However, reviews from people aged 20 to 70 all agree this is their new go-to for its anti-aging abilities. It is made with a mix of their hydrating rosehip extract and rare echium extract that is extremely nourishing. Add to that gamma linolenic acid and stearidonic that diminish the look of wrinkles. You will notice dark circles start to fade which gives a more "awake" appearance. It has a very luxurious and velvety texture and will not irritate your skin. I recommend using this cream on forehead lines also.
Rosehip BioRegenerate Rapid Radiance Mask
Why not try giving yourself a Pai facial with their Rosehip BioRegenerate Rapid Radiance Mask!
Made with their Vitamin-A enriched rosehip extract and strawberry leaf that can help to smooth out the texture of your skin. After leaving this mask on for just 10 minutes many reviewers saw a huge boost in hydration. Just like the rest of the products in this line, it is intended for reactive skin. At last a way to refresh and restore sensitive skin. Goodbye to a dull complexion!
Rosehip BioRegenerate Oil
Here it is! Pai Rosehip Bioregenerate Oil, the product that has so many positive reviews, they started printing them on the label. Made from their famous, omega-rich rosehip oil plus Vitamin E and anit-oxidants – it is their best selling product.
This "multi-tasker" can help improve your blemishes, fine lines, discoloration, scars, and even reduce sensitivity in your skin. It doesn't clog your pores and works so well as a primer under makeup. Some even find it helps clear up their eczema! How amazing would that be?
Light Work Rosehip Cleansing Pai Face Oil
This "holy grail of face oils" will leave you wondering how you have lived this long without it. Made from sunflower, olive, jasmine, and geranium oils plus Pai's Vitamin C pack rosehip, all to nourish the heal your skin as it clears away any grime or makeup. If you put a tiny bit on a soft cloth with a little water, it will take off your mascara too! You will not be left with red eyes or face, no more of that dreaded "tight" feel after washing. Make sure to use one of their moisturizers to really boost hydration.
Camellia and Rose Gentle Hydrating Cleanser
The Pai cleanser with camellia and rose is loaded with Vitamins A, B, and E to rejuvenate the barrier of your skin. It is so gentle and soothing you can use it around your eye area. It actually maintains the pH balance of your skin. You will not have an issue with this cleanser striping the natural oils in your skin. However, it actually works to take off makeup and impurities left on your face from the day. It has a really lovely fragrance and teams up well with the Light Work Rosehip Cleansing Pai Face Oil, if you like to double-cleanse!
Looking for a foaming cleanser? Go check out our review on Verso Skincare and see what we thought!
Chamomile & Rosehip Calming Day Cream
Pai actually describes this moisturizer as a "gentle hug for reactive skin types". It is filled with four different omegas including 3, 6, 7, and 9 to repair damaged skin. In addition, chamomile and rosehip help to diminish redness and soothe irritated skin. After continually using this product for a few weeks, you will notice a difference in the way your complexion feels. Some say your skin becomes as soft and silky as a baby's. Others find dry patches completely go away. Above all, I know you will love the way it absorbs so quickly.
Now that you know of a great day cream to use, how about a night cream? See why we love Ren's Dark Spot Sleeping Cream.
Where to buy?
The best places to find Paid skincare are Credo and The Detox Market. Both are meticulously curated natural beauty suppliers with hundreds of brands available. That means they do all the hard work for you – every item sold is safe for the environment and made from clean ingredients, just for you. They pride themselves on having the highest standards for clean beauty in the retail market. With backed up proof of sustainability and sourcing claims.
Credo offers a free rewards program which they call "Credo Rewards". There are many ways to earn points. For every $1 you spend, you earn 1 point. Plus you can earn points on your first purchase, social media, recycling, and more. There are birthday surprises as well free shipping with $50 orders.
While The Detox Market always has some type of sale going on. They also have a free rewards club where you can earn "Detox Points" aka cash back on everything you purchase. It is similar to Credo and just as awesome – for every $1 you spend, you earn 1 point. If for some reason you do not like the purchase you made, they also have a 30-day return policy that is guaranteed.
I am really curious, how did you like this Pai skincare review? Which product are you going to try out? Tell me what you think in the comments below!