On the hunt for night cream that can help eliminate your dark spots? Tired of not being able to find a clean vegan and cruelty free product that actually works? I'd heard Ren skincare reviews claiming a number of great things, so I couldn't resist giving them a shot myself.
After experimenting for over a month, I would say that I am partially converted.
This post may contain affiliate links, which means I'll receive a commission if you purchase through my link, at no extra cost to you.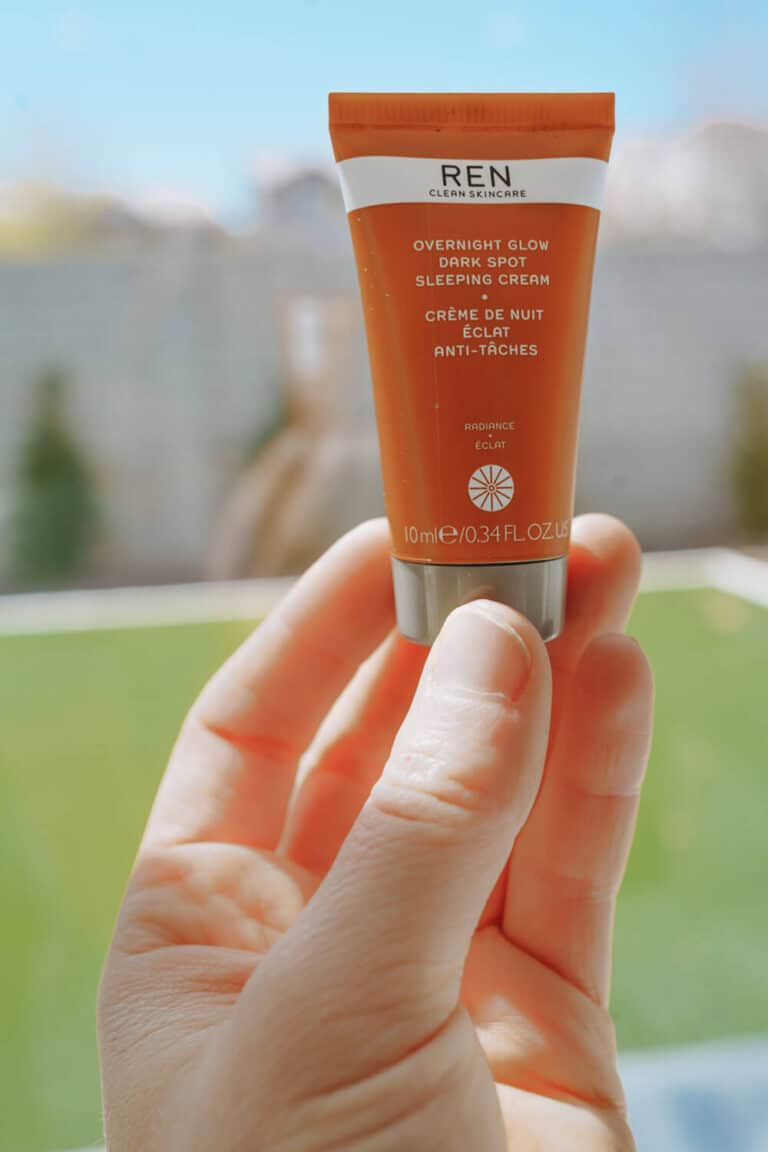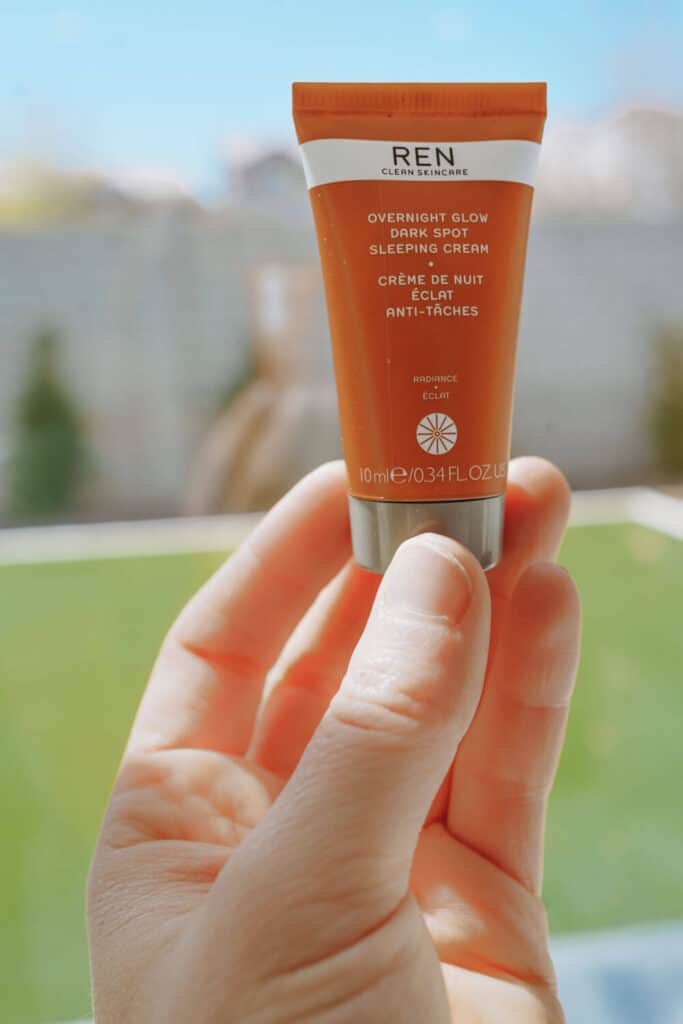 The Ren Clean Skincare Brand
Ren Skincare line is a niche brand that is part of the Unilever company. If you don't know Uniliver, it is one of the biggest and oldest European companies in the world. They own tons of smaller companies that sell everything from food to skincare products. The Ren clean skincare brand focuses on clean vegan free and cruelty free products.
Overnight Glow Dark Spot Sleeping Cream Review
After using the Ren overnight glow dark spot sleeping cream (buy here) for about a month I have nothing bad to say about it. Don't read too much into that though because I don't have anything super amazing to say about it either.
Overall my Ren skincare review is that their overnight glow dark spot sleeping cream is incredibly functional.
You might also be interested in: Ren Perfect Canvas Clean Jelly Oil Cleanser Review
If you are looking for a solid overnight cream to hydrate your face and help remove dark spots, the Ren Overnight Glow Dark Spot Sleep Cream will help, just don't expect a miracle. Given that most natural clean products don't actually work, I was fairly happy with this Ren sleeping cream.
The cream goes on thick but doesn't feel like it immediately slides off my face or is dying to transfer onto anything that grazes my face. The product seems to settle in quickly.
The best part about it is that in the morning I can still feel the cream hydrating my face while not being greasy. Given the amount of tossing and turning I do in the night, it does take a good cream for me to be able to still feel it, especially one that doesn't turn my face into a grease pile.
Thankfully the cream isn't clumpy, though it does have a thick overnight cream feel that I wouldn't want to wear during the day.
Is it the best dark spot remover cream?
Is it the best dark spot remover cream? In a word, no. That being said, I do think it did help to eliminate some of my dark spots, though I will definitely say it didn't make them completely vanish after a week like I'd read was possible. Even though it isn't the best dark spot remover cream, I will say it is still decent. I just wish the effect of the product had been even more powerful.
What I recommend instead
I recently came across a new skincare brand called Lilfox and am obsessed! I have been trying out her new jelly overnight mask called "Dewy Bean Dream". It is a gentle retinol alternative resurfacing mask that transforms skin's tone and texture. It works while you sleep so you can wake up with brighter, plumper, and smoother skin. Yes please! Check it out here.
Ren Skincare Reviews Conclusion
I really did enjoy the Ren Skincare Overnight Glow Dark Spot Sleeping Cream, just not for the price. I didn't notice any benefits other than a standard overnight cream and dark spot remover. If you are after a clean vegan friendly product only though, this product is extremely functional.
Read next: REN Clean Skincare: Perfect Canvas Clean Jelly Oil Cleanser Review