Mukti Organics is the hidden gem of organic Australian skincare.
There is truly something for everyone. Even my extremely sensitive skin has absolutely no issues (so far) with this brand.
From their packaging to the handcrafted "eco-luxury" ingredients, you have to give them a try.
Keep reading to learn more about the best vegan skincare available from Australia…
This post may contain affiliate links, which means I'll receive a commission if you purchase through my link, at no extra cost to you.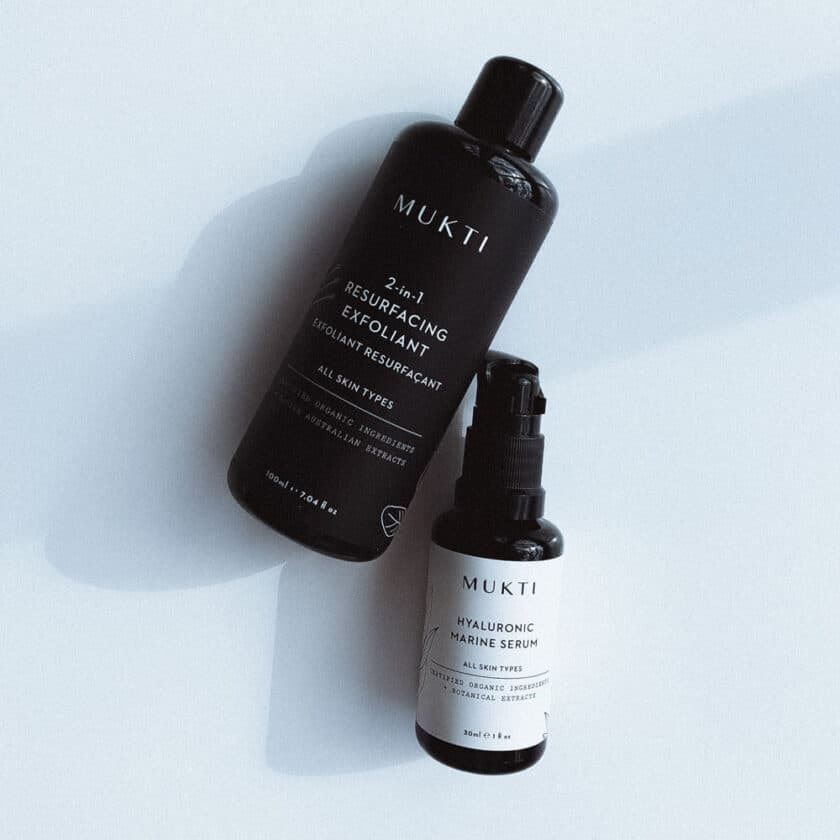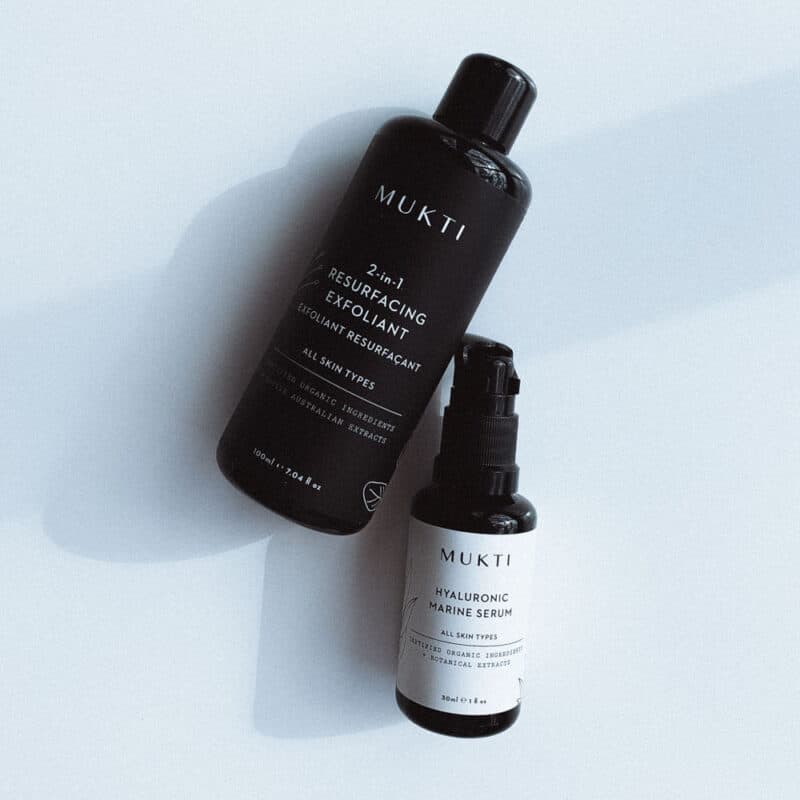 About Mukti Organics
So… what is Mukti?
Mukti is a Sanskrit term that means to free yourself from lies and ignorance. In Hindu it means rebirth. And that is exactly what Mukti, the founder of this organic brand has done. Along with naming the brand after herself, Mukti studied naturopathy and the lack of safe skin care led her to pursue cosmetic chemistry to offer safer solutions to the public.
Launched in 2000, this Australian brand believes in sustainability, organic authenticity, and ethical practices. Mukti products are handmade in small batches, come in violet glass Miron jars in order to prolong their shelf-life.
All Mukti products are free from petrochemicals, fragrances, PEGS, polysorbates, talc, parabens, synthetics, and harsh preservatives. Instead ingredients are long lasting because of plant-based preservatives.
They are also gluten free, cruelty free, vegan, and 95% of the ingredients are certified organic.
Best Mukti Organics Skincare Products
2-in-1 Resurfacing Exfoliant

I love, love, love the resurfacing exfoliant! It is gentle enough to use on my sensitive skin, even multiple times a week. Although it has a grainy feeling when you apply it, somehow the formula is not harsh. Many vegan skincare brands I have tried leave my skin feeling tight and uncomfortable. Instead the 2-in-1 makes your face feel refreshed and clean. The only issue I have with this product is trying to get it out of the bottle, haha.
Caviar lime, desert lime and rain-forest lime fruit acids help collagen production.
Jojoba esters and bamboo particles gently slough away dry skin.
Another exfoliator we like is Dr. Brandt's Microdermabrasion, go take a look at our review.
Hyaluronic Marine Serum
Another A+ product from Mukti! It is a bit expensive but is worth the cost, and a little goes a long way. It almost immediately softens my complexion, it feels so much smoother than with any other product I have tried. Honestly it really does feel too good to be true. My husband does not care for any skincare products and even he is hooked on the texture of his skin now. I do not recommend applying before exercising, it will leave you sticky. Did I mention this serum smells heavenly? Just like the ocean and has a beautiful blue tint!
Hyaluronic acid brings intense moisture to the skin because of its ability to hold up to 1,000 times its weight in water.
Fucoidan extract from Wakame seaweed helps prevent wrinkles by increasing moisture into the skin's barrier.
If you want an illuminating serum, you have to try Tula's.
Daily Moisturizer

This is the perfect product for those of you with oily skin. It helps to lessen the appearance of pores and diminish shiny t-zones. You can apply it onto a cotton swab then onto your troubled areas. I notice it works well sprayed directly onto acne. Or, if you are on the go try using it as a makeup setting spray and a great way to refresh your skin. It feels so lovely on my skin and the citrus fragrance is incredible, some say it reminds them of the Australian bush! Somehow Mukti found a way to make a toner work on oil but be soothing at the same time.
Australian botanicals and citrus oils balance combination skin.
Witch hazel removes excess oils and refines pores.
Deep Cleanse Antioxidant Masque
This mask has a very calming effect on my sensitive skin. It does not dry out my complexion like other maks can. But it still works on my blemishes and seems to make my pores smaller, which most likely means cleaner! I really like that it is easy to take off. The smell is very pleasing but it is very thick and green – so do not go overboard on the application. Some like to use this deep cleansing mask in the shower or to spot treat acne. Mukti definitely lives up to their "detoxifying" claims with this product!
Kakdu plum, silky oil grass, and banksia increase moisture absorption to prevent dehydration.
White argiletz clay balances oil production.
Macadamia nut oil provides extra hydration and fatty acids for glowing skin.
Another fask mask that will clarify your skin is the Boscia Luminizing Black Mask, take a look at our review.
Vital B Elixir

Try putting the Mukti elixir on after you have washed your skin but before applying any makeup. It will help with foundation and facial makeup application. I noticed a difference in the brightness of my skin tone after a few weeks of use. Plus patches of dry skin seem to have disappeared. It will give your skin that "dewy", freshly cleansed, and awake look. I did have some sensitivity to it in the beginning but after a couple of uses, it has pretty much disappeared.
Niacinamide from Vitamin B3 strengthens the skin's barrier.
Kakadu plum, pomegranate, and mountain pepper berry balance sebum production, provide extra moisture and collagen production, and lessen signs of dark spots.
Where to buy?
I prefer to purchase Mukti Organics from Beauty Heroes and Olivela. They are both amazing places to shop online for organic skin care from Australia.
Beauty Heroes is committed solely to providing cosmetics that are good for you and the planet. Their subscription boxes are unlike any I have seen, they really care about finding the right product for your skin type. Plus if you subscribe, you will receive 15% off their website and shipping is free with a $50 order.
While Olivela specializes in everything from clothing to skincare they promote the well-being and education of young women around the world. In fact, 20% of all Olivela proceeds go towards one of their partner charities. Right now you can receive 20% off your first order and for referring a friend.
Have you decided which product from this Australian organic skincare brand you are going to try? Let us know how you like it, in the comments below!