I was on the hunt for a mask that would remove blackheads and minimize pore size. Then I found this black charcoal mask!
In recent years, activated charcoal has become a very popular ingredient in the cosmetic world. Despite limited research to verify its skin care benefits. Many have had positive outcomes like removing impurities from the skin and improving acne.
Boscia Luminizing Black Charcoal Mask

Boscia Luminizing Black Mask seemed like the perfect answer for issues, keep scrolling to see how I felt…
A little information on Boscia skincare…
Founded in 1981, by Kenji Ikemori. Ikemori wanted to create natural treatments for his wife after realizing her complexion imperfections could be due to adverse reactions from preservatives.
Japanese cosmetics company, Boscia became the first preservative-free skincare brand for sensitive skin.
They are devoted to their plant based ingredients and all their boscia products start with their "Botanical Blend" ingredient base. Which calm the skin and reduce inflammation.
The key ingredients Boscia mentions in this mask are listed on their website…
Activated Charcoal absorbs dirt and excess oil, detoxifies, and exfoliates to refine the appearance of pores instantly and over time
Calcium Montmorillonite Clay absorbs excess oil, impurities, and toxins, gently exfoliates dead skin cells, and minimizes the appearance of pores instantly and over time
Vitamin C (Ascorbyl Glucoside) helps brighten skin tone and minimize fine lines as it defends against free radical damage
Jojoba helps to prevent free radical damage while nourishing the skin
Willowherb helps to calm skin inflammation and reduce visible redness and irritation
All products made by Boscia are: preservative-free, alcohol-free, fragrance-free, color-free, and contain zero animal ingredients. They are also pH balanced and never tested on animals.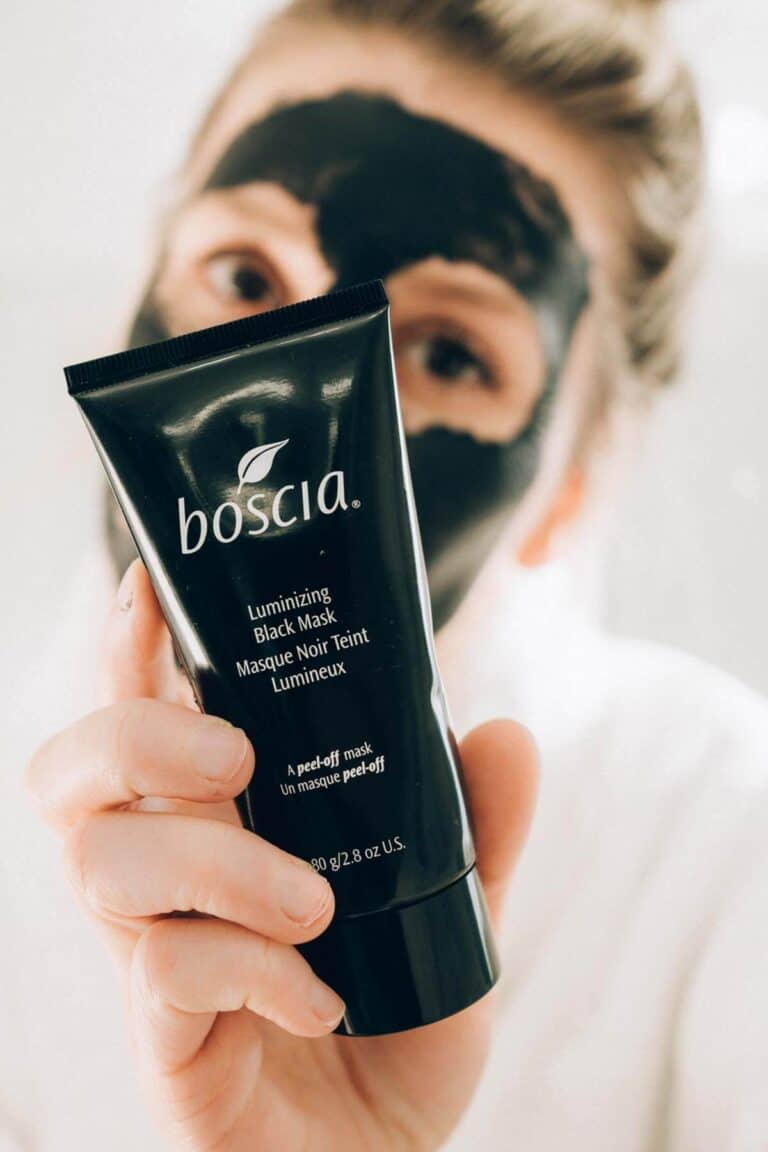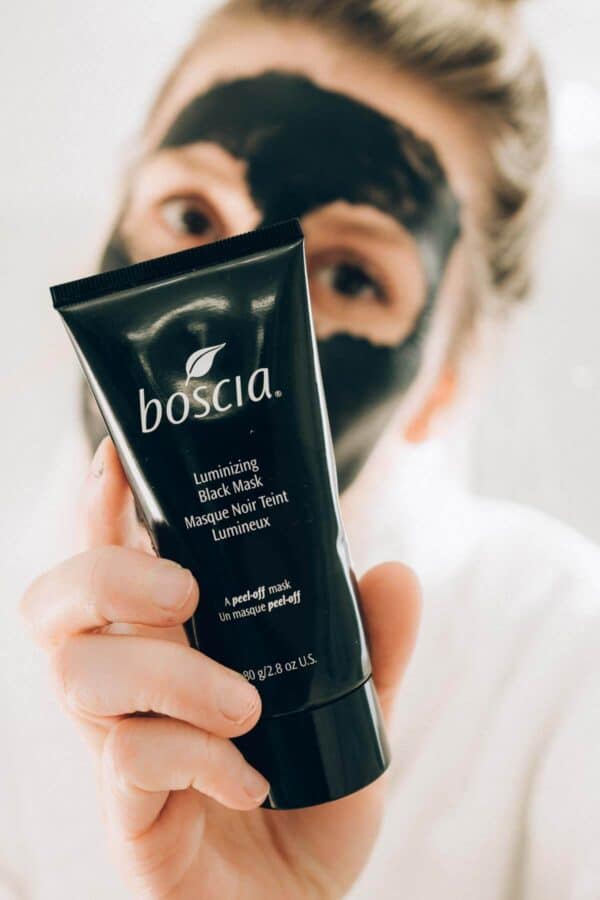 EWG Rating:
While I did not find an EWG rating for the Boscia black charcoal mask. I did find some for other Boscia products. The good news is all Boscia listed have ratings of 2 or 3! Those are wonderful ratings.
I have also seen the many, many magazines and online publications that have positive Boscia reviews.
What I like about the Boscia face mask…
I love how this product makes you feel like you are at the spa. It is a great one to use on the weekend. Self care Sunday?
While the ratings are great. And the plant-based ingredients are a plus. It it is only "good" for me, not great.
It claims to create a clarified, more radiant complexion. While cleaning deep into your pores. And to be suitable for all skin types: normal, oily, combination, dry, and even sensitive skin. I found this to be partially accurate. More on what I didn't like below.
What I didn't like –
I did not like that the mask did not peel off very easily for me. It was fine because I just used a warm wash cloth and to gently wipe away what was left. If you have sensitive skin I definitely wouldn't recommend leaving the mask on for longer than 30 minutes. It could cause some irritation.
How to use it:
Using your fingers – apply a thick, even layer to clean to dry skin. Leave on for 30 minutes or until completely dry. Then gently peel off the mask from the outer edges and rinse off any residue. After that, follow with your favorite moisturizer.
You can use it once or even twice a week.
Boscia Warning: Be sure to avoid your eye area, eyebrows, hairline, and lips. Do not use on skin that is irritated, broken or sunburned.
How does the Boscia mask compare to similar products?
In fact, I have read many articles about less expensive charcoal masks that work just as well. However, those masks do not contain natural ingredients. So there is some give and take.
After reading this review, are you going to buy the Boscia peel off mask? If you do, let me know how you feel about it below.