Do you get that winter itch from extremely dry skin? If you do, this Farmacy product might be the answer to all your dry skin issues.
Honey has been used as a skincare ingredient since Egyptians roamed the Earth. And who is going to disagree with Cleopatra's beauty rituals?
From anti-inflammatory properties to its antioxidants that reduce signs of aging and nourish your skin. Keep reading to learn how Honey Savior will rescue your skin from a swarm of different issues.
Farmacy Beauty Honey Savior All-in-One Skin Repair Salve
This post may contain affiliate links, which means I'll receive a commission if you purchase through my link, at no extra cost to you.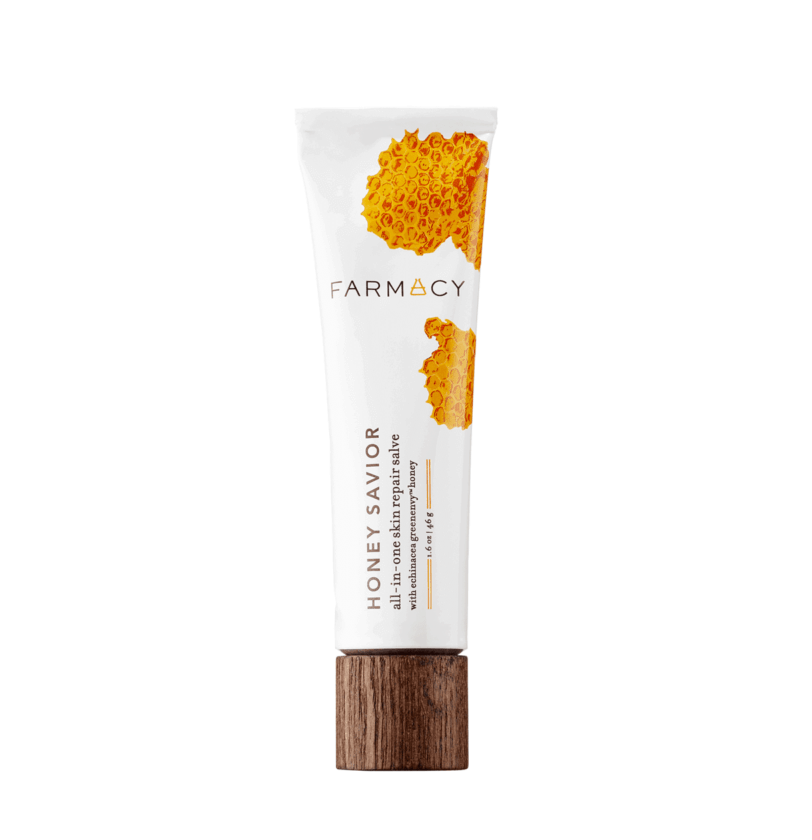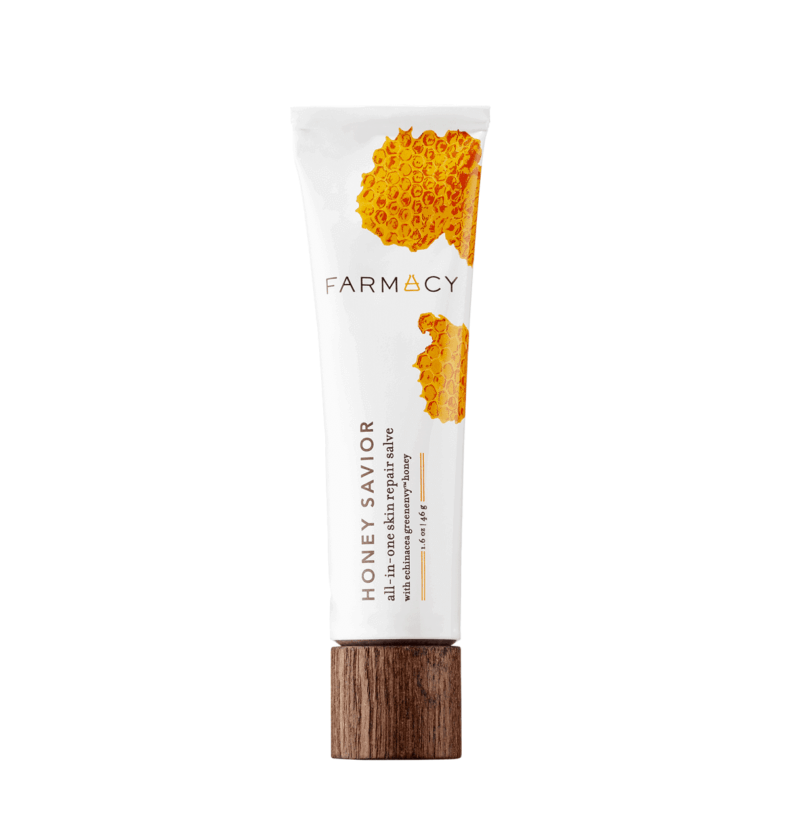 The "low down" about Farmacy Skincare…
Mark Veeder introduced Farmacy Beauty in 2015. Veeder is a gardener who developed naturally sourced skincare. Although Farmacy Beauty is not an organic company. They do use some organic ingredients in their products.
Veeder prides himself in the discovery of Echinacea GreenEnvy. Because, he claims this form of Echinacea contains more natural antioxidants than other forms of the herb. So all products in the Farmacy Beauty line contain this ingredient.
The below organic key ingredients are listed on the Honey Savior information page…
Proprietary Honey Blend: Known for its soothing and humectant properties, our special honey delivers skin-loving moisture and nourishment, plus antioxidants.
Propolis + Royal Jelly: Support skin renewal for a younger appearance and provide a rich source of amino acids.
It also has a smaller ingredient list than other Farmacy Beauty skincare. This includes several skin friendly oils and waxes to hydrate all your problem areas.
All Farmacy Beauty items are also: paraben free formaldehyde donor free, synthetic fragrance free, phthalate free, mineral oil free, and cruelty free.
EWG Rating
Even though Honey Savior is not considered organic – it still has an EWG rating of 2! The only moderate issue I see is something labeled as an "unidentified flavor". I wonder if that "flavor" actually has something to do with the honey. Either way this salve has an amazing rating.
What I really thought about the Farmacy "honey potion"…
Honey Savior is supposed to gently repair dry, cracked skin, plus help soothe minor irritations.
Farmacy also lists 21 uses for their popular salve. So I wanted to give you a quick list of them: hand lotion, elbow savior, overnight foot mask, cuticle caretaker, post-shave soother, post-wax soother, post-sun treatment, running partner, leg glower, hydration booster, DIY cream blush, face gloss, post-retinol soother, DIY illuminating scrub, flyaway tamer, brow pomade, lip balm, DIY lip scrub, lip gloss, post-tattoo treatment, and color highlighter.
While I did not use this honey-filled moisturizer to repair all my skin problems. I think it has some pros and cons. Let me explain…
PROS:
It contains skin-saving oils and waxes.
Many ingredients are organic.
It moisturizes without a greasy feel.
CONS:
It contains an unknown flavor (or fragrance), which is not the best for skin.
How to use:
Smooth a small amount to freshly cleaned skin. Then massage until fully absorbed. I adjust the amount I use by where I am applying it.
You can use it where needed for targeted care. Or even under your makeup for an extra "glow".
How is Farmacy Beauty's Honey Savior comparable to related cosmetics?
Yes and no.
Sure, there are other products with honey as a main ingredient. And, yes those same products promote their use of honey.
But no, I don't find them to be as useful as this salve. That being said – this is a very good substitute to other salves with a petroleum base. And I wonder if there is another balm containing honey that would moisturize just a little bit better.
Would I recommend you purchase it? Yes. Even though it might not be the richest salve on the market – it is perfect for Fall. And Fall is the season when your skin needs moisture but only in specific spots.
Farmacy Beauty actually has an entire "honey" line. The line includes a Farmacy honey potion mask, Farmacy honey cleansers, and Farmacy honey eye cream.
So tell me Honey, is this your new skin savior? Let me know in the comments below!
Read Next: Herbivore Reviews: The Best Coconut Oil for your Skin?