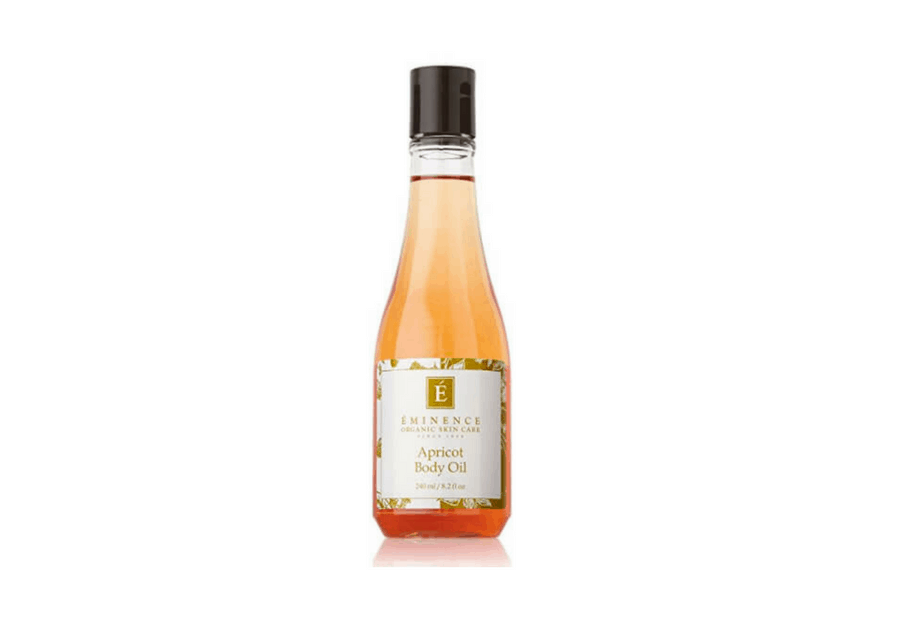 Eminence Organic Skin Care
Eminence Apricot Body Oil Review
What is it?
It is an all natural, organic, cruelty free Apricot body oil.  It is important to note that it is not pure apricot oil.  Although Apricot Kernel Oil is the first ingredient it is "blended with an assortment of healing oils such as grape seed and jojoba".  You can see the full ingredient list below.
Key Ingredients:
Apricot Kernel Oil, Grape Seed Oil, Sunflower Seed Oil, Jojoba Oil (biodynamic), Sea buckthorn Oil, Pomegranate Oil, Biocomplex TM: super antioxidant booster containing Vitamins A, Ester-C, E, Coenzyme Q10, Alpha Lipoic Acid
What are the benefits of Apricot Kernel Oil?
Inside apricots, there is a seed or kernel.  The apricot kernels contain about 40-50% of oil.  Apricot kernel oil is proven to have a ton of health benefits including fading wrinkles, getting rid of dark circles (yes, please!) and they even claim that it can help prevent sun damage when applied before the sun.  Of course I do not recommend using apricot oil in place of sunscreen, unless you want to look like you face was stuck in a toaster.
Read more on the benefits of Apricot Oil for your hair, skin & health here.
What they say about Eminence Apricot Body Oil
"This ultra hydrating and nourishing apricot oil is blended with an assortment of healing oils such as grape seed and jojoba to create a luscious massage oil for the skin. Relax; a silky smooth finish is in your future!"
Soothing and hydrating massage oil for normal to dry skin.
So now let's get to the review. 
Eminence Apricot Body Oil
First Impression:
This is the first product I purchased from EMINENCE ORGANICS and overall I loved it.
If you like feeling like a rich housewife, then this is definitely a product you will enjoy.
First, let's start with the smell…
I think this is the best smelling oil I have ever owned (that is saying a lot because my collection is extensive).
Overall, I would describe the smell as a kind of apricot/peachy smell.  Trust me, you will love it.  If you are sensitive to smells you may not like this too much, or you may have to dilute it in your lotion or other body oils because the smell is pretty strong.
How much does it cost?
Cost of Eminence Apricot Oil 240ml / 8.2 Fluid Ounces on Amazon – $24.31 + shipping cost (This is the cheapest price I could find.) 
It is on the more expensive side if you want to use this as a body oil.  I go through oils like crazy because living in Vegas' dry heat makes anyone obsessed with body oils.  I typically use it on my face and neck, which has worked amazingly well for me.
Eminence Organic Skin Care
Apricot Body Oil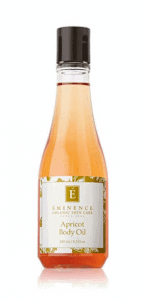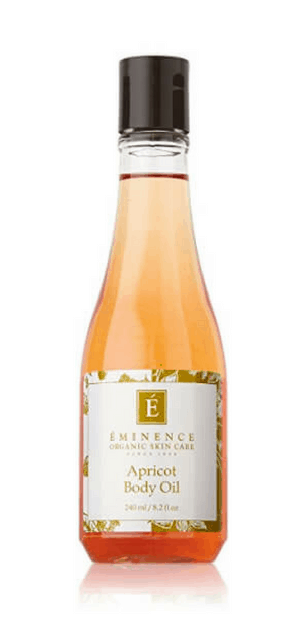 When I do use it as an all over body oil I mix it in Jojoba Oil (my favorite organic avocado oil) NOW Grapeseed Oil, or Rosehip Oil.  Basically any kind of oil seems to mix well with it, and the great thing is a little really does go a long way.
Other ways you can use Eminence Apricot Body Oil:
Some more ways I use Eminence Apricot Body Oil are to add 1-2 capfuls into my bath.  I recently had to throw out all my Lush bath bombs and other bubble bath products after having bad skin reactions. The essential oils are the perfect replacement.  They are super moisturizing and relaxing without having any harmful chemicals.
They also recommend using it as a massage oil, although I have not tried this yet, it does sound heavenly.
Has anyone else been working on making the switch to all natural skincare products?  Not to sound too dramatic, but it has been pretty life changing for me.
How they recommend using it on their website:
Application:
"Apply a thin layer to cleansed skin at the end of showering.  Massage over skin and return to shower briefly to allow oil to be distributed evenly on to the body. Leave remainder on and Pat dry. Can be used as luxury massage oil all over the body."
For use with normal to dry skin.
Since this is a natural and organic skin care product each batch may vary slightly. This is common among organic skin care brands. I have never had an issue with it.

 ✔  Organic ✖  Parabens ✔  Natural ✖  Phthalates ✔  Biodynamic® ✖  Sodium Lauryl Sulfate ✔  Sustainable✖   Propylene Glycol ✔  Cruelty Free ✖  Animal Testing
Note – This is the first Eminence product review I have ever done, so if there is more information you would like to know that I left out don't be afraid to ask in the comment section.
NEVER MISS ANOTHER POST
Enter your email address to subscribe to this blog and receive notifications of new posts by email.