Erno Leszlo worked on the most famous faces in the world. He healed everyone from Marylin Monroe to Audrey Hepburn. After he developed a "Phormula 3-1" to Prince Stephanie's stubborn acne, his career in skincare took off.
I figured, if Laszlo made treatments good enough for a princess – then why not me?
Keep reading to see how I liked his Hydraphel Skin Supplement!
Erno Laszlo Hydraphel Skin Supplement Review
This post may contain affiliate links, which means I'll receive a commission if you purchase through my link, at no extra cost to you.

What to know about Erno Laszlo skincare…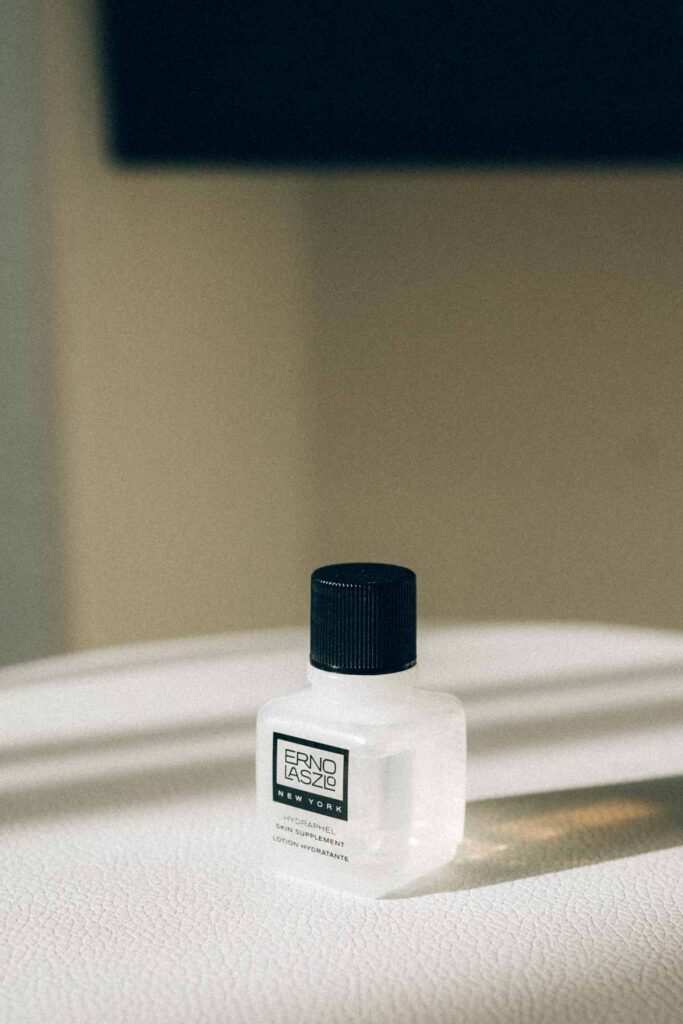 Laszlo cosmetics originated in 1927, when the first academy was built in Budapest. It included a lab where customized formulas of cleansing oils and bars were invented.
Dr. Laszlo was a trailblazer in his field. He created a wide range of products to help particular skin conditions. The idea of a skincare "ritual" and double cleansing are credited to him.
If you like doctor backed ingredients, take a look at our review on Tula Illuminating Face Serum.
Take a look at the key ingredients in this face toner…
Panthenol (Provitamin B5): Gives skin the anti-inflammatory reinforcement it needs.
Allantoin: To calm easily aggravated skin while it promotes cell renewal and repair.
Glycerin: Helps to bond moisture to skin.
Hyaluronic Acid: Taken from amino acids, it increases the level of dewiness in skin.
Erno Laszlo products do not contain sulfates, phthalates, or mineral oil.
Shop Related Products:

EWG Rating:
Although there is not an EWG rating for this exact moisturizer. I did find one for another product in the Hydraphel line. And – it was given a 4! That is a great rating. I think it would be an even better number if the skin-conditioning agent, Vitamin A Palmitate was not included.
Why I think this is the best face toner:
I had seen amazing Erno Laszlo reviews. I knew it was a high-end brand. But I was not sure about using a toner on my dry skin type. They are known for stripping skin of moisture.
However, this product really took me by surprise. I ended up liking it much more than I was expecting.
This "skin supplement" not only hydrated my skin. It was also surprisingly gentle. I also really loved that this toner did not leave a "sticky" film on my face. Too many "hydrating" products do.
Maybe it is the hyaluronic acid. But I noticed it even somehow clears flakey skin. It really is the best toner.
You might also like: Indie Lee COQ10 Toner Review
How to use:
After washing your face, put about a dime-sized amount of the toner on a cotton pad. Then apply the liquid over your entire face using an upward sweeping motion.
Make sure to avoid your eye area.
Once it dries, you can continue to put your favorite moisturizers and sunscreens on top. Laszlo recommends to use this toner in the morning and evening.
How does it compare to similar face toners?
Well, as I mentioned earlier, this toner for dry skin does not strip my complexion. In fact it makes my face look much less dull. My skin is silkier after using.
I realized the reason this formula does not dry me out. Because it is actually an alcohol free toner!
I am not sure I have even heard of an alcohol free toner. Other brands I have tried in the past were based around the use of alcohol. I thought toners were only for those with particularly oily skin.
Those other brands seem to be marketed only to teenagers. This is a total upgrade, something suited for both teenagers and adults.
Laszlo's version actually works with the pH levels in your skin. I found you can use it to prime your skin for other treatments to better absorb. Makeup application even becomes easier. In fact, the "pH" in the name Hydra-pH-el. As in Hydraphel Skin Supplement. Ah ha! Pretty creative. Haha.
I would definitely purchase this hydrating toner.
Looking for a foundation for your dry skin? Try Lancome.
Where to buy Erno Laszlo products?

I like to purchase Dr. Laszlo's products at Dermstore. They were founded in 1999 by Craig A. Kraffert, a Dermatologist. He wanted to offer better access to the skincare options to his patients. I love the variety of treatments they offer. There is something for every skin concern. And thousands of product reviews. Plus a great shipping policy and rewards program.
Now that you know more about Erno Laszlo's toner – are you going to try it out? Let me know how you like it!
Read Next: Indie Lee COQ10 Toner Review