The thrill of receiving a new beauty box in the mail is like receiving a birthday present on your doorstep once a month.
Skincare subscription boxes are a great way to try different products without the commitment and expense of buying a full size and full price product (especially a lot of higher end products I wouldn't try without knowing they work extremely well). For a small price tag you are able to explore a large variety of products!
Dermstore BeautyFIX Review
This post may contain affiliate links, which means I'll receive a commission if you purchase through my link, at no extra cost to you.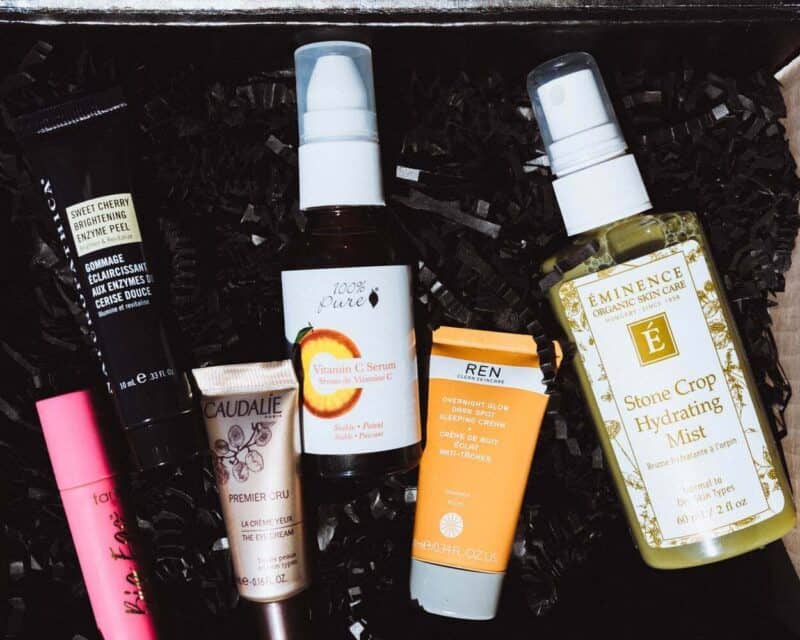 Why I LOVE the BeautyFIX box by Dermstore
I have been a happy subscriber to Dermstore's BeautyFIX box for well over a year and I have never been disappointed or let down with a box.
I love that the professionals at Dermstore beauty box send a VERY well curated variety of products. They mindfully chose everything I want to try from shampoos , all-natural lip conditioners, face masks, and cleansers – they have you covered. It truly is the perfect option for those who are concerned about the health of their skin – from head to toe.
You can take a look at what previous monthly subscriptions offered here. A few of my favorite brands I have discovered through them are 100% Pure, Rahua, and Skyn Iceland.
What's included?
Every month you receive over 6 products that have a retail value of $100 or more. To me, the best part is that not all items are sample size (like some boxes) or even travel size. You regularly receive full-sized items quality items! Every item is guaranteed 100% authentic as well.
When you subscribe to their monthly boxes you also gain access to offers on other full-sized items.
Overall – BeautyFix is my second favorite skincare subscription box I have tried (I have tried 6 at the time of writing this). Second only to Beauty Heroes box because they only offer 100% natural, cruelty-free, and vegan beauty products in their boxes.
Easy to Cancel – How do you cancel Dermstore's BeautyFix box?
Some companies selling beauty box subscriptions try to scam you by making it almost impossible to cancel. Has this happened to you? I've been caught in the trap of believing "it is super easy to cancel at anytime" or my favorite "no commitment" when it isn't. At times canceling a subscription is the most frustrating and time consuming process in the world!
Dermstore does not do this!
Thankfully if you want to cancel, Dermstore is great about the cancellation process making it super easy.
How much does it cost?
There are a couple things you need to know about the pricing of this subscription box. The cost is different for a one time purchase and for a monthly plan.
One-Time Purchase: $34.95 | Buy a one time beautyFIX box here.
Monthly Plan: $24.94/ month – This is what I use.
All orders come with free shipping each month.
What are the benefits of buying a one time box?
At the beginning of each month Dermstore releases all the products that will be featured in this month's box. If you see products that you want that month you can buy a box without having to wonder if you will even use or like any of the products you receive. You will already know exactly what you are getting.
They send a special card they with each box to give you more details and tips on how to get the most out of each product.
Bonus – if you decide to purchase any of the products included the boxes typically come with a 20% off coupon.
If you need more guidance they have a wonderful online chat service that is ready to help every day of the week.
How does Dermstore BeautyFIX compare to other skincare subscription boxes?
The overall value of the Dermstore BeautyFIX is amazing. For the low price of $24 or $34 (depending on your subscription), you receive at least $100 worth of products. Often just one of the full-sized products is worth more than entire month's cost. In my experience, this is really rare in beauty boxes. With other boxes I have tried you often you end up with full size low-quality items and the high quality items you actually want in very small sizes.
A couple questions you might have…
Are there any disadvantages to this subscription?
Just one, that there is no way to customize your monthly box. I have noticed some subscriptions offer this option. However, even when you can customize – the products you receive are still not as amazing as what Dermstore sends you. Especially for your skin.
Would I purchase BeautyFIX again?
I would absolutely purchase this box again, in fact, I am still receiving my monthly boxes and don't plan on cancelling anytime soon. It is worth the cost for the value you receive, hands down.
Where to purchase?
You may purchase the Beautyfix box online at Dermstore.com or Dermstore locations nationwide. All online orders come with free shipping each month.
Most importantly, you can cancel your subscription anytime.
Now that you understand more about Beautfix, are you going to try it? Let me know in the comments below!