It isn't easy to find a natural body wash you love. This one from Bathing Culture is so luxurious you will never view showering the same way again.
The rest of their products were made to compliment the body wash and are just as decadent. Their skin-softening formula contains a blend of aloe vera, harvested essential oils, plant glycerin, and botanical extracts. Transform your mundane shower into a heavenly ritual of woodsy, citrus, and floral fragrances to become one with nature.
Did I mention that every ingredient is vegan and certified organic – even their happy rainbow packaging is earth friendly. Come take a look at their best products…
This post may contain affiliate links, which means I'll receive a commission if you purchase through my link, at no extra cost to you.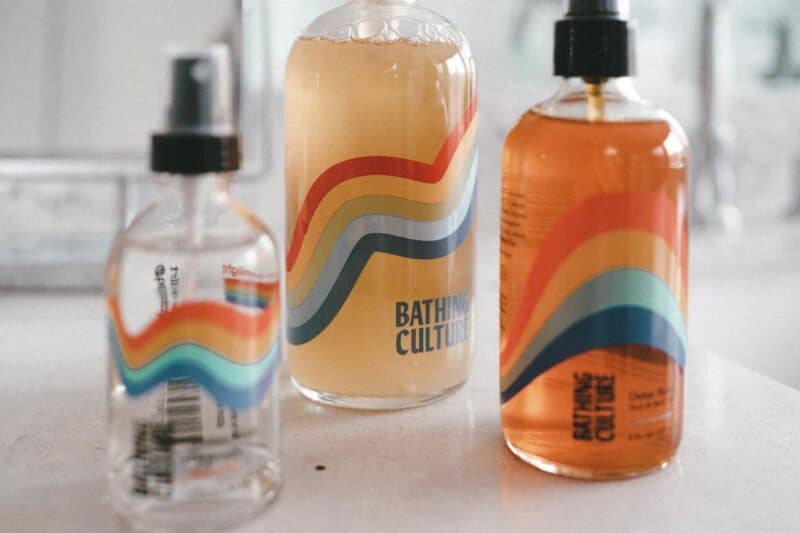 Bathing Culture Review: About the Brand
Bathing Culture was founded by childhood friends Tim Hollinger and Spencer Arnold in 2016. For years they felt the natural body wash available was either overly perfumed or watery and ineffective, so they decided to create their own. They took inspiration for fragrances from various regions of Northern California and aim to protect those areas from pollution.
Every item they create is free from dyes, parabens, sulfates, and are never test on animals. Like I mentioned earlier everything they make is also vegan and certified organic. But they did not stop there – Bathing Culture ingredients are sustainably harvested and biodegradable. They even manufacture using renewable energy within the United States. All containers they use are now made from glass and aluminum that can easily be refilled.
With every 5 gallons of skincare sold, Bathing Culture plants a native tree. I have never heard of a more human and earth friendly brand, ever, incredible!
Best Bathing Culture Products
Golden Hour Hydrosol Spray
Golden Hour Hydrosol Spray makes the perfect organic toner for your entire body. It works perfectly after a bath or shower, team it up with one of the other products on this list. You can spray it on while skin is still damp to seal in moisture for the rest of your day. It is perfect to use before applying any type of lotion or cream. Some even like to spray it into the air as a relaxing room freshener – it is infused with Moroccan neroli (or "bitter orange") and Turkish rose. Try it during a massage or even after a day at the beach to refresh your parched skin. Toss it in your bag to refresh yourself throughout the day. It is gentle for most skin types, those ultra sensitive should not use it on their face.
Outer Being Face & Body Oil
Outer Being Face & Body Oil was created with jojoba, coconut, marula, sea buckthorn, and MTC (an anti-microbial) oils. Use this as an anti-inflammatory and to add moisture to your skin after you shower. I find it to be a great solution to soothe your skin barrier, try after being in harsh conditions like cold or hot temperatures or being in heavy city pollution. The vetiver fragrance is much lighter in this oil and some even like to use it on their sensitive facial skin because of this. It is not at all greasy even though it is made of fatty acids and oils. A little goes a very long way and this product will last you quite a while.
If you are interested in the benefits of another great organic body oil, see how we felt about Eminence.
Mind & Body Wash
Here it is! The one that started it all, Mind & Body Wash! Bathing Culture created their entire skincare line around this invigorating wash. I think you will love the lather and hydration it provides. And the mossy, rainy day fragrance is like nothing else you have tried before. It is made with sunflower, coconut, and olives oils plus soy bean, shea butter, and plant glycerin to really nourish your skin. And that forest inspired aroma – that is all thanks to the blend of ylang ylang, frankincense, balsam, ho wood, and vetiver oil (think "lemongrass" – citrusy). This is a MUST! You will not be disappointed. I love this brand but if you only want to try one product, start here.
Looking for a natural cleanser specifically for your face? Take a look at our review of Osea's Ocean Cleanser.
Big Dipper Mineral Bath
If you want to indulge in the ultimate relaxation then the Big Dipper Mineral Bath is the one for you. Himalayan and West Coast sea salts are mixed with jojoba oil, green clay, and hemp. Yes, hemp but do not worry it is non-psychoactive, you will not have any unwanted reactions. Vetiver oil, cedar, and cypress extracts scent these salts and make you feel like you are sitting in a forested hot spring. After 30 minutes soaking in a wonderfully hot bathtub of this blend – I can guarantee all your muscle tension and worries will melt down the drain. Many reviewers talk about how silky and smooth their skin feels after using this mineral bath just once!
Where to Buy these natural bath products?
I really like purchasing Bathing Culture skincare at Design Milk and Beauty Heroes.
Design Milk is a really unique online marketplace that focuses not just on the function on the items they sell but their beauty as well. A small company, run by a team devoted to supporting global creativity in beauty, architecture, travel gear, and beyond. In addition, they donate to several worthy causes, offer free shipping when you spend $50, and will even price-match if you find something you like a lower price.
Beauty Heroes is committed solely to providing cosmetics that are good for you and the planet. Their subscription boxes are unlike any I have seen, they really care about finding the right product for your skin type. Plus if you subscribe, you will receive 15% off their website and shipping is free with a $50 order.
If you are loving some of their travel items and looking for an excuse to head to Vancouver – you have to check out our packing list!
Have you decided which Bathing Culture product you are going to try yet? Let me know how you like it in the comments below!