Osea's Ocean Cleanser is the best vegan cleanser I have ever used!
This all natural and organic gel cleanser is made with seaweed and effectively removes impurities and excess oil on your skin while remaining gentle. Your skin will feel clarified, refreshed, and keep its hydration. Hello radiant complexion!
Continue reading to find out more about Osea's best-selling cleanser…
Osea Ocean Cleanser Review
This post may contain affiliate links, which means I'll receive a commission if you purchase through my link, at no extra cost to you.
I wanted to try Osea's ocean cleanser because of their dedication to clean beauty. Also, I thought the addition of algae in a face wash seemed interesting. Further, it seemed that all other Osea skincare reviews said it was amazing.
I first noticed its color. Most skincare has a clear or creamy white look, but not this one. I was surprised when it came out a really pretty pale green. Thankfully it does not tint your skin.
The fragrance is subtle but amazing! It is fresh and reminds me of the ocean. I love that it comes in a glass bottle. I worry about plastic bottles breaking down into the cleanser and me ultimately putting unwanted chemicals onto my skin.
This product was a perfect solution to my skin cleansing dilemma. I've tried a lot of different cleansers, but couldn't quite find the right fit for my skin type. The use of this algae based cleanser is the right solution. It also has become a capable makeup remover; I was shocked to see how well it worked. It does not leave my skin feeling plasticy and tight.
Yes, it is a little more expensive than most face washes, but a little goes a long way. I really think it is worth the cost.
What is the EWG rating of this Osea vegan facial cleanser?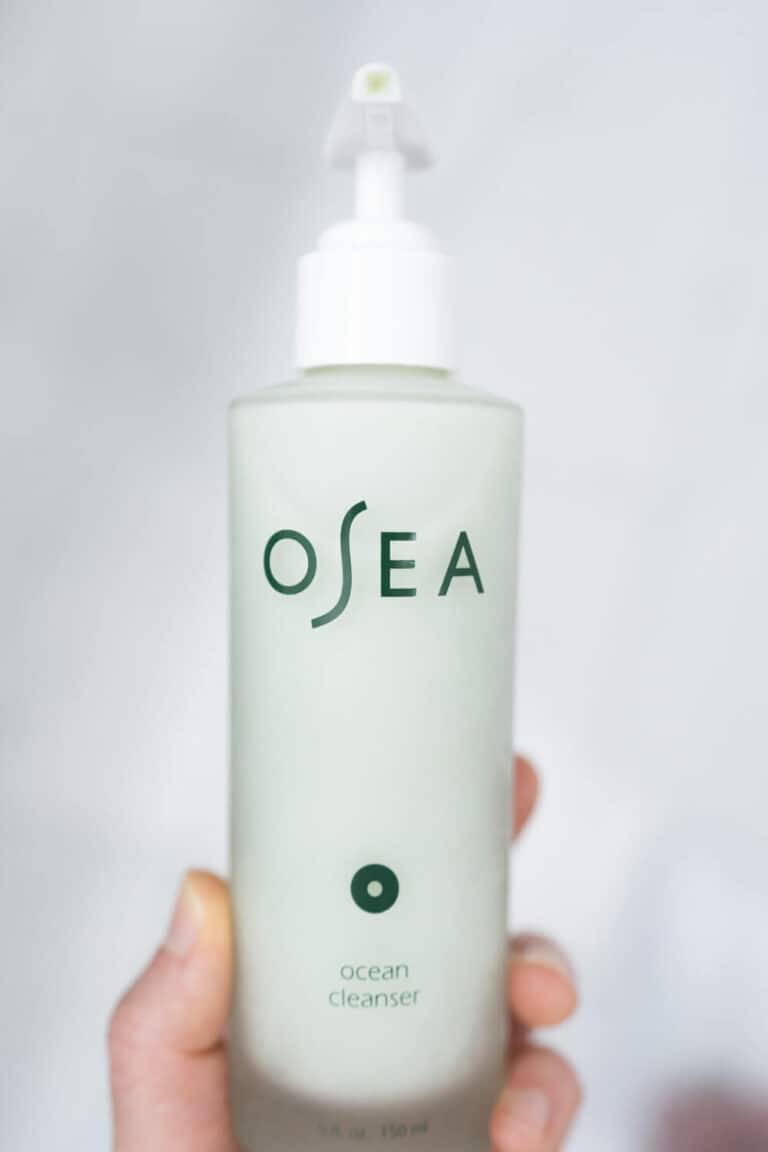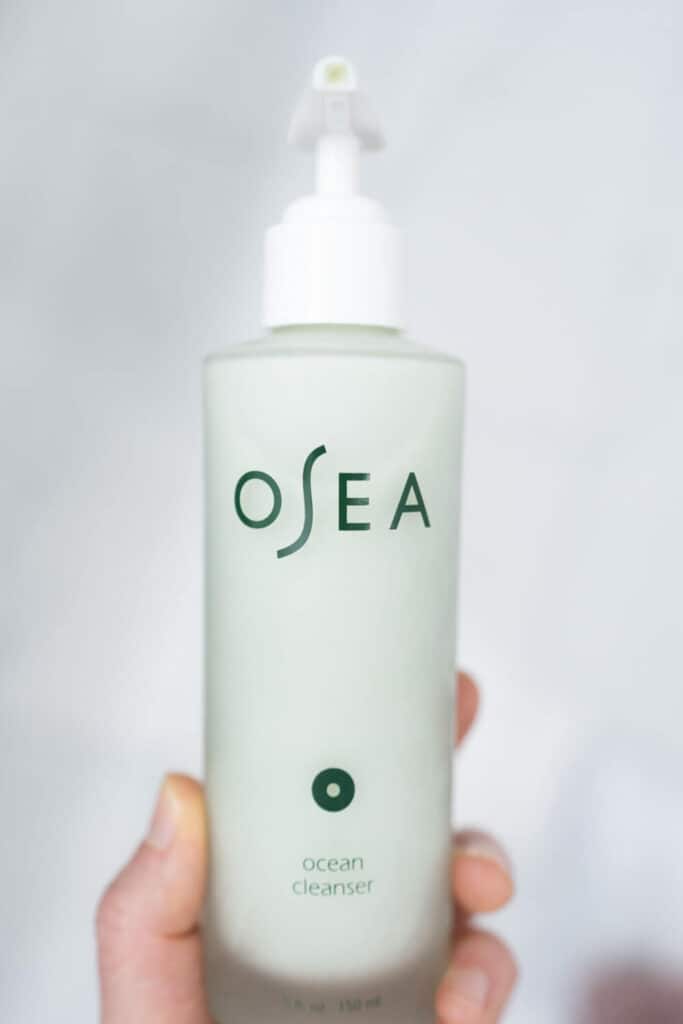 Not only are the ingredients clean and vegan, this Osea face wash has an EWG rating of 3 out of 10! (that is an impressive rating within their database -the lower the number – the better the product)
The Environmental Working Group (EWG) is a nonprofit American activist group. Their Skin Deep database researches toxic chemicals within over 75,000 personal care products.
If you are interested in learning more about the EWG, read about why I prefer their ratings.
The two ingredients that may cause some complications are orange oil and jasmine oil. They are not harmful chemicals but if you are allergic, you may become irritated. Personally, I have sensitive skin and have had zero issues.
In fact, in comparison to similar products it is by far the best vegan face wash I have used. I like it better than other "clean" washes because I have sensitive skin.
Osea created a cleanser that includes natural components but still gets rid of impurities while nourishing my skin so my face so it does not flare up with redness and pain.
Everything you need to know about Osea Skincare…
Osea was founded in 1996 and is completely family owned and operated.
Osea wants their skincare to be good for you and the environment. They are big on sourcing their ingredients in an open and honest way while respecting the environment and sustainability. They work closely with family run and local companies as much as possible.
All Osea products are vegan, non-toxic, gluten-free, cruelty-free, and made in the United States. Also, they use essential oils, seaweed concentrates, and all natural botanicals in their variety of skincare solutions.
Key Ingredients:
Algae Extract: Hydrates your skin with vitamins and minerals to keep dry skin balanced and healthy.
Sesame Seed Oil: Is a greatly moisturizing oil with antioxidants and fatty acids to keep skin plump.
Lactic Acid: A nourishing exfoliant made from beets – perfect for sensitive and dry skin.
Cypress Essential Oil: Lessens the appearance of blemishes and oily skin with antioxidant compounds.
Juniper Fruit Oil: Helps to clear skin, by opening up your pores.
If you like vegan products then you have to take a look at our Madame Lemy deodorant review.
Pair this Osea cleaner with:
Osea's Atmosphere Protection Cream: A lightweight daily moisturizer that is suited for almost all skin types. The avocado oil, algae, and shea butter help to diminish signs of environmental stressors.
Osea's Sea Vitamin Boost: An "on-the-go" mist that keeps your skin glowing and youthful. Seaweed, pomegranate, and resveratrol will give you the anti-aging benefits you desire while out and about.
Osea's Essential Hydrating Oil: A luxurious oil that minimizes fine lines and wrinkles. Rich in sesame seed and jojoba, it will give your skin a radiant glow it did not have before.

Where can you purchase this ocean inspired Osea face wash?
Osea offers every product in their line on their own website. They even give suggestions that pair with every serum, moisturizer, or cleanser.
I also love shopping for Osea products at Blue Mercury and The Detox Market. They are "beauty superstores". Both offer many different brands and free reward clubs where you can earn points and special surprises.
While Blue Mercury prides themselves on carrying innovative products, I love it because no other beauty store cares more about providing me actual skincare solutions.
The Detox Market is completely clean. This means that no brand is allowed on their shelves unless it complies with their banned ingredients list. I feel safe shopping there because of this.
So what do you think of the Osea Malibu review? Are you curious to try it? Already tried it? Let me know what you think in the comments below!
Read Next: W3ll People Nudist Lip Butter Review