Avocado Smoothie for Weight Loss
As a kid I never ate breakfast. Looking back, I think my lack of appetite in the morning stemmed from me not being a morning person.
I grew up consistently hearing that breakfast was the most important meal of the day, and that skipping breakfast can slow down your metabolism and make you hungrier throughout the day.
So…I began eating breakfast, even though I wasn't hungry.
I found that when I ate a big or small breakfast it seemed to have an effect on my body that was opposite of what it should have. I ended up feeling hungrier throughout the day and even more sluggish in the mornings.
Everyone is different, but I found out that for my body an energy boost breakfast smoothie strikes the perfect balance. This creamy avocado smoothie recipe is one I recently concocted; I was honestly shocked at how good it turned out.
It isn't too heavy, so if you have a foggy brain in the morning (like me) this won't cloud it up even more.
Did you know that they make a great moisturizer we well?! Read about how I have incorporated this raw organic avocado oil into my skincare routine, and have even started using it as a bath oil. Spoiler alert! The results have been amazing!
Best Breakfast Smoothie for Weight Loss
This avocado smoothie recipe is one of the best breakfast smoothies for weight loss.
A lot of the weight loss smoothie recipes have a ton of fruit in them which is great, but with my body if I do not balance the fruit (sugars, carbs) with healthy fats and fiber (avocado, seeds etc.) then it leaves me hungrier than I was before eating.
So here is what you will need to make your smoothie. I promise, it is super easy to make. The prep time is basically just getting the ingredients out of the fridge.
This post may contain affiliate links, which means I'll receive a commission if you purchase through my link, at no extra cost to you.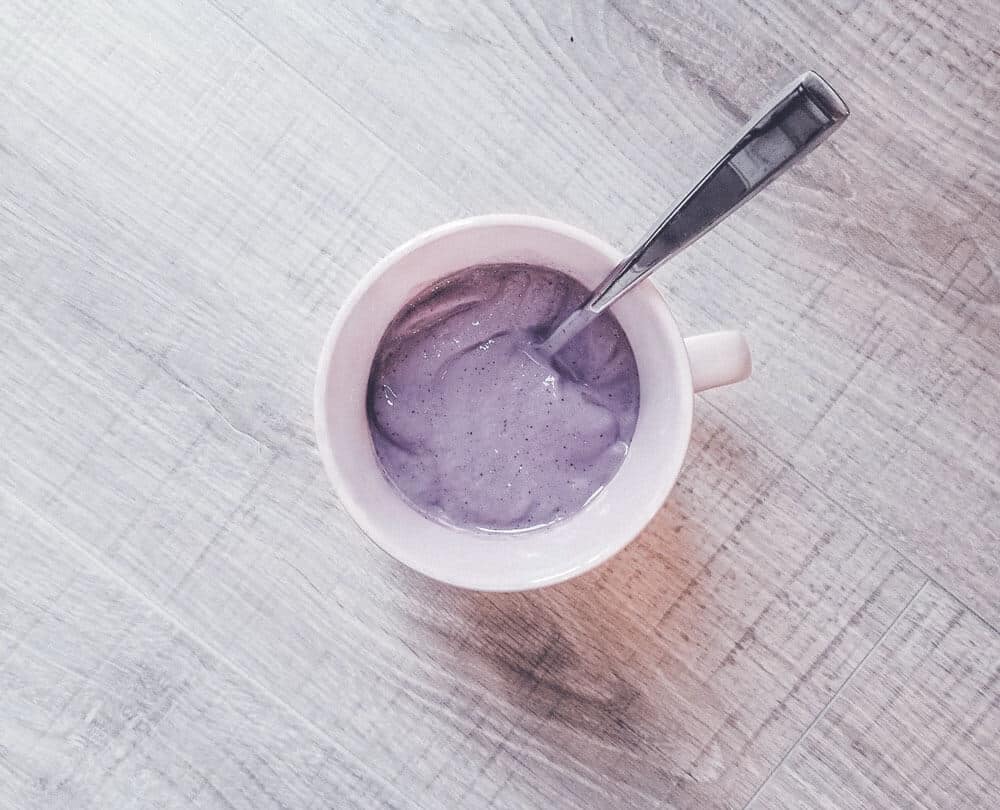 Prep: Break a banana into 4 pieces, put it in a freezer bag or some glass tupperware and store in the freezer until frozen.
Note – I usually do this for 5 bananas at a time so I don't have to repeat this process everyday.
Avocado Smoothie for Weight Loss Ingredient list:
Handful of frozen blueberries

Half or ⅓ frozen banana
Half an avocado (or a whole one depending on how hungry you are)
½ cup milk (you can substitute almond milk, flaxseed milk, or another if you have personal allergies or preferences)
½ cup ice
1 tablespoon chia seeds
Handful of spinach
WM Nutrition Hot Cocoa Appetite Control Hot Cocoa (they offer one with caffeine and a caffeine free version)
Directions:
Combine everything in a blender and blend until your desired thickness is reached. I like mine to be thick and creamy so that I need a spoon to eat it.
There is nothing I love more than a nice creamy smoothie in the morning!
Like avocados? Read about how I have incorporated this avocado oil[/easyazon_link] into my daily skincare routine.
More Recipes You Will Love:
If you enjoyed this post don't forget to share it with your friends!