Recently I have been on the hunt for the best all-natural skincare routine that won't cost a fortune. It has always rubbed wrong that brands will charge you $50 for a tiny container of eye cream, with the claims that it contains the highest quality and most effective ingredients.  
It was during my search that I found that you can use much more affordable avocado oil for skin and get amazing results.
Is this the best avocado oil for skin?
Organic Cold Pressed Avocado Oil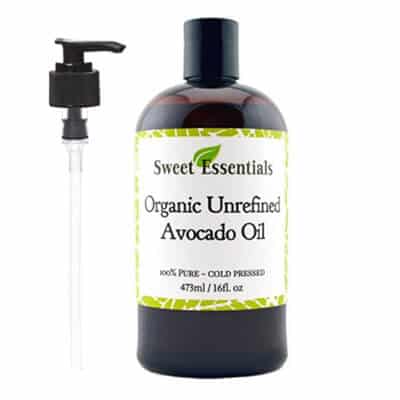 Organic Cold Pressed Avocado Oil
I found that expensive does not always equal the best quality.
If you haven't jumped on the avocado oil bandwagon yet let me save you some time and money and tell you now, you should!
It has so many benefits for your skin, hair, and even in your cooking.  I tried out a bunch of different brands and different oils, and right now without a doubt, Avocado oil is my go to.
I used to use grapeseed oil as my daily moisturizer and while it was a huge step up from my previous St. Ives lotion, it just doesn't compare to my sweet essentials avocado oil I bought online.
So what are the skin benefits of avocado oil?
Helps prevent premature aging
Prevents skin damage from sun rays
Boosts collagen
Helps remove dark circles
Improves skin elasticity
Helps hair growth
Makes a great all-natural makeup remover
Refined vs. Unrefined
The best avocado oil for skin use is extra virgin, cold pressed, and unrefined. The color of unrefined & cold pressed avocado oil is dark green and has a little bit of a nutty smell.
You can used refined avocado oil for your skin and hair; it will be a pale yellow and odorless.
Shelf Life of Unrefined and Refined Avocado Oil
Refined Avocado Oil has a shelf life of 18 months + and Unrefined Avocado Oil can last up to 1 year.  The shelf life of an oil will also vary based on heat. Best to keep the oil out of light, air and heat.
Where to Buy Avocado Oil
The Best Avocado Oil Online
The best avocado oil I have found online is this one off amazon.  It didn't have too many reviews so I was skeptical at first,but it checked all the boxes.It was organic, extra virgin, unrefined, and cold pressed so I decided to give it a go.
Wow, was it amazing.  It honestly surpassed all my expectations as far as quality goes.  I have so tried many different brands of oils off Amazon and so far this one feels the best on my skin.  It sounds kind of weird but I almost felt like my skin was soaking it in to the point where I knew it was exactly what my skin needed.
After battling chronic illness for so many years you really learn to listen to your body telling you what it needs.  This stuff is no joke; I could feel a difference between this amazon avocado oil and the others I have tried.
A few things to note: because it is unrefined, it will be green in color which can be a little shocking at first because you are probably used to your oils being clear or yellowish.  It will not stain your clothes, so you don't have to worry about that.
They have different sizes you can get if you are unsure about it.  I went all in and bought the 16oz. bottle(largely because at the time I didn't know they offered smaller sizes). I am glad that I did as I am now obviously a huge fan.
They offer a 2oz bottle, 4oz bottle, 8oz bottle (w/ pump included), and 16oz bottle (w/ pump included).  I personally prefer the pump, it makes the application process a lot nicer.
The Claims 
About the Product: 
"Using avocado oil once or twice a month can help to keep your hair in tip top condition. If your hair is extremely damaged or you are trying to recover from chemical processes, it may be used more often.

If you know anything at all about skin care, you know how important collagen is to keeping your skin smooth, firm and looking young. Avocado oil, for skin care purposes, helps to increase collagen production naturally. In other words, it helps to form a natural barrier against wrinkles and many other signs of aging skin.

Avocado oil is also a good way to relieve itchy, dry scalp. Take advantage of the high fat content of avocado oil by massaging it into your scalp. The fats are easily absorbed through your skin and will help soothe your scalp. It is also known to help stimulate hair growth.

These properties are why avocado oil is an excellent component to your health and beauty routine to restore shine and health to dry and mistreated hair.

If you have blemished skin, age spots or sun damaged skin, there's good news. The sterolins found in avocado oil can reduce blemishes and also relieve damaged skin, in particular damage caused by sun exposure."
Other Organic Cold Pressed Avocado Oil I Use & Love
Avocado Butter for Skin
This should be its own post, but I figured I would put a quick note in here on avocado butter for your skin.
If you aren't a huge fan of using avocado oil, I recommend trying avocado butter instead.  I have been using it to replace my hand lotion (while also using it on my face and neck).  It feels as amazing on your skin as the avocado oil.
For whatever reason it doesn't get a ton of attention in the beauty world, but it should!  If you guys give it a try let me know what you think.  I linked my FAVORITE avocado butter below.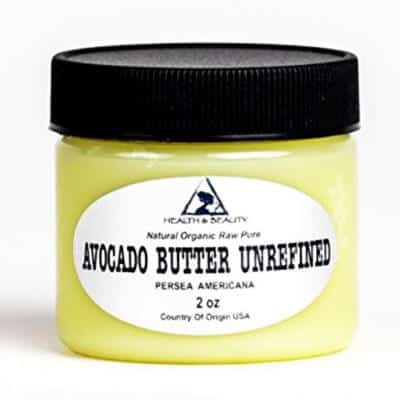 Do you guys use avocado oil in your beauty routine?