There are only a few mornings that I'm willing to get out of bed immediately; sadly one of the most motivating reasons to get me out of bed immediately is when I realize that we still have leftover cookies or treats. During those mornings I race down the stairs half asleep and proceed to devour them all. This story is fresh in my mind because this morning we had a plate of extra cookies from a wedding we attended, and now as I write this, that plate (now empty) still sits next to me.
I love sugar and I always have. It wakes me up and it gives me energy. Even though people often talk about sugar crashes, for some reason I don't experience them. That means I can't even use the threat of a sugar crash to not eat tons of it!
This recipe has the taste of a chocolate milkshake, but is actually nutritious. This is why I love this it so much. To start, it has bananas in it. The bananas give you a boost of energy from the natural sugars; they are balanced out with chia seeds, avocado (can substitute MCT oil for avocado), and spinach (you really can't even taste it). The added ingredients are not only healthy, but they help balance your blood sugar to keep you full longer. I promise it works!
My biggest problem with smoothies used to be that it wasn't actually a meal replacement; I would get hungry again in an hour! What kind of "meal" only fills you up for an hour? This caused me to lose motivation to make smoothies since they didn't actually fill me up.
Long story short, I have finally perfected my morning smoothie (now I even make this in the evening to help alleviate more sugar cravings).
Hover over the image to pin it for later! Thank you so much for sharing!
This post may contain affiliate links, which means I'll receive a commission if you purchase through my link, at no extra cost to you.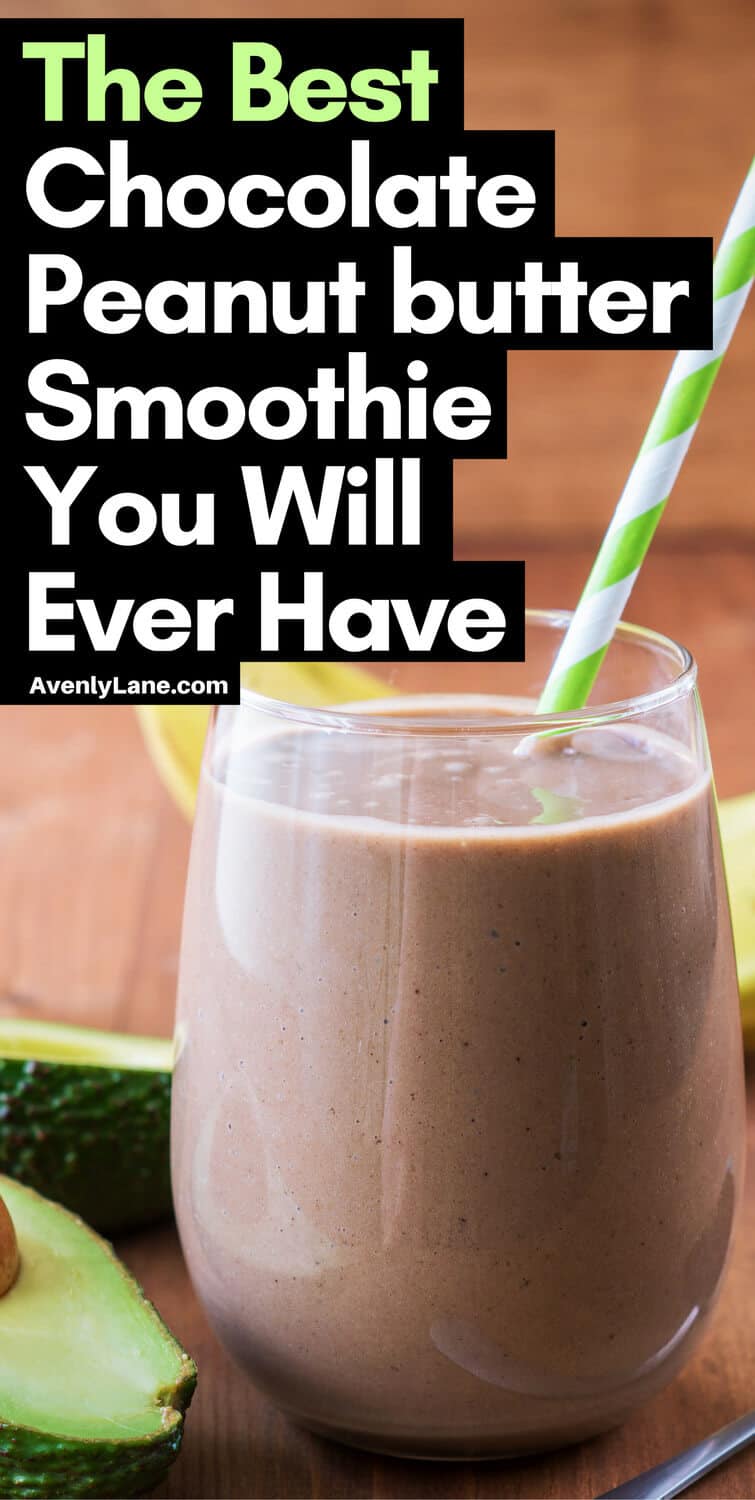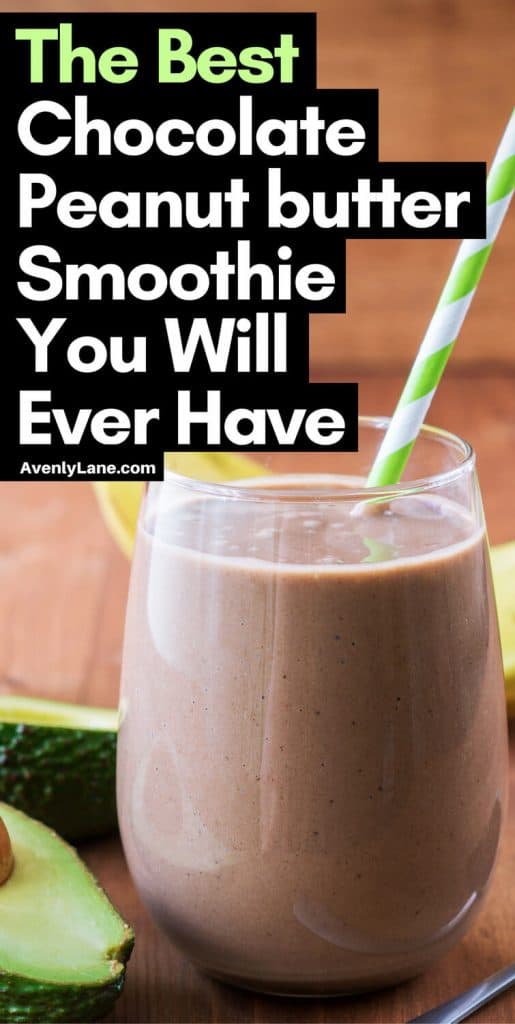 [separator type="thin"]
Healthy Chocolate Peanut Butter Smoothie Recipe
Ingredients
1 Banana (frozen) Needs to be ripe (if you don't care if your smoothie is thick and cold, then an unfrozen banana works)
1-2 tablespoons of all natural Peanut Butter/Almond Butter (I usually do 2, but that's just my preference)
2 tablespoons of cacao powder (or cocoa powder)
Handful of fresh spinach leaves
1 tablespoon of chia seeds
1 teaspoon of vanilla
1/4 of ripe avocado (if it isn't ripe, it will taste weird) (can also substitute MCT oil)
Optional – 1/4 cup steel cut oats (if I am going to follow breakfast with a heavy workout, then I usually add some oats to it for more calories)
Recipe Notes – Avocado will change the texture and taste of the smoothie; if you don't like the result, then use MCT oil. Adding a healthy fat is key to help you stay full longer.
Directions
Step 1: (Done in advance) Peel the ripe banana, break into 4 pieces, and freeze in a freezer bag.
Step 2: Put all ingredients in blender and mix. The longer you let the blender run, the thinner the smoothie will be. So if you like your smoothies thick then make sure to not mix for too long. The blender I use is the Nutribullet; I've tried a few, it's the best by far!
Step 3: Enjoy!
Let me know if you try this smoothie how you like it?!
[separator type="thin"]