This post may contain affiliate links, which means I'll receive a commission if you purchase through my link, at no extra cost to you.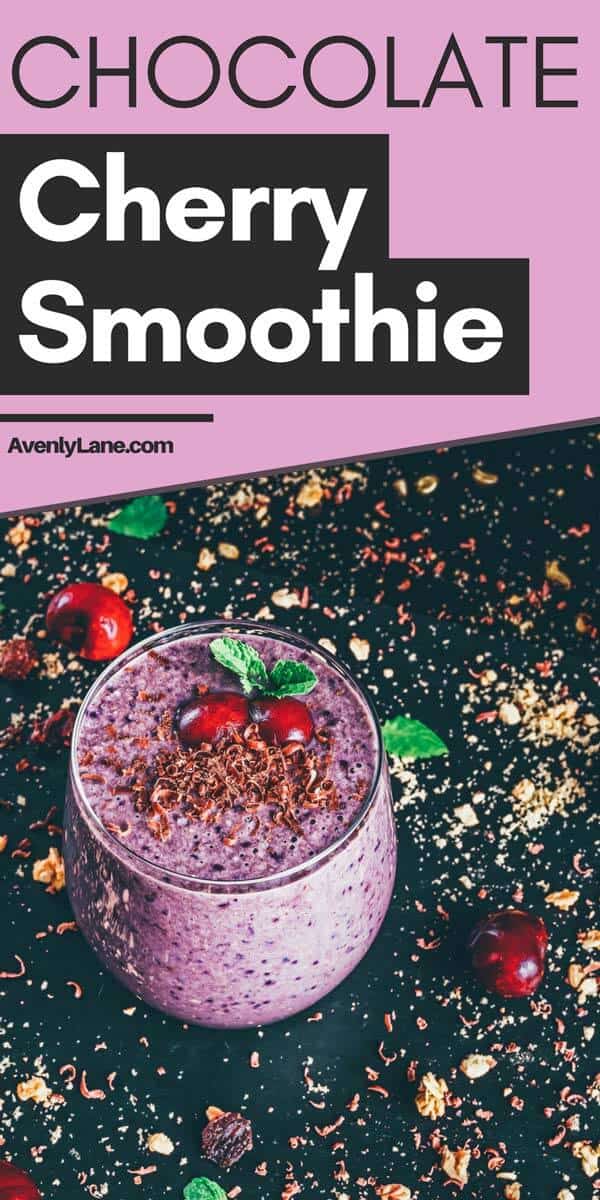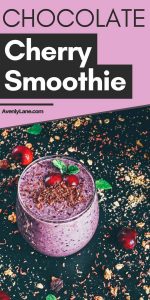 This healthy chocolate cherry smoothie Recipe will help you lose weight without depriving your body of the energy and nutrients it needs. All of the ingredients are all-natural and have no added sugar. Can it get any better than that?
Chocolate and cherries go well with lots of different foods. With this amazingly healthy chocolate cherry smoothie you will be able to satisfy your chocolate cravings as well as get the added energy you so desperately need.
In my opinion cherries are an underrated fruit. You don't hear a lot about them like you do blueberries, bananas, or apples. Not only do they taste good, but cherries provide health benefits for your skin and hair.
They are also cheap and easy to get. You can buy them already frozen in at just about any grocery store.
All you then have to do is throw a few in your favorite smoothie (like the one below) and it will totally change the taste from something bland to something amazing (it only takes a small handful).
Also, cherries are also surprisingly versatile; I have tried them in a number of my favorite smoothies and they actually go great with a lot of different fruits and greens.
So let's get into the Chocolate Cherry Smoothie Ingredient list.
[separator type="thin"]
Chocolate Cherry Smoothie Recipe


Ingredients:
Half banana (frozen)

Handful of frozen cherries
1 Tablespoon of cocao butter (vanilla).
Handful of spinach (I add this to every smoothie, you can't taste it so why not?)
1 Tablespoon of cocao powder (regular cocoa powder will work as well)
1 Tablespoon chia seeds
1 Tablespoon almond butter (or peanut butter in an all-natural brand)
1/2 cup strawberry cashew milk – optional (more on this below)
1/2 cup unsweetened almond milk
Directions:
Step 1: Make sure to peel and freeze your bananas a head of time so they are ready to go when you need them.
Step 2: Throw everything into a blender (I use this NutriBullet) and blend until smooth.
Step 3: Enjoy!
The exact ingredients I use for this smoothie & where to buy them for the best price & quality:
[columns_row width="third"]
[column][/column]
[column][/column]
[column][/column]
[/columns_row]
[columns_row width="third"]
[column][/column]
[column][/column]
[column][/column]
[/columns_row]
Strawberry Cashew Milk – (Whole Foods) This is optional and on the more expensive side, but just recently when at Whole Foods I decided to give it a try. If you already shop there it is worth trying it out. FYI – $6.99 at whole foods for a small container.
It's lasted me a while; I now use half cashew milk and half almond milk to get more out of the strawberry cashew milk. I didn't want it to go bad so I poured the remainder into an ice tray and put it in the freezer. If I am going to pay $7 for milk it is NOT going to go bad before I can use it all.
Almond Butter or Peanut Butter – Make sure you buy an all-natural brand. Most peanut and almond butters have added sugar. I used to have no idea until I started reading the labels, and sure enough, sugar was on the ingredient list for ALMOST ALL of them. Always make sure to read the labels, even if it says "all-natural" on the container. When making the switch to an all-natural peanut butter it will take a minute to get used to, but it is a change that will worth it, especially if you eat peanut butter as much as I do.
[su_note note_color="#ffffff" radius="1″]Recipe Note – Most of the ingredients you can buy straight off Amazon which is AMAZING! My husband does a lot of our in store grocery shopping and asking him to get cacao butter, chia seeds, etc. usually doesn't go over well (he says if it is hard to spell then it is usually hard to find).
If you don't have Amazon Prime account you should sign up! As if free 2 day shipping wasn't fast enough for you, they now have FREE 1 DAY SHIPPING for Prime members on quite a few of their products. I am convinced Amazon is going to put everyone else out of business.[/su_note]
If you guys enjoyed this recipe don't forget to share it with your friends!