Verso skincare is essential for anyone who wants to take the stress out of their beauty routine!
This line was designed to make your beauty regimen streamlined and most importantly – effective. With the use of their science-backed retinol formula, whatever your concern is, they have created the solution.
Simply choose the type of treatment you need. Then use it with your current favorite brands or team it up with another Verso item, it is designed to be this versatile. They even number their products to make your daily routine a "no brainer".
Keep reading to discover all of Verso Skincare's must-try products!
This post may contain affiliate links, which means I'll receive a commission if you purchase through my link, at no extra cost to you.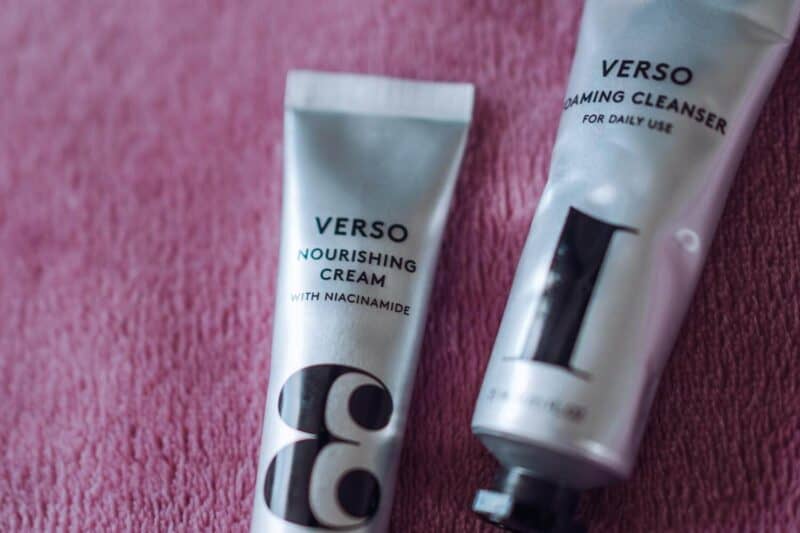 Shop Verso Skincare's Best Selling Products

What you need to know about Verso skincare…
Lars Fredrinksson brought Verso skincare (shop all their best sellers here) to life in 2013 in his native Stockholm, Sweden. He wanted to share the secrets of Swedish skin to the rest of the world. Those secrets include using less products, with fewer ingredients. And clinically testing the high-quality ingredients that are actually included within the serums, cleansers, and moisturizers.
Therefore, Verso formulated their "Retinol 8". A derivative of Vitamin A, which reduces the signs of aging by stimulating collagen production. And is meant to be eight times as effective as most products with retinol but half as irritating.
Like we mentioned earlier, their mission is to simplify your daily skincare routine. And to provide your skin the vitamins it needs for long-term health. We think the best part about this beauty line is that everything is meant to be teamed-up for potent results. Above all Verso is compatible with completely different brands. You do not see that too often.
Verso is free from parabens, mineral oil, and color additives. It is gentle enough to use every day!
Best Places To Buy Verso Skincare Products
While there are several different places to find Verso products, our favorite is Dermstore. Take a look at the 6 Verso products we absolutely love!
6 Must Have Verso Skincare Products For Younger Looking Skin
Verso Super Facial Serum

A facial serum that really is super! It will refresh your fatigued looking complexion. It is made with antioxidants, ceramides, Vitamin A, C, and E to give your skin life. This light lotion quickly sinks into your skin, and we find the secret Retinol 8 complex does help with the appearance of fine lines. Plus it really seems to be much less harsh than other retinol creams we have tried. No more bright-red and painful tomato faces here. Mature skin will gain a more youthful glow with this one!
Verso Super Eye Serum

If you teamed up this serum with the facial serum, you would see more than super results! This light lotion for your eyes has a similar ingredients to those in the facial serum (including the retinol). However, it has a greater amount of hyaluronic acid to really hold onto moisture around your eye area. The amino acids work really well on puffiness, firming those dreaded "crepey" eye-bags. And if you only want a solution for your eyes, not to worry – this one is a powerhouse on its own also.
Verso Dark Spot Fix

Do you have hyperpigmentation or acne scars? Then you are going to fall in love with this dark spot fixer. Use this lotion on your face, neck, and all over your body – anywhere you have dark spots you would like diminished. This is considered the most potent product in the entire Verso line. Because it has the greatest amount of retinol. The curcumine and niacinmide take melanin "to the mattresses". Knock out that sun damage with a one-two punch!
Verso Night Cream

Verso's night cream is their most versatile product. It is intended for every skin type. Working to minimize fine lines, wrinkles, and free radical damage while it improves any loss of firmness in your complexion. In addition to their Retinol 8, it is formulated with jojoba, hyaluronic acid, and Vitamin C. Therefore there are some serious age correcting ingredients working on your skin – all while you sleep. Go slowly with this one, it is strong but effective.
Verso Foaming Cleanser

This lightly foaming cleanser clears your face of impurities without stripping it of its natural moisture. It is the perfect option for combination or oily skin types! The main ingredients include antioxidants, Vitamin E, and fruits extracts that help to sooth your complexion. Blackheads are no match for this face wash.
Do you want more information? Check out our full review on Verso's Foaming Cleanser.
Verso Nourishing Cream

Calling all sensitive types! This cream is made for your fragile and dry skin. It comes loaded with gentle moisturizers like oat lipids and nordic oils that are full of ceramides plus fatty acids that soothe. And the niacinamide speeds-up cell turnover to reduce redness and aid moisture retention. In addition, hydration you experience is meant to last long-term. Goodbye problem skin, hello nourished skin!
Keep reading about Verso's Nourishing Cream here for more details!
Which Verso product are you going to try? Let me know what you choose and how you like it below!
Read Next: Get Rid of Dry Hands Once and For All with Verso Nourishing Cream