I have intensely sensitive skin. In fact, I have Rosacea – which (as I found out) only gets worse with age. Really?! Ugh, okay.

In an effort to combat my dry, red, painful complexion my Dermatologist recommended I try Albolene moisturizing cleanser.
Albolene Cream For Sensitive Skin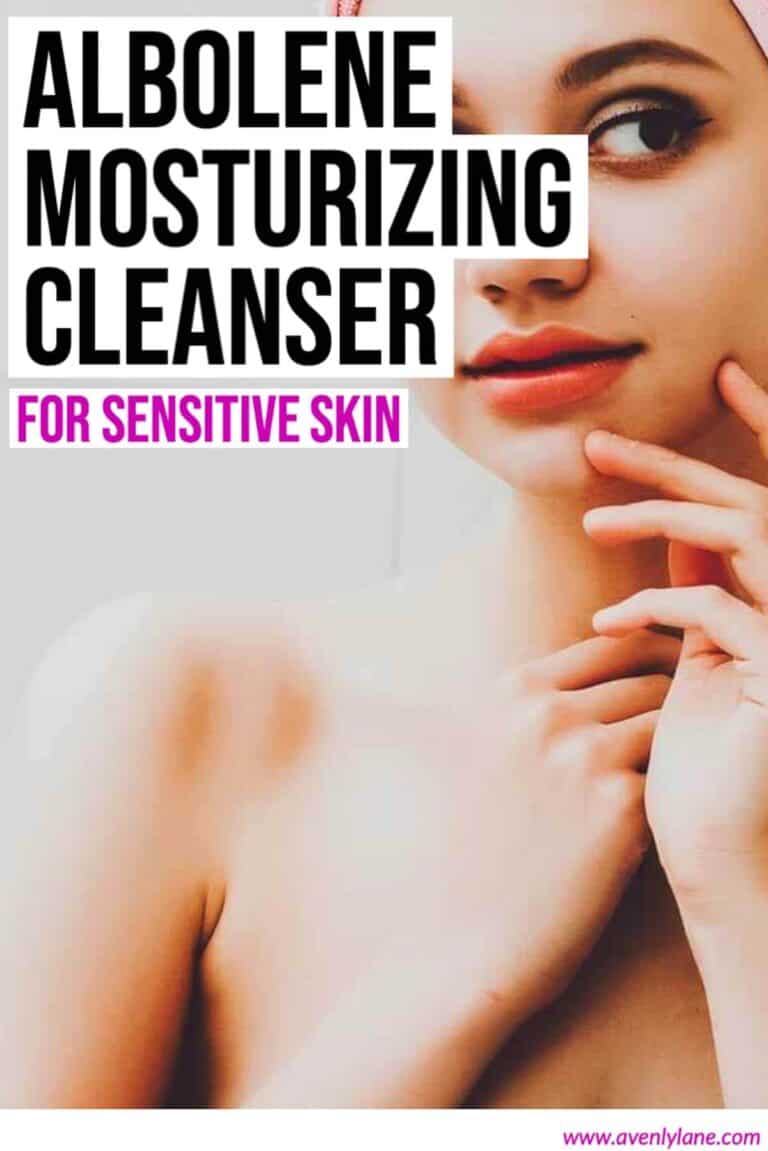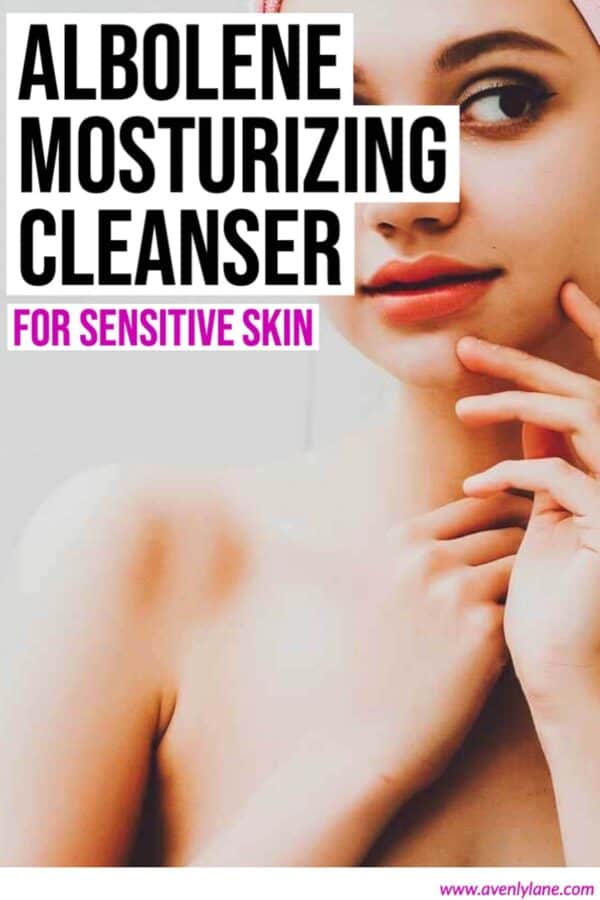 What is Albolene?
Albolene moisturizing cleanser, in the form of a balm – that was brought to shelves in 1905. It was always intended as a facial beauty product but was advertised towards babies as well because of their fragile skin.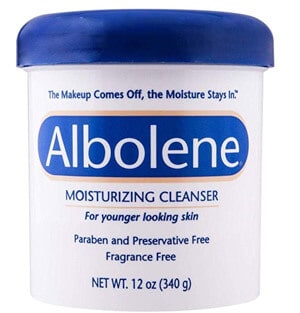 Is Albolene a Cream or a Cleanser or both?
Actually, it's both! You could even call it a creamy cleanser since it's made with petrolatum.
What's in this Albolene cleanser?
Albolene contains only five ingredients: mineral oil, petrolatum, paraffin, cereasin, and beta carotene.
I know what you're thinking – yikes! Aren't mineral oil and petrolatum big "no-no's" when it comes to skincare?

Well it turns out they might not be, learn more in my Albolene Cleanser Review.
Is this the best facial cleanser for sensitive skin?
So far in my sensitive skincare quest – no other cleanser has kept my flares to a minimum while providing gentle, lasting moisturization. And for those who go so far as to not use water – it's perfect because you can simply tissue it off. Don't need to use water, you can tissue off.
How I use Albolene…
So I actually use it purely as a facial cleanser but you can try Albolene as a makeup remover, or even a leave-on moisturizer for ultra dry places like your elbows, cuticles, and knees.
It was recommended that I use it when double cleansing. That way I don't leave too much on my skin – with so many things (including too little or too much moisturization) triggering my Rosacea, this is actually a perfect solution. Let me give you an example.
First I put my hair up, otherwise it gets stuck on my face – like the dreaded lipgloss – wind – long hair situation we've all encountered. Then I scoop about a quarter sized dollop of Albolene into my hands using a wooden or plastic scoop (so I don't contaminate the container with bacteria).
Then I rub the balm in my hands and smooth it across my entire face and jawline – including my eyelids, eyebrows, and sometimes even lips. It's safe to use on eyes and lips just be sure to no actually ingest it or put it directly into your eyes.
I wipe of any access from my hands then take 1-2 pumps of my Vanicream cleanser and smooth it directly on top of the Albolene. It feels a bit weird at first but you get used to it. In the end I actually hop in the shower to rinse off both products with tepid water.
Where to purchase?
Where else guys – Amazon. They're always dependable. Check out the ratings, "4.6 out of 5 stars with 439 ratings" – wow. Guess I'm not the only one who likes it, haha. It's an amazing deal at about $10 for 12oz, and truly lasts forever.
Purchase here.
Whether you use Albolene as an eye makeup remover or moisturizing cleanser you should really give it a try, especially if you have delicate skin like mine.

Read Next: Best Vitamin E Oil For Your Skin