Looking for a sleek yet cozy contemporary design bed? How about one that is highly functional at the same time? Better yet, how about one that is a fraction of the cost of what a substantially similar bed frame would cost? That is exactly what I found with the Soft Frame Ultra bed frame.
Restoration Hardware Cloud Bed
I absolutely love Restoration Hardware designs. The problem isn't their designs, it is the damage their products do to my wallet. Unfortunately, I usually have to use Restoration Hardware products for design inspiration rather than actually purchasing. I love the Restoration Hardware Cloud Bed. It's sleek and modern while somehow being cozy at the same time.
RH Cloud Bed Dupe
This post may contain affiliate links, which means I'll receive a commission if you purchase through my link, at no extra cost to you.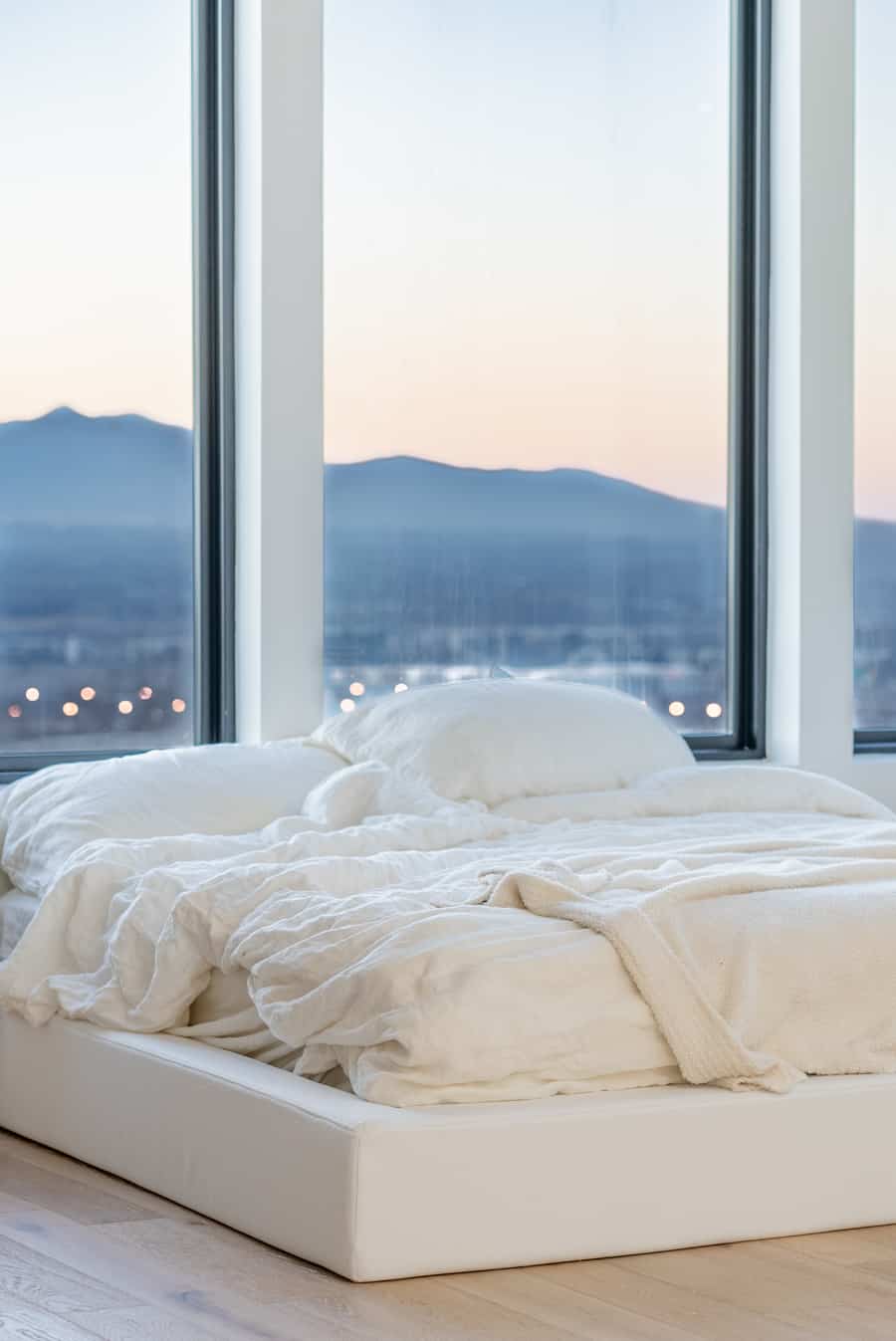 The Cloud Bed Restoration Hardware offers is really expensive. No matter which options you select you are very likely to end up paying about $5,000. The bed is beautiful, but unfortunately paying that much just isn't in my budget. I'm not one to quit though; after finding the design I loved I immediately began looking for a RH Cloud Bed dupe. Thankfully, I found one: the Soft Frame Bed Frame!
Soft Frame Bed Frame Clarifications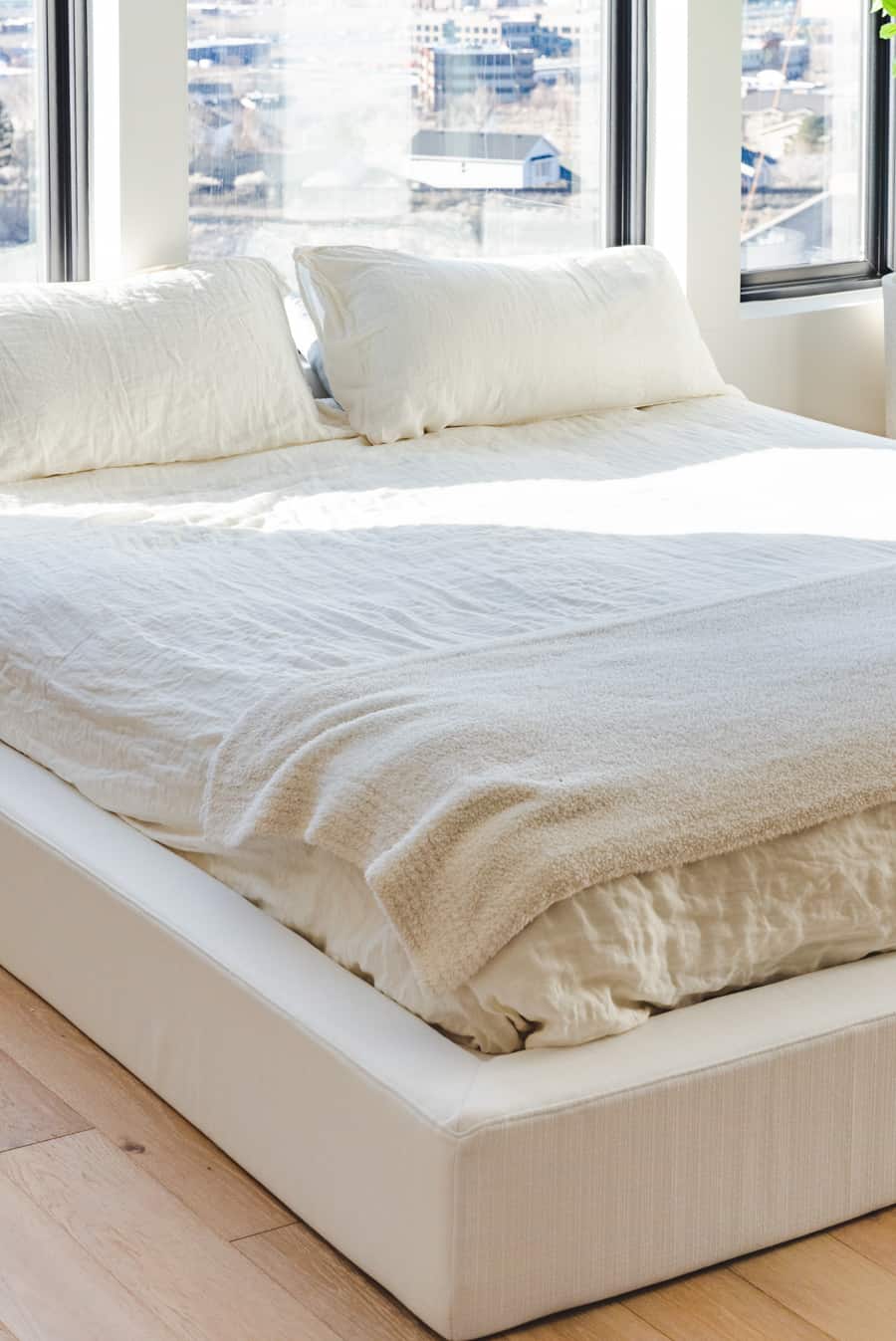 Starting out I want to clarify something that often confuses people. "Soft Frame Designs" is the brand name of the RH Cloud Bed dupe. So yes, the brand Soft Frame makes a soft frame bed frame.
Second, the actual bed frame doesn't include a box spring. What you get is basically a gigantic pillow form that you set on top of an existing box spring or bed frame. The company advertises it as a high-density foam and premium foam surrounding a cozy cushion.
I have a very standard bed frame that I got from Amazon. It works perfectly. You can see what it looks like HERE.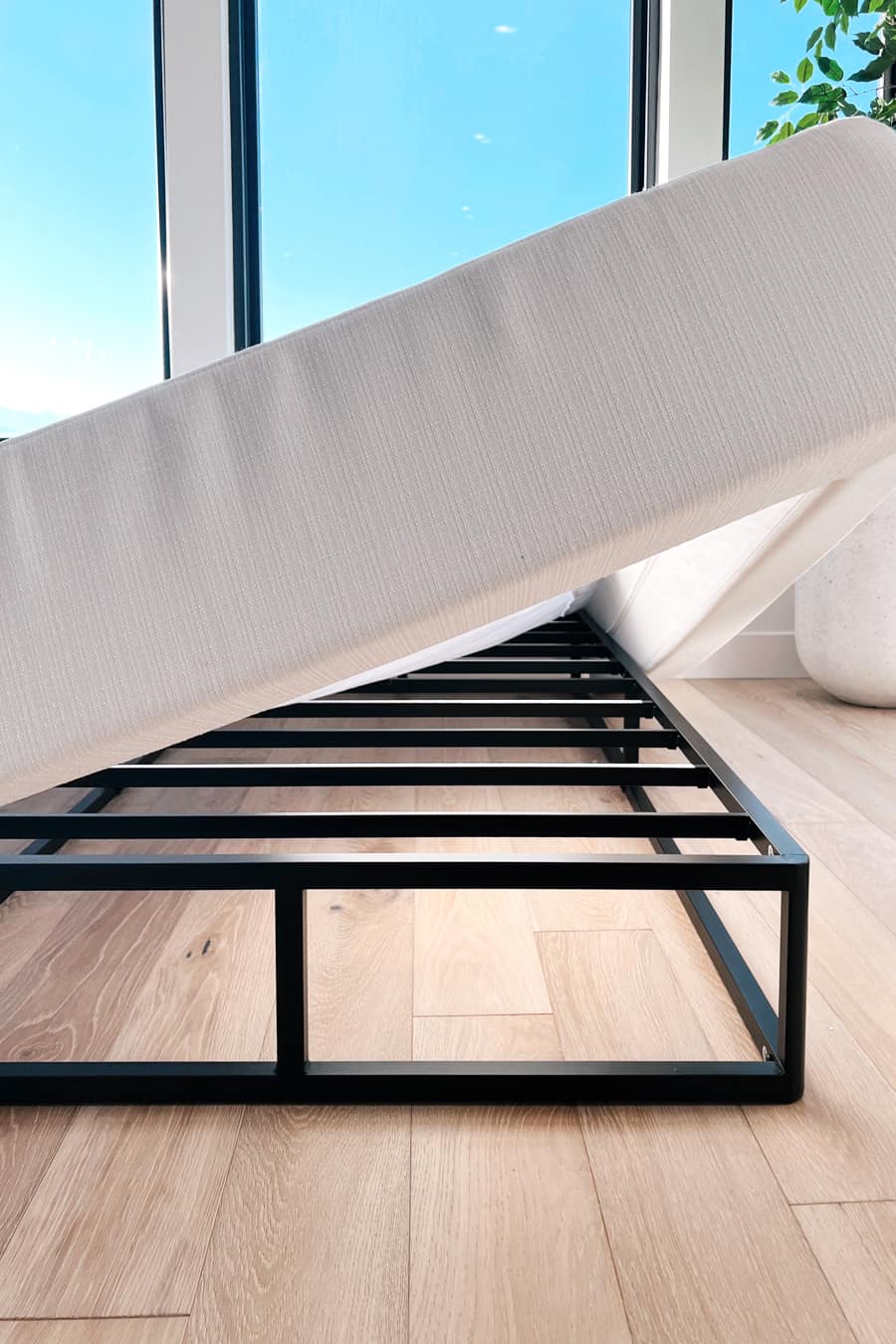 Soft Frame Bed Frame Design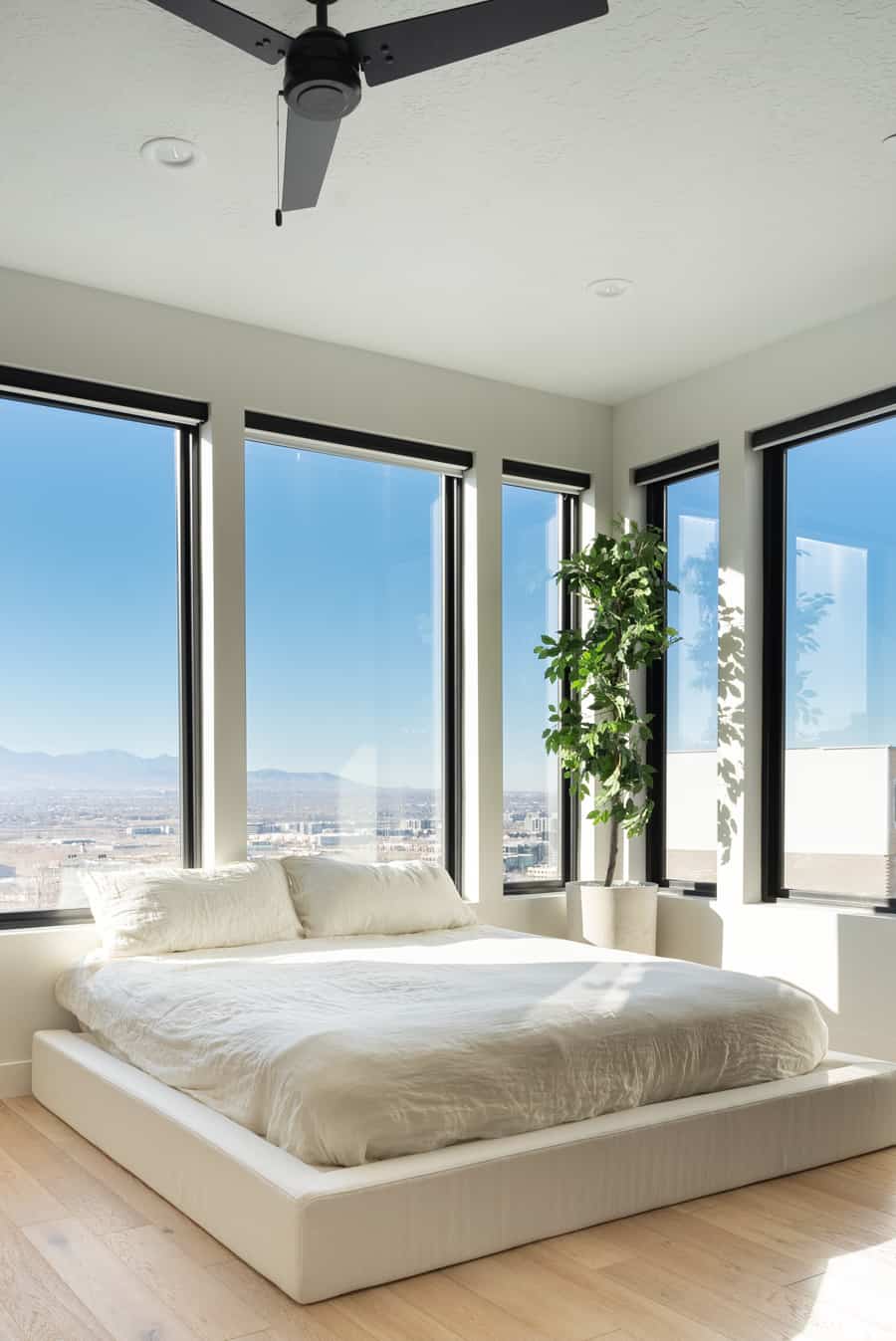 I love that the design is sleek and modern without actually being cold. The contemporary look literally makes me want to lounge in bed all day. Also, before you jump all over me I get that the terms modern and contemporary have nuances and I am using them interchangeably. Sorry, I'm not a designer and regardless I'm sure you get what I am saying.
I love the minimalist elements of the bed. Gone are the days of my mother's gigantic wooden sleigh bed that you need a crane to move. The Soft Frame's low profile keeps you low to the ground, but doesn't look like a boy's college apartment with a mattress and box spring sitting directly on the ground.
The bed frames gives you the classy look while still being low to the ground. This helps me get over my perpetual fear of rolling out of bed and crashing onto the floor below. Even if you did roll out of bed, you would be landing on a premium cushion.
Soft Frame Options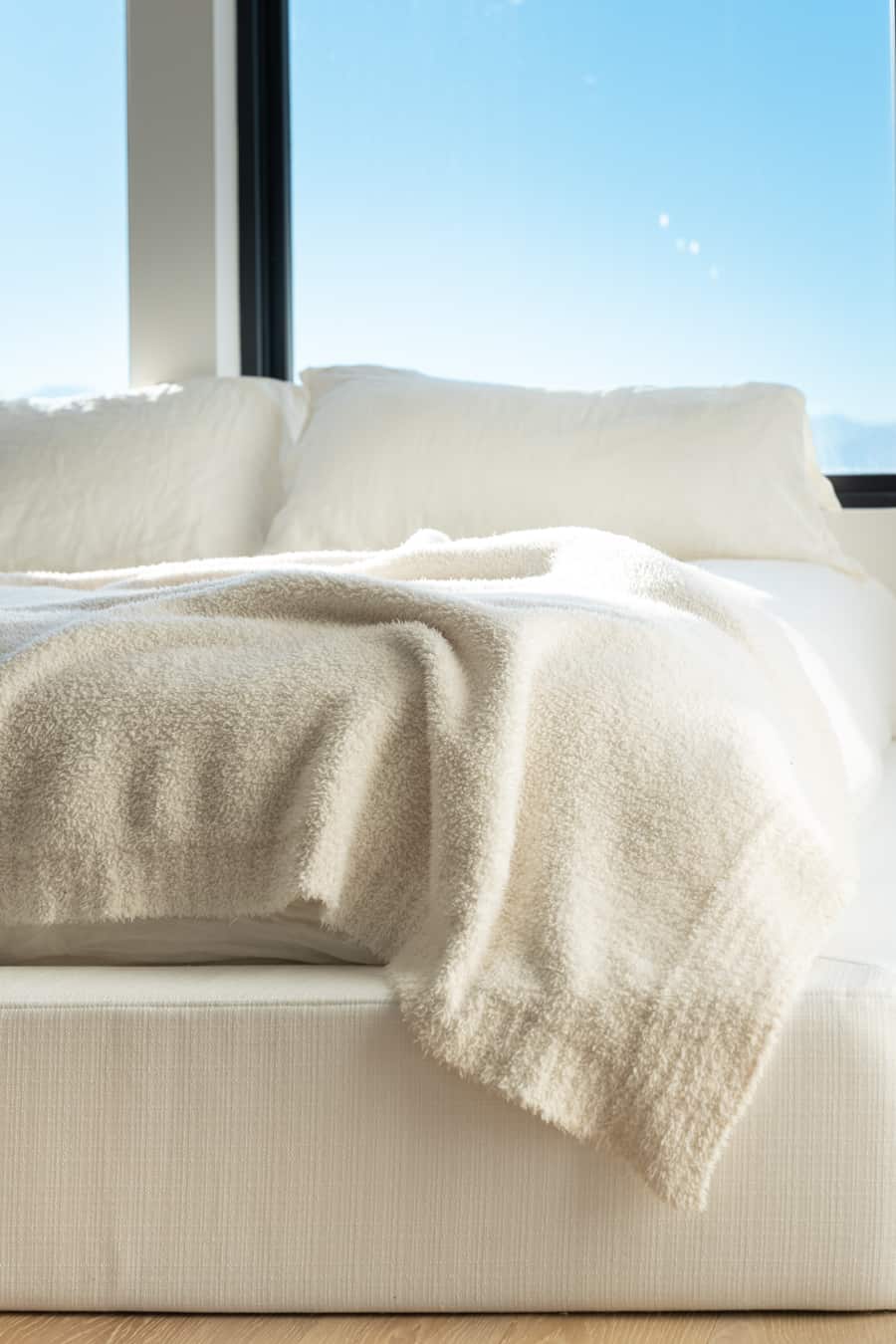 There are a lot of options to select for your Soft Frame bed. The bed is available in the standard Kids, Twin, Full, Queen, and King & California King sizes and 10 different colors. There are also height options that correspond to the height of your existing bed frame.
Not only can you get the bed in one of those 4 sizes and in one of 10 different colors, but there are 3 different finishes or shapes. The 3 different shape finishes are called the Classic, Luna, and Ultra
Classic
The Classic has squared off cushion edges that are 2.5 inches thick on each side.
Ultra
The Ultra has squared off cushion edges that are 5 inches thick on each side. This is the size that I went with, but it does require a bigger room. Buy here.
Luna
Instead of the edges being squared off, the Luna features rounded cushion edges that are 3.5 inches thick. The look of the Luna is very different, but still appealing. Buy here.
Sizing Options
All 3 styles (Classic, Ultra and Luna) are available in each of the 5 sizes listed below.
Colors Available
White
Slate (Medium grey)
Timber (Dark grey)
Toast (Medium brown)
Soft Headboard Option
The soft headboards do not come with the standard bed frame, though it is an option to purchase one at the same time. If you want a soft headboard to match the look, make sure you include it as you price out options. I love the soft headboards but ultimately wanted an even more minimalist design for my bedroom, though I vascillated back and forth a decent amount.
Shop headboards for the RH cloud bed Dupe here.
Soft Frame Functionality
I have cut my shins open so many times attempting to stumble into bed in the middle of the night. I attempted to sneak back into bed in the middle of the night with the lights off in hopes of not waking up my husband only to stab my shin on a sharp bed frame corner. I'm sure the following wails of pain woke up the whole neighborhood and not just my husband.
With the Soft Frame bed frame you don't need to worry about accidentally cutting yourself on an edge. The soft but supportive cushion will never cut you and is also incredibly useful as storage. I find it is the perfect place to drop my phone on to charge. My husband will set drinks on the cushion, but I won't because if I stepped on the other end of the cushion it would knock my drink over.
Drawbacks
While I still love the bed frame there are a few drawbacks that are worth noting ahead of you buying…
Cost
The prices vary from about $500 to $1,100. This range still isn't super cheap, but considering the price of the competition I think it is a bargain. For reference the RH cloud bed starts at over $4,000 and that's with the cheapest fabric options and the twin bed.
If you need a king it will be much more expensive.
Storage
If you store a lot of things under your bed you likely won't be able to with the Soft Frame bed. The process of getting to the box spring would require lifting the mattress and then the bed frame off.
No Showroom and Pricey Returns
Unfortunately, there isn't a showroom where you can actually check the mattress. I love the product but was nervous after only seeing pictures. The difficulty of the return policy and having to pay $80 in shipping only exacerbated my anxiety. Thankfully, I LOVED what I got. If you buy from Etsy there are no returns available at the moment.
Conclusion: A perfect Cloud Bed Restoration Hardware Dupe
I am so happy with my purchase. I really wanted a contemporary vibe in a creamy color. I wanted my room to feel modern yet still very light. I was worried that the frame would go well with my Brooks Linen off white sheets. Thankfully once it was all set up the white king sized Ultra frame delivered exactly what I was hoping for.
I wanted a Cloud Bed Restoration Hardware Dupe and I found one at a fraction of the cost.