So you want to know which facial steamer is best? And you don't want to pay a ton of money for professional treatments.
Trust me, I get it.
When I moved to Las Vegas (aka the driest place on earth) I never thought my hair, skin, and sinuses would recover.
Within weeks my previously oily face was dry and patchy. My skin itched all the time and there wasn't a powerful enough moisturizer to provide relief. No joke, at one point I started rubbing Vaseline all over my face in a desperate attempt to moisturize my skin.
I grew up in Maryland where it is so humid that even the straightest hair will become frizzy. A place where you can barely stand to be outside at night because you will be eaten by mosquitoes.
I never had to deal with dry climate issues before, so this was a totally new thing for me.
One day a few months ago I randomly started freaking out that the climate was aging me. It was one of those days where you look in the mirror and suddenly feel like you aged 10 years overnight?!
I even went to my husband and asked him, "do I look older to you? How old do I look?" Haha – thankfully he had all the right answers. ;)
This began my search to get some moisture back into my skin began; at this point I first encountered facial steaming. I loved the idea and I thought if nothing else, it would at least be relaxing to spend 10 minutes a day with hot steam on my face. I already used wet washcloths warmed up in the microwave on my face (something I highly recommend by the way, feels amazing).
So what is the best facial steamer?
I searched for the best facial steamers for home use for a while, and finally found one that I now use and love everyday!
Best Home Facial Steamer
This post may contain affiliate links, which means I'll receive a commission if you purchase through my link, at no extra cost to you.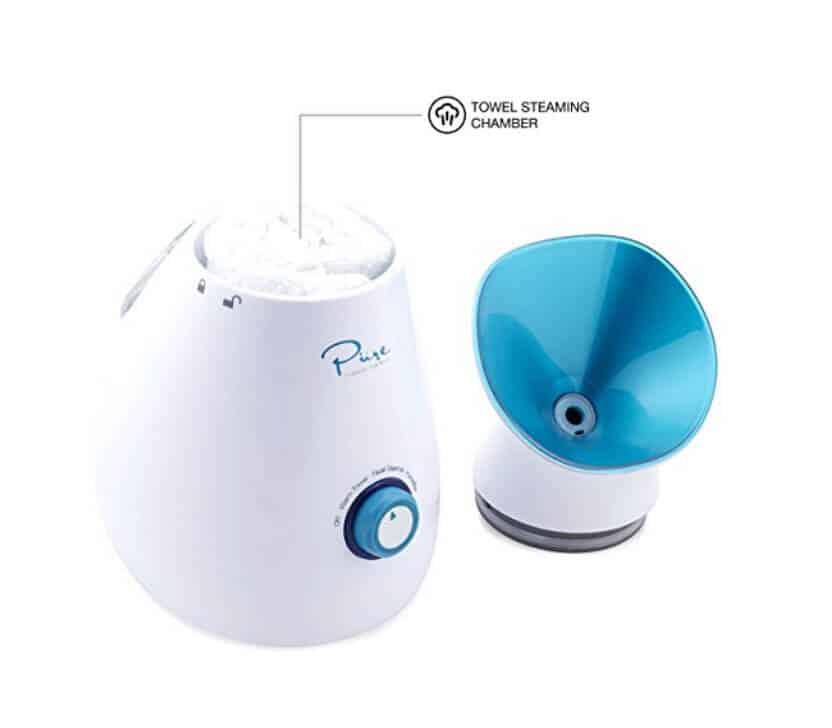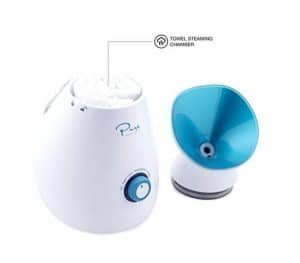 NanoSteamer | 3-in-1 Ionic Facial Steamer

Benefits of facial steaming:
Why I ultimately choose the nano steamer as my must have facial steamer.
Precise Temp Control
30 Min Steam Time
Doubles as a humidifier
Unclogs Pores & Blackheads
Spa Quality (Over 2,400 reviews!)
1. The Price
I wanted to find the best "professional" facial steamer at the best price. Although this one is not as fancy as the ones they use in salons, it gets the job done and has similar features and at nearly a fraction of the cost. I also loved that it looked exactly the same as the Dr. Dennis Gross facial steamer that was way out of my budget.
I mean, can they really be that different?
Comment below if you have more information on why some are so much more than others when they all have the same design and features.
2. 3-in-1 Facial Steamer, Towel Warming and Humidifier Settings
This one was a game changer for me. It can triple as a facial steamer, humidifier (for a small room), and you can place a towel in it (wet or dry) and it will give you a hot towel!
I do have to warn you, the towel can sometimes come out super hot and may need to cool down for a few seconds before you put it on your face….or touch it with your hands.
FACIAL STEAMER TOWELS: HOT TOWEL
These are the towels I use for my facial steamer (more on this below) and cleaning. I liked them so much I actually just bought a second pack today with the pink, white and lavender colors. For $13/14 for a 24 pack you really can't beat it.
3. Lasts up to 30 minutes with a 200ml tank
All the other home facial steamers barely lasted 10 minutes before running out. With this one being able to double as a humidifier it has a larger tank.
Worth noting is that it is not big enough to humidify a large room (even though they claim it is…."powerful humidifier for large rooms" is what their description says). It barely goes long enough to humidify a small room. It gets annoying that every 30 minutes you have to refill it. Thankfully I bought it to use as a facial steamer, so the fact that I can use it to humidify at all is an added bonus.
I also use it next to my bed at night and it has seemed to help some with my allergies.
I hope this helped you that are looking to purchase a facial steamer for at home use. Another great things about this one is that if you don't like it you can return it. It is so easy to make returns on Amazon these days that it really makes trying out new products easier. If I don't like it, I don't have any issues returning it.
Another things to note is that it does come with a bonus "5 piece surgical grade stainless steel blackhead and blemish extractor kit"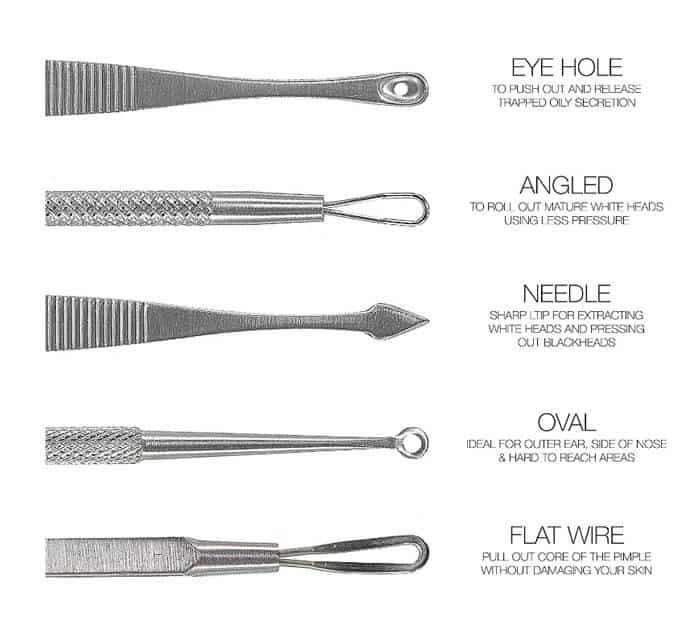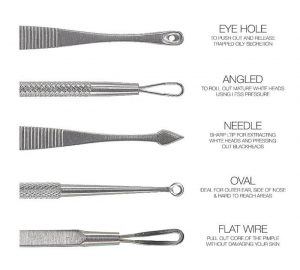 What they say:
"This kit includes 5 precise instruments that compliment your Nanosteamer perfectly. Followup your steaming session by using this kit to remove blackheads and blemishes effortlessly for perfect skin after every use."
I will be honest and say that I have no clue how to use these tools, and after letting them sit on my desk for a few weeks I somehow misplaced them and now have no clue where they are. Maybe it could be a super nice feature if you know how to use the tools to remove blackheads, etc…either way, worth noting.
So have you tried facial steaming? How do/did you like it?
READ NEXT:
For more beauty & wellness tips follow @avenlylane on instagram