My honest review of the Alo Yoga Warrior Mat.
In my experience, if you don't have strong opinions about yoga mats, then you probably haven't done a lot of yoga! Yoga doesn't require a lot of equipment, but the limited items it does require can make a huge difference.
I dabbled in Yoga for the last few years, but only recently got serious about my practice. It didn't take long for me to stretch out or tear up a couple of cheap mats. I didn't want to, but I gave in and decided to invest in a "good" i.e. "more expensive" yoga mat. After extensive research I bought the Alo Warrior Mat in the color Eclipse for $100.
Previously, I'd only ever owned cheap yoga mats. The issues with the cheap mats were manageable, so I didn't feel a need to invest in a one. It sounds dramatic, but the Alo Yoga Mat has been a total game changer for me! I had no idea that a quality yoga mat could make me do yoga more often and make the experience much more enjoyable.
Alo Yoga Warrior Mat (in the color Eclipse)
This post may contain affiliate links, which means I'll receive a commission if you purchase through my link, at no extra cost to you.

I can honestly say that Alo Yoga's best selling Warrior Mat surpassed all of my expectations. The grip is incredible. I love its extended length, and somehow it provides the perfect amount of cushion.
On top of its superior function, it features the most beautiful matte finish; there are 14 beautiful color options available. It is worth every penny!
Read more in our Alo mat reviews on what makes this a must buy.
CLICK HERE to read my Alo Yoga Pants Review (AKA – My favorite workout pants)
Alo Yoga Warrior Mat Review
What sets the Alo Yoga Warrior Mat apart from the rest? This review explores the material used, dimensions, mat thickness, color options, price, key competitors, and how to care for your Alo Yoga Mat.
This is an honest review based on my personal experience using the Warrior Mat.
Material – Non-Toxic Yoga Mat:
The top layer of this mat is made of 100% polyurethane leather. The bottom is made from 100% rubber. The rubber is ethically sourced, premium, and all-natural. A couple of my favorite features are that it is antimicrobial, dry-wicking, and slip-free, wet or dry.
It is very high quality, and feels worth the price.
Material is also 100% formaldehyde-free, non-toxic and PVC-free.
The "grippiness" of this yoga mat sets it apart from all the others. The grip is incredible! No slipping, ever. No sliding, ever. This allows me to get a much better stretch because this mat is so grippy.
Note: I say grippy instead of sticky! I've used mats that were super sticky where I felt like the entire mat lifted off the ground by sticking to my foot when I lift it. The immediate bunch of these mats is terrible. With the Warrior Mat you will have all the necessary grip, but not the stick.
Most of my cheap mats used to slip and stretch especially when I did lunges and downward facing dog. Not having to worry about those issues elevated my whole practice. I have more balance and I feel safer.
CLICK HERE TO SHOP KENDALL JENNER'S FAVORITE ALO YOGA PICKS.
Are Alo yoga mats non toxic?
Yes! Alo yoga mats are 100% non-toxic, biodegradable, and responsibly sourced. They are made with ethically sourced, premium, all-natural rubber.
No toxic chemical smell
I have had so many problems trying out gym mats and yoga mats because I have extreme chemical sensitivities. Due to my chronic illness I am extra sensitive to certain chemicals. I break out in rashes and hives from the smallest things (including yoga mats). Previously I've even had to return a couple because their scents made me sick.
There is a slight rubber smell when you take it out of the box but, but it was extremely mild and when away quickly. More importantly, I didn't have any sort of allergic reaction to it.
Size: Dimensions, Mat Thickness and Weight
The yoga mat is 6 feet 2 inches long (74.4 inches) and 2.2 feet wide (26.4 inches). For comparison, the standard size yoga mat is only 5 feet 8 inches (68 inches long) and 2 feet wide (24 inches).
I am only 5'3", but I still find that the standard yoga mats are too short for my taste. I hated that I constantly to reposition myself to stay on the mat.
The extra length makes it a much more pleasant experience.
Dimensions of the Alo Yoga Warrior mat:
Alo yoga warrior mat dimensions
Dimensions: 6.2ft x 2.2ft x 4.2mm
Mat Thickness
The thickness is 4.2mm, which is slightly thicker than the standard yoga mat at 4mm. I found that the 4.2mm thickness looks fairly thin but feels thick and comfortable. Even though it is only .2mm thicker than the standard, it feels sturdier and more robust than most other yoga mats.
Another of my pre-purchase concerns was that the Alo Yoga Warrior Mat would not be thick enough to provide comfort for my joints, knees and back. This turned out to be a non-issue. It is so soft and comfortable (even on hardwood floors). It is much easier on my joints than my previous yoga mats.
Weight
It weighs a whopping 6 pounds. This is super heavy for a yoga mat. I realized it immediately when taking it out of the box. It was so much heavier than I expected. I know some people may prefer a lighter mat, but I've come to love the weight of it! It makes it even more "grippy" and helps the yoga mat to lay perfectly flat.
Weight: Possibly too heavy for travel, but they offer a lighter option
A potential con of having a heavy mat is that it doesn't make for a great travel mat. If you are looking for a smaller version of the same mat Alo just released "travel size" yoga mat called the 'Air Mat'. I have not tried this mat, but it appears to be similar to the Alo Warrior Mat without the weight.
The Air Mat is 3.5 lbs instead of 6lbs and thinner. Supposedly it is perfect for worldwide travel.
Check out the lighter version of the warrior mat here – The Air Mat.
Grip/Function
The grip of this mat is incredible. Even in socks, I get amazing stretches in. NO SLIPPING OR BUNCHING WHATSOEVER!
In my opinion, the grip of this mat is what makes it so much better than anything else out there. Even while sweating, it gives enough support and allows me to practice poses safely without having to worry about turning my mat into a slip-and-slide.
I feel completely grounded and supported throughout my practice. This really allows me to be present.
When working out with weights, jumping, burpees, or other high impact exercises this mat provides extra comfort without sliding away.
Good for:
Hot Yoga
Home Yoga
Outdoor Yoga
The warrior yoga mat would work for an indoor class or outside just fine.
Ethically manufactured, sustainably produced
Alo Yoga is 100% sweatshop free, certified by Wrap, the #1 independent watchdog company.
Alo Yoga Warrior Mat offers more color options than the competition
The Alo Yoga Warrior mat currently comes in 14 amazing color options.
In comparison, the popular Lululemon Reversible Mat ($88) only comes in 9 colors. Personally, I don't really love any of their color options. The majority of Lululemon's other yoga mats are only offered in 3-5 colors. Kind of a bummer.
The Alo Yoga Warrior Mat collection is currently available in:
They are constantly adding new colors. If you don't love any of their current colors check back in a few months.
Alo Warrior Mat in Hot Pink

Their most recent addition is hot pink. Too bad it wasn't available when I ordered a few months ago. I probably would have gone with the pink instead of Eclipse. Shop the hot pink warrior mat here.
The coloring looked slightly different in person than on their website
In my experience the colors on the Alo website are slightly different in person. I can't speak to all of them, but the color Eclipse is much lighter in person than their site. It was slightly jarring when I pulled it out of the box because it was not the color I expected. I still like it, but I think I would have liked it better if it was the exact color shown on the website.
What I thought I was getting vs what I got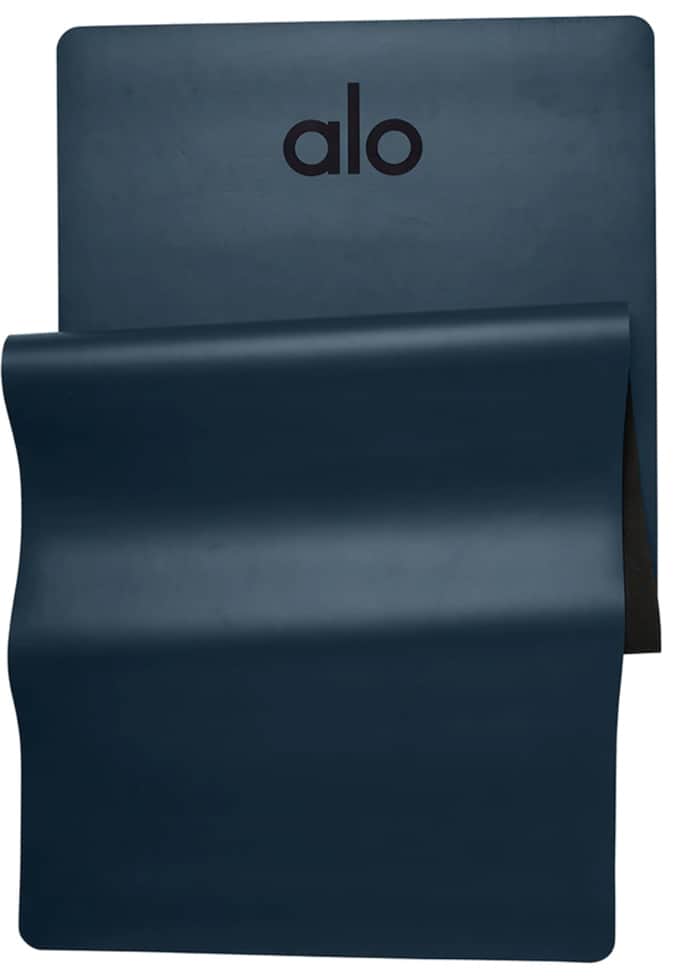 How to Care for your Alo Warrior Yoga Mat:
Roll and do not fold (it will crease)
Always roll this mat with the top side facing out. Rolling in opposite direction can damage mat surface.
Warning – do not just throw it in a closet or allow it to fold on the floor. I learned this lesson the hard way. If you leave it folded on the floor, it will crease.
The top side is prone to cuts and scratches from sharp objects such as jewelry (beware).
Wash
The smooth surface makes it easy it wash. To clean your mat wipe the top of mat with a damp microfiber cloth. Don't panic when you wipe it down. If you use a wet cloth the mat will temporarily absorb some of the moisture and look like it's been stained. Thankfully, it will dry out soon and not last.
If you want to use a cleaning solution, make sure to apply it to the cloth first and not directly to the mat. The company recommends using a 1:20 solution of oil-free soap or vinegar & warm water.
It should be obvious, but the mat is not able to go in a washing machine.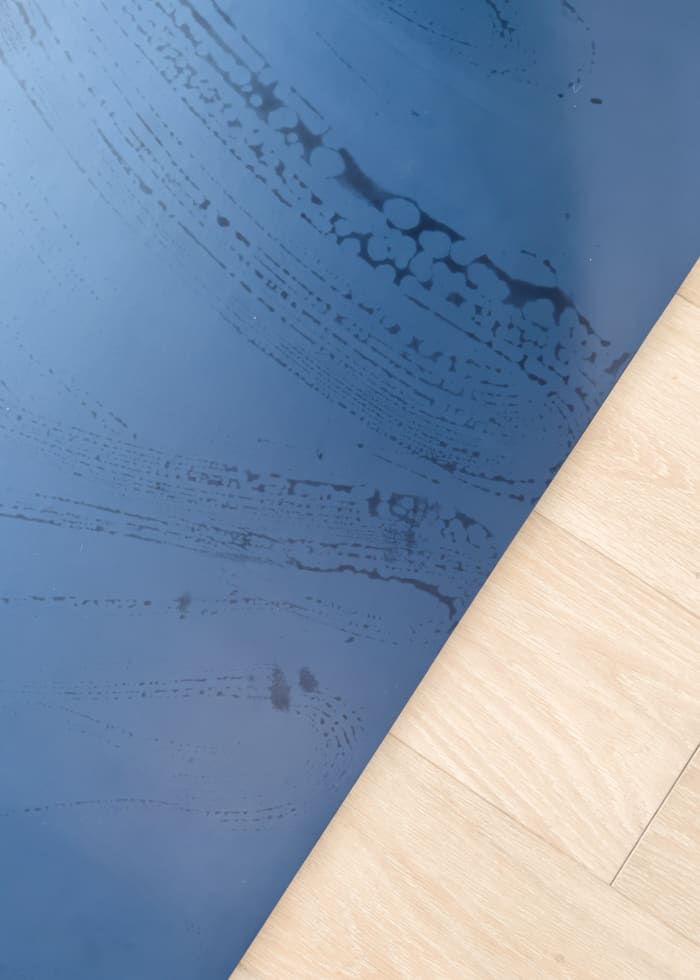 Cost of Alo Warrior Mat
The Warrior Mat series costs between $100-$130 depending on what size and color you want.
If you want a limited edition color it will cost $120. If you want to buy the extra long Warrior Mat it costs $130. The warrior mat I bought was just the regular one (no limited edition colors or sizing). It cost me $100.
If you want a limited edition color it will cost $120. If you want to buy the extra long Warrior Mat it costs $130. The warrior mat I bought was just the regular one (no limited edition colors or sizing). It cost me $100.
They do offer an instant discount to people that sign up for their Alo newsletter! I got 15% off my order after signing up. Alo also offers installment payments on all of their products.
If you live in the US they offer free shipping and free returns with a prepaid label. Major bonus!
Note: their yoga mats used to be final sale. Recently they've begun to allow returns. If you want to try one out make sure they are still eligible for return.
Pros and Cons
Pros
Best non slip mat on the market
Feels great to the touch
Non-toxic yoga mat – material is also 100% formaldehyde-free, non-toxic and PVC-free.
Amazing grip for dry or wet environments – i.e. hot yoga
It's longer than most other yoga mats on the market
Offers many amazing color options
Comes in multiple sizes and weights
Cons
Picks up debris from the floor
Expensive
Higher maintenance than other mats – It's prone to cuts and scratches from slightest of sharp objects such as jewelry.
Colors looked different in person than on the website
Heavy – not good for travel (travel version of the same mat here)
Can crease easily if not stored properly
Certain limited edition colors and sizes add extra cost
Additional details on what I didn't like:
Yes I do love it, but in the interest of transparency I wanted to go into a little bit more detail on all the features I don't like.
Picks up debris from the floor
I ordered a dark color (Eclipse) because I didn't want my yoga mat to show dirt. While I will say it does not show dirt, it does show dust from the floor. Maybe I just need to vacuum more often? See the photo below to see what I mean. In all fairness, I did have the mat laying out all day when I took this photo.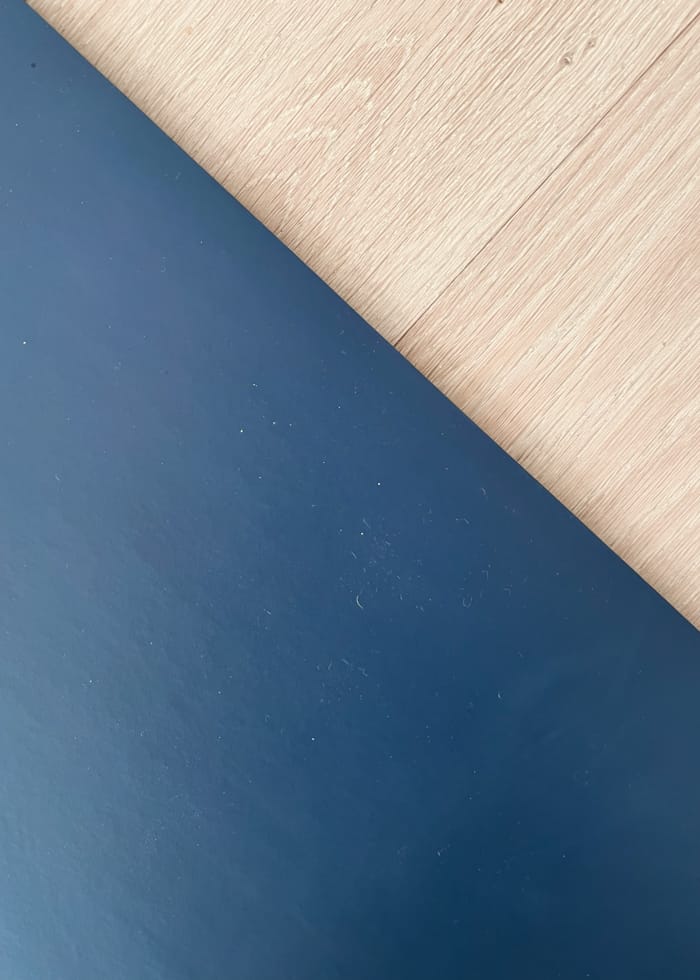 Requires extra maintenance
The Alo Yoga Warrior mat requires extra work in maintenance of the top surface to maintain its "newness". It's prone to cuts and scratches from slightest of sharp objects such jewelry.
It is not recommended to wear jewelry while using this mat.
Can crease easily
One night after using my yoga mat I was too tired to properly roll it up so I just shoved it in my closet and it folded on top of itself. When I went to use it again 2 days later I was dismayed to find it creased. What a bummer. UPDATE – the crease did go away. It just took a few days.
They recommend that you "avoid cubbies or storage areas with sharp edges that can leave a lasting mark." Noted.
Bottom Line:
Would I recommend this Yoga Mat?
Now that I've had this mat for a few months and know better how to care for it, I can say that I truly love it. It is the best yoga mat I've ever owned. There is nothing I've used that compares to it. The Warrior mat by Alo Yoga surpassed all my expectations. The grip is incredible, it feels and looks very high end.
Even though it requires a little bit of maintenance, I 100% recommend this one.
UPDATE – You can now purchase the Alo Yoga Warrior mat at Nordstrom! Yay.
Click here to buy from Nordstrom.
Want more Alo?
Check out their awesome new designs in their new arrivals, shop their bestsellers, and my new favorite, you can shop Kendall Jenners looks here.