If you've been on Instagram at any point in the last 6 months then you've probably seen hundreds of girls modeling Alo leggings. After seeing this brand advertised over and over again, I finally gave in and decided to do my own Alo Yoga Pants review.
While I normally avoid things that are super trendy, I am so glad that I gave them a shot After all the hype I was impressed! This is the exact pair I bought.
Alo Yoga Pants
This post may contain affiliate links, which means I'll receive a commission if you purchase through my link, at no extra cost to you.

Buy from Nordstrom | Alo Yoga (Both sites currently offer free shipping and free returns)
Alo Yoga Review
Alo sells all kinds of Yoga products for men and women, but they are most well known for their leggings. Therefore, I figured that any Alo yoga review has to start with their Alo leggings.
The price point is higher than most at about $100 a pair. I feel $100 is way too high for most leggings. That being said, I've learned that with as often as I wear a good pair of leggings, the cost can SOMETIMES be justified. Beyond Yoga is another amazing brand worth the $.
Alo Leggings Review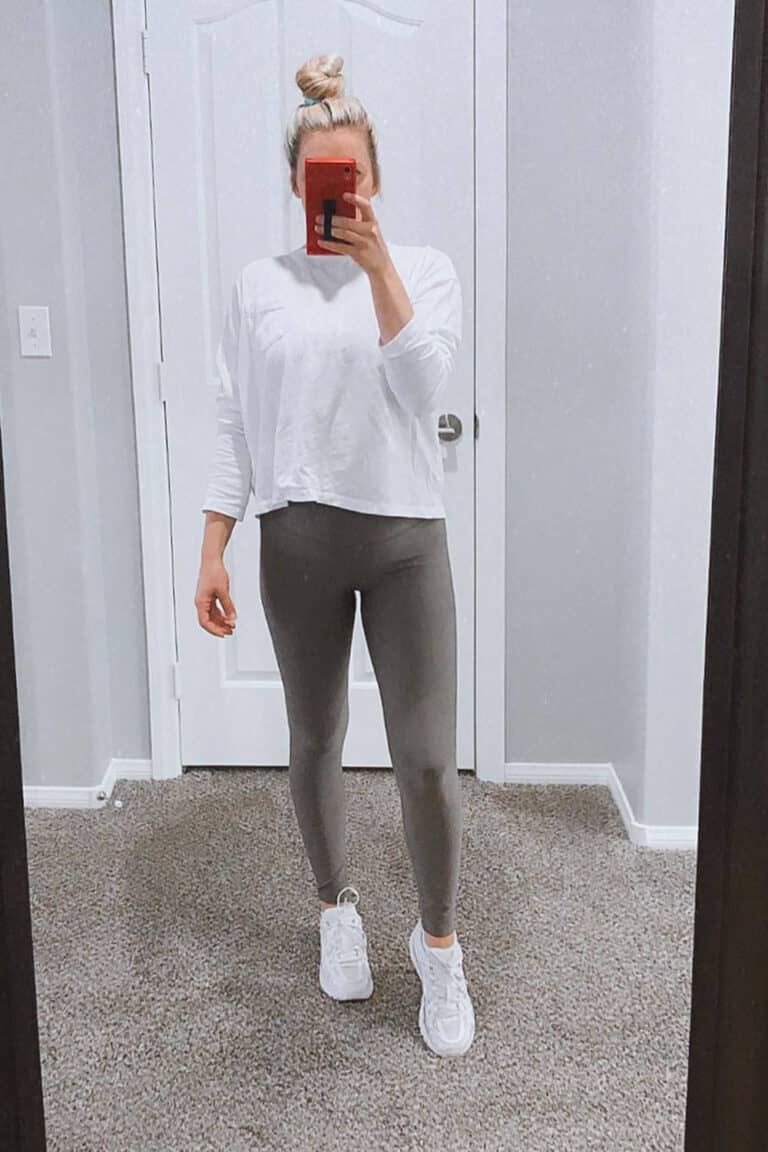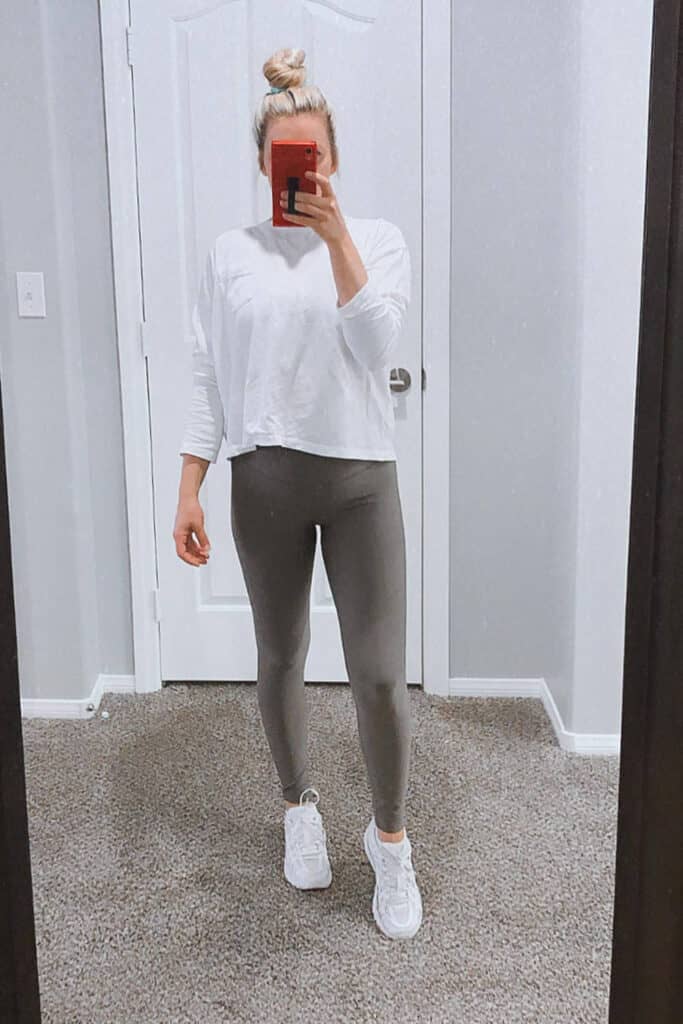 Alo checks the boxes for all the things that I look for in leggings. Unique designs, not being see-through, super stretchy, and most of all comfortable. Alo yoga pants are SO comfortable.
Unique Designs
Full disclosure, I don't think that all of the Alo designs are amazing. They have so much variety though that everyone should be able to find something they like (standard to eclectic). Last time I visited their website there were 298 different varieties of leggings, most of which had various color options.
Matching Sets
I am a sucker for a good matching set. Thankfully, Alo offers so many options to go with their leggings. There are all kinds of styles of tops, sports bras, and sweatshirts to go perfectly with their yoga pants. Check some of the newest matching sets out here.
Buttery Soft
Yes, these leggings are ridiculously soft. It feels weird to say that leggings go on smooth, but that's the only way that I can describe it.
Sometimes the softness of certain brands wears off in the wash. Thankfully Alo yoga leggings stay just as soft after the wash.
Not See-Through
Most super soft leggings have the consistency of tissue paper. While they feel nice, the thin fabric lets everyone else see everything that's underneath. This is NOT the case with Alo leggings. Even the pairs I've tried in the lighter colors aren't transparent.
They Stretch Around Bloating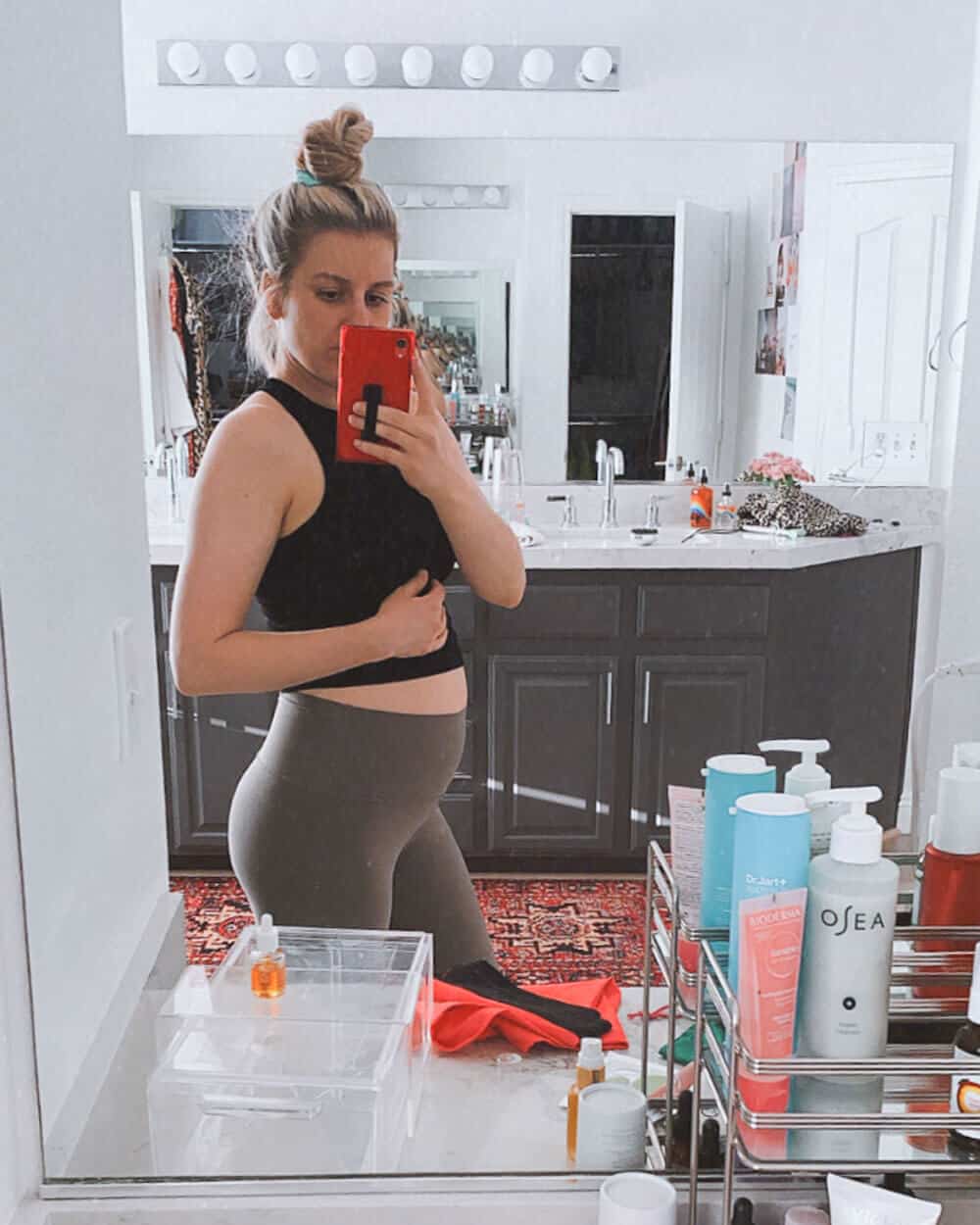 While not everyone has the extreme variations in size that I do, the ability of these leggings to stretch out while not cutting off my circulation is amazing. I sometimes deal with extreme bloating. Most of the pairs I've purchased stretch so well that they could even be worn as maternity pants.
I'm not sure how they can stretch so well without becoming see through or painfully tight. Whenever I eat the wrong meal that causes a bloating reaction, I don't have to feel like I'm going to rip my pants or that I'm suddenly wearing a corset.
It might also be due to where the seams are placed. Even on the high waisted leggings the seams don't seem to cut into my side.
Alo Yoga Sizing
Some of the Alo Yoga leggings run fairly long. While it's not a major issue, I am only 5'3 and wish I would have known about the 7/8 style before purchasing my airlift leggings. The 7/8 fit is not a capri fit (which is what I thought) instead, it will hit right at your ankle if you are petite or right above your ankle if you are tall.
For reference, if you are a size 4 in Lululemon than a size small in Alo would probably fit you.
Alo Yoga Size Chart
Check out the Alo Yoga Size Chart here.
Order 2 sizes to get the perfect fit – If you order from Alo Yoga's website here they typically offer free 2 day shipping and free returns. This is amazing because you can easily order your leggings in 2 different sizes or fits to make you have the perfect fit for you. I wish I would have done this.
High waist styles – Alo Yoga legging style fits the current high waist trend. Expect a variation of the Alo leggings to fit just above the navel with a waistband of around four inches. I personally, hope the high waist leggings continue to stay in style, it is still one of my favorite trends.
Alo Leggings Review Drawbacks
The only two drawbacks from my Alo leggings review are the price and the popularity of the brand on Instagram. I feel uncreative if I buy the same brand that everyone else is, but in this case I do think the hype is well deserved.
Conclusion and Where to Buy
Buy from Alo Yoga to get free 2 day shipping and free returns.
Buy from Nordstrom (free shipping, free returns)
Given the fit and feel, I've already gone back and purchased more Alo yoga pants and shorts. While it costs a little bit more than I like to spend, the ability to get a couple every day pairs took me back.
You can buy Alo leggings at Nordstrom, although you will not get the same selection from Nordstrom as you will from the Alo Yoga website here. Shop the new arrivals here.