Gisou Hair Oil Review
In this review I will explain why I absolutely love Gisou Hair Oil and who I think it will and won't work for. (Hint – It's not for everyone)
I recently started using Gisou Hair Oil about a year ago and I must admit, I am obsessed.
I love almost everything about it! In my opinion it is up to par with the best of the best hair oils out there and I have tried A LOT). It smells like heavy, comes in the best packaging I have ever seen on the market, and works really well at cutting back frizz, nourishing your hair, and providing some extra shine.
Keep reading to learn more about the benefits I have discovered after using Gisou Honey Infused Hair Oil for almost a year!
Note: My favorite products from Gisou that I have tried so far are the Honey Infused Hair Wash Shampoo, Honey Infused Conditioner and of course, the Gisou Hair Oil.
This post may contain affiliate links, which means I'll receive a commission if you purchase through my link, at no extra cost to you.

I have had so many issues with my hair.
I use this hair oil after showering, only on my ends. (If you use it all over it will make your hair look greasy.) I also like to apply it to my ends before bed. I wash my hair about once a week.
What does Gisou smell like?
The smell is incredible! It's a sweet honey and floral scent. I wasn't expecting the florals when I got it but I love it. It isn't too much and does not smell perfumey. The scent is not overpowering but it also doesn't smell like nothing.
Gisou Hair Oil Ingredients
Gisou ingredients:
Dimethicone, Dimethiconol, Trisiloxane, Mel (Honey / Miel)*, Prunus Amygdalus Dulcis (Sweet Almond) Oil, Cocos Nucifera (Coconut) Oil, Argania Spinosa Kernel Oil, Passiflora Incarnata Seed Oil, Tocopheryl Acetate, Parfum (Fragrance), Gardenia Taitensis Flower Extract, Ci 47000 (Yellow 11), Tocopherol, Ci 26100 (Red 17), Coumarin**, Hexyl Cinnamal**, Limonene**, Linalool**
Is Gisou worth it?
Does it live up to the hype?
Well, that depends….
on your hair type.
I would say 100% yes, if you have dry hair like me.
For people who have fine hair I am not sure this is the best product for you.
The product is quite oily and I think even using a small amount will probably make your hair feel oilier. If this is you I recommend trying Kerastase Elixir Ultime instead. It comes highly recommended by girls with fine hair.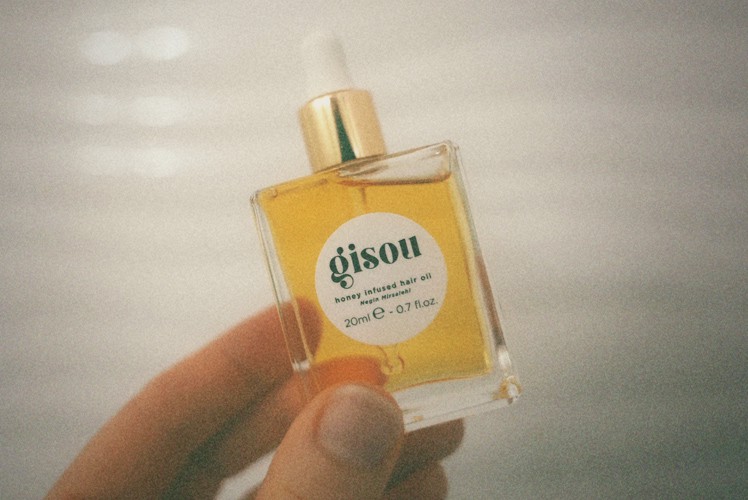 Pros and cons
Pros
Smells amazing
Packaging feels so luxurious. (In a square glass bottle) It is by far my favorite packaging out of all the hair oils I have tried. (Which is a lot!)
A little goes a long way
Cons
Expensive ($25- $87) depending on the size you get.
If you have fine hair it will probably make your hair oily.
Negin (the founder of Gisou hair) had amazing hair before she started creating these products. So marketing can be a little deceiving.