HONEST Skims swim review (from a Skims addict)
My entire closet is filled with Skims. From the Skims swimwear line alone I have bought pieces from every drop except one. The only swim collection I have not had a chance to try is the Shaping Swim collection. If you have tried this line let me know how you liked it in the comments.
I will admit I have been a fan of the brand from the beginning but that does not mean I love all of their drops and collections. In fact, I just returned $400 worth of bras because they gave my boobs the worst shape ever.
How does Skims swimwear hold up against its competitors?
Is it worth purchasing?
How will it compare to other swimwear brands out there?
Swimsuit with Skirt
This post may contain affiliate links, which means I'll receive a commission if you purchase through my link, at no extra cost to you.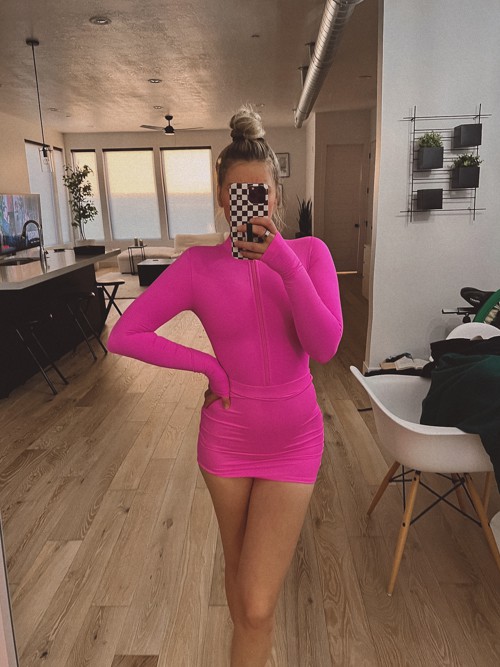 A Review of Skims Swimwear
Skims Swimwear, i.e. the Kardashian brand of swimsuits! I get it, the Kardashians can be incredibly divisive and you can't help but wonder if the Skims swimwear line is simply a gimmick. Some of the Kardashian endorsed products have been great, while others have been duds.
When I first saw the line I was nervous that the Kardashian swimsuits would be a dud. I've got to say, I was pleasantly surprised. There are some legitimate advantages to this brand that I didn't expect.
While it's not perfect, for certain shoppers the Skims bathing suit could be EXACTLY what they are looking for.
I happen to fall into that category and now own 4 different Skims Swimsuits
Pros and Cons
Pros: Skims Swimsuit Review
There are a lot of great things about these swimsuits that you wouldn't expect.
Built to Allow You To Design Your Own
When shopping for a Skims two-piece, you choose the pieces individually. This ends up being awesome because you can choose the exact type of top that fits you best, along with a bottom that also suits your style.
I hate being locked into a top that I love with a bottom that doesn't work. Not only are you not locked in, but the colors are the same across almost all of the items. This gives you even more flexibility.
I'm much more comfortable with a string bikini up top than I am on the bottom. I can purchase the exact pieces that work for my body without being locked into something I wouldn't dare wear outside.
Choose Your Coverage
The versatility of design is especially useful when it comes to selecting what top and bottom coverage you want. It is made to cater to any potential insecurities
I can't stand that all too often coverage in swimsuits varies dramatically. At times it feels like I'm not wearing anything and at times it feels like I've borrowed my grandma's swimsuit.
If you are more daring on the bottom you can buy the cheekier "Swim Micro Tanga Bikini Bottoms" or you can be more conservative and get the Swim Dipped Mid Waist Bottoms, or even cover with a Sarong Mini Skirt.
Fit Any Body (literally)
Not only do Skims come in all sizes, but they are somehow made with shapewear material that seems to hug and hold things appropriately. At first I thought it was all in my head, but it really is an effect that carries throughout the line.
There are also a variety of cuts that look flattering on anybody. If you are a toothpick, they've got you covered. If you are a bigger girl they've also go you covered with a range of different options.
Thicker Without Being A Scuba Suit
The material is somehow thick enough to not feel like tissue paper or slide around. It's also hard to describe, but somehow I have to spend a lot less time adjusting at it tends to fit firmly in place.
I've had swimsuits fit firmly in place before, but those ones felt like a scuba suit that would keep its shape even when not on. Somehow the Skims swimsuits find the perfect balance.
Cons: Skims Swimsuit Review
While I do live the swim line it isn't perfect. There are a few cons that you should definitely be aware of.
Very Little Restocking
The product drops tend to sell out quick! The worst part is that many of the products aren't ever restocked. The have limited release colors as well.
The lack of restocking and limited edition colors create a hectic race environment when each new line is released.
White Color is See-Through
While the swimsuits are thick, the light colors like the white are uncomfortably see-through. I wanted the white to work so bad, but unfortunately it put too much on show so I didn't keep it. And by see through, I mean I had one the triangle top AND the swim crop top and you could still see my nipples so clear it was insane. (When wet)
Limited Pattern Selection
Most of the swimsuits are in solid colors. While I think a lot of them are incredibly striking, I do love patterned swimsuits as well.
Conclusion Skims Swim Review
It's not a perfect swimsuit line, but for those looking for flexibility to cater to their body you might be able to find the perfect combination.
If you are willing to act fast when a new line drops you can score a great suit that will hug your body in all of the right ways.