In case you don't know, the Allure Beauty Box is a subscription service that sends you a random array of beauty products each month. For a small monthly fee of $15, you get the opportunity to try some of the best makeup, skin, hair, and wellness products out there.
You don't get to choose the products, but it is a phenomenal way to expand your knowledge on what types of products are out there. I've found amazing products that I NEVER would have considered purchasing alone, but are now a permanent part of my beauty regimen.
This post may contain affiliate links, which means I'll receive a commission if you purchase through my link, at no extra cost to you.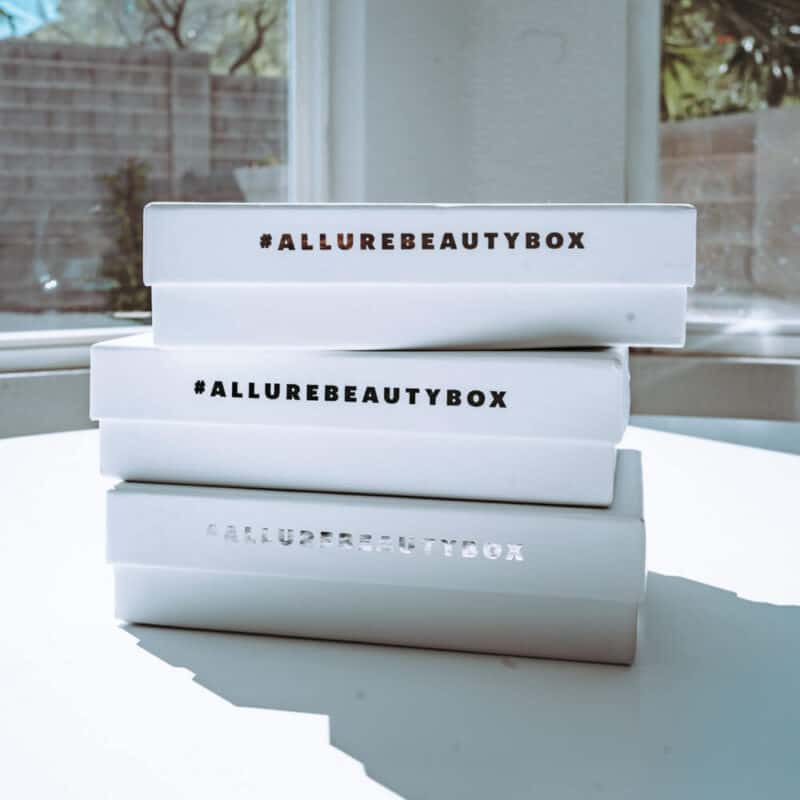 Why should you sign up?
So why should you sign up for a box of products that you might not need? The reason is that the products are ultimately delivered at a fraction of their retail price. You get the opportunity to try them out to see if they are ultimately worth you paying full price. My subscription to the Allure Beauty Box ultimately saves me money because when I do buy stand alone products, I know I'll use them.
What comes in the box?
Typically you get about 5 different products, with two guaranteed to be full-size products. Surprisingly, many well-known and high-end brands participate in the beauty box. They include their products because they believe users will love them enough to repurchase at full price.
Cost and How to cancel Allure Beauty Box
The Allure Beauty Box is only $15 a month (shipping included). Another great feature is that you aren't locked into a long term commitment. If you aren't interested in receiving another box, it's easy to immediately cancel without penalty.
Sign up is easy, just click here.
What was in the most recent box? (June, 2020)
Purlisse Watermelon + Charcoal Purifying Cleanser
Surprisingly this watermelon and charcoal cleanser is actually really gentle. It effectively clears away impurities on the skin without completely stripping moisture. Thankfully the fragrance is not overwhelming or obnoxious, although I do prefer my cleansers to have no fragrance. Keep in mind this has charcoal so the gel comes out of the tube in a black tinted color. A perfectly refreshing product for the summertime!
Context Vitamin C All Day Eye Cream
This eye cream is packed with antioxidants like Vitamin E and C to protect the gentle eye area from signs of aging and dark spots. Something to note, this cream has more of a gel consistency and so it dries very quickly. Try using it as a midday refresher – it would work great as an on-the-go after work solution when heading straight to a dinner or event.
Yensa Super 8 Lip Oil in Pink Shine

Yensa has made such a unique lip color with this oil. It goes on very glossy but turns into a very light stain within a minute or so. You are left without any sticky residue and a faint but pretty bright pink. It is perfect for those who do not like to wear a lot of color on their lips or heavy products. The best part has to be the ingredients – avocado seed plus coconut oils and Vitamin E! Every time you put it on your are actually hydrating your lips as if it is a balm. Try this on, you will be happy you did!
Dashing Diva Gloss Ultra Shine Gel Palette
Who knew nail stickers would be so popular? Apparently Dashing Diva did! And wow, were they right – these gel nail adhesives really work.
They are really easy to apply, they are long lasting and look like nail polish. Once you find the right size for your fingers and attach them you will see why they are called "gloss ultra shine". These are the perfect place to start if you have never tried nail stickers.
Starskin 100% Camellia Nourishing & Brightening 2-Step Oil Sheet Mask
This sheet mask is pretty impressive. It contains a lot of skin moisturizing ingredients like camellia oil. Instead of only the mask being drenched in a skincare solution, you also have an seperate bottle of camellia oil. The idea is to apply the oil first then put the sheet mask on top, for added moisturization. This mask is actually really great for more sensitive types. There is some fragrance (which I try to avoid in my beauty products) but hyaluronic acid and niacinamide are ultra soothing components – used to help the most agitated complexions like those with Rosacea.
Try this before going to bed, and Starskin recommends opening the sheet mask portion before applying the oil.
TONYMOLY Intense Care Snail 24K Hydrogel Mask
TONYMOLY creates some of the most daring products in the beauty industry, this mask is no exception! Yes, it really is made with snail… "slime". Before you panic, it is not as gross as it sounds. In fact, it feels amazing – smooth and silky, it is not sticky at all. Why would you want to put this on your skin? Because it is filled with skin barrier repairing elements like: antioxidants, peptides, glycosaminoglycans, hyaluronic acid, zinc, iron, and more. It leaves your complexion glowing and very hydrated, some even see an improvement in fine lines.
Another mask we really love especially for dry skin is Dr. Jart Water Fuse Sleep Mask, go check out our review!
Belif The True Cream Aqua Bomb Aloe Vera
Out of everything available in the box, this was my absolute favorite. It is made with aloe which is both refreshing and calming. You can use this product on its own under sunscreen and makeup. In addition, try it over other treatments like a hyaluronic moisturizer to really boost hydration. It does not leave a white cast and will give a slight "light from within" sheen to your skin. It is definitely worth a try!
Shangpree Gold Black Pearl Eye Mask
The name of this eye mask sounds like something out of a pirate movie however when you open the package you will understand. Shangpree made these with a combination of gold extracts, glycerin, black pearl, gold shimmer and black hydrogel. So you have been warned, they really do go on black and shimmery. Possibly the best part is they are not just pretty but do a good job of plumping up that stubborn under-eye area. Lines will begin to diminished and any dryness you have will begin to fade with continued use. Plus, you receive 60 patches in one container, awesome!
La Roche-Posay Active C10 Vitamin C Serum

Hopefully this helps you understand a little more about the products available in the June Allure Beauty Box. What are you going to try? Let me know what you think of it in the comments below!