I know it seems absurd to rave about a smoothie cups rather than an actual smoothie, but hear me out. There are lots of times that I want to drink and entire smoothie, but I'm only able to sip it gradually over an extended period of time. Unfortunately, I historically took too long to drink it and the extended time caused my beautiful fruit smoothie turn into a gelatinous paste. You know what I'm talking about, where your fruit somehow clumps and disintegrates at the same time.
Similarly, I know that coffee drinkers struggle when their morning coffee gets cold way too quick.
Another problem I've had is having a lot of smoothie left when needing to run out. This leads to brain freeze from too much chugging, or an attempt to balance it between my legs in the car (especially difficult on the days where I wear a dress).
This post may contain affiliate links, which means I'll receive a commission if you purchase through my link, at no extra cost to you.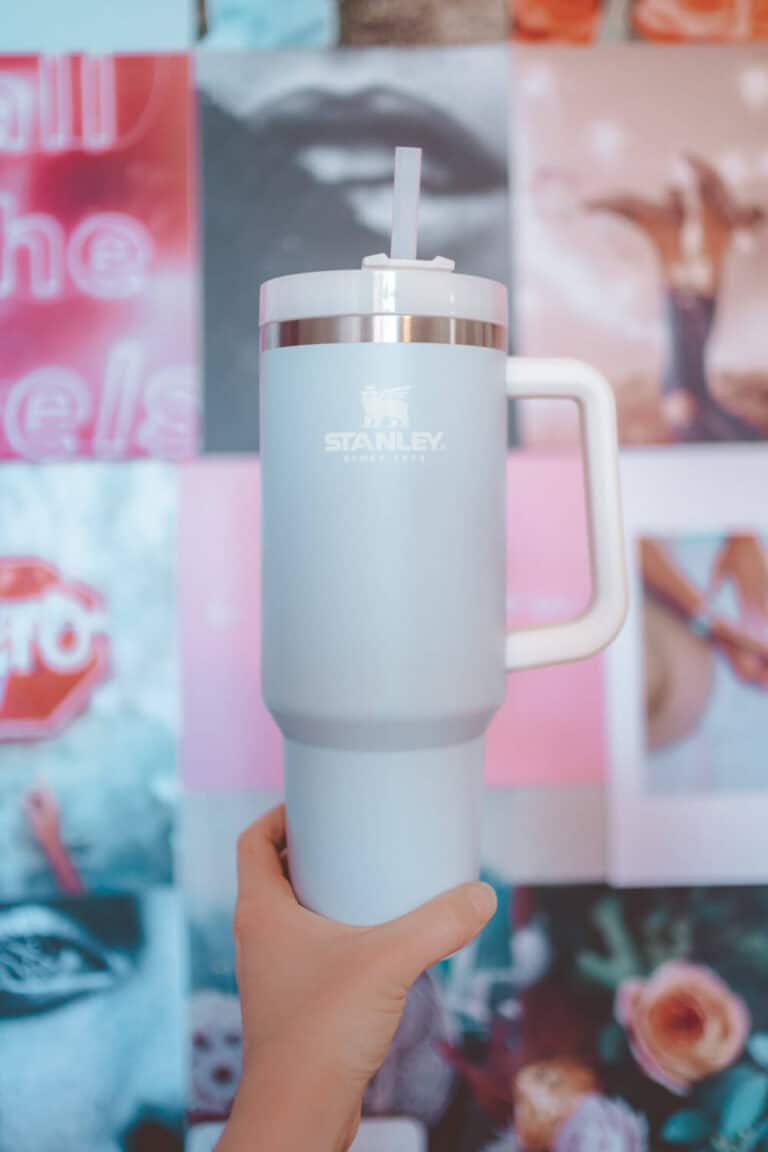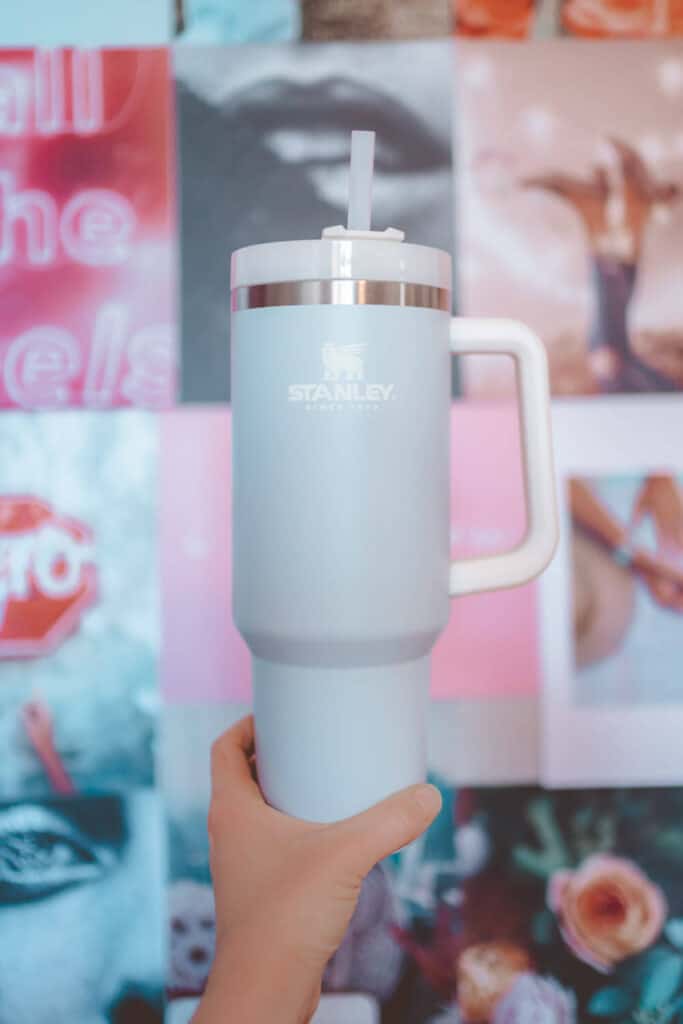 The Stanley Smoothie Container Solves Your Problems
The Stanley smoothie container (my name, not theirs) is the best thing that has happened to my health since discovering the Medical Medium's celery juice.
There are a lot of little things about this reusable smoothie cup that make it special.
Here are just a few reasons why the Stanley smoothie cup is the best smoothie cup.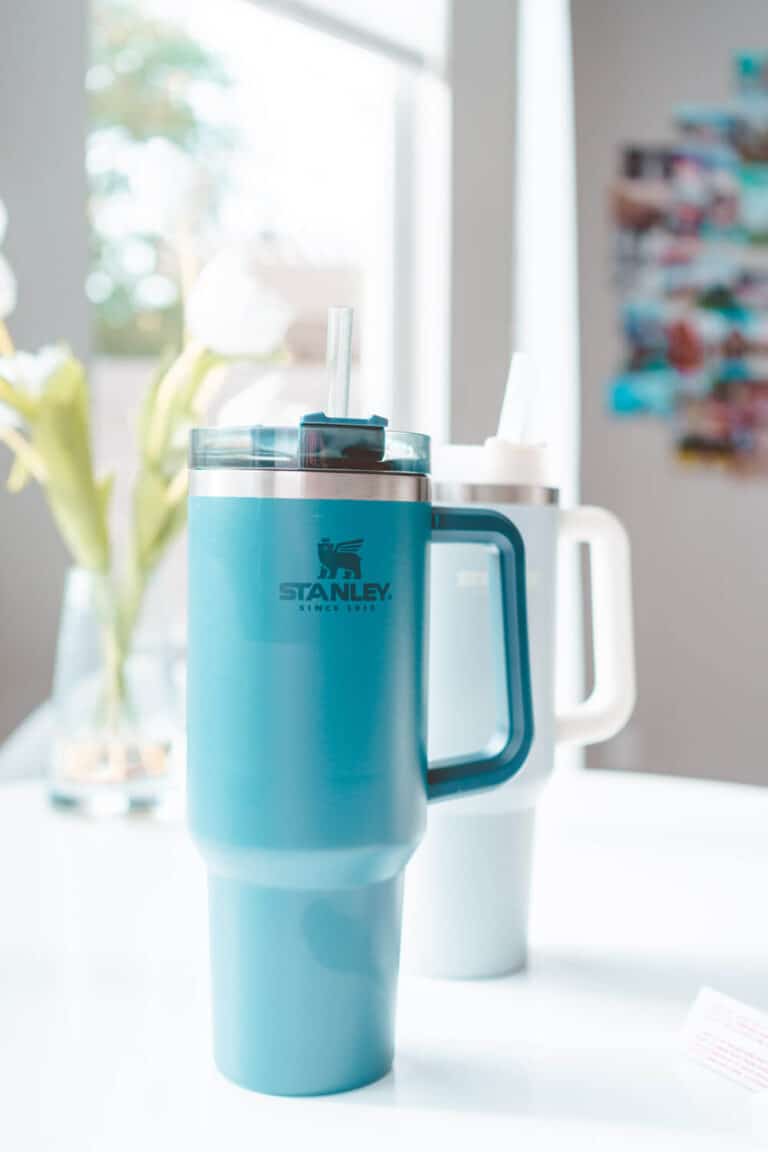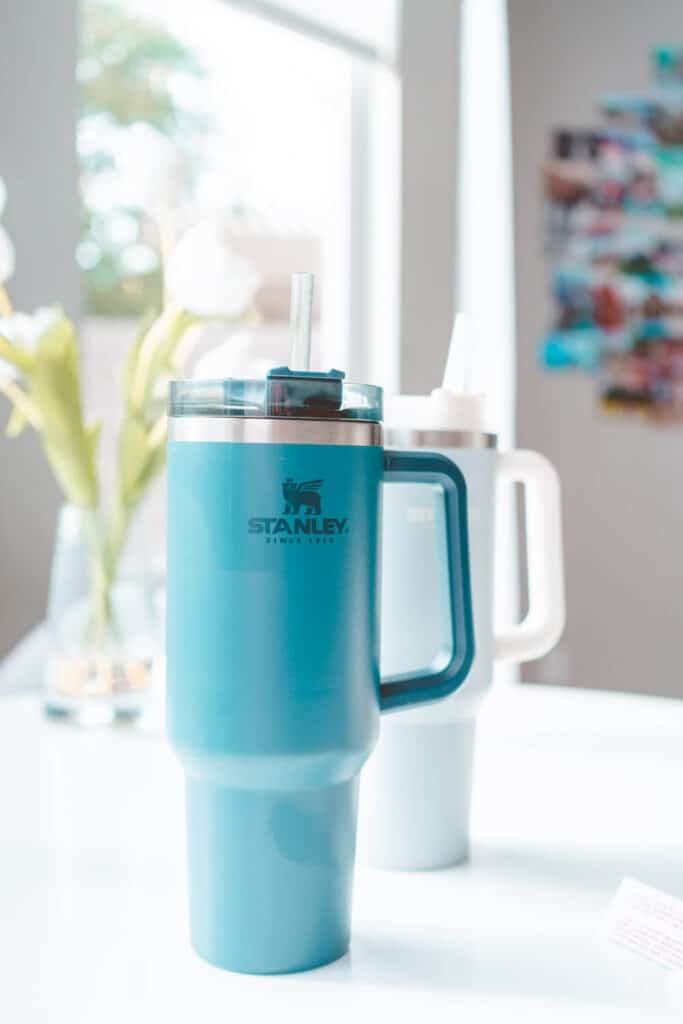 The size. Too many reusable smoothie cups are just too small. At 40 oz. it is big enough to be able to have enough liquid to keep me satisfied for a long time.
You can travel with it. Even though it is a big cup, it's designed so that the bottom fits into your standard cupholder. This makes it the perfect smoothie travel cup.
It maintains temperature. Whether you want something to stay hot or cold, this smoothie bottle makes it possible. Literally you can sip out of this smoothie bottle throughout the entire day. My husband and I went to a swimming pool in Vegas and left our smoothie in the car (it was 115 degrees outside and probably much hotter in the car). Even though it was in our Stanley smoothie reusable smoothie cup I thought it would be ruined after 6 hours. Previously, no smoothie container has been strong enough to handle the Vegas heat. My high heels can't even survive being left in the car in the Vegas summer. The heat literally melted the rubber bottom! Anyway, after 6 hours art the pool we took a sip and our minds were blown! The smoothie was still fresh and cool!
It has a handle. Ill say it again, it has a handle! I don't know who's Idea it was to make 40 ounce tumblers without a handle, but thankfully that problem is now fixed. Stanley smoothie travel cup handle makes it so easy to carry. I know it seems small, but a 40 oz smoothie to go cup needs a handle, and thankfully Stanley puts a handle on that 40 oz smoothie to go cup!
Drawbacks of the Stanley Smoothie Bottle
The only things that stink about the Stanley smoothie bottle are the price and being able to actually find it not sold out.
Even though it costs more than average reusable smoothie cups the cost is easily worth it since I use it every day. It helps keep my diet on track being allowing me to have more smoothies over a longer part of the day.
Most smoothie cups with lids don't give as much benefit, and from what I've seen on Stanley's website people are starting to agree. They've been sold out for a while.
How I Use My Stanley Smoothie Cups With Lids
I have two of the Stanley smoothie cups with lids and straws and I use both of the daily. One holds my lemon water and the other holds my smoothie that I sip on throughout the day. I like having fresh lemon water first thing in the morning so at night I fill up my smoothie cup and in the morning my water is still cold and the lemon still tastes fresh even after sitting all night (definitely helpful for the non-morning person).
Buy yours here (when they are in stock)!