When you think vitamin C, do oranges and immune boosting smoothies come to mind? How about anti-aging skincare?
Vitamin C has become a popular ingredient in many well-known beauty brands, including Dermalogica. It is an antioxidant that helps your skin to repair damaged cells and neutralize free radicals (those pesky unstable molecules).
Keep reading to see I graded their Biolumin-C Serum…
Dermalogica Biolumin-C Serum
This post may contain affiliate links, which means I'll receive a commission if you purchase through my link, at no extra cost to you.

But first a little 4-1-1 about Dermalogica products…
Jane Wurwant was trained as an Esthetician in the United Kingdom. She originally wanted to change the American skin care industry, to change their views on the skin industry. And so in 1986 Wurwant created Dermalogica.
The key ingredients in this Dermalogica eye cream are listed on their website as the following…
Vitamin C Complex: Boots skin's ability to block environmental pollutants while it also fights free radical damage.
Salvia Hispanica (Chia Seed) Oil: Diminishes under eye bags and the appearance of eye wrinkles.
Tremella Mushroom Extract: Gives skin a glow as it firms and hydrates.
Take a look at the other ingredient information Dermalogica vitamin c eye serum…
This serum is also created with Tremella Mushroom Arjun tree extract, Poria mushroom, and Papain that all reduce inflammation, hydrate, and exfoliate skin.
All Dermalogica skin products are phthalate-free, gluten-free, parabens, formaldehydes, mineral oil, and contain less than one percent of synthetic fragrances. All of their products are vegan. Plus they are all cruelty-free.
Here is another anti-aging product you should check out – Dr. Brandt's exfoliator.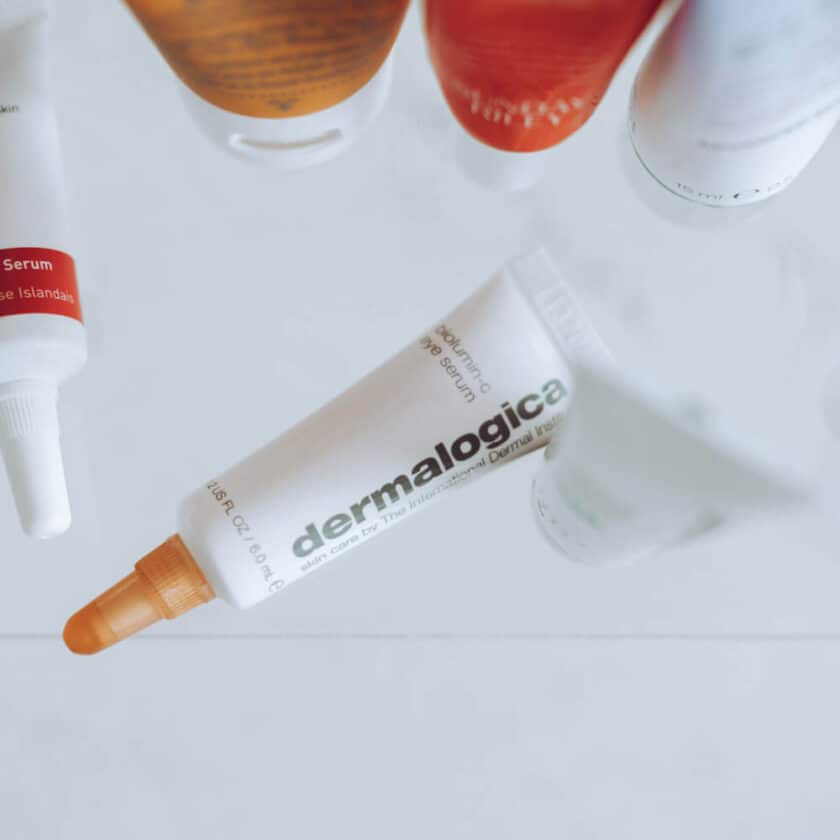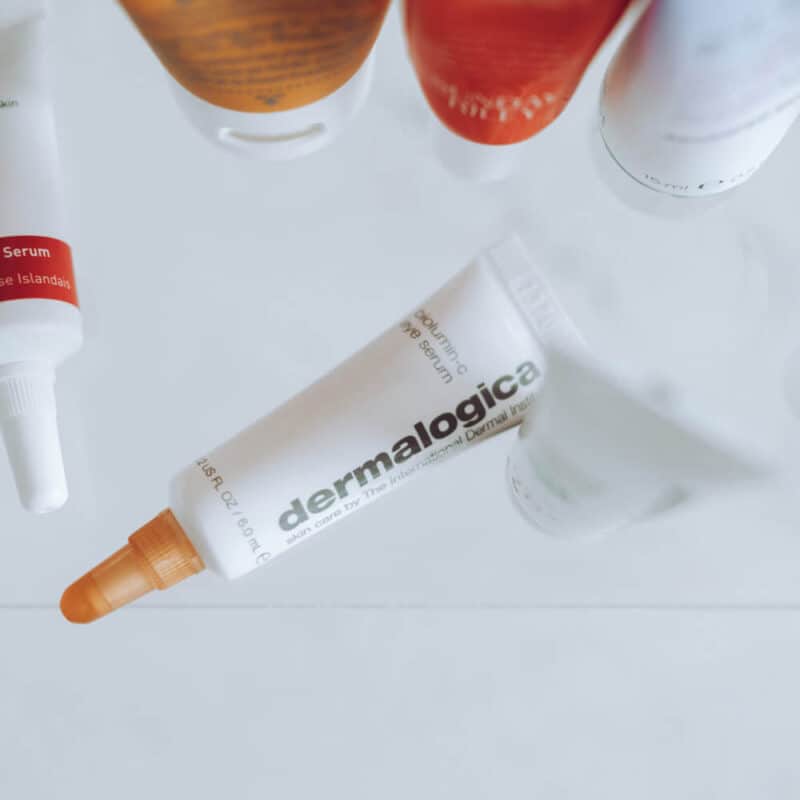 EWG Rating:
Biolumin-C Serum has an EWG rating of 3! That is actually a great score. The most troubling ingredient is called "Limonene". Which is a perfuming agent and so it can cause irritation and allergies to flare. And really, that makes sense.
Why do I like this Dermalogica moisturizer for eyes?
Dermalogica reviews around the Internet are absolutely fabulous. And this is why I am surprised that I have mixed feelings about it. Let me explain…
The Biolumin-C serum has a watery gel consistency making it an even lighter weight lotion. Which actually is not a bad thing. I do really like that it has a cooling effect and feels soothing when applied.
It definitely helps fight off environmental stressors like ultraviolet rays, various types of pollution, harmful smoke from tobacco. And I notice the difference it makes in the fine lines around my eyes from the constant stress of daily eye movements.
But, my mind is not exactly "blown" by this product. The results are good but not great. I like it but I do not love it. The results are good but not great.
How to use:
First, press out about a pea-sized amount of serum. Then use either your pinky or ring finger to apply around your eye area. But, make sure to avoid getting any of the product in your eyes.
You can use this product in the morning and evening. However, I recommend using it at night before bedtime. This way the vitamins have time to really sink into skin.