I spend I have spent 4 of the last 7 years in bed. Does that make me a bedding "expert"? I think so!
I have tried so many different brands of bedding over the years. I have worn out sheets until literally there were holes in them the size of my body. I have ripped pillow cases to shreds from overuse.
I have experimented all kinds of fabrics and brands. Which is why when Brooklinen, the bedding brand I have scrolled past countless times on my instagram came up again, I was curious to see what all the fuss was about.
Note – Curious why I spent so much time in bed? I was diagnosed with a condition called Postural Orthostatic Tachycardia Syndrome in 2014. A condition that made it so I was unable be upright (I couldn't sit up or stand) without passing out. (Yes, believe it or not, such a condition exists)
This post may contain affiliate links, which means I'll receive a commission if you purchase through my link, at no extra cost to you.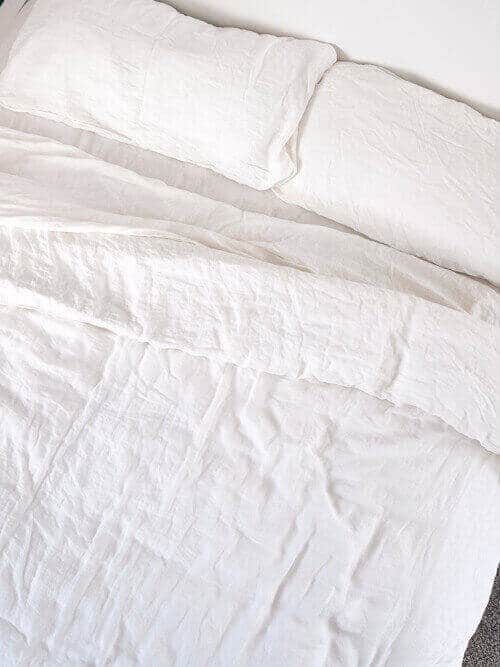 Brooklinen Review: Linen Sheet Bundle
Which Brooklinen bedding Set did I buy?
I went with the Linen Hardcore Sheet Bundle. It comes with 1 Core Sheet Set, 1 Duvet Cover, and 2 extra Pillowcases. (4 total pillowcases total)
What Color did I order the linen bedding in?
I bought it in the Cream color. Everything in my set is the same color. You can choose what color you want for each piece of bedding which is nice if you want to mix and match.
I was so nervous about the color. (Not sure why I was so nervous since they offer free shipping and free returns within 365 days!) I guess it's because I have been trying to order all white bedding for over a year. After countless failed attempts I finally found the perfect white/creamy linen bedding. I honestly couldn't recommend this cream color enough. Even my husband commented and said how much he loved it.
Warning – If you have never slept on linen sheets before it might take you a few nights to get used to them. Linen sheets have a certain "roughness" to them which I have grown to love!
What I love about Brooklinen Linen Bedding?
I love the messy, wrinkled linen look so much that I feel like I don't even have to make my bed. The bedding is soft and only gets softer with each wash!
I love how fast the linen sheets and duvet cover dry. I love that so far I have had no issues with allergies with these sheets. (In the past I have broke out in rashes from certain bedding.)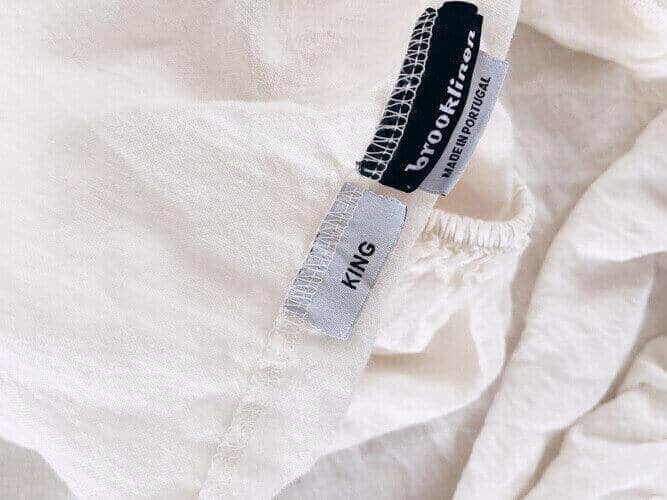 What didn't I love
I didn't love how expensive they were. The Brooklinen sheets and bedding range from the $200's into the $400's. Ouch.
Have you ever tried Brooklinen sheets or bedding? Let us know in the comments below what you thought!