The Ultimate AGOLDE Jeans Reviews!
Finding the right pair of jeans is extremely difficult. Some brands look good on models, but terrible in person. Some might look good, but be super uncomfortable or even painful to wear. Others might appear to work out well, but ultimately fall apart after only a couple of washes.
Don't fret; I've got you covered! After experimenting with a ton of different brands and wasting way too much money, I have a new favorite brand that I recommend you try. AGOLDE jeans are now my most worn denim by far. I've now owned four different pairs in different styles for at least a couple of years, so I can confirm that the quality runs throughout the brand.
AGOLDE provides the styles I want (often the vintage 90s look now), a flattering fit, and durability that won't change shape or give you the dreaded saggy butt! If you are looking for a new pair of premium jeans that checks all of those boxes, look no further than AGOLDE jeans.
This post may contain affiliate links, which means I'll receive a commission if you purchase through my link, at no extra cost to you.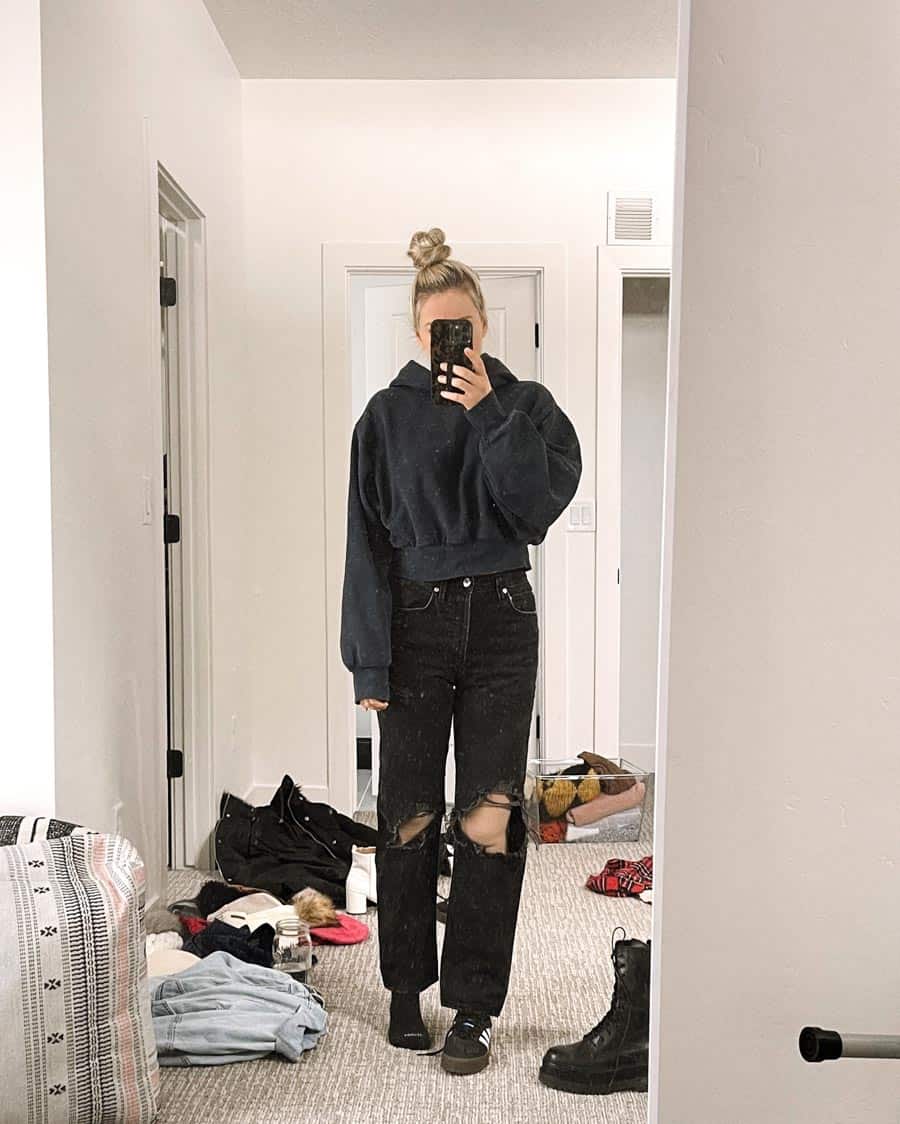 What I look for in Jeans
After wearing stretchy skinny jeans for years I love the more classic style jeans and shorts. As the popularity of skinny jeans wanes and more relaxed fits take over, I still have to be careful that I don't get lost in pairs that don't hug me in the right places.
I still hate the idea of spending more than $150+ on a pair of jeans, but given just how many pairs I've purchased and returned, or purchased and ultimately been unhappy and leave to sit on the shelf, $150 is manageable IF I CAN AND ACTUALLY DO WEAR THEM. I'm sure a lot of you can relate.
I first purchased AGOLDE jeans a couple of years ago and was instantly hooked. Remember, falling in love instantly isn't enough though. A great pair of jeans also has to stand the test of time.
I really put mine to the test in 2019 when I traveled to 30 countries and wore my AGOLDE jeans on every single trip. They were the perfect travel jeans because they were so comfortable, and the best part is that they held up to the abuse.
I can proudly report that I now own several pairs and they are still in my regular rotation. In fact, AGOLDE jeans are still my favorite and most worn denim. The fit can be a little tricky, but once you find yours, you will find yourself wearing them constantly. Shop all the best sellers here.
AGOLDE Reviews: Pros and Cons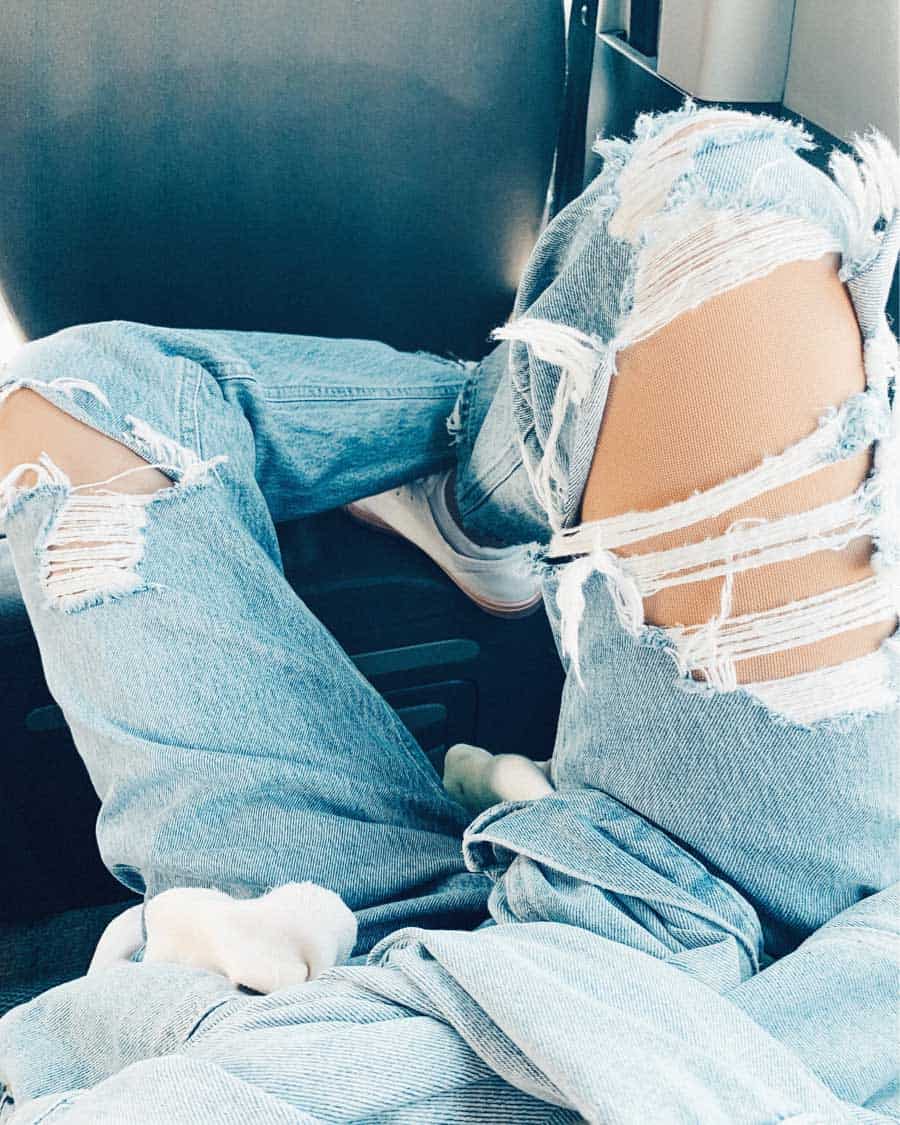 If you don't want to read in detail, I will quickly summarize the high points of the AGOLDE reviews here. To get a more in depth explanation of the pros and cons read further below.
Pros
Flattering fit on any figure
Won't lose their shape after a few wears and washes
Amazing quality that will last
Great mix of classic and trendy styles
Lots of color options
Company has a focus on sustainable production
Cons
Expensive
If you buy a pair with holes in them the holes, the holes and stretch and tear further. I personally don't mind stretched/bigger holes, but many might not.
Sizing can be tricky
Certain styles if too tight can be quite stiff and uncomfortable while sitting.
Where to buy AGOLDE Jeans – Best Retailers with Free Returns & Exchanges
Even though AGOLDE is a newer jean brand, (created in 2014) there are so many retailers that carry their items. They have grown like crazy!
Revolve – I have bought all of my AGOLDE jeans from Revolve. If you want your jeans fast (2-day free shipping), then I recommend ordering from Revolve. I love shopping at Revolve because they offer free 2-day shipping and free returns with a prepaid label (US orders). You have a 30 day return window. There is something so satisfying about FREE 2-day shipping.
Nordstrom – Nordstrom is my top pick for where to buy AGOLDE jeans. They offer free shipping and free returns. They have the most favorable return policy of any of the other retailers and they are the least likely to give you any trouble. I love that they don't have a painfully fast 15 or 30 day return window. I once returned something to Nordstrom that was 6 months old and they didn't mention a thing.
I also like having the option to return to a physical store if I want to get my money back faster. If you bring your return to the store you will get a full refund in 5-7 days. Another benefit of shopping at Nordstrom is you can return your items to a Nordstrom Rack as well if that is closer or more convenient for you.
Nordstrom Rack – Your best chance at shopping an AGOLDE jeans sale is at Nordstrom Rack. They likely won't the inventory that Nordstrom or the other retailers will, but you could get lucky. I am looking at their AGOLDE jeans online right now and all of them are over 50% off! Click here to shop the never ending AGOLDE jeans sale.
Shopbop – All US orders ship for free with 1-3 day shipping. Returns and exchanges are also free and packages come with a free prepaid return label if you return your item within 15 days. You will be charged a $10 label fee if your return is dropped off 16-30 days after delivery.
Agolde.com – I have never purchased from their website because their return policy isn't as favorable as some of the other retailers. It is still an option and often the best bet to find extensive inventory or if you want to see what is new. You can also find some styles that you can't find at other stores.
Below is a list of the best AGOLDE jeans that I own and love.
My Best AGOLDE Jeans
Below are a few of the best AGOLDE jeans that I own. As you read the reviews below, my AGOLDE jeans sizing review notes that I typically wear a size 25-26 or a 2-4 in jeans. In several styles of AGOLDE jeans I size down to 24. I am 5'3. My most worn pair is the AGOLDE 90s jeans mid rise here.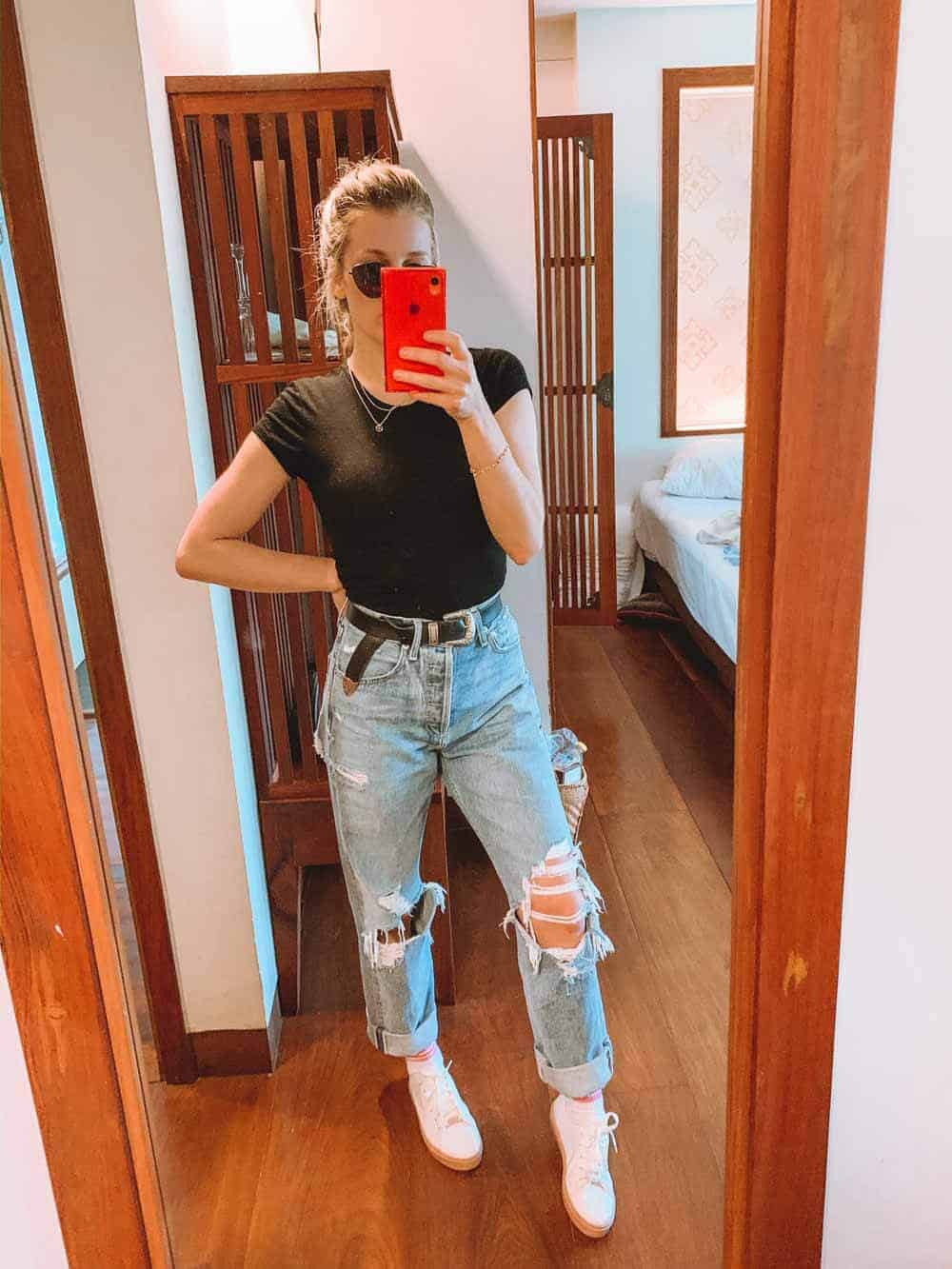 AGOLDE 90s Jeans Review
Sizing – for my AGOLDE 90s jeans review I recommend sizing down 1-2 sizes. I sized down 1 size. They will stretch out a bit since they are made of 100% cotton.
Material – 100% organic cotton
Fit – Even though it says these jeans are mid-rise, My AGOLDE jeans sizing review finds that they often fit more like a high rise jean, hitting right around my belly button (see photos). These jeans have a 28 inch inseam which happens to be the perfect length on me. I am 5'3.
Length/inseam – The inseam for the AGOLDE "90's Jean" is 28 inches. It is hard to find pants that aren't too long for me, so I love a shorter inseam. If you want to see what they look like on someone taller, you can check out the model on revolve. For reference, she is 5'11 and wearing a size 26.
They are very structured but they are a wide leg fit so they are still very comfortable to wear.
90s Mid Rise Loose Fit $188 – In my opinion, these are the best AGOLDE jeans. I wear a size 24 in the color Fallout, and a size 25 in the color Smokestack. Smokestack is a really cool black shade. I ordered the larger size in the black because I wanted a more oversized fit. Of all the pairs in my AGOLDE jeans reviews, I wear these ones the most.
A few of the colors sounds like different lines of jeans. For example, AGOLDE Fall out jeans refers to a color and not a line.
Jamie High Rise Classic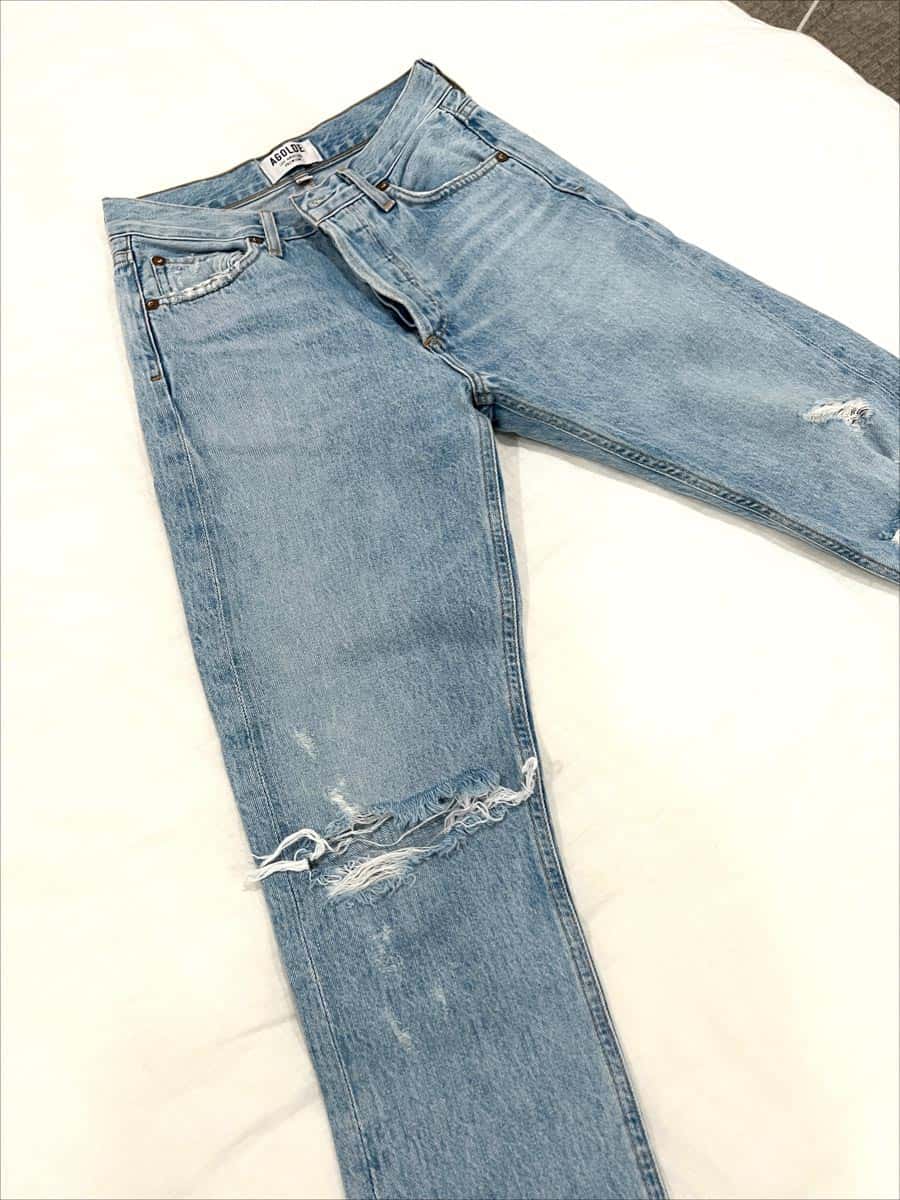 AGOLDE Jamie High Rise Classic $178 – I have these in a size 24 in the color shakedown. I love this color so much.
Sizing – I recommend sticking to your regular size with this style or sizing up fit you are inbetween sizes. These do stretch out some but not a ton.
Fit – The fit of this style is very classic and goes with so many outfits. However, this style is the most uncomfortable of all my AGOLDE jeans. They have no give whatsoever. On days when I am bloated I can't wear these jeans because they are uncomfortable to sit down or bend over in (I ordered mine a little tight). Regardless, they are super cute and one of the my favorite pairs of jeans.
Material – 100% organic cotton
My favorite washes are Shakedown, Spectator.
More colors available here.
More Bestselling AGOLDE Jeans:
FAQ
AGOLDE Jeans Review
In my experience the AGOLDE sizing review varies. I typically wear a size 2-4 or a 24-26 in jeans. I have 2 pairs of AGOLDE jeans in a size 24 and 1 pair in a size 25. Overall, I would say they tend to run slightly larger. I am 5 foot 3 and found the length to be perfect on me.
Do AGOLDE jeans stretch?
You may wonder do AGOLDE jeans stretch? Since AGOLDE jeans are 100% cotton they are stiffer at first and begin to soften and stretch out a little bit after a few wears. Don't panic if they feel a little tight when you first try them on. Give them a few wears to break them in.
How to wash AGOLDE jeans
Care instructions on how to wash AGOLDE jeans- Machine wash cold, inside out. Full disclosure – I have never washed mine inside out and they still look amazing after years of washing. However, I do recommend making sure you wash them in cold water. I washed one pair of mine on the warm/hot cycle for the first year and they definitely shrunk. Oops!
Where are AGOLDE jeans made?
AGOLDE jeans are made in the USA.
I hope you enjoyed the full AGOLDE jeans review! Feel free to reach out in the comment section if you have any questions.
Read next: Reformation Jeans Review: Do they live up to the hype?