This post may contain affiliate links, which means I'll receive a commission if you purchase through my link, at no extra cost to you.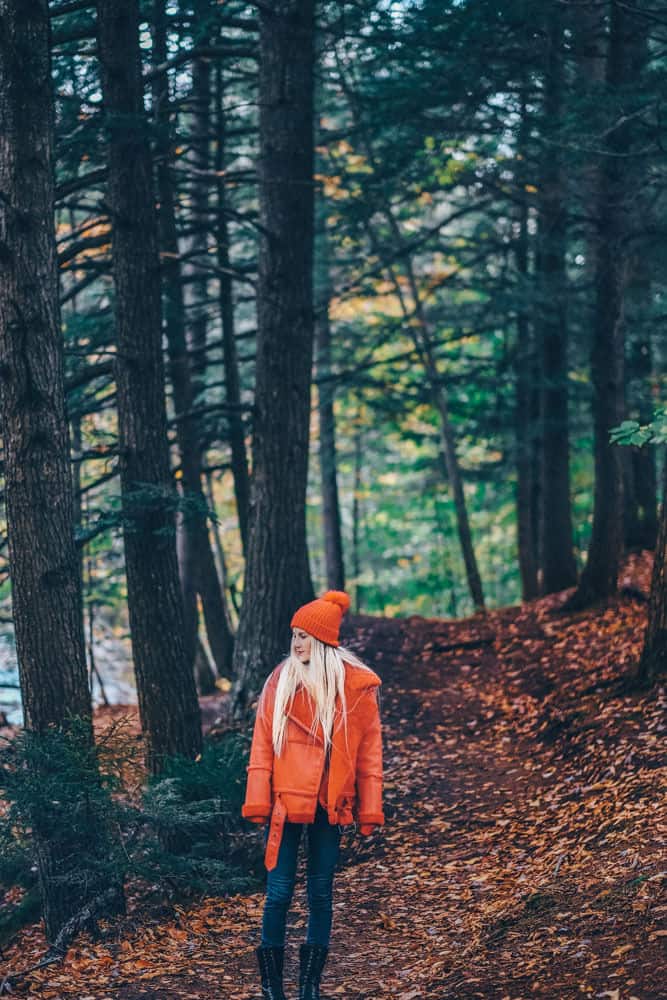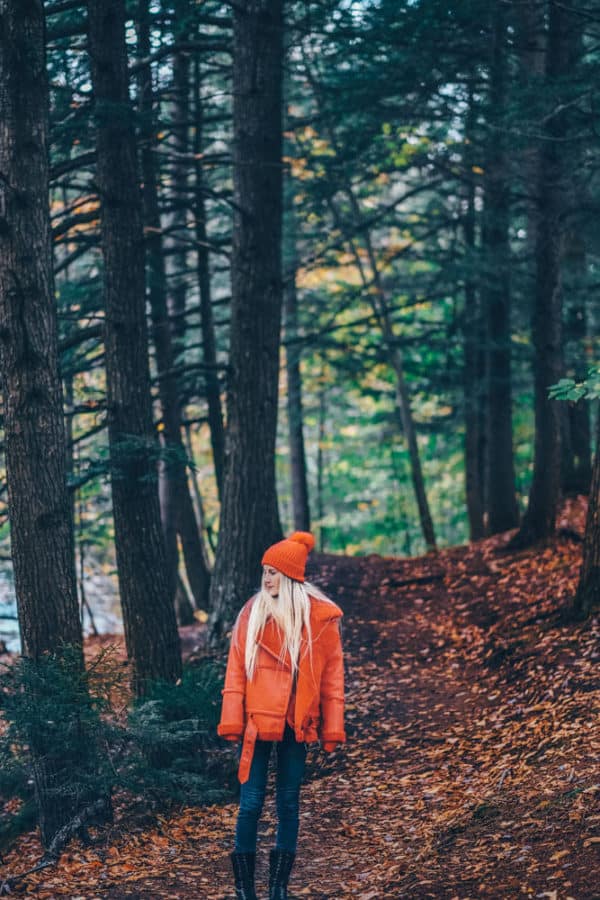 Fall Hiking Outfit Details: What I Wore
RED BEANIE ASOS (more similar beanies here) | EXPRESS JEANS | BOOTS (OLD, SIMILAR) | RED COAT (Sold out – similar here, here and here)
What to Wear on a Hike and Still Look Cute
If you are trying to figure out how to go hiking and still look "cute" you have come to the right place. Trust me, I get it. The struggle is real here, especially when on dates.
Over the years through some extensive trial and error I have learned some tips. So here are a few of my best tips on what to wear on a hike and still look cute.
Red Coat – I always go to ASOS for my fall and winter coats. The prices are great affordable, and they have so many options to choose from. It is basically impossible not to find a style you like.
Also, with free shipping and free returns, you just can't beat ASOS!
I like to go bright with my coats, because I love how they come out in pictures. What do you think? Are you more of a bright or dark colored coat person?
[separator type="thin"]
Best Hats for Travel
Beanie (a must) – mainly because I don't like taking the time to fix my hair on trips. In the summer I love wearing baseball hats for hikes. In the winter, a beanie is a must.
Forever 21 is actually a great place to buy cheap baseball hats that are cute and nice quality.
I have this plaid one and I love it!
When in doubt, check Amazon. This hat would be perfect for traveling and it is so cheap! I'm tempted to buy this baseball hat for travel in every color. ;)
[separator type="thin"]
Best Gloves for Hiking
Gloves – For the winter a good pair of gloves will really help to pull your look together. I never used to bother with gloves, but you can buy them in literally every color to match your outfit. I think it helps anyone to look cute on a hike in cold weather.
I love these gloves because they can convert into fingerless gloves or mittens! They also come in so many cute colors at such an affordable price.
[separator type="thin"]
Best Hiking Boots for Women
For a functional and cute pair of hiking boots for women, check out this pair on Amazon. Overall the reviews are good; they're aren't too many complaints, but you can read the negative reviews here.
They come in a ton of different colors, which is always a bonus.
Depending on the type of hike you are going on, you can go with more fashionable hiking boots, comfortable, or more weather resistant boots. For my more fashionable hiking boots I go to ASOS (as always).
If I am looking for something more sturdy and weather proof, I usually check Nordstrom or Amazon (I linked some of my favorites for you here).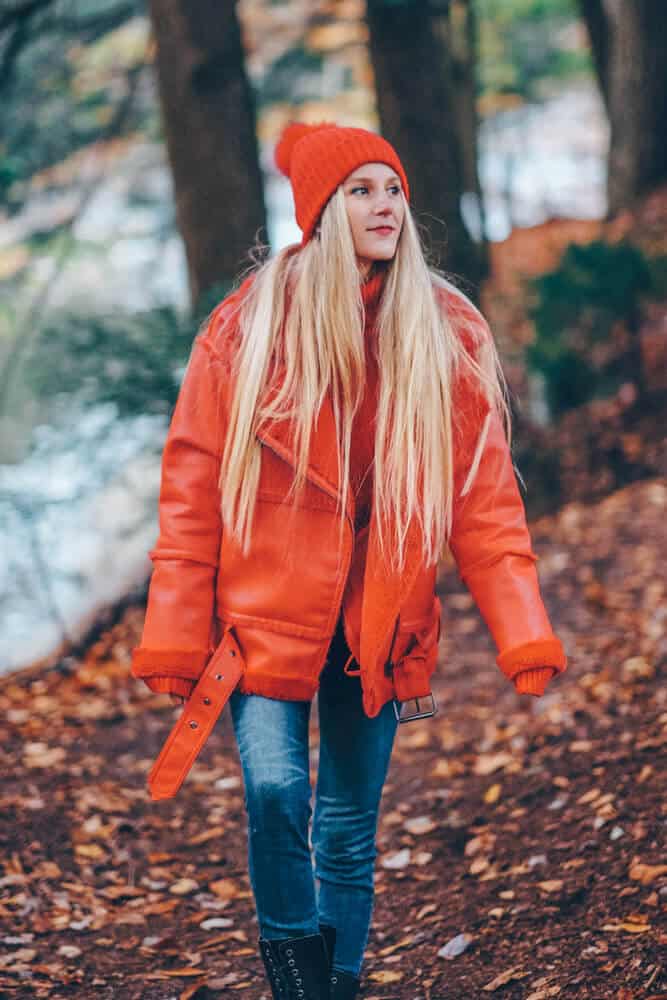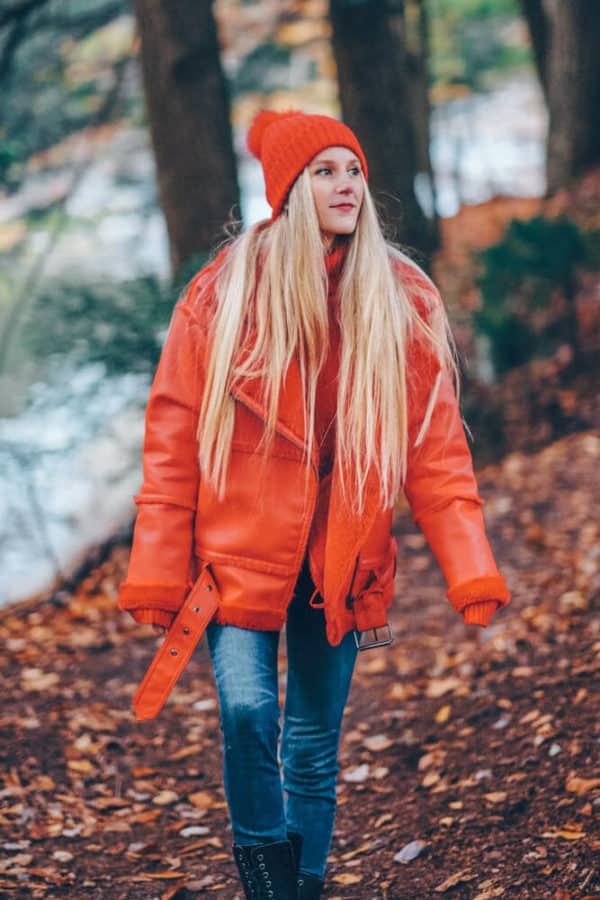 [separator type="thin"]
My Favorite Jeans for Hiking
Jeans – I love Express jeans. I always wear jeans (or leggings) when hiking, even though I tend to snag them or rip them. When I run into a sharp bush jeans give you me more protection than leggings, but for small hikes I do love wearing a good pair of leggings.
Best Leggings for Hiking
These leggings are the best I found on Amazon. I have multiple pairs and love them. They are very slimming and thicker so you won't have to worry about them being see-through.