Okay, about $100 for a set of pajamas? Are you serious? Your first thought might be that you can get 3 or 4 sets of substantially similar pajamas from Target for the same price. Originally I thought it was absurd as well, but after hearing so much about Skims, I caved and gave the Skims pajamas a shot.
I've now experimented with way too many different Skims products. I've also tried a number of different sizes and colors. I also cracked the code of the differences between the Skims Sleep Set and the Skims Soft Set (explained below)
All that experimentation has helped me come to the conclusion that there is a certain subset of people that Skims pajamas are absolutely perfect for! That being said, if you aren't in that specific subset of people, then you might want to pass and save a few bucks.
So, are you the type of person that Skims pajamas would be perfect for? Read on to find out.
Skims Brand and Skims Packaging
This post may contain affiliate links, which means I'll receive a commission if you purchase through my link, at no extra cost to you.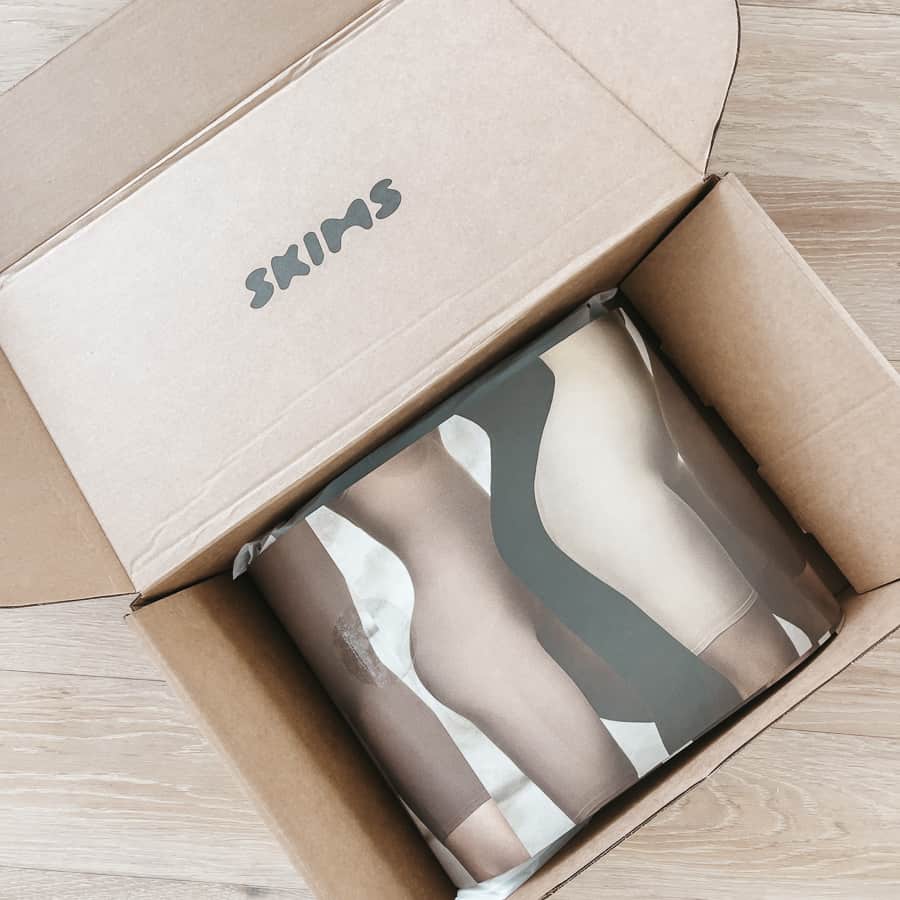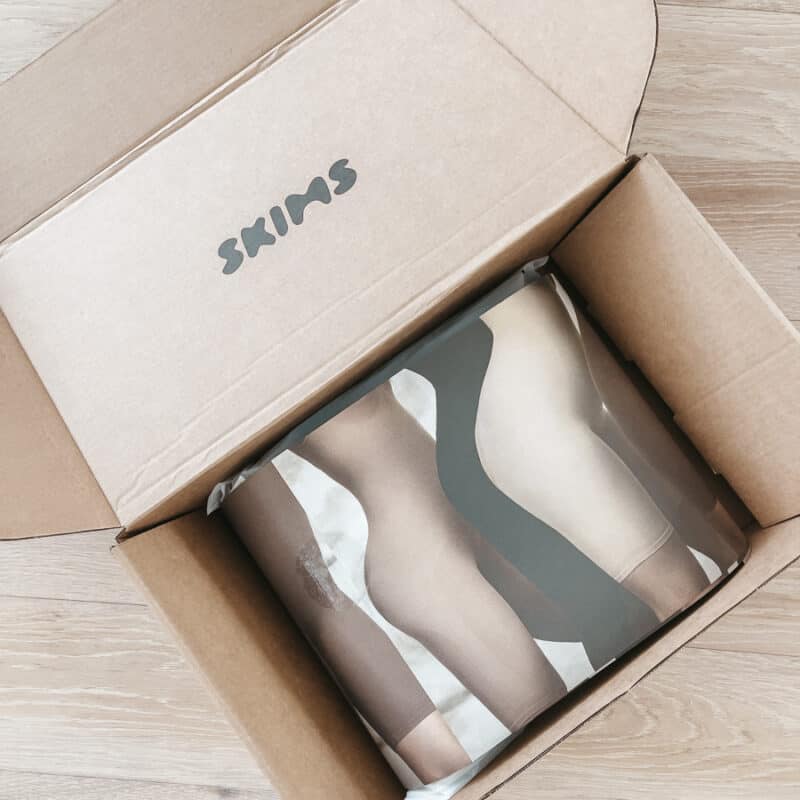 In case you aren't aware, Skims is a brand founded by Kim Kardashian. The brand's unique focus is to help celebrate and accentuate every body type and color. The original product that started getting attention was shapewear that helped accentuate the figure of women of all sizes.
The brand has evolved to include all different types of products; recently there have been a number of new sleepwear and loungewear options.
Another unique element of the brand is the packaging you receive you clothes in. The packaging is made from compostable plants. It's good to see a brand trying to help the planet a bit.
Skims Sizing
Generally the Skims products fit true to size. Many of the items are designed to be a little bit oversized, so if you like an oversized fit like I do, you won't have to size up an additional size.
A few of the Skims products are unisex, which in my experience is typically a way to say that the product won't fit anyone well. Shockingly, that is not the case with these pajamas. Make sure you pay attention to which products are unisex and which ones are women's, because the sizing varies between the two. For their unisex pajamas, I sized up 2 sizes.
For reference, I am 5'3 typically wear a size small or extra small in Skims.
I purchased a size small in the Skims sleep set, the Skims soft lounge set, and the Skims robe.
Shop Skims best sellers here. Warning, they sell out QUICK!
Skims Sleep Set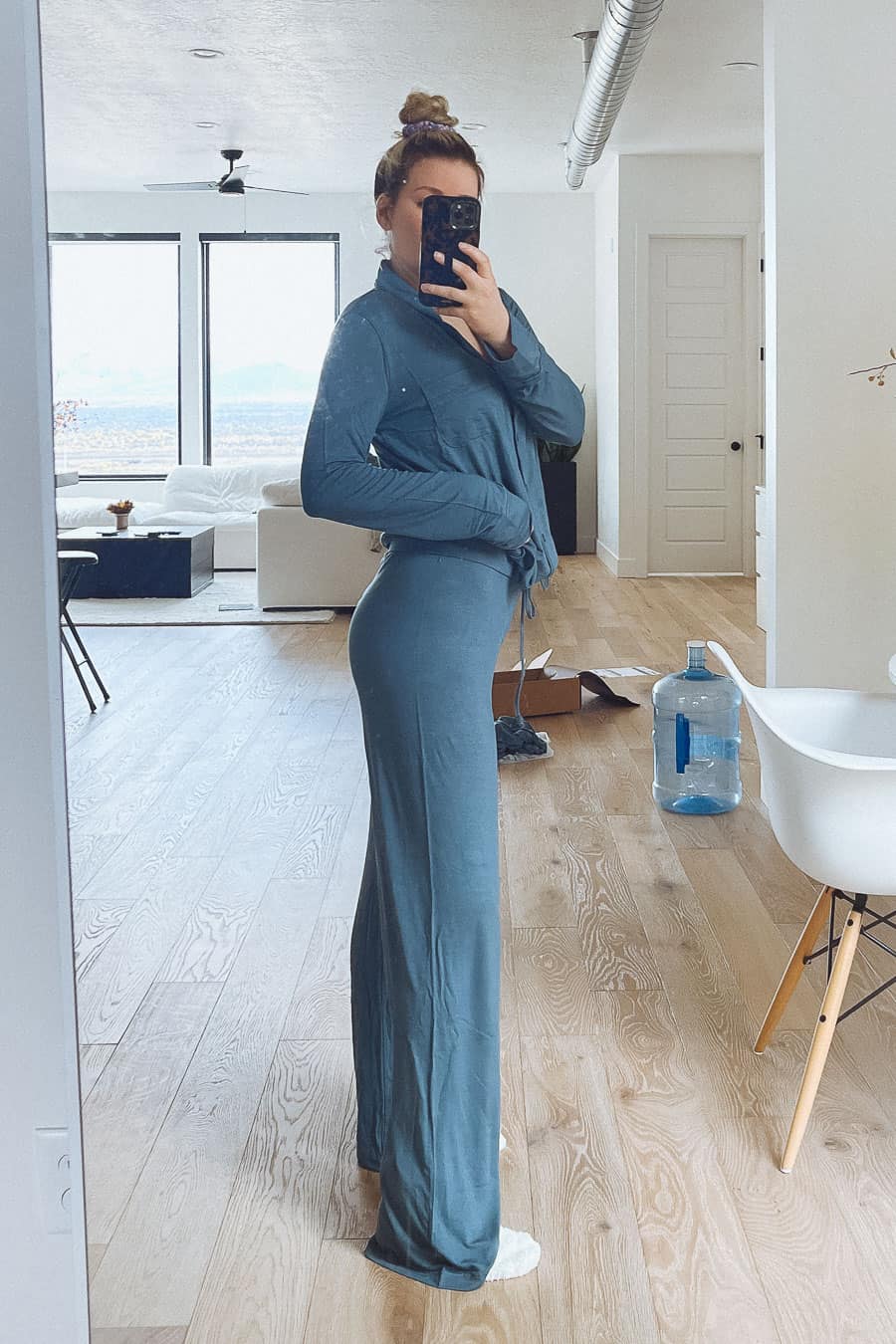 The Skims Sleep Set comes in so many colors and has the softest fabric ever! The fit is SO flattering. These are very high waisted, but you can easily roll down the waist band. The fabric is thin, but does not behave like similarly thin pants. It's a huge plus that they aren't see through, and generally do not show strong lines of what you are wearing underneath. That being said, that is my experience with this color – be careful with some of the lighter ones.
I am 5'3; my biggest complaint is that the pants are really long. As in, these pants will drag on the floor if you don't tuck them into your socks long. I'm almost always wearing fuzzy socks so tucking them in isn't a big deal, but you should know what you are getting yourself into.
Skims Soft Lounge Set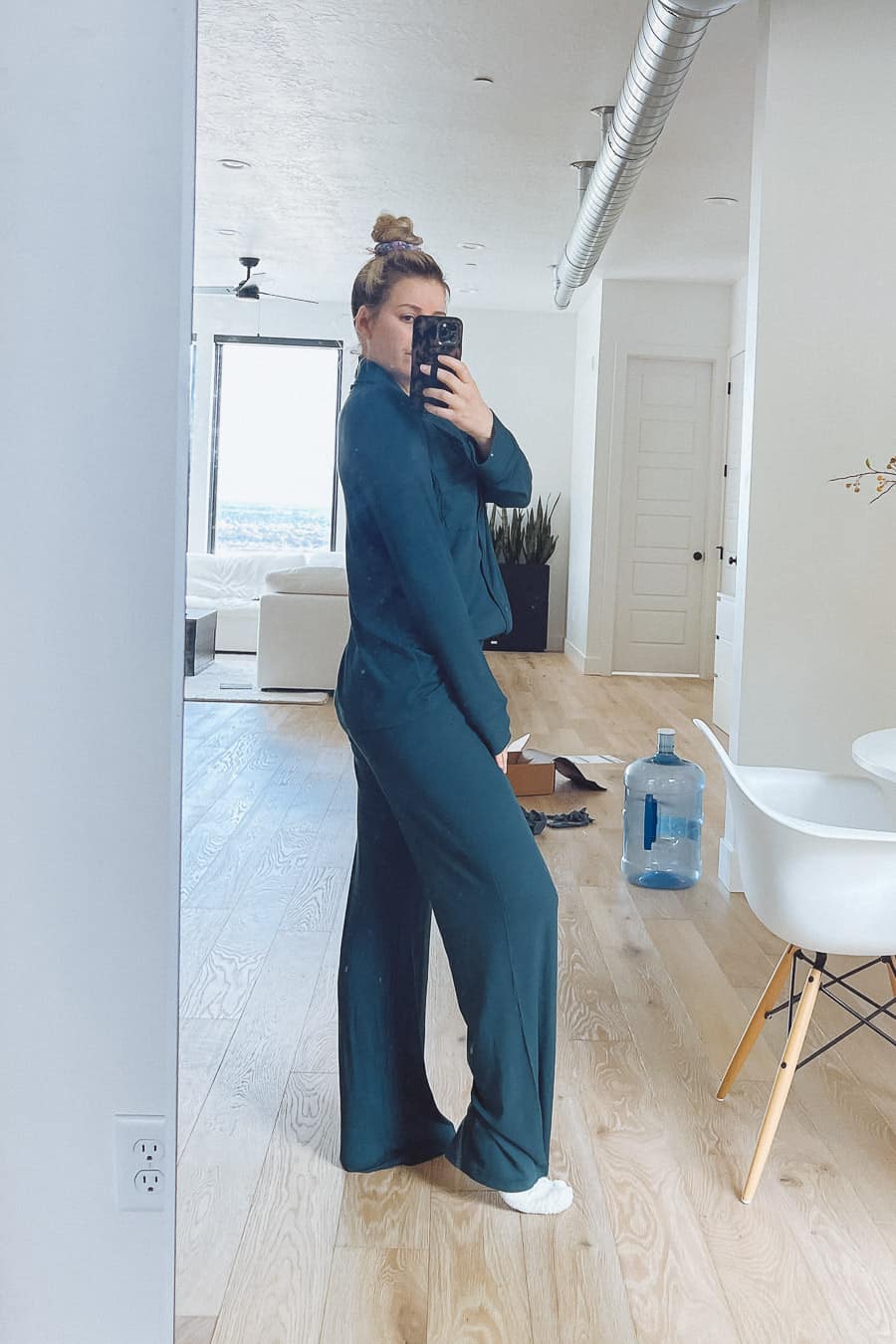 The Soft Lounge pajamas are also very soft, BUT not as soft as the Sleep Set (yes, I found the names of each to be a little bit confusing too). I thought the material would be the same as the Sleep set, but it is quite different. It is ribbed.
My husband said I looked like I was wearing a pantsuit in these pajamas, but I think that had more to do with the color Teal I chose. I absolutely loved the Teal, and preferred it to the Kyanite I got in the Sleep Set.
What's the Difference between the Skims Sleep Set & the Soft Lounge Set
The Soft Lounge Set is a ribbed fabric while the Sleep Set is not.
Each line offers unique colors not available in the other.
The Soft Lounge set was a little shorter in length than the Sleep Set.
CONCLUSION – Are Skims Pajamas worth the money?
I am always on the hunt for a good set of pajamas because when working from home, my pajamas often turn into my work clothes. I tend to blur the line between loungewear and pajamas, which means that my pajamas will definitely get worn a lot.
When it comes to these two Skims sets, I really liked both of them. If I had to choose I prefer the Sleep Set over the Soft Lounge set. In my opinion the ribbed fabric was not quite as soft as the other fabric and to me, and softness is key in my pajamas. Just because I liked each set doesn't mean that I think it would be worth buying though…
So, do I think you should buy your own set of Skims pajamas? The answer to that question is MAYBE. Are you going to have occasion to actually wear them? If they will purely be slept in, then I think it might not be worth the money.
Also, if you are not too short and value extreme softness, then I would highly recommend them. I feel like they are amazing basics that are not likely to go out of style any time soon. If softness doesn't really matter to you, then you may want to save your money.
Best places to buy Skims
I purchased all my Skims from skims.com or Nordstrom.
Skims.com – One of the biggest benefits to buying from Skims' official website is the selection. You have a lot more choices than if you purchase from Nordstrom. They offer free shipping if you spend $75 and charge a return fee of $6. In my experience, it takes about a week for your package to arrive. Click here to shop on skims.com
Nordstrom – Of course there are benefits to shopping from Nordstrom as well. They offer free shipping AND free returns with no minimum spending limit. I also noticed that clothes that are sold out on skims.com will still be available at Nordstrom. If something you want is sold out I would definitely check Nordstrom. Click here to shop Skims at Nordstrom.
Other Skims Clothing Items I own & love