If you have sensitive skin the Pai Bioregenerate Oil could be exactly what you need! Many people struggle to find a product that will actually help moisturize their face while not causing flare ups. As I've said before, my skin is EXTREMELY sensitive. There are so many products that irritate my skin or cause extreme rashes.
My sensitivities make me perfect to test new products. Many people develop irritations over a few days of continuous use. Unfortunately for me, but fortunately for you I can typically test a product really quick. With Pai Skincare focusing on sensitive skin like mine, I was eager to give the Pai Rosehip Oil a shot.
This post may contain affiliate links, which means I'll receive a commission if you purchase through my link, at no extra cost to you.

Why Rosehip Oil?
If you don't know the benefits of rosehip oil you could seriously be missing out. Research shows that rosehip oil can reduce skin discoloration, eliminate stretch marks, while helping retain the skins natural moisture. By retaining moisture you can delay the onset of wrinkles. Many dermatologists recommend rosehip oil in proper skincare routines.
Supposedly the Pai Rosehip Oil (here) is the most compressed rosehip oil on the market. This means that you are supposedly getting the most bang for your buck, i.e. you don't have to use as much product to get the biggest benefit.
Pai Rosehip Oil Review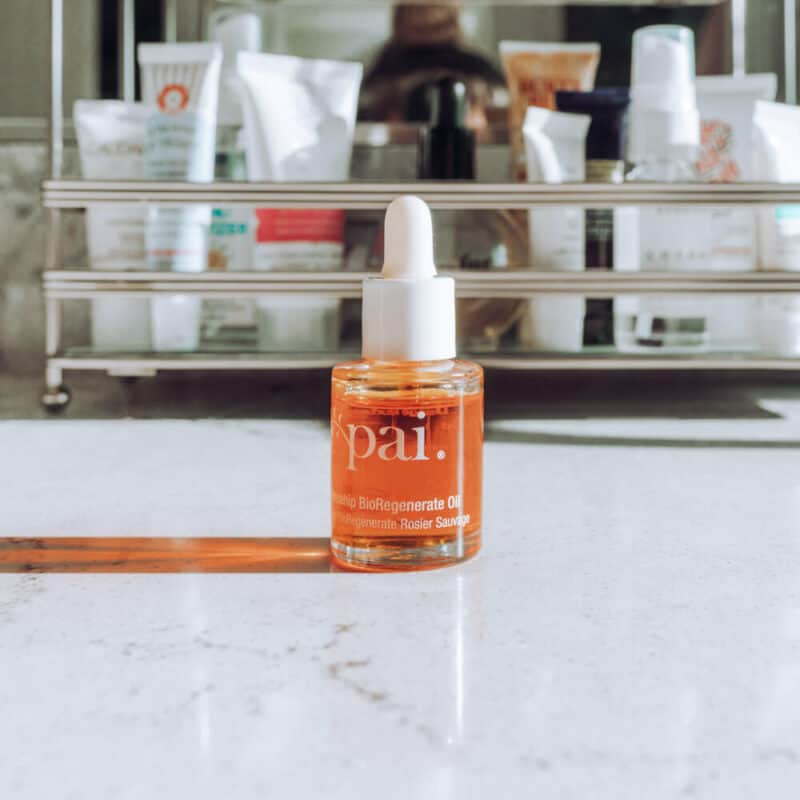 Brand: Pai Skincare
Pai Rosehip Oil is cruelty free and vegan. I always target clean skincare brands, though the results are not always promising. Sometimes the products will still irritate my face like they are full of millions of chemicals, while other times nothing will happen. When I saw nothing, I mean nothing as in no negative reaction or benefit.
My Experience
When I first tried the Pai Bioregenerate Oil I was first struct by orange color. I worried about stains, but quickly found out that wasn't a problem. The next thing that stood out to me was the earthy smell. Some people love earthy smells becuase it makes them feel like the product actualy more natural. While I prefer no scent, the smell isn't that powerful so it wasn't a big deal.
Pai recommends you apply to a damp face. If your face isn't damp, you are going to have an extremely hard time rubbing it in, and will likely have to use a sizable chunk of your bottle to cover your face. Thankfully once your face is damp the oil seems to easily slide all over.
I've used a number of different rosehip oils and I feel this one seems more concentrated than others. While I can't say I saw tremendous differences in balancing and smoothing out my face, it did still accomplish those things.
Having my face feel more balanced while moisturizing and helping eliminate wrinkles are great, but those weren't the best feature of the Pai Rosehip Oil. The huge benefit is that it did that without causing irritation, even after a couple weeks of continuous use.
Drawbacks
The only drawbacks of this oil are the price, and the fact that the product doesn't spread out incredibly well. That being said, it spreads no worse than your average oil. It is just not extremely slippery and able to cover your entire face without a little bit more product. Pai says to use 2 to 3 drops on a damp face, but I find to cover mine takes a couple more.
Conclusion: Pai Bioregenerate Oil
I really like this oil. While earthy smells aren't my favorite, my results while using the Pai Rosehip Oil are extremely positive. Given my extreme skin sensitivities, I love that I didn't have any rashes, breakouts while using. I've already become a consistent user and will soon need to repurchase.
I love it. It feels really "clean" – meaning the ingredients feel super healthy. No issues with any rashing or allergies. Seems like an amazing option if you have sensitive skin.