If you clicked on this post, you are probably wondering, is Mario Badescu good?
Are his products worth purchasing? Keep reading to find out my honest thoughts on the Mario Badescu Rosewater facial spray
You can quote me when I say – this is the only cult-following I've ever considered joining. Heh.
This post may contain affiliate links, which means I'll receive a commission if you purchase through my link, at no extra cost to you.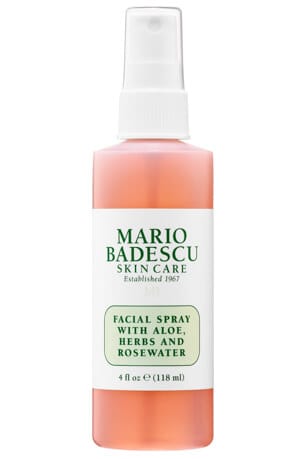 ---
Mario Badescu Review: Facial Spray with Aloe, Herbs and Rosewater – Join in On the Obsession!
If you haven't heard by now this famous little "rose spray" is beloved and for good reason. The Mario Badescu brand has been around for over 50 years, and is known for effective and simple skincare. I honestly can't believe I haven't done any Mario Badescu reviews before.
The stuff that makes it work so well…
Before we jump into any Mario Badescu skin care reviews or opinions, first – what's in this stuff?
Its main ingredients include a blend of herbal and botanical extracts that work in a variety of ways, take a look.
The Aloe Leaf Juice is used to soothe and calm your skin.
Rose Extract will moisturize and rejuvenate.
While Gardenia Extract boasts antioxidant properties.
White Thyme Extract is meant to clarify any impurities.
Okay cool, now how do I use it?
Try misting it onto your face, neck, or hair as needed. I use it before or after applying moisturizer. Also alone as an invigorating "pick-me-up" on the go, especially during the warmer months or during a long day – that's why they make a smaller version to throw into your purse or bag.
Some also enjoy using spraying it on after having done their makeup and claim it helps a made up face last longer, personally I haven't had that experience, but see for yourself. It will at least give your skin a luminosity it didn't have before.
And during dry Winter weather – I've had some success in spritzing it on and taming my static prone hair. Be careful not to get it into your eyes, if it does, rinse well with water.
Tip from Mario Badescu: "To give your makeup a dewy finish, spritz your favorite brush or sponge before blending in foundation or concealer. Once you're done, mist your face as a final step to add radiance. For an extra refreshing and cooling boost, store the bottle in your refrigerator.
Things to think about…
I always like to weigh out the good and the bad before purchasing a product while there are many Mario Badescu product reviews out there, these are the things I've noticed about the rose facial spray.
Pros
Free of sulfates SLS and SLES and parabens.
This product is also vegan and cruelty-free.
It's very hydrating.
Surprisingly affordable.
Ultra refreshing, especially on a warm afternoon.
Cons
Doesn't last long.
May sting hyper-sensitive skin types and conditions.
Some may not like the floral scent.
While others might wish the scent was stronger.
It does not lock make-up in place for long.
Go get your hands on some…
Where to Buy Mario Badescu Facial Spray
Everywhere, seriously. It's by far one of the best mario badescu products out there, and that popular. Personally I like purchasing from Ulta or Sephora. But you can buy it on Amazon and Nordstrom as well.