Kate Somerville Exfolikate: An Intensive Exfoliating Treatment
Exfoliation is a key step to a beautiful complexion.
Every 28-45 days your skin cells renew and become clumps of flaky, dead matter on your face. Gross! Exfoliating removes dead skin cells, which in turn allows your skin to breathe and products to work better.
Kate Somerville Intensive Treatment can help you achieve a more youthful glow.
Keep reading to learn how!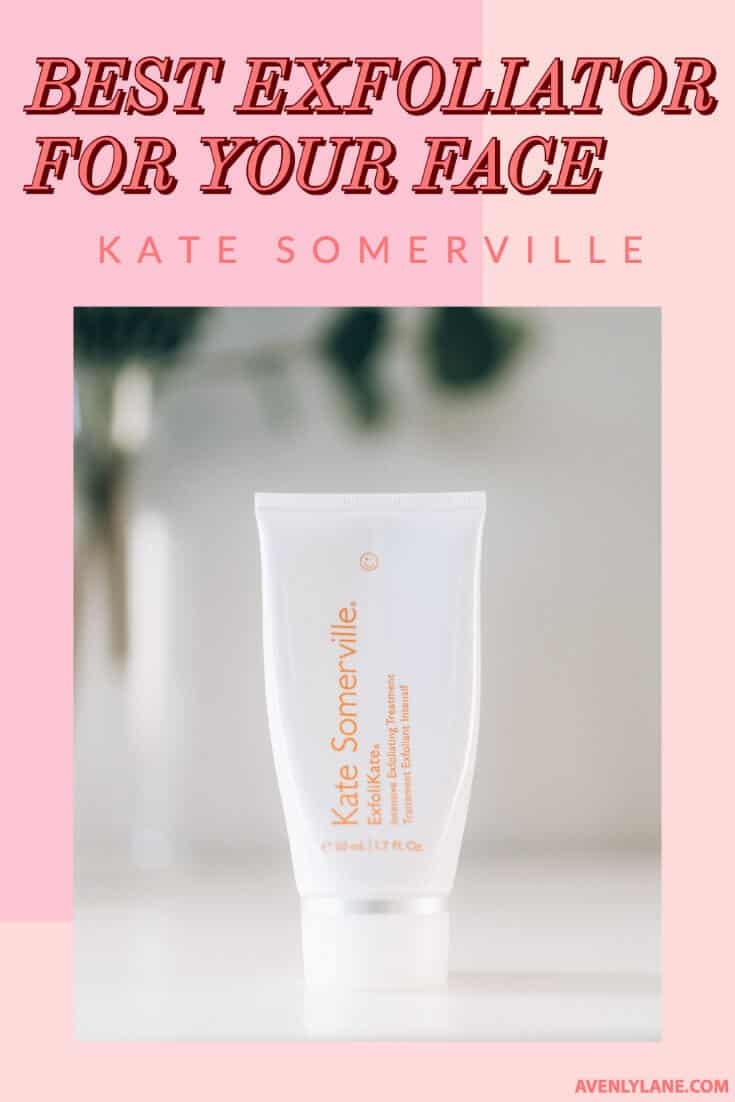 A little background about Kate Somerville's skincare…
In 2006, Kate Somerville – a Hollywood Esthetician, formulated ExfoliKate. Her celebrity clients needed perfect skin but didn't always have the time for routine facials. And that's when Exfolikate was born.
In 2007 her new cleanser (along with other Kate Somerville products) was featured on QVC. It preceded to sell out of her in only six months!
Somerville has over 25 years of experience in the beauty industry. And likes to think of her bestselling treatment as a "facial in a bottle".
Exfoliating Treatment Ingredients Explained
Kate Somerville's website lists the following as the key ingredients in their exfoliating treatment. There are some really amazing components in this stuff, check them out…
AHA Lactic Acid & BHA Salicylic Acid: Chemically exfoliate, working to loosen the "glue" between dead skin cells.
Silica: Acts like a natural bead, physically exfoliating "unglued" skin cells.
Papaya, Pineapple & Pumpkin Enzymes: Provide enzymatic exfoliation, digesting dead skin cells to reveal natural glowing skin.
Rosewood & Cinnamon Extracts: Work to reduce the appearance of fine lines and wrinkles.
Aloe Vera, Honey & Vitamin E: Help smooth and soften skin.
Full List of Ingredients:
The full list of ingredients is super long, but I thought you'd appreciate knowing what's in your skincare. Make sure you're not sensitive to anything listed below…
Aqua/Water/Eau, Lactic Acid, Silica, Glycine Soja (Soybean) Oil, Pectin, Cetearyl Alcohol, Carica Papaya (Papaya) Fruit, Ceteareth-20, Cetyl Alcohol, Phenoxyethanol, Dehydroxanthan Gum, Glyceryl Stearate, PEG-100 Stearate, Salicylic Acid, Lactobacillus/Pumpkin Ferment Extract, Alcohol Denat., Sorbic Acid, Cinnamal, Mel/Honey/Miel, Citrus Aurantium Bergamia (Bergamot) Fruit Oil, Eugenol, Potassium Sorbate, Limonene, Linalool, Lavandula Angustifolia (Lavender) Oil, Beta-Carotene, Aloe Barbadensis Leaf Juice Powder, Bromelain, Papain, Retinyl Palmitate, Tocopheryl Acetate, Cinnamomum Cassia Leaf Oil, Acetic Acid, Pogostemon Cablin Oil, Pelargonium Graveolens Flower Oil, Aniba Rosaeodora (Rosewood) Wood Extract, Citrus Aurantium Dulcis (Orange) Peel Oil, CI 75810 (Chlorophyllin-Copper Complex)
What I really think about Kate Somerville's Exfolikate cleanser
I originally purchased Exfolikate to see what all the hype was about this product. After reading so many positive reviews, I couldn't wait to add a new facial exfoliator to my skin regimen.
ExfoliKate claims that after just one use you will see an improvement in texture, your pores will appear smaller, and signs of aging will be significantly improved.
I find… it to meet the hype! It's green, smells like pumpkin, and I really, really like it.
They were right, after one use my skin was incredibly soft and my face looked seriously radiant.
Here's how you use Kate Somerville's cleanser:
Apply a thin, even layer to a freshly washed, wet face, massage product in a circular motion for 30 seconds. You can leave on for up to two minutes. Rinse and pat dry. Keep in mind that skin tingling and redness are natural for a short time directly after use.
In case of skin irritation discontinue use.
You can use this treatment in the morning or evening. I personally would recommend in the evening in case you have any redness. Post exfoliating, it's also an excellent time to let your favorite moisturizers work their magic while you sleep and your skin rejuvenates.
Note: It is not recommended that this product be used more than once or twice a week. More often could damage your skin. For those with sensitive skin, they recommend leaving on for less than one minute (or use ExfoliKate Gentle instead).
How does it stack up against other brands?
In comparison to other exfoliating cleansers I've used – this is by far the best. Other washes I tried left my skin red and raw, ExfoliKate made my skin supple, smooth, and youthful looking.
Yes, it isn't the cheapest product on the market, but, a little goes a long way. Especially since you're only supposed to use it one to two times per week. I'm able to use the same bottle for six months!
I will purchase it again and have purchased it multiple times already!
I see why ExfoliKate has such a cult following, and why it is considered the "holy grail" of facial exfoliators.
Are you ready to join the Kate Somerville skincare revolution now? If you decide to purchase a bottle – let me know how you like it!