I love an easy DIY, it makes me feel accomplished (haha) and this one saves some serious money too. Even if your first name isn't Martha, this is one project anyone can master. It's super simple – the most difficult part is deciding which essential oil fragrances to use.
Keep reading for everything you need to know on how to create a homemade essential oil spray.
This post may contain affiliate links, which means I'll receive a commission if you purchase through my link, at no extra cost to you.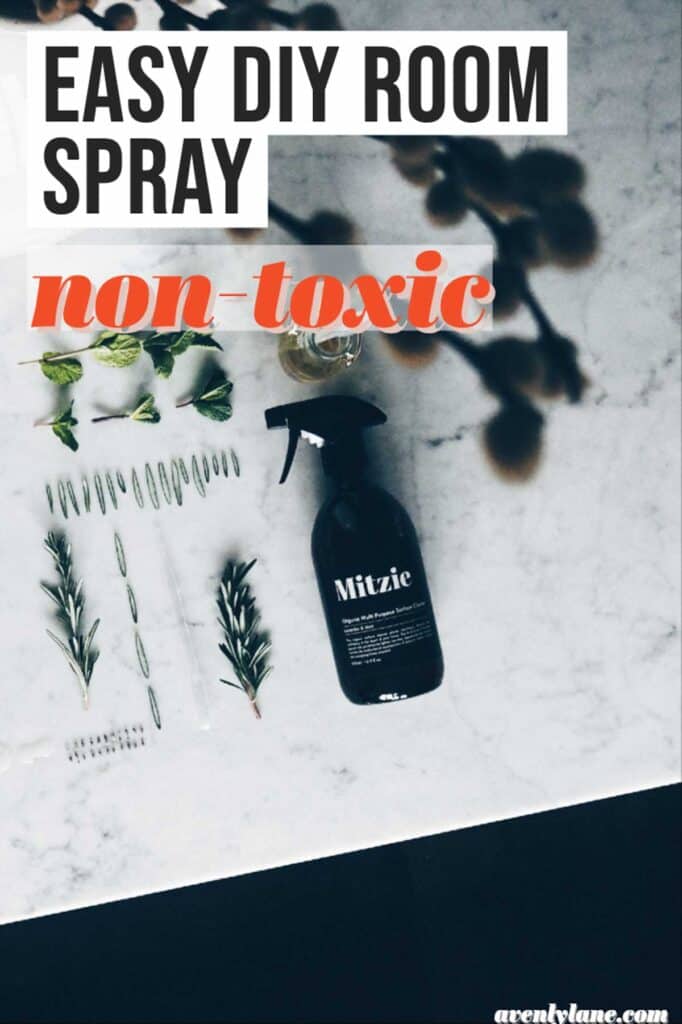 Homemade Essential Oil Spray Recipe
DIY Room Spray Recipe with witch hazel:
Use a blue or brown glass spray bottle (4oz) – buy here on Amazon.
Add in 2 tablespoons this witch hazel
30-40 drops of your favorite essential oil (single or blend)
Fill the rest of the bottle with distilled water
Shake, spray, and enjoy!
If you are thinking WTF is Witch hazel? You are not alone. Witch Hazel helps the water and oil mix and will help the scent linger for a longer period of time.
How to make room spray with essential oils
To make a spray, mix your 30 to 40 drops of essential oil in your bottle with purified or distilled water, which you can buy in the grocery store. The strength of the mixture is totally up to you. Play with the number of drops of each essential oil and how much water you add.
You can add more water or oil to adjust your ratios up or down. Record how much water and how much of each oil you've added to the bottle to keep track. That way once you've nailed your recipe, you'll be able to recreate it.
Why you should use a glass bottle to store your DIY room spray
When choosing your spray bottle, glass may be a little pricier than plastic, but since essential oils can degrade plastic and seep into your spray, it's worth the few extra dollars.
I recommend these glass spray bottles you can get on amazon.
To use your spray, remember that oil and water don't mix—shake well before each use.
Essential oils have so many natural benefits. Once you get started making and using your own essential oil sprays, you'll be hooked!