Often referred to as "liquid gold" – one of the most precious essential oils in the World. Rose is great for use on all skin types, including sensitive skin. Rich in nutrients from Mother Nature, Rose oil helps create beautiful, radiant skin and hair.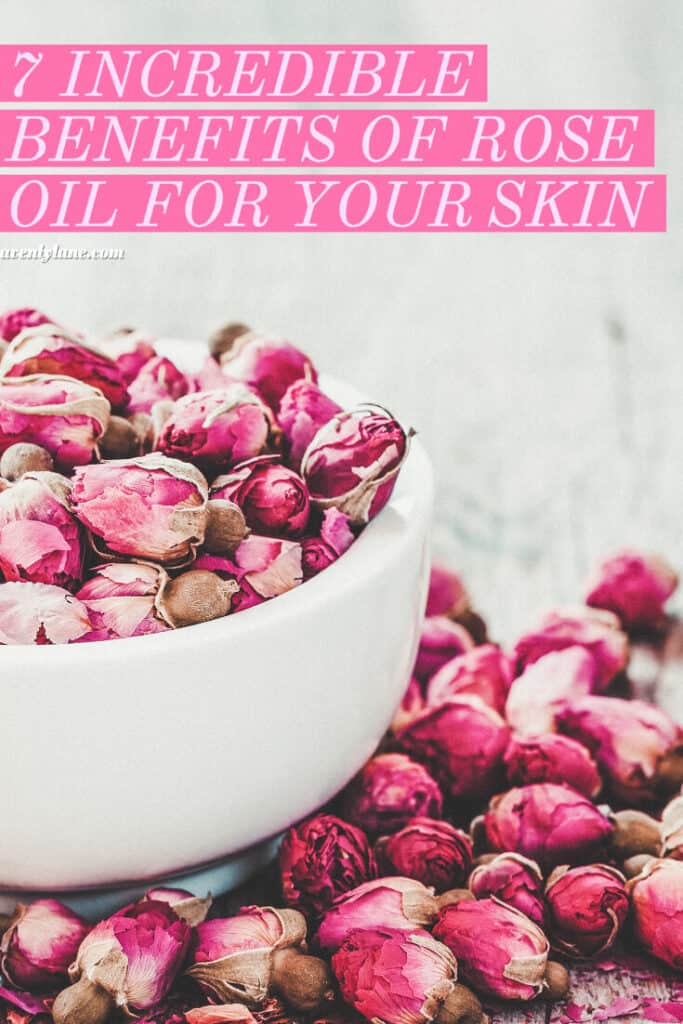 My Skin Type:
Sometimes I feel like I have the driest, most sensitive skin known to humankind. It's itchy, chapped, patchy, and can become red and even cracked in the Winter. Trust me when I say I've tried everything to help alleviate my pain. It was a surprise to me that I really enjoyed the success I've had with Rose essential oils, I'm usually a pretty skeptical about my skincare.
My Favorite Rose Essential Oil Uses:
I personally LOVE using rose essential oils for two purposes: making my home smell like and English garden but also moisturizing and calming my very parched, bumpy facial skin. I learned that when using essential oils topically, it is necessary to leave them on your skin a few minutes longer than you would other products for their full potency to work. Keep that in mind, especially when using skincare you wash off – like soaps and cleansers.
A couple other ways to use rose oil that I enjoy is in your hair – try a couple drops in your shampoo or conditioner to increase moisturization. Or, you can add a few drops into a tablespoon coconut oil and apply to hair roots as a hydration mask.
What makes rose oil so good for your skin?
Benefits of rose oil include helping skin heal from scars and adding moisture, fighting inflammation that will help those who struggle with acne or skin redness, relieving stress and promoting circulation which helps to combat signs of aging. It has been shown to absorb deeply into the dermis layer of the skin, which is especially beneficial for mature skin.
What's up with the price of rose oil?
Rose oil price is incredibly high due to the process of extracting the oil from the petals of the Bulgarian Rose "Damascena". It is the most labor intensive process in the entire rose industry. I've read that it actually takes 4 tons of roses to make just 1 kg of Rose oil.
Harvesting can only take place in May, so it's also necessary to hire extra workers – adding to costs. Plus in recent years the popularity of the fragrance has increased – leading to a greater demand.
Okay I'm ready to try it, what are some products you recommend?
Acure is simply an amazing brand. Their products are incredibly cost efficient, pure, and effective. Not to mention they seem to be available everywhere. This oil mixes the best of two Worlds – rose and argan, making it perfect for your hair but also for your skin. Buy here.
I don't normally like to suggest spending a lot on skincare, but wanted to give you the option if you're interested in some rose essential oil with amazing quality. DoTerra has a roll-on that is actually much less expensive than other rose oils. Buy here.
This oil looks incredible as well.
Hearts Desire Soap Company is a lesser known brand that use natural ingredients and high quality essential oils. I found them on a trip to the beach a few years ago, tried a couple of their soaps and was hooked. Normally my skin can't handle much fragrance but this soap didn't bother me at all. I've found it decrease my Rosacea acne flares and soothes any skin tightening from my overly dry upper arms.
Shop Rose Essential Oil Products