New York Itinerary: The best way to spend 3 days in New York City
Trying to cram a two week vacation into three days? Never been before but want to try and see what all the NYC buzz is about? New York City is affectionately called "The Big Apple", it is the largest city in the United States, and is one of the world's biggest financial centers.
The city is so popular that many people forget that it sits in a state of the same name; when someone refers to the state, people immediately think about the city first.
I am genuinely shocked when I meet people that have never been to New York City, and yet do not have it on their bucket list. There are a billion interesting and fun things to see and do in New York City, and this post obviously isn't going to list them all. This post focuses on the most iconic tourist and cultural defining spots that have come to define New York, and the United States as a whole.
While growing up I was spoiled enough to be able to take weekend trips to New York City, and I still enjoy going back today.
For a first timer trying to hit the top spots with a truncated timetable this list is where you should start! It may miss some things that others deem essential, but it is all accessible via public transportation allowing you to quickly cover more ground. Also, New York is a city where renting a car is much more of a burden than not… excessive traffic, no parking (or sky-high rates), and ample transportation options (subway, Uber/Lyft, and even buses) can save you a ton of time and money.
If you only have 2 days to spend in New York City you could still see everything on this list, but you would have to move a whole lot quicker!
This post may contain affiliate links, which means I'll receive a commission if you purchase through my link, at no extra cost to you.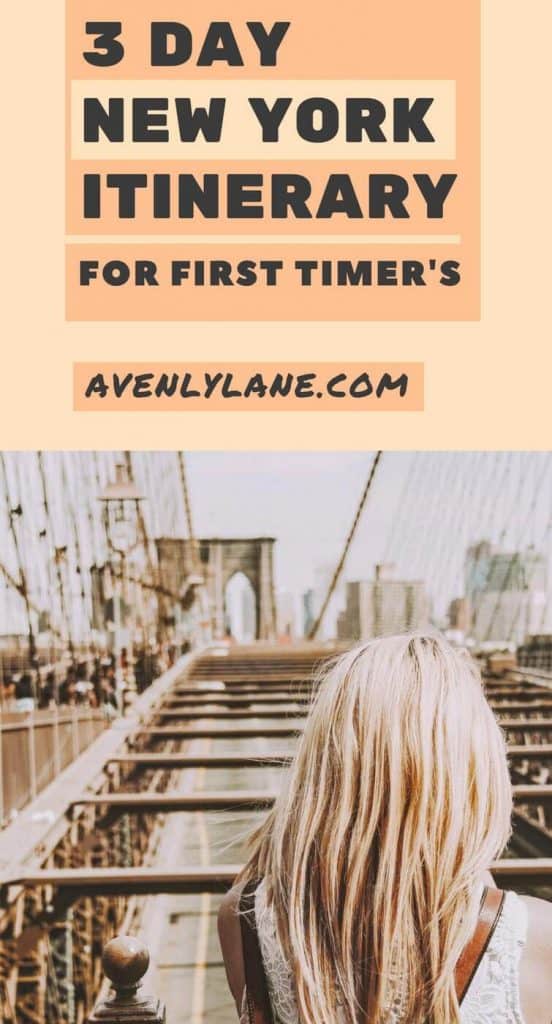 New York for First Timer's | Day 1
Central Park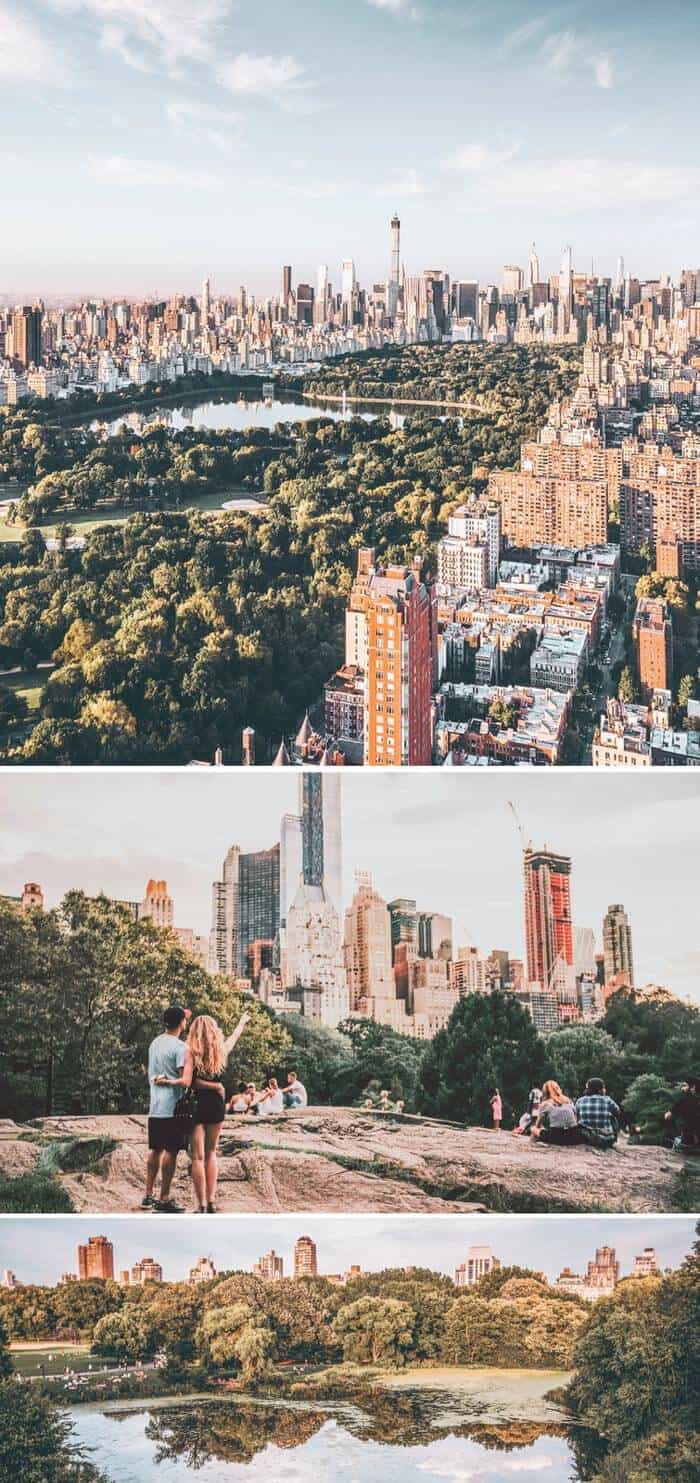 City planners got this one right! The juxtaposition of a beautiful green park in the middle of booming skyscrapers cannot be beat. Central park is big enough that you really can "escape the city", even while being in the middle of it. The park offers all the outdoorsy adventures you can imagine; rowboats on the lake are my favorite.
Times Square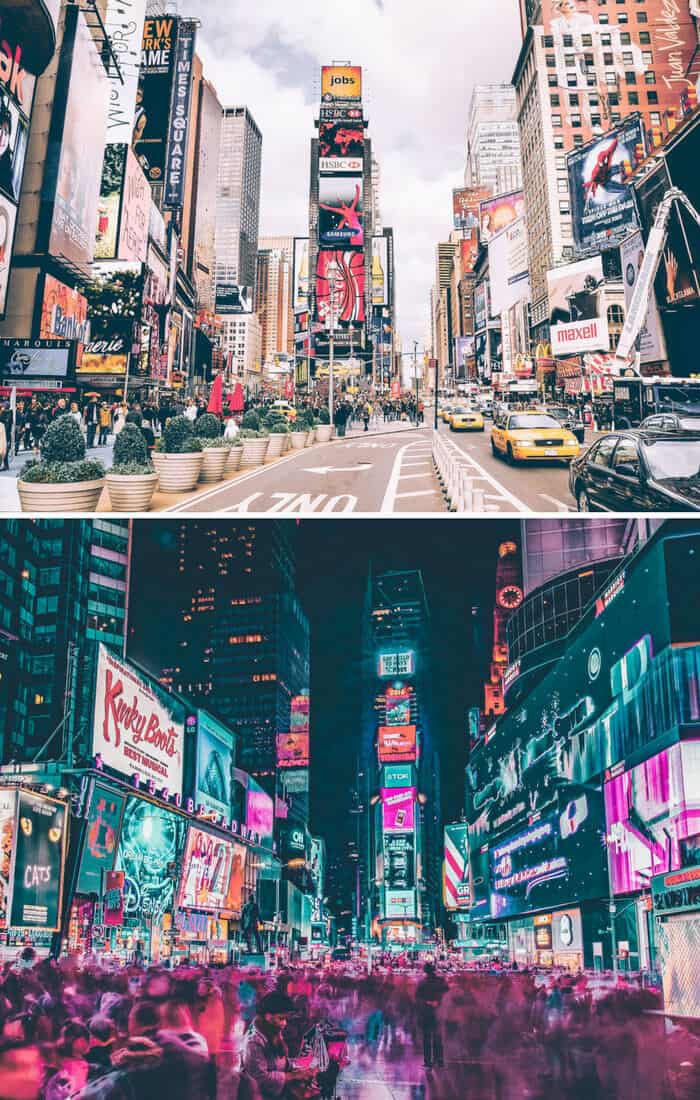 Officially Times Square is just a busy intersection surrounded by high rises and adorned with flashy advertisements, but this busy intersection still attracts millions of visitors.
This would be your time to go shopping, buy tickets to see a Broadway show, and even see some of New York's famous street performers. If you are brave enough stand outside in the cold you could even watch the ball drop on New Year's.
You probably aren't going to want to spend a ton of time here as it really is a busy intersection, but you can't miss going there at least once.
Grand Central Terminal/Station
A train station? yes, a train station is on this list. Grand Central Station is often described as the biggest and busiest by passenger volume train station in the world. You won't have to go out of the way to see it, as odds are you will end up going through it anyway. The architecture is exquisite enough to attract tourists, adding to the crowds.
Broadway Show/Theater
Broadway is actually a street in NYC, but the area became so famous for being lined with theaters, shows, and musicals that the street "Broadway" literally has come to mean a professional show with over 500 seats, while off-Broadway typically means a production with a smaller amount of seats. There are a million ticket sellers and re-sellers available, so make sure to do your research and get your tickets ahead of time.
Whether it is Hamilton, Wicked, Cats, or the Lion King, there are a million shows I'm still hoping to see!
Food
When in New York every single meal should be a completely unique and exciting experience. Not only does New York have restaurants from every country on earth, but there seems to be options for every single budget. From hot dogs on a corner to celebrity chefs the options are endless.
Some of the most alluring options to me are the unique restaurants/cafes that you can't experience anywhere else. How about being fed completely in the dark? Camaje Bistro's Dinner in the Dark. Want to try one of The Bagel Store's famous rainbow bagels? Or how about being served by monks in a monastery at Burp Castle?
New York City Itinerary Day 2
9/11 Memorial – One World Trade Center
This somber location is a perfect memorial to all that was lost on September 11, 2001. I still remember the exact day the terrorists struck. I was at school in Baltimore when unexpectedly our teacher stopped teaching; we had no clue what was going on. The news soon filled us in, and very soon thereafter the school was closed and we were all sent home. It was a scary and sad day I will never forget.
This peaceful memorial pays homage to the heroes and victims of the attack, hopefully reminding us of the freedoms we are blessed to have.
Brooklyn Bridge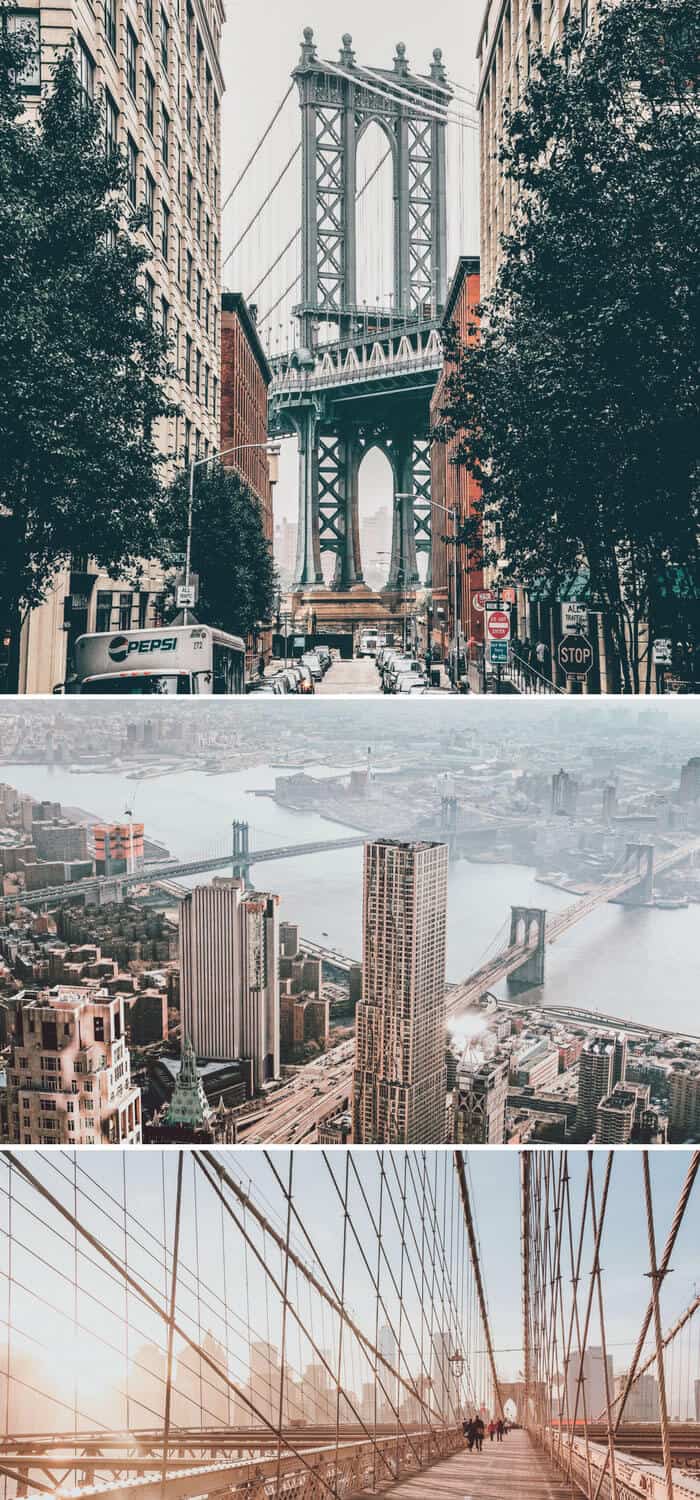 This massive bridge is another symbol of New York. It connects Manhattan to Brooklyn and is impossible to miss as you bop around the city.
Empire State Building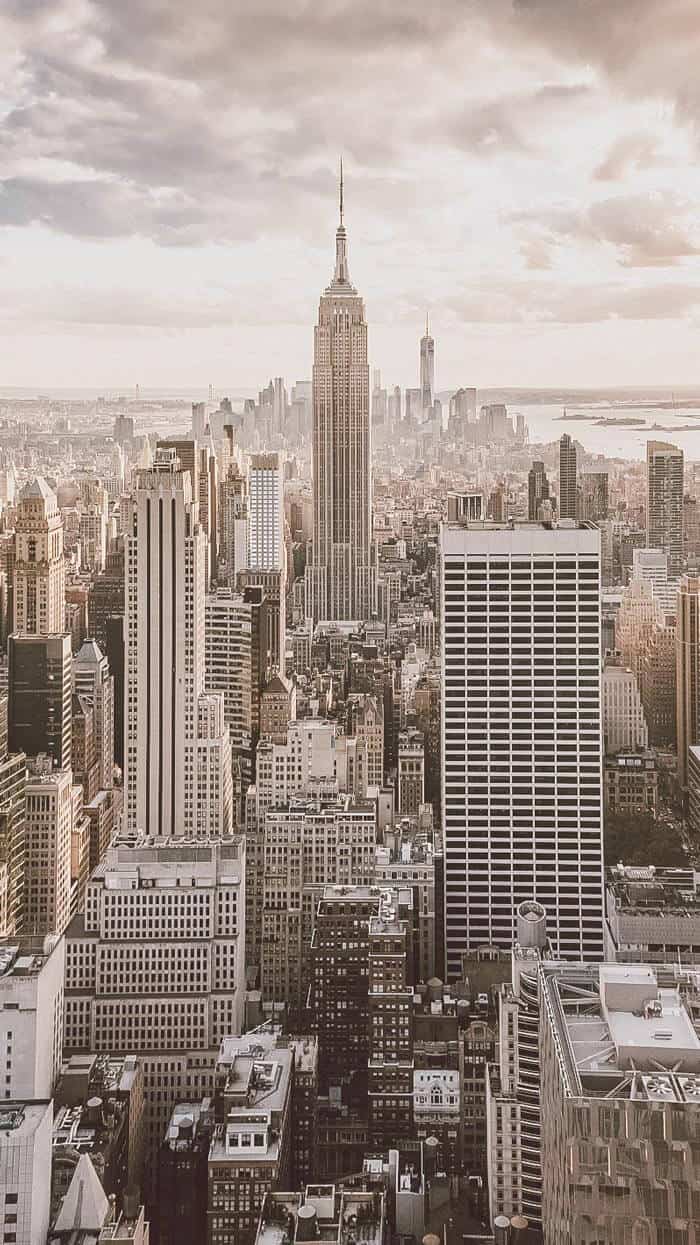 Previously this was the tallest building in the world. While it isn't today, it is still incredibly tall, offers amazing city views from its observation deck, and has a name that pays homage to the Empire State, New York.
Buy your tickets in advance here: NYC: Empire State Building General & Skip-the-Line Tickets
Top of the Rock – Amazing View of New York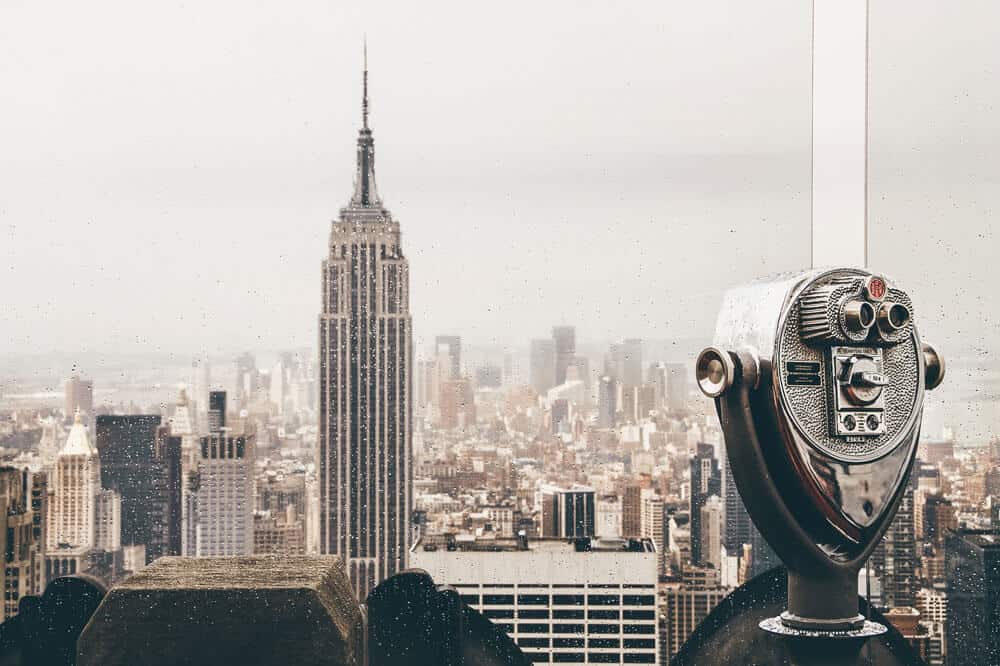 If you are looking for a great place to have views of the Empire State Building, the Top of the Rock is your place! The Top of The Rock observation deck is in the midst of the Rockefeller Center, or a complex of 19 commercial buildings in the heart of the city.
New York City Itinerary Day 3
Statue of Liberty / Ellis Island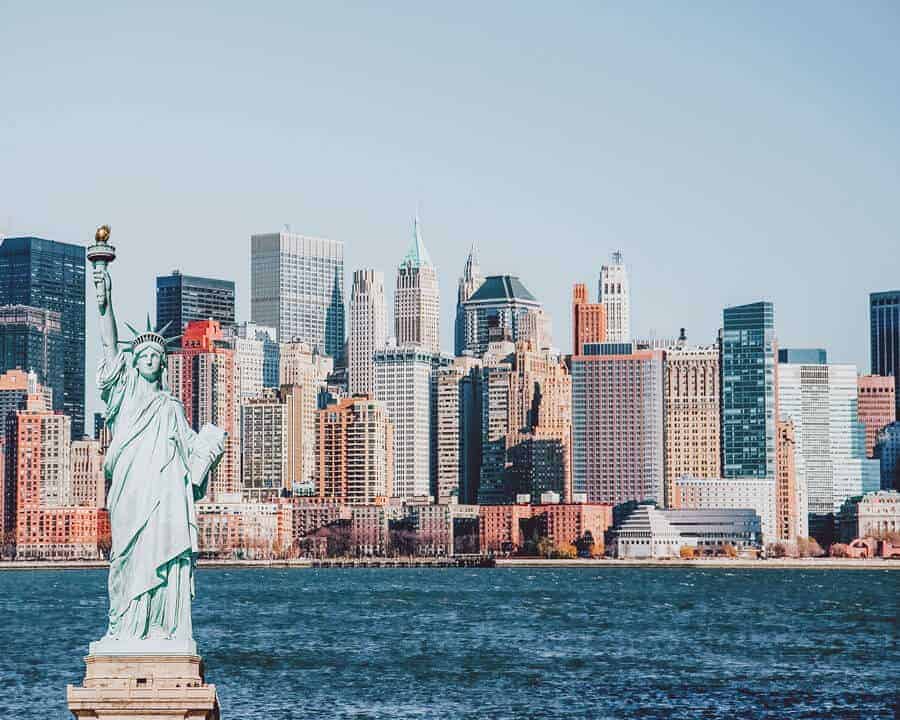 Lady Liberty now stands as an icon to American freedom. This statue previously welcomed immigrants to the United States where they were then processed at Ellis Island. If you are actually going to go out and tour either one of these landmarks, beware because they get crowded with long lines. Given the truncated timetable, I would actually recommend passing on an official tour and getting a decent view while taking the Staten Island Ferry instead.
Skip the lines and buy your tickets in advance here >> Statue of Liberty & Ellis Island: Ticket Options with Ferry
Staten Island Ferry
Interested in a boat ride across the harbor giving you some of the best views of the New York skyline? How about being able to view the Statue of Liberty as well? Sound good? The best part is that this ferry ride is free, and even operates 24 hours a day.
Museum of your choice
There are a million museums in New York City with displays for absolutely anyone. Even those that wouldn't describe themselves as the artsy type should visit at least one. Some museums charge entrance fees, but others only ask for an option donation, which you can oblige, give a smaller amount, or even just walk in for free. Some of the most famous are the Museum of Modern Art, the Guggenheim, and the Metropolitan Museum of Art, and the American Museum of Natural History.
Even though gliding through a museum can take up a big chunk of time, you really should make time to get through at least a couple of the ones listed above.