Bias alert! Bias alert!  My husband is from Alberta and totally has me drinking the Canadian Kool-Aid!  But don't dismiss this post because of my bias; you need to consider a trip to Alberta based out of Calgary. Trust me on this one.
The 12 Best Places to Visit in Alberta, Canada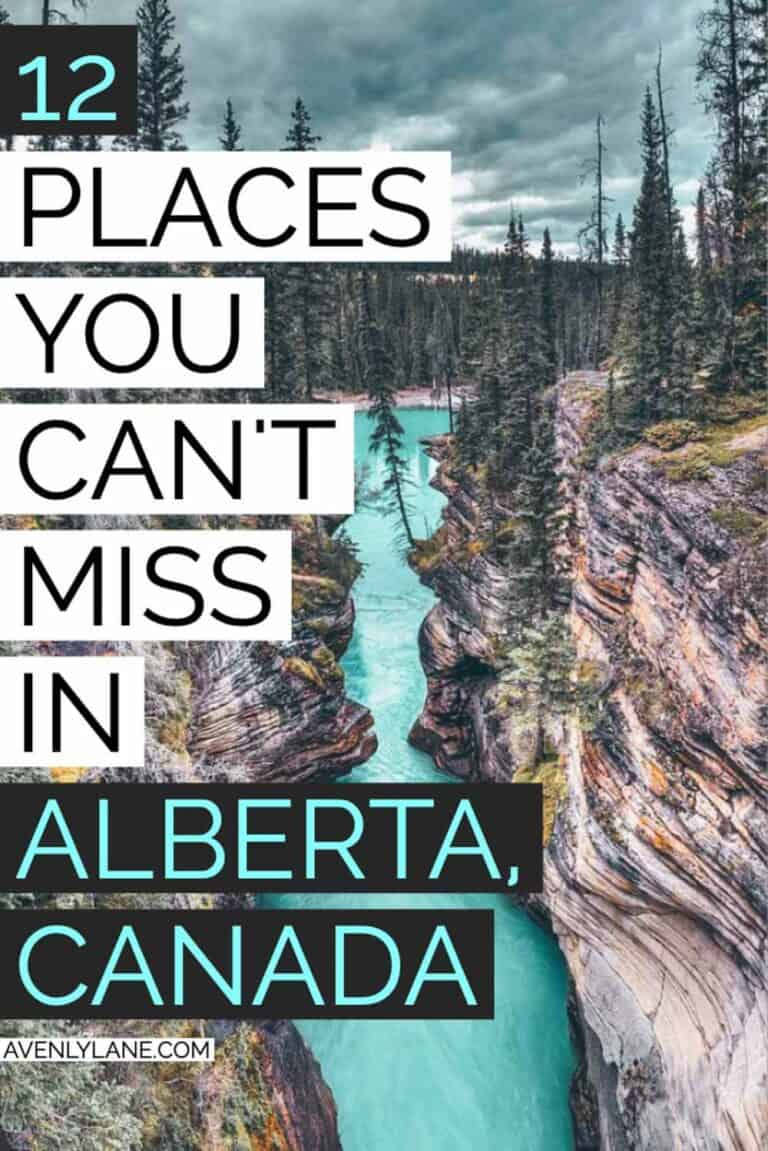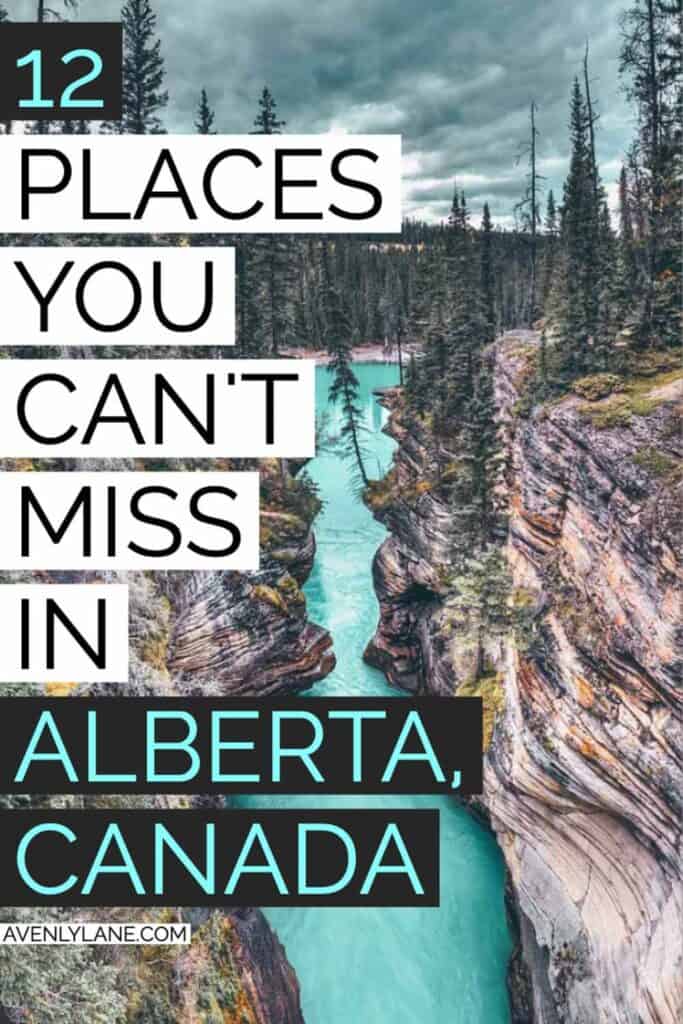 It is the perfect destination for the outdoorsy person, as well as the partial or wannabe outdoorsy person (more where I fall). There seem to be thousands of picturesque nature shots, and if you aren't the type to hike 32 miles and camp for 4 days you still can get to a ton of awesome spots.
Before knowing Calgary I was skeptical. I saw incredible pictures, but I of all people know how Photoshop works. I'm acquainted with cold weather, but I was worried that Canada would be too extreme. 
One trip ultimately converted me. The lakes really are that turquoise color, there really are amazing mountain views at every corner, and of course the uncomfortably polite Canadians are there to help you every step of the way.
This list below highlights a couple traveler hot spots, but is in no way complete, and just because an activity is listed at one park doesn't mean it can only be done or seen there as there seem to be a million Canadian national parks.
Alberta Tourist Attractions: Best Places to Visit
Jasper National Park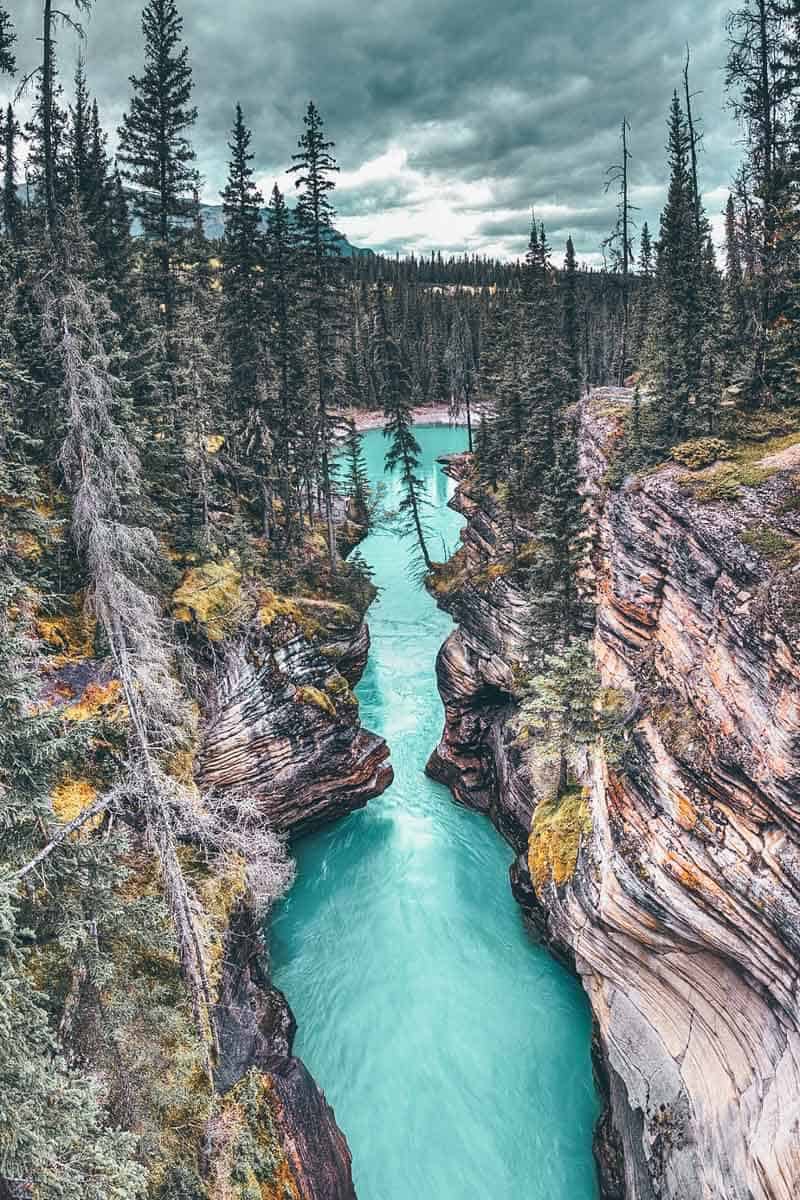 One of the top Alberta tourist attractions is without a doubt are Canada's National Parks! They are so incredible it almost feels wrong to include them so "casually" in this post.
Jasper National Park is located in the Canadian Rockies and it is amazing!  It is further away from Calgary than others, but you won't be disappointed with the drive, or the destination.  It is an outdoor dream.
Jasper is also the site of the Maligne Canyon, Mount Edith Cavell, and the Columbia Icefields (more on those below).
Maligne Canyon Trail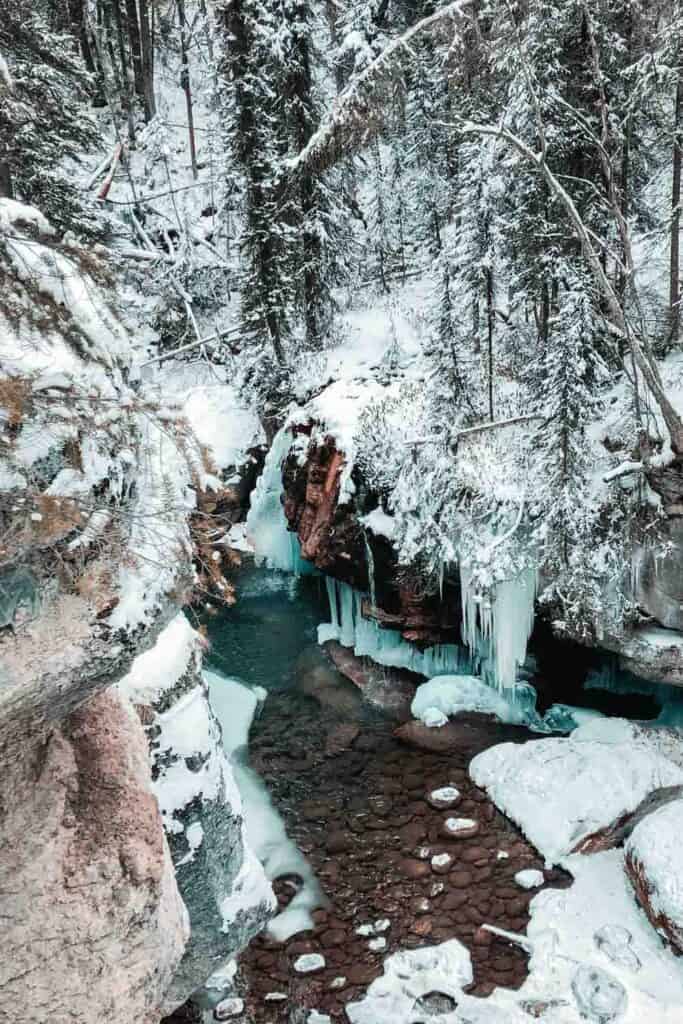 Maligne Canyon Trail is located in Jasper National Park and it will not disappoint. Whether you go to Alberta in the winter or summer, this beautiful trail will blow you away.
As a bonus it is more of a short walk than a hike, which as far as I'm concerned, only gives me that much more time to take pictures!
Columbia Icefields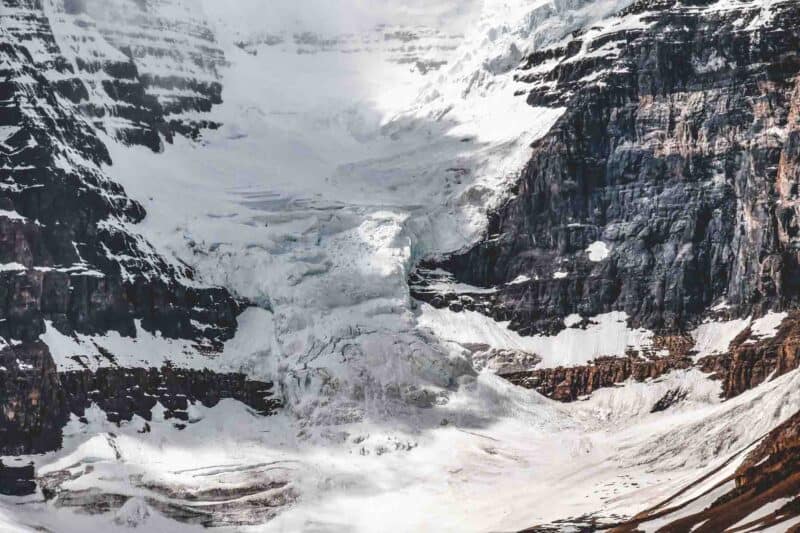 The cool serene power of a glacier field is something that is hard to describe. Being able to climb over and through glaciers is something that pictures can never really give you a sense of.
The Columbia Icefield runs between Jasper and Banff, and it definitely is a spot you don't want to miss. The glaciers really do show off the cool blue hue seen in pictures. If you are feeling adventurous be sure schedule an ice walk on Athabasca Glacier.
Mount Edith Cavell – my personal favorite place in Alberta!
Mount Edith Cavell completely blew me away. It surpassed every photo I have ever seen and for a minute I felt like I was in Antarctica. Seeing this massive glacier up close and personal was truly an experience I will never forget.
The Mount Edith Cavell hike is a very easy one, it is also pretty quick, maybe 20 minutes total? When we went the parking lot was almost completely empty so that is always a good sign.
IMPORTANT: Make sure you go before October 15 because that is when the road to get to Mount Edith Cavell closes for the winter.
If you do one thing in Jasper National Park, it needs to be this! You can read our full post on Mount Edith Cavell here.
Johnston Canyon Hike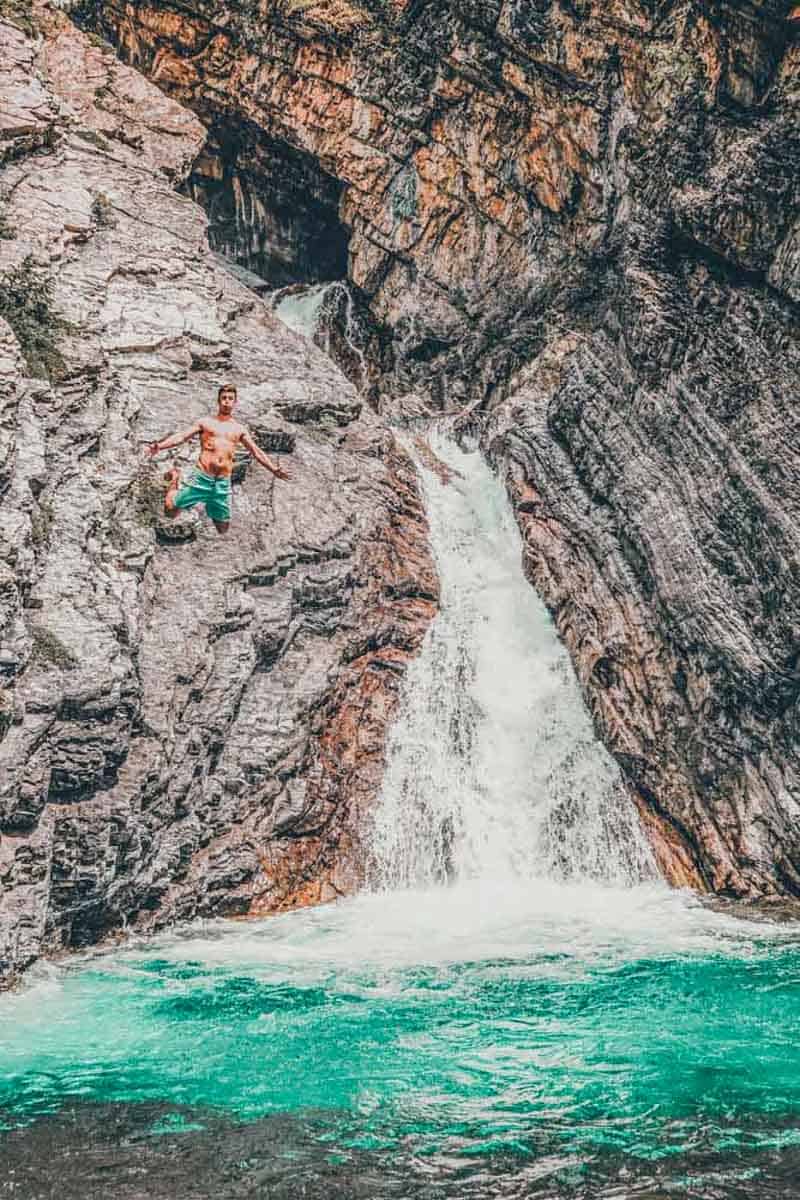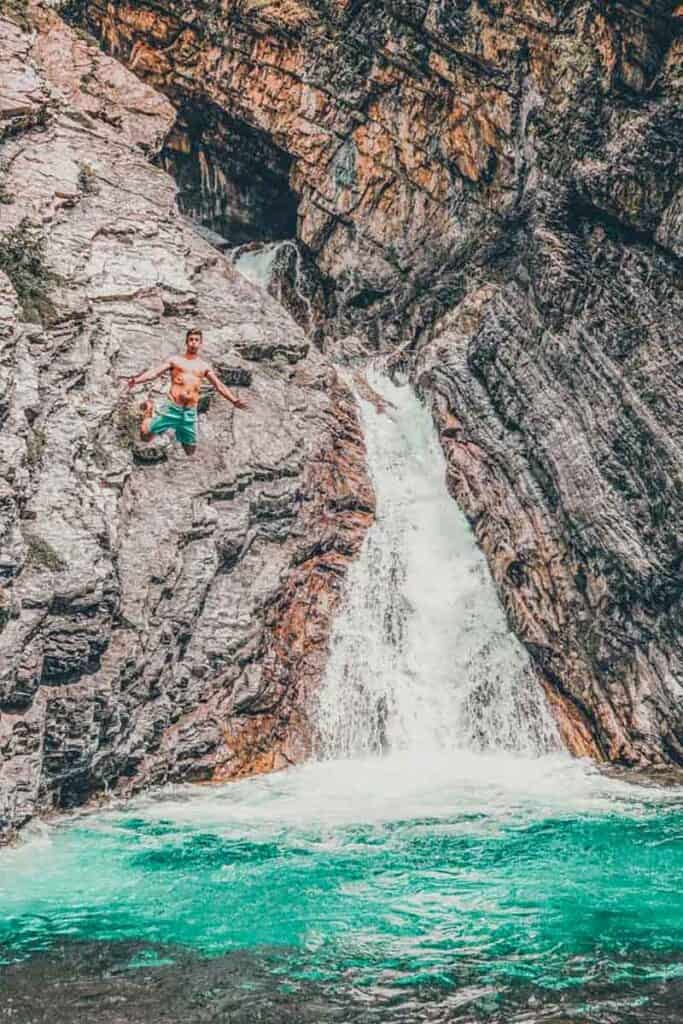 Is Johnston Canyon hike the Best Hike In Banff, Alberta Canada? If not the best, it is definitely in the top three.
Because of its popularity and proximity to the entrance, Johnston Canyon can get crowded. To avoid the crowd, go early in the morning, or later in the day.
Remember, that the sun sets late in the Canadian summer, so even if you start at 6 PM you will have plenty of sunlight. We started at 6 PM and had the place almost to ourselves even on a Saturday in July.
Related: Everything You Need to Know About Johnston Canyon Hike
Waterton Lakes National Park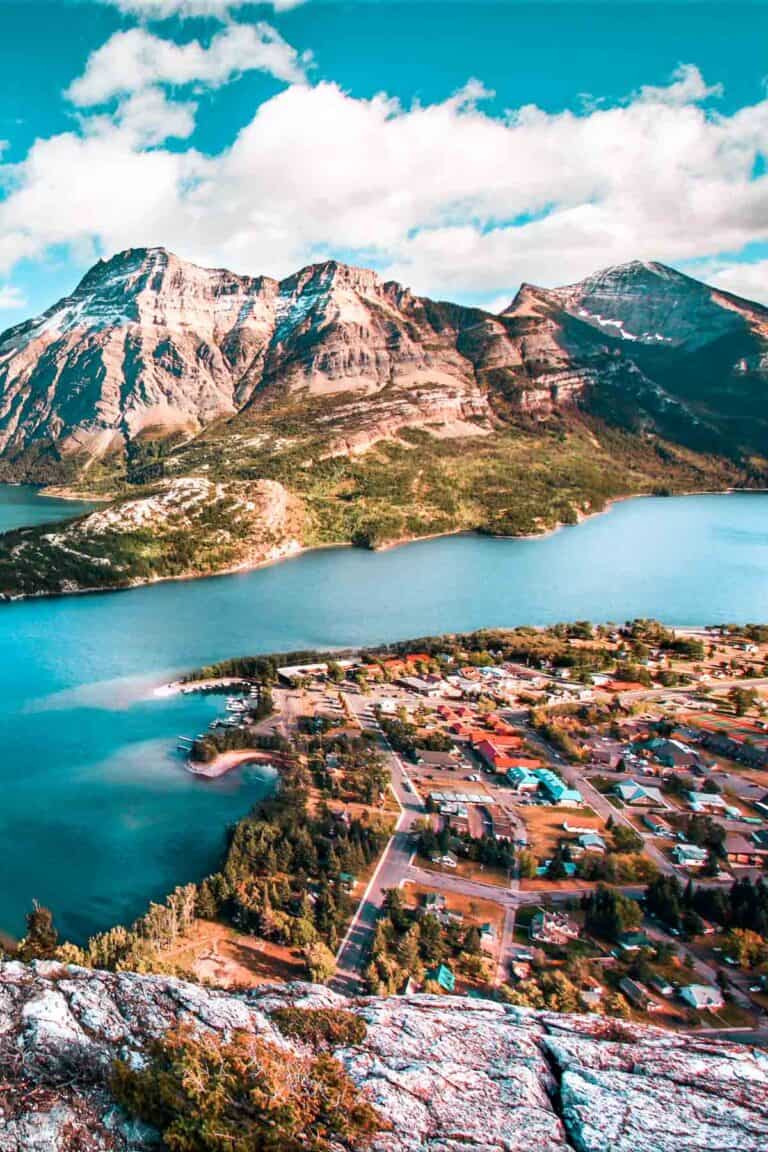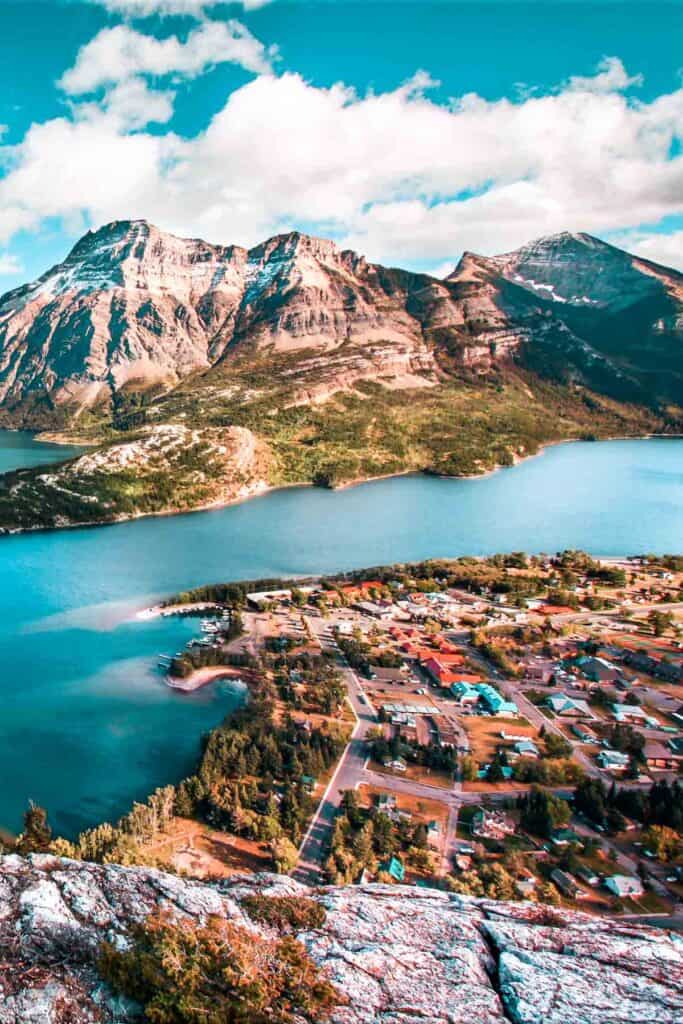 Though often out-shadowed by Banff and Jasper National Parks, Waterton Lakes National Park should not be overlooked. A smaller crowd will allow you to explore the beautiful Red Rock Creek in relative peace.
It is located in a very convenient spot in southwest Alberta bordering Glacier National Park in Montana!
I recommend crossing the border and exploring both parks during one trip. Just make sure you don't forget to bring your passport so that you can get between the two countries.
Hike to the Beautiful Blue Glacier Lakes
Lake Louise in Banff National Park
It's true that melting glaciers may create some very cold water, but the combination of light refracting of rock flour ground up by the glaciers creates the brilliant emerald glow of these lakes.
These colors really aren't Photoshop, but what you actually see when visiting. Three amazing examples that are easily accessible from Calgary are Moraine Lake, Lake Louise, and Petyo Lake. All three of these lakes are located in Banff National Park.